Best Ebikes for Hills to Conquer any Gradient in 2023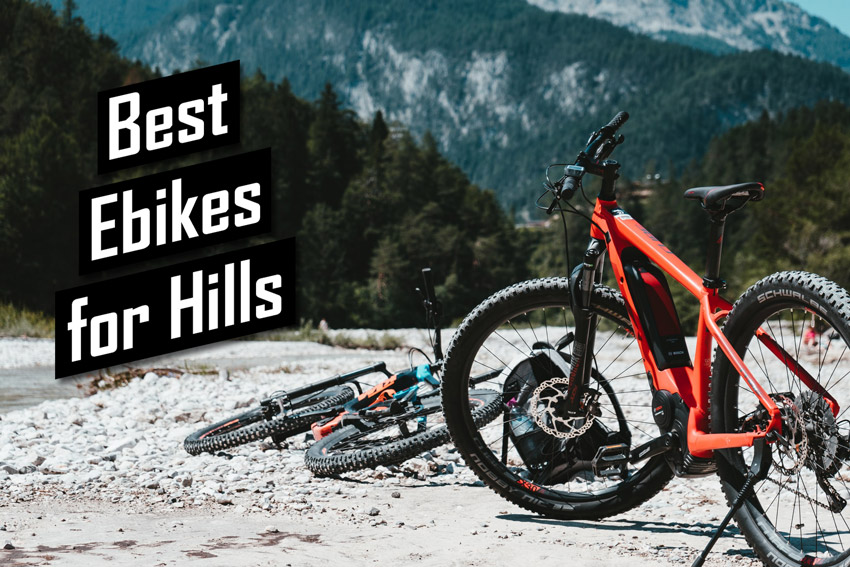 Bicycles are an excellent means of transportation, a fantastic way to enjoy the outdoors, and a great way to stay fit and healthy throughout life.
That said, unless you're a super-fit cyclist who rides for sport, it's unlikely that you love going up steep hills, which might limit where you ride. Additionally, those who live in hilly areas are often discouraged from riding a bike at all.
Thankfully, electric bicycles offer the perfect solution to this problem by taking most or all of the effort out of riding uphill, opening up new and exciting routes or commuting opportunities to e-bike owners.
This article reviews a mix of the best eBikes for hills across different styles and price ranges and finishes with a short guide on choosing the perfect hill-crushing electric bike for you.
How steep a hill can an electric bike climb?
How steep a hill an electric bike can climb depends on various factors such as e-bike motor style, power and torque, rider weight, bike weight, terrain and weather, and the length of the hill.
For example, a 250W hub-drive e-bike can tackle short to medium hills up to 10% gradients if you're willing to push the pedals. On the other hand, a 500W mid-drive motor with a big battery should be able to tackle long climbs with sections of 15% or more.
Knowing how to climb steep hills and using the proper pedaling technique can also help you get more out of your e-bike and get to the top more easily.
Best E-Bikes for Hills in 2023
---
Co-op Cycles CTY e2.2
Best commuter eBike for hills
Price: $2.699
Motor: Shimano E6100 mid-drive 250W/60Nm
Battery: Shimano E8010 504Wh
Gears: 9
Reasons to buy:
Excellent integration
Efficient mid-drive motor with 60Nm torque
Comfort geometry and touchpoints
Fully-equipped setup
Reasons to avoid:
Disappointing range
Heavy
The Co-op Cycles CTY e2.2 is the higher-end model of the two-bike series. The CTY e2.2 is a fully-equipped electric city commuter that thrives on steep hills thanks to its mid-drive motor.
Mid-drive motors like the Shimano STEPS E6100 are very efficient and smooth when climbing, making this commuter the best 250W eBike for hills. In addition, this model has three levels of pedal assistance, a walk mode, and a 20mph max assisted speed.
Co-op Cycles chose a Shimano E8010 504Wh battery which provides an average range of 40 to 50 miles on one charge. In addition, this battery is lockable thanks to a preinstalled ABUS lock and is removable for when you're ready to charge. Impressively, the E8010 has a short four-hour charge time.
Another characteristic of this bike is the comfortable ride quality. It has upright geometry, a Comfort Plus saddle with memory foam, shock-absorbent 1.95″ Schwalbe Big Ben tires, and the road-smoothing 75mm travel fork to achieve this.
Finally, the CTY e2.2 comes with all the essential commuter accessories, including a rear rack, fenders, a kickstand, and integrated LED lights, making urban riding safe and convenient.
If you're looking for the best commuter eBike for hills, look no further than Co-op's CTY e2.2.
---
Ride1UP Prodigy
Best climbing eBike for on and off-road
Price: $2,295 – $2,395
Motor: 90Nm Brose mid-drive (380% assistance)
Battery: 504Wh, Samsung cells
Gears: 9
Reasons to buy:
High torque mid-drive motor
Three frame options
Shimano drivetrain
50-mile max range
Reasons to avoid:
No throttle
Slightly limited gear range
The Ride1UP Prodigy is a series of three bikes, the urban XR (step-over) and ST (step-through) models and the XC off-roader.
Each of the three versions uses a Brose TF Sprinter drive system with a 90Nm mid-drive motor, 504Wh battery, integrated torque sensor, and the Brose Allround 1.5″ color display.
The mid-drive motor offers up to 380% of smooth assistance thanks to the torque sensor, making hill climbing feel easy. However, on the steepest hills, the bike isn't as efficient as it could be due to the limited 9-speed cassette (11-34t).
Shimano provides an Alivio drivetrain to pair with the 180mm-rotor Tektro hydraulic disc brakes for powerful and reliable stopping.
The urban models of the Prodigy come with a rigid fork, Maxxis Refuse 2.0″ tires, and a rack, fenders, and lights for city riding. On the other hand, the off-road Prodigy XC has a 120mm air fork, 2.4″ Maxxis Forekaster tires, and MTB touchpoints to provide trail performance.
Consider the affordable Prodigy electric bike if you want the best eBike motor for hills and the choice between an off-road or city-optimized ride.
---
Juiced Bikes CrossCurrent X
Best hub motor for hills
Price: $2,399
Motor: 750W hub motor
Battery: 998Wh battery
Gears: 9
Reasons to buy:
Huge 80-mile range
Powerful motor with lots of acceleration
Torque and cadence sensors
Fully-equipped
Reasons to avoid:
Heavy (65lbs)
Poor quality suspension
The Juiced CrossCurrent X is a mid-range commuter e-bike with massive power that makes steep hills feel like riding on the flat, making it the brand's best ebike for hills.
The electronics on this bike are a 750W Bafang hub motor and a massive 998Wh battery providing one of the highest ranges in this price category—80 miles on a single charge. This combination uses cadence and torque sensors which is unusual for a hub motor system but makes the power output much smoother.
The CrossCurrent X is also very comfortable thanks to the plush yet fast 1.75″ urban tires, suspension fork, upright geometry, and ergonomic touchpoints. The one issue, however, is that the suspension can feel quite bouncy on rough terrain.
Other notable components on this bike include the high-power 1000-lumen headlight, throttle, bell, rear rack, and fenders. These combine to make this Juiced bike perfect for city commuters who love long rides with lots of steep hills.
---
QuietKat Jeep
Best ebike for steep hills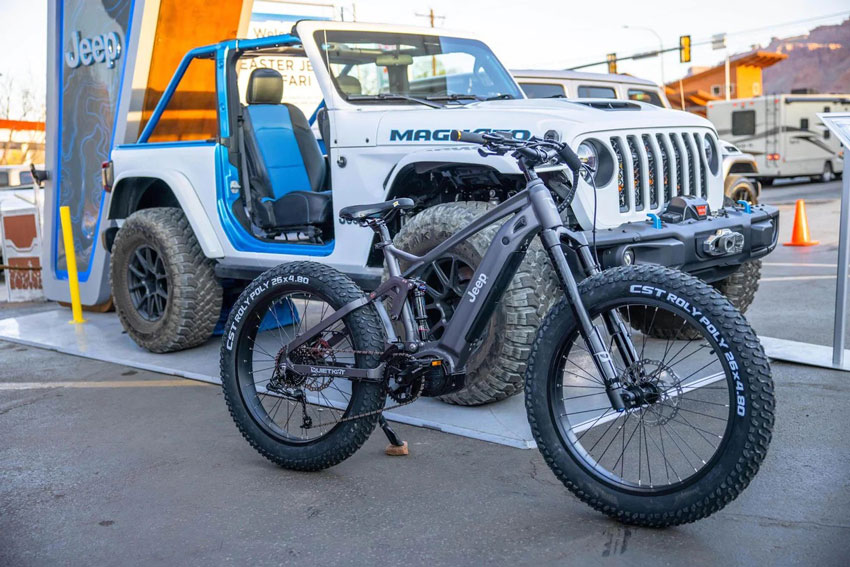 Price: $4,000 – $5,000
Motor: 1000W/160Nm Ultra mid-drive
Battery: 696 Wh
Gears: 9
Reasons to buy:
Ultra mid-drive motor
4.8″ all-terrain fat tires
29″ wheel compatibility
140 mm front and rear air suspension
Reasons to avoid:
Expensive
Poor range for this price
The new Jeep by QuietKat is an update to the original off-road beast. This version has more range, improved geometry, and better suspension to create a well-rounded ride quality.
The motor on this bike is the most impressive feature. A 1000W/160Nm ultra mid-drive offers buttery smooth power transfer and enough power to get you over the steepest and longest climbs in the world. This motor pairs with a decent 696 Wh battery that delivers a rather limited range of 22 to 44 miles.
QuietKat matches the powerful electronics with high-end components elsewhere. These include thick 26×4.8″ tires, 4-piston Tektro hydraulic disc brakes, 140 mm RockShox Monarch RL inverted suspension, and a durable 9-speed SRAM drivetrain. In addition, the front and rear suspension components are linked by a Fire-link platform, improving traction, comfort, and big-hit capability.
The Jeep is also versatile. It can be combined with trailers to haul 300 lb payloads and has compatibility with 29″ wheels if you want a modern mountain bike feel.
Add the Quietkat Jeep to your shortlist if you want the best ebike for hills that you can use for hunting trips and have the budget to match.
---
Haibike ALLMTN 3
Best eBike for hill climbing and descents
Price: $5,800
Motor: 250W/75Nm Bosch Gen4 Performance CX
Battery: 625Wh Powertube (range extender compatibility)
Gears: 12
Reasons to buy:
Smooth Bosch mid-drive motor
Range extender option
Excellent gear range for climbing
Mixed-wheel design balances agility with rolling speed
Reasons to avoid:
Poor range
Heavy for a premium bike
The Haibike ALLMTN 3 is a full suspension trail/enduro e-bike that'll give you the extra kick you need to spend more time on the mountain.
The e-bike system chosen by Haibike is Bosch's Gen4 Performance CX paired with a 625Wh Powertube removable battery. This combination offers 250W/75Nm of power and a max speed of 20mph. Unfortunately, the average max range is 20 to 40 miles, a slightly disappointing return. However, the bike is compatible with a range extender if you want to tackle longer days on the trails.
The suspension is RockShox, with a 160mm Yari RC Lockout fork and a 150mm Deluxe RT rear shock. To enhance versatility on the trail, Haibike chose a mixed-wheel design to improve the bike's maneuverability in tight situations without losing roll-over capability. The tires are Maxxis Minion DHF 2.5″ and DHR 2.8″.
Other notable components include the XLC remote dropper post, Shimano MT420 4-piston hydraulic disc brakes, and the SRAM SX Eagle 12-speed drivetrain with an 11-50t cassette.
Choose Haibike's ALLMTN 3 if you want a versatile and fun electric trail mountain bike to open up the mountain and help you tackle steep climbs.
---
Rambo The Pursuit
Best fat bike for climbing hills
Price: $3,499
Motor: 750W/120Nm mid-drive
Battery: 672Wh
Gears: 8
Reasons to buy:
Puncture-resistant 4″ fat tires
Throttle
High-power mid-drive motor
Solid payload capacity for hauling gear
The Rambo Pursuit is an electric fat bike capable of taking on any terrain you encounter, thanks to the wide tires and giant motor.
The most impressive component of this bike is the 750W/120Nm mid-drive motor. This spec is unusual for a mid-drive, as most models are 250W or 500W. As a result, the Pursuit has explosive acceleration and can sustain high speeds up steep climbs. In addition, it has a max speed of 28mph (Class 3).
The disappointing inclusion is the battery. Although it has a 672Wh capacity, the max range is only 35 miles. This low range is likely due to the Kenda Krusade puncture-resistant fat tires and the heavy weight of 63lbs.
Other notable components include the GT MRK suspension fork, Shimano 8-speed drivetrain, and Logan two-piston hydraulic disc brakes. These features make this bike perfect for tackling steep mountain hills, taking on overnight hunting trips, or simply as a city cruiser.
Don't miss out on the Pursuit if you want an affordable all-terrain hunting bike with tons of power for tackling nasty inclines.
---
Rad Power Bikes RadWagon 4
Best cargo eBike for hills
Price: $1,999
Motor: 750W Geared hub
Battery: 672Wh
Gears: 7
Reasons to buy:
Huge 350lb payload capacity
Rear tire guard for passenger protection
Two-legged kickstand is very stable
Comfrotable and easy to mount/dismount when loaded
Reasons to avoid:
Heavy at 76.7lbs
Mechanical disc brakes are low quality for a $2,000 bike
The Rad Power Bikes RadWagon 4 is an affordable cargo bike that comes ready to carry anything you need, wherever you go.
The powerful 750W motor and 672Wh battery combination give this bike 25 to 45 miles of range with top assisted speeds of 28mph. The geared hub motor provides plenty of power to get you over light hills with a full 350lb payload.
Rad Power chose 3″ tires on 22″ wheels, low and long geometry, and a low center of gravity to provide a stable ride feel. As a result, you can load up the extra-long rear rack with cargo (or two kids) and confidently navigate the city. The main issue with the build is that it is pretty heavy.
Other exciting features of this bike include the integrated lights with rear brake light activation, the adjustable handlebar, and telescoping seatpost, and the compatibility with tons of accessories from the Rad Power Bikes online store.
Don't miss out on the RadWagon 4 if you want the best ebike for hills that can carry plenty of cargo.
---
Vvolt Sirius
Best eBike for San Francisco hills
Price: $2,799
Motor: 250W/80Nm mid-drive motor
Battery: 375Wh battery
Gears: Enviolo hub with 380% range
Reasons to buy:
Internally geared hub lowers maintenance requirements
High-torque mid-drive motor is perfect for steep hills
Gates Carbon belt drive
Stylish integration of electronics
Reasons to avoid:
Poor range
Suspension can be bouncy over successive hits
The Vvolt Sirius is a stylish electric bike that would make a great urban cruiser or trail companion for light to moderate trails.
Vvolt chose off-brand electronics for the Sirius, with a 250W/80Nm MPF mid-drive motor and a 375Wh Cellxpert battery. On average, this system delivers 20 to 40 miles of range, with max speeds of 20mph (Class 1). Additionally, you can pay an extra $100 to turn the Sirius into a 28mph Class 3 bike.
The drivetrain is the most impressive part of the Sirius, featuring a stepless Enviolo TR rear hub with a 380% gear range, allowing you to maximize your battery's juice. In addition, this hub runs with a Gates Carbon belt drive to complete an almost maintenance-free setup.
Vvolt included a 100mm travel fork and deep-tread Kenda mixed-terrain tires on 27.5″ rims to deliver off-road performance. Hydraulic disc brakes complement these components, providing powerful and controlled stopping. Unfortunately, the 160mm rotors are small for a heavy e-bike.
Other features of this bike include rechargeable LED lights, a kickstand, and a computer with USB charging. In summary, the Sirius is a solid choice if you want a bike with urban and backcountry capabilities at a reasonable price and you're looking for the best ebike for hills with a carbon belt.
---
Charge XC
Price: $2,699
Motor: Shimano STEPS E5000 250W/45Nm
Battery: 504Wh Shimano STEPS E8035
Gears: 8
Reasons to buy:
Shimano STEPS mid-drive e-bike system
Folding handlebars and pedals
Fully-equipped for commuting
Integrated electronics
The Charge XC is another all-rounder bike that functions equally well in urban environments as on cross-country trails.
This e-bike comes with a complete Shimano STEPS system that includes a 250W/45Nm mid-drive motor and a 504Wh downtube battery. This system is smooth and efficient, delivering seamless power thanks to the torque sensors.
The Charge XC has a 100mm SR Suntour XCM 34 fork to smooth the trail over light to moderate bumps. Additionally, a set of Goodyear Peak 2.25″ tires roll fast on mountain trails. The frame used is a 6061 aluminum that has fenders and a rack, so the XC doubles as the perfect commuter or bicycle tourer.
All things considered, the Charge XC would make the best ebike for hills for riders wanting a bike to take to the trail on evenings and weekends and get them to and from work during the week.
---
Juiced Bikes RipRacer
Best ladies e-bike for hills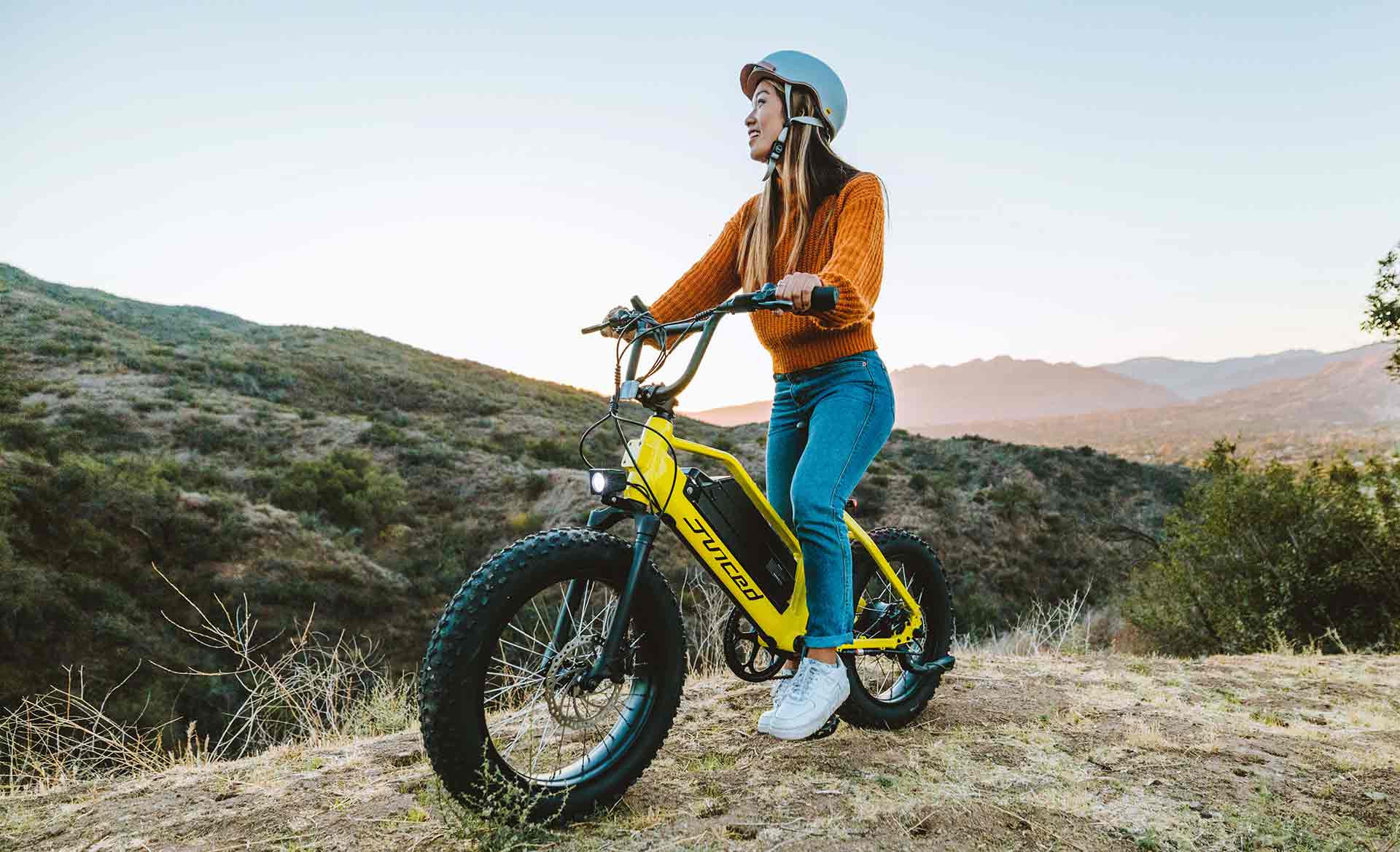 Price: $1,499 or $1,699
Motor: 750W hub motor
Battery: 540Wh or 811Wh
Gears: Single-speed
Reasons to buy:
Cheap
Shock-absorbent fat tires
Solid range of 55 miles (Class 3)
One size fits a wide range of heights (5′-6'3″)
Reasons to avoid:
Low-quality brakes
Very heavy for a small bike
The Juiced Bikes RipRacer is a mini electric fat bike that gives riders a super comfortable and stable urban ride and the ability to tackle snow, sand, and mud easily.
The powerful 750W geared hub motor provides plenty of power for tackling hills. This motor pairs with either a 540Wh battery on the 20mph Class 2 model or an 811Wh one on the 28mph Class 3 model. The batteries provide average max ranges of 35 miles and 55 miles.
The 180mm rotor Logan hydraulic disc brakes offer decent stopping power and are of suitable quality at this price. The wheelset includes 20″ double-wall aluminum rims and 4″ CST fat tires, which make up for the lack of suspension.
One great feature of the RipRacer is that you can personalize it with fenders, a rear rack, and other accessories to make it ready for commuting or overnight backcountry trips. In addition, it comes preinstalled with a 1050-lumen off-road headlamp to facilitate safe riding no matter where you go.
Add Juiced Bikes' RipRacer to your shortlist if you want a cheap all-terrain machine to try out e-powered fat biking.
---
Rambo Krusader
Best for climbing steep hills and riding on soft terrain
Price: $4,999
Motor: Two Bafang 500W hub motors
Battery: 672Wh
Gears: Single-speed
Reasons to buy:
Unbeatable traction with two-wheel drive
Huge 1000W/160Nm power
4″ fat tires or all-terrains
Low-maintenance drivetrain
Reasons to avoid:
Very expensive given the spec
Poor range
The Krusader by Rambo is a pure all-terrain vehicle with all-wheel-drive, fat tires, and fork suspension, meaning no place is out of reach.
The motors are the most impressive part of this bike. Two Bafang 500Ws, one in each hub, provide 1000W/160Nm of power so you can tackle the steepest hills and find traction on the softest terrains.
The disappointing part of the bike is the battery which is only 672Wh and drains quite quickly due to the dual-motor design, providing a max of 38 miles per charge. Another sacrifice of having two motors is that the bike is weighty (74lbs).
Rambo chose 4″ fat tires on nimble 26″ wheels to ensure versatile off-road performance, allowing you to maneuver the bike better on technical terrain. Additionally, the Krusader uses hydraulic disc brakes from Logan for stopping and a suspension fork for extra comfort and traction.
Choose the Krusader all-wheel-drive bike if you want a backcountry companion for your hunting or camping trips that can get you to the most remote areas.
How to Choose the Best Ebike for Hills
---
Many factors influence an electric bike's ability to climb hills, such as gradient, length, motor design and power, throttle, gearing, and weight. This section will discuss these factors and provide a short guide to choosing the best eBike for hills.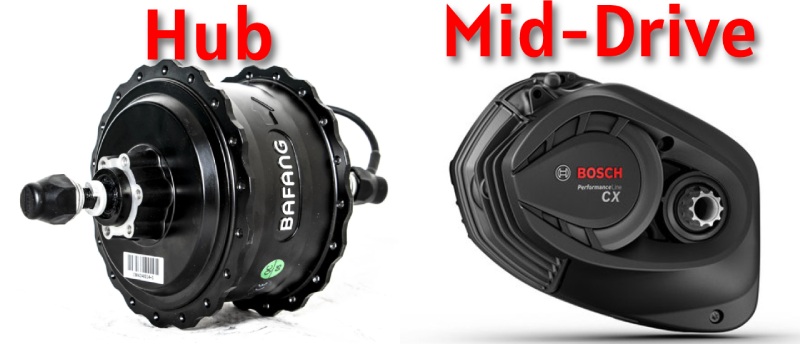 The mid-drive and hub-drive are the most common e-bike motors sold today. Of the two, the hub drive is cheaper but less effective for climbing hills. In contrast, mid-drive motors are more efficient on hills and lighter, but they're more expensive.
When electric bikes began being mass-produced, manufacturers used an electric motor placed in the hub of the rear ...
Mid-drive motors allow you to use the entire gear range of the bike, meaning you can spin a low gear with high torque to push you up the hill. The downside is that you must select the correct gear when needed, as you would in a car. Conversely, hub motors operate on one gear, meaning they're powerful on flat terrain and light inclines but ineffective on steep hills as you'll be required to use a lot of effort.
In general, if you live in a very hilly area, a mid-drive is better. However, a hub drive is perfect if you live in a place with few hills because it's cheaper and easier to use.
Weight – Bike, Rider, and Cargo
Weight is the most significant variable in a bike's ability to climb hills, after motor style. Rider weight, bike weight, and cargo all impact the power required to go uphill at a given speed, and the steeper the hills, the more that weight becomes a factor.
As a result, if you're a heavier rider, have a heavy bike, or frequently carry cargo, you'll require a more powerful motor or more efficient mid-drive to ride up hills.
Gearing
Gearing is another important consideration when riding uphill, with or without a motor. Using a lower gear allows you to maintain a high and consistent cadence, so you don't need to push as hard or stand up to pedal.
For mid-drive motors, this is especially relevant, as the motor is activated by your pedaling. This design means that if you use a high cadence when going uphill, you can maximize the power and torque of the motor.
Hub drive motors operate the same regardless of the bike's gear, so gearing isn't as relevant for these bikes. Nonetheless, it is helpful to have extra gears to pedal and tackle steeper climbs than if you were using the throttle alone.
When riding up hills with a hub drive e-bike, you typically need to use the pedal assistance function if you have a 250W bike, as the throttle won't be enough to get you up hills. On the other hand, 500W to 750W motors should be enough to use the throttle only on light to moderate climbs. A hub motor requires rider power for anything more than light to moderate hills. Before you reach the incline, be sure to shift to one of your lower gears and keep pedaling.
When riding a mid-drive bike, they typically don't have throttles. As a result, you must pedal to move. When approaching a hill, switch to a lower gear; the steeper the hill incline, the lower the gear you choose. Doing so will allow you to pedal at a smooth, high cadence and utilize the motor's torque to get you over the hill comfortably.
How much power and torque is enough for steep hills?
It's impossible to make a definitive statement about how much power and torque is enough for steep hills. Instead, you can estimate from factors like rider weight, bike weight, wind, power input, and desired speed.
To generalize, if you don't mind spinning and putting power into the pedals, a 250W mid-drive or 500W hub drive motor with more than 60Nm of torque should suffice. On the other hand, if you want to use the throttle alone, you'll need a hub-drive motor with 750W or higher and at least 70Nm of torque.
Yes, a 250W electric bike can go uphill. A 250W hub drive will be limited to light hills, but a 250W mid-drive motor can tackle moderate hills if you use the full range of gears and keep pedaling to support the motor.
Battery size and braking power
The battery size and range depend on a lot of factors, such as how much assistance you use, how much you weigh, and what gradients you ride.
Eco mode will allow your battery to last as long as possible. Each higher pedal assistance level increases the usage, while the throttle uses the most. Bike weight, rider weight, wheel width, terrain, and weather influence how fast your battery drains. If you expect to use your electric assist more, we recommend choosing a model with a higher-capacity battery.
Living in an area with many hills puts greater demands on your e-bike motor and the battery. The more power you require to ride, the faster you use your juice.
One final consideration for choosing an e-bike to ride hills is the type of brakes and the size of the rotors for the descent. If you're a heavy rider or the e-bike is heavy, you'll need more powerful brakes (hydraulic discs) to achieve a safe stopping distance.
Larger rotors increase the braking power of a brakeset. Additionally, if you're braking regularly on a descent, wider rotors dissipate heat faster and help maintain braking performance. Hydraulic disc brakes are the best choice for e-bikes and when possible, choose brakes from a well-known manufacturer like Shimano or Tektro.