Best Single-Speed e-Bikes Online
A single-speed eBike is a winner when it comes to maintenance, reliability, cost, and overall ease in your daily commute.
With just one gear, there is no need for shifting and the speed of the bike is set by your pedaling and the motor. When you combine a single-speed bike with the electric component of an eBike, you get the extra power needed to get to your destination faster and in better shape with low-cost, energy-efficient, emission-free transportation.
With a fixie eBike, you have the added advantage of not needing brakes as your backpedal allows for sturdy braking. Less is more and a single-speed eBike is perfect for those moving with the times –  the minimalists, the fast movers, those who want more bang for their buck.
---
Table of Contents
Pros of Single-Speed Bikes
RadMission vs Roadster vs Propella
↓
---
Why Singlespeed eBikes are Getting More Popular?
With things moving at a much faster pace than twenty years ago, those who choose to commute with a one-speed electric bike definitely have the advantage of time and efficiency. Fewer gears mean less time wasted on servicing your bike, which ultimately means less money spent, which all adds up to a hefty amount in the end. Single-speed eBikes are seen as somewhat of a simplified upgrade to the traditional eBike, which may explain their recent rise in popularity.
Lower Price
There is a big financial relief when choosing a single-speed eBike. For one, gearing mechanisms affect the price significantly as they are made with more hardware using more expensive materials. They can also be quite sensitive and need to be replaced over time, with the extra cost of servicing playing a big role. 
Less Complexity
Gears are a complication within themselves as they require correct setup and regular servicing to stay fully operational. Slight misalignment causes them to stick, grind and make a lot of annoying sounds. A single-speed eBike is a lot less complex than a bike with gears. With no shifters, derailleur systems, or transmission cables to worry about, you have no need to service, repair, or replace any of these components. Cycling is made easier as there is no added thinking going into your commute, purely the experience.
Reliability
With no calibrating gears to worry about, a lot less maintenance is needed, ultimately putting your mind at ease about the reliability of the whole setup. A single-speed eBike can be more reliable than the traditional bicycle because there is no slipping of gears when going up a hill, causing a loss of momentum when you need it most. The much simpler setup and single-speed feature allow for minimum time and attention as the bike does the thinking for you.
Reduced Weight
The reduced weight as a result of no gearing components is also an added bonus. Fewer gears mean fewer parts, which means less weight to carry. Cables, cassettes, and derailleurs all add weight and integrated geared hubs have many internal components which weigh a lot more than a single-speed motor. 
Simpler Packaging
For cyclists who love to travel and who simply cannot get to their next destination by bike, packaging a single-speed bike for a flight is a lot simpler. There's no need to protect fragile parts like derailleurs so packing your noble steed for transportation is a lot easier without the added stress of something breaking or trying to secure all the fragile parts into limited space.
---
Can Single-Speed eBikes Handle the Hills?
Let's talk about hills – can single gear electric bikes handle them? No sweat – literally.
With no gears to strain your brain, the bike does the thinking and pushing upward for you, allowing you to reach the top with ease yet still benefiting from the journey and the experience. The eBike driving system is designed to assist in most conditions by sensing the current resistance, whether it's caused by the rider's weight, effort, wind, and of course, hills.
As long as the bike has power left to give, a single gear electric bike will provide that forward thrust even on some particularly steep hills.
---

Belt-drive vs Chain
There are many Pros and Cons to take into consideration when choosing between a belt drive and a chain drive. Belt-driven bikes are cleaner, quieter, and lighter, with less maintenance required and more durability than their chain-driven counterparts. The slight downside is that they are more expensive than chain drive bikes, with fewer gearing options and limited tire or rim sizes to choose from. It all boils down to personal preference in the end, although long term you are looking at saving money with the servicing of a belt-drive bike.
Belt PROs
Clean
Quiet
Light
Less maintenance
Durable
Won't stretch out over time
Belt CONs
More expensive
Less gearing, except the internal gearing hub
Limited tire or rim size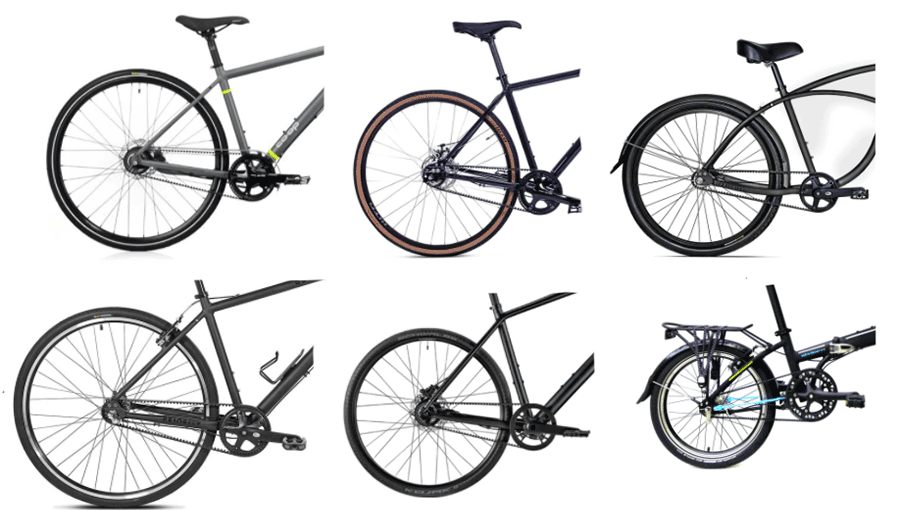 ---
Which is the Best Single Speed Electric Bike?
---
Rad Power Bikes – RadMission 1
Customer rating: 4.7 / 5 out of 500+ reviews
MSRP $999 Rad Power Bikes
What makes the Rad Power Bike stand out is that it's a class 2 bike, meaning it's powered by a throttle as well as the pedals. The 500W hub motor is a powerful mid-range option whilst the 504Wh battery is slightly smaller than other Rad Power Bikes. Even though it is smaller, this one-speed electric bike still packs a mean punch when it comes to power and is one of the most affordable of its kind. With strong mechanical disc brakes and a maximum assisted speed of 20mph (32km/h), it allows for safe & comfortable cruising. However, the overall look of the RadMission is a bit messy and unrefined, with the front of the bike littered in cabling.
Related: RadMission Full Review
Related: RadRunner E-Bike Review – Another single-speed by Rad Power Bikes
500W hub motor – 50nm torque
504Wh battery
Range: up to 45 miles
Max Assisted Speed: 20mph
Load Capacity: 275 lbs
Bike Weight: ~48 lbs
RadPowerBikes.com
---
Ride1UP – Roadster v2
Customer rating: 4.7 / 5 out of 126+ reviews
MSRP $1,095 Ride1UP
The Ride1Up RV2 minimalist eBike makes for a great commute through urban areas and paved surfaces, with the 350W  pedal-assist motor giving you a smooth and quiet ride. Even when hitting the max assisted speed of 24mph (38km/h) you can barely hear the motor. With a somewhat short range of up to 30 miles (48km) and an adequate 40nm of torque, it's the ideal bike for casual city commuting and recreational cruising. The weight is also quite low at only 33 lbs (15kg), so it's light and lean like a regular single-speed cruiser – easy enough to carry up a flight of stairs or into an elevator.
Related: Ride1UP Roadster v2 Full Review
350W hub motor with 40nm torque
252Wh battery
Range: 20-30 miles
Max Assisted Speed: 24mph
Load Capacity: 275 lbs
Bike Weight: 33 lbs
Ride1UP.com
---
Propella – Single-Speed v4.0
Stylish electric fixie bicycle
MSRP $1,099 Propella Bikes
This stylish electric bike is sturdy while remaining lightweight at only 35 lbs. It has a 250Wh battery and 250W Bafang hub motor that gives a slight lag with the pedal assist, so you need a little more leg power to get going initially. However, once the motor kicks in you can quickly accelerate to the max assist speed of 18.5 mph (30km/h) which helps to take the edge off your own pedaling.
The battery was actually redesigned for the 4.0 with a smoother removal mechanism to lock and unlock from the frame as well as improved waterproofing. The Propella V4.0 is quite a basic single-speed eBike but is also very affordable, so it's perfect for those on a budget.
250W Bafang hub motor
250Wh battery
Range: 20-38 miles
Max Assisted Speed: 18.5mph
Load Capacity: 220 lbs
Bike Weight: 35 lbs
Propella.bike
---
Ampler – Curt
Lightweight minimalist eBike with belt drive
MSRP €2,890 Ampler Bikes (Available in EU only)
The Ampler Curt is a lightweight, minimalist eBike with a belt-drive system, perfect for a hassle-free city-slicker. At only 30 lbs (13.4 kg), it's exceptionally light, not just for an eBike but ANY bike, making it super easy to carry upstairs or onto the train during your daily commute. The 336Wh battery is neatly hidden inside the frame and provides a pedal-assistance range of up to 62miles (100km), more than enough to last all day.
The 250W hub motor gives you the power you need to iron out hills and with a max assistant speed of 16mph (25km/h) it makes the perfect commuter bike around any town or city. Opting for a single-speed bike with a carbon belt drive system eliminates the hassle of a greasy chain, meaning you get an almost maintenance-free ride.
250W hub motor
336Wh battery
Range: 28-62 miles (45-100 km)
Max Assisted Speed: 16mph (25kph)
Load Capacity: 265 lbs (120 kg)
Bike Weight: 30 lbs (13.4 kg)
AmplerBikes.com
---
Luna – Fixed Stealth
A fixed-gear eBike for track lovers who need a bit of extra boost
MSRP $1,750 Luna Cycle
The Fixed Stealth is a single-speed, fixed-gear eBike by Luna bikes and is an impressive city commuter or recreational weekend ride. There is no throttle on this fairly light 39 lbs (17.6kg) Class 1 eBike, but it does come with a powerful 500W mid-drive motor and a 250Wh battery to support it, with a range of up to 20 miles (32km). It also includes convenient torque sensors to provide more accurate power based on the strength of the rider.
Whilst most fixies lack breaks, the Luna Fixed Stealth comes with front and rear Tektro hydraulic disc brakes so you get some added options for safety. It's unlikely that you'll find another single-speed eBike with all these parts and high-quality components at such a good price.
500W Mid-Drive motor
250Wh battery
Range: ~20 miles
Max Assisted Speed: 24mph
Bike Weight: 39 lbs
Lunacycle.com
---
AMX – Classic Stealth
A hassle-free belt drive bike with a classic fixie look.
MSRP £1,789 Analog Motion
The AMX Classic Stealth is a minimalist single-speed belt-drive eBike by Analog Motion. It features a 250W hub motor and a fast-charging, extended range 36V battery the size of a water bottle, so it can easily fit into a jacket pocket or your backpack. The carbon belt drive system allows for an oil-free, silent commute which is low maintenance and extends the lifespan of the belt.
The AMX Classic Stealth eBike also comes with ultra-bright STVZO-compliant front and rear lights that provide great visibility and are controlled by the handlebar display so you never have to worry about running out of power mid-ride. Combined with the added mudguard protection this bike allows for commuting across any terrain, any time of the day or night.
250W hub motor
36V battery
Range: ~27 miles
Max Assisted Speed: 20mph
Bike Weight: 35 lbs
AnalogMotion.com
---
RadMission vs Roadster vs Propella
---
The Roadster and Propella are both slightly lighter than the RadMission which has a larger 500W motor, providing more power for tough hill climbs or headwinds. The RadMission also has the longest range of the three bikes, allowing for longer commutes or days out in the saddle.
The Roadster and Propella have both got 700C tire sizes while the RadMission has 650b tires, and the Roadster and RadMission have similarly larger overall weight capacities. The Roadster also has lower-quality V-brakes rather than the mechanical discs on the other two.
As a more powerful Class 2 bike with the longest range and lowest price, the RadMission clearly offers the best value for money of the three eBikes. However, for the image-conscious, the Roadster does look the most stylish and the least like an eBike.
| | | | |
| --- | --- | --- | --- |
| | RadMission | Roadster | Propella |
| Weight | 48 lbs | 33 lbs | 35 lbs |
| Payload Capacity | 275 lbs | 275 lbs | 220 lbs |
| Motor | 500W, 50Nm torque | 350W, 40Nm torque | 250W |
| Battery | 504Wh | 252Wh | 250Wh |
| Range | 25-45mi | 20-30mi | 20-38mi |
| Brakes | Mechanical disc, 180mm | Dual Pivot V-brakes | Mechanical disc |
| Tires | 27.5″ x 1.95″ (650B) Kenda Kontact | 700x28C Kenda Kwest | 700x35C CST XPEDIUM |
| MSRP | $999 | $1,095 | $1,099 |
---
Conclusion – Should I Buy Single-Speed e-Bike?
Single-speed eBikes are still a niche market but they're becoming more popular by the day. We see this through an ever-growing demand for these bikes as they are easier to manage, with lower maintenance due to fewer components than a traditional bike. Single-speed eBikes are a good choice for the budget-conscious as they are simpler, more reliable, and more cost-effective.
They also make great urban commuters with that extra pedal assistance when faced with resisting elements like hills, so you get to your next destination in better condition. Sweating through your work clothes and being covered in chain lube is not always a great look especially in a corporate environment. 
---
RELATED