250W Mid-Drive vs. 750w Hub E-Bike Motors
The most common e-bike motors are 250W mid-drive motors and 750W hub drives. These are tried and tested eBike motor designs, and most riders would be pleased with either one.
Of the two, a 750W eBike hub motor is the most popular for its low price. These are typically placed in the rear wheel's hub (although front wheel hubs are available), turning the wheel independent of the drivetrain.

A 250W mid-drive sits between the cranks in the bottom bracket and powers the drivetrain. Most riders regard these as the high-end choice.
Both designs will work in any environment, yet they have distinct advantages and disadvantages, discussed in depth below. This article aims to help you choose the perfect e-bike motor for your next electric bike.
Instead of the usual answer: "it depends," here are the facts.
Quick Facts About Hub and Mid-Drive Motors
Mid/high-end eBikes come with a motor placed in the bottom bracket called a mid-drive motor.
Mid motor eBikes generally start from $2,000 to $10,000+.
Average price range for a mid-drive motor – $2,500 – $3,500.
Mid-drive motors are commonly found on fitness/performance-focused bike styles.
Hub motors are in the hub at the center of the rear wheel or front wheel.
Electric bike hub motors are found on entry to mid-level commuter e-bikes.
Hub motor eBikes start from as low as $350 to $8,000 on powerful hunting eBikes.
The average hub motor eBike price is from $1,000 to $2,000.
Important Information to Keep in Mind
The legal eBike power limit in most US states is 750W* (anything above that needs a license/registration to ride on the road)
Legal maximum eBike speed in the US is limited to 28mp/h (Class 1/2 – 20mph, Class 3 – 28mph)
750W = 0.75KW = 1hp = 1 horsepower
Wattage does not equal power.
The controller regulates the power from the battery to the motor (36V < 48V)
750W = nominal power (different to peak power)
>>> Related: Electric Bike Rules & Regulations
250W Mid-Drive eBike Motor
---
250W mid-drive motors are most common on higher price e-bikes, lightweight performance bikes used for climbing or technical terrain, and those designed for long-distance riding.
They provide a smooth, natural ride feel as the motor connects to the gears and the cranks, and the torque sensor adjusts the motor's power to match your power seamlessly.
This connection also results in a more extended battery range, specifically when riders use the entire gear range, as the motor only provides power when needed. Finally, these bikes handle better thanks to the motor's weight being in the center of the bicycle.
Mid-drive controller torque sensors are more advanced as they utilize:
1. Torque – how hard are you pedaling.
2. Bike speed – speed sensor.
3. Cadence – how fast are you pedaling.
PROs
Lighter.
More efficient.
The controller is inside the motor (not visible)
Better weight distribution for handling.
A torque sensor is inside the crank/motor.
Easy to perform puncture repair on the road.
CONs
More expensive.
Less total power.
The bike doesn't work if the chain breaks.
The bike frame is built around the motor.
Due to torque conversion, the bike chain wears faster.
The SUM
250W mid-drive motors provide more power per watt, get more range from the battery, deliver smoother power transfer (especially when climbing) but cost more upfront.
750W Hub Motor
---
Although technically inferior, the 750W hub motor is hugely popular for three reasons:
Low price
Doesn't rely on the drivetrain (and wear down the chain)
Performs perfectly for most riding
These reasons result in the hub drive (specifically 750W models) coming on many e-bikes like city and commuters, budget to mid-level e-bikes, and most hunting e-bikes.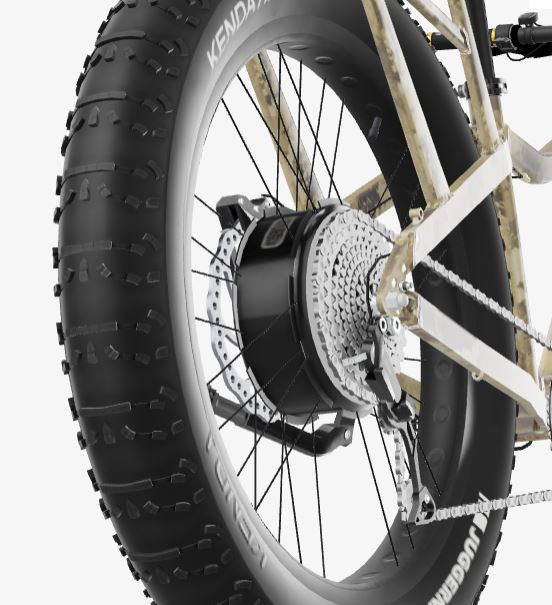 When the total weight and weight distribution aren't an issue, you can depend on these independent motors to provide plenty of power and deal with most terrain effectively. Additionally, the drivetrain will last longer, reducing maintenance costs in the long run.
PROs
Affordable.
High torque levels.
Tidy look
Hub motors can be retrofitted to most bikes.
Commonly used for eBikes with throttles (Class 2, Class 3).
Still works if the chain snaps as the rear wheel is powered independently of the drivetrain.
Less likely to snap a chain (or premature chain wear).
CONs
Visible cadence-sensor.
Heavier.
Less efficient.
Difficult to change the tire.
Requires a visible controller/converter on the frame.
A heavier rear wheel changes the handling.
Spokes tend to loosen due to direct power conversion from the rear hub.
FAQ
Which eBike motor is more economical?
As discussed above, mid-drive motors have better range due to the efficient power output and weight savings of mid-drive electric bikes. Here are some additional factors which affect how economical an e-bike is:
If there is a throttle, pedal-assist mode is more economical than the throttle (Class 2).
Mid-drive motors have more advanced components and sensors, saving power when possible.
Class 3 eBikes are not as economical as Class 1/Class 2 e-bikes as the max speed is 8mph higher.
Providing the appropriate amount of power reduces unnecessary braking, improving efficiency.
Utilizing the full range of gears maximizes the battery life.
Which eBike motor is more powerful?
In general, the watt to torque ratio torque levels is better on mid-drive motor electric bikes (especially on throttle mode) because they have the advantage of using the drivetrain and gearing range.
Sustained power is also better in mid-drive motors as the mechanical parts are always engaged.
Which eBike motor type is more convenient to use?
Both motor types are equally easy to use, although there are two differentiations:
First, class 2 (& some Class 3) eBikes have the throttle, making it easy to start from a stand-still, which is helpful on ascents.
Electric bike hub motors require more work when performing rear tire maintenance on the road.
Which eBikes have better aesthetics?
This depends on the manufacturer of the bike and the brand of the motor and controller system.
Mid-drives electric bikes generally have better aesthetics due to the lack of a visible controller and a cadence sensor placed on the frame.
Some high-end hub motor eBikes use Mahle ebikemotion hub motor systems, which can be seamlessly integrated and almost completely hidden, arguably more stealthy than any mid-drive options.
Many stealthy eBikes are built around the hub motor, for example, the Orbea Vibe.
Are mid-drive eBike motors the future?
Not in the immediate future. The size issue limits the universal application of mid-drives (most only work with a 1x drivetrain). Popular manufacturers like Bosch are not compatible with a front derailleur, although the Fazua Evation is.
Budget/entry-level e-bikes are incredibly popular, and mid-drives are too expensive for these bikes right now.
Additionally, some bikes, such as hunting e-bikes, require the motor function even if the chain breaks to ensure you can get out of these difficult situations.
Which is the best eBike motor?
For most situations, a hub drive motor is perfect. However, we believe the best option is the mid-drive motor (if it fits the budget), given everything we've learned researching them.
The smooth, natural ride feel, balanced handling, better range, and lower weight give the 250W mid-drive a slight edge, even considering the price.
How many watts do I need?
The legal limit in the US is 750W / 250W in the EU.
Depending on the motor type or intended use, the watts you need will vary.
250W is enough for almost any mid-drive e-bike (except hunting e-bikes). However, a 250W hub motor will only provide enough power for flat to light gradients, suitable for cruisers or basic commuter e-bikes.
250W hub motor – cheap cruisers & city bikes
250W mid-drive motor – most eBikes styles
350W hub motor – affordable commuter eBikes
500W hub motor – commuter & city eBikes
750W hub motor – most eBikes types
1,000W mid-drive motors – hunting Bikes
1,000W hub motors – some commuter bikes like Juiced Bikes
For example, one of the most popular cheap eBikes, the Lectric XP 2.0, has a 500W nominal hub motor while the peak power is 800W which is enough for pulling a loaded e-bike over easy to moderate gradients.