The 8 Best Cheap Electric Bikes
Gone are the days when electric bikes were only luxury products sold at unreasonable prices.
Today, you can find perfectly good and cheap eBikes from reputable manufacturers that utilize modern technology and materials costing slightly over $1,000.
How much are electric bikes in 2022?
$500 – $999 | Entry level hub motor eBikes
$1,000 – $1,500 | Mid/entry hub motor eBikes
$1,500 – $2,000 | Mid-range hub-motor, entry level mid-drive eBikes
$2,000 – $3,000 | Mid-range hub & mid-drive eBikes
$3,000 – $4,000+ | High-end hub motor, and mid/high-end mid-drive eBikes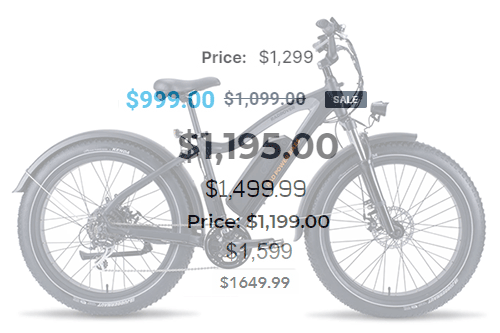 ---
Incredibly, between 2013 and 2018, the yearly rate of e-bike sales more than doubled in the USA from 185,000 to 400,000 units. Since the pandemic, this rate of increase has accelerated even further. Between 2020 and 2023 more than 130 million electric bicycles are expected to be sold worldwide.
While electric bike cost is still higher than a standard bike, they offer unique qualities that cannot be found elsewhere, potentially offering huge savings when used as a replacement for a car. They are also better for the environment and individual health compared to cars. The growth in popularity is partly due to improvements in battery technology (lithium-ion) and weight, as well as manufacturing processes, leading to a reduction in price. Additionally, with better, cheaper technology comes more demand, lowering electric bike prices even further.
→ All these factors mean we are now able to recommend many cheap electric bikes that may suit your needs!
We need to remind you that buying a bicycle (especially an e-bike) is a long-term investment! Cutting corners and getting the cheapest available might not turn out to be the best solution for your needs, so take your time and choose wisely.
Cheap Electric Bicycle is a thing in 2022!
---
What is cheap in terms of electric bikes?
Cheap = Something that exceeds expectations, or simply cheaply made?
We wouldn't recommend anything under $1,000 as the cost savings are generally not worth the trouble long-term. However, there can be some great finds online. In this article, we put together a list of highly-rated electric bikes at affordable price tags.
$1,000 eBike = approx. $500 bicycle without the electronics
$1,500 eBike = approx. $750 bicycle w/a the battery, motor & controller
---
What to expect from a cheap electric bike?
One Size Frame (Step-through, step-over)
Hub-Drive Motor (Mid-drive eBikes start from $2,000)
Mechanical Disc Brakes (Hydraulic brakes can be found on higher-spec bikes)
Why didn't we include cheap Amazon electric bikes?
For this article, we wanted to offer you cheap electric bikes that we know perform above their price tag. The bikes listed below are all very highly rated and from reputable manufacturers with excellent customer service and support (which is not common with the cheapest brands).
If you are interested in electric bikes for $1000 or less, check out our article "Best Electric Bikes Under $1000".
---
Anyway, let's check out the best cheap eBikes for sale online:

↓↓
#1 VVolt – Alpha
$1,399
#2 Rad Power Bikes – RadRunner 1
$1,299
#3 Lectric – XP 2.0
$1,099
#4 Ride1UP – Core 5
$1,195
#5 Electra – Townie GO! 7D
$1,600
#6 Aventon – Pace 350
$1,199
#7 Blix – Aveny
$1,599
#8 sixthreezero – AroundtheBlock 250W
$1,649
Related reviews
11 Best Electric Bikes Under $1,000
---
#1

| VVolt – Alpha
A modern urban e-bike with the best-possible value
MSRP: $1,399
Vvolt.com/
The VVolt is a new electric bike brand that has made a nice entry to the demanding and competitive e-bike market at the right time. The Alpha & Alpha S (Step-through) are superb bikes considering the fact that they combine a bunch of high-quality components at an affordable price tag.
An estimated 60mi range is a tough promise, but considering the bikes' weight, belt-drivetrain and the combination of 350W motor and 375Wh battery – it is likely to be true! Check out their other, high-end mid-drive motors to find out more!
6061 alloy frame & fork
Belt-driven
Motor – 350W Acer
Hub motor
Battery – 375Wh
Charge time – 5.5 hours
Range – Up to 60miles
E-Bike Class – 1
27.5″ wheels
20mph pedal-assist
Brakes – Hydraulic disc
Wheels – 27.5″
Weight – Approx 45lbs
Vvolt.com/
---
#2

| Rad Power Bikes – RadRunner 1
Over 2,400+ reviews – Best affordable electric bike!
MSRP: $1,299
Rad Power Bikes
Rad Power Bikes RadRunner 1 cheap eBike is exceptionally versatile and recognized as the "most customizable electric bike on the market".
Using Rad Power accessories, you can customize the RadRunner for any job or use you like, totaling up to 330 combinations of accessories. This ability makes this bike uniquely suited for anyone who values versatility.
Additionally, the bike is super comfortable to ride, using a low step-through frame (which doubles as a storage space with one accessory), wide, shock-absorbent Kenda tires, and upright geometry.
Finally, the motor on the RadRunner is excellent at this low price, with speeds up to 28mph for ranges up to 45 miles. If you're looking for a comfortable and powerful workhorse e-bike, look no further than the RadRunner 1.
RadMission 1  is Rad Power Bikes $999 Single-speed urban bike!
RadPowerBikes.com/
---
#3

| Lectric – XP 2.0
Most likely the best value electric bike of all time
MSRP: $1,099 $999
Lectric eBikes
The XP 2.0 folding electric bike by Lectric is uniquely positioned as the best value electric bike due to the excellent product, combined with free delivery of a fully assembled bike, and great customer support.
The XP 2.0 is perfectly optimized as a commuter's bike, as it folds up quickly to take it on public transport, store it at the office, and take on any commute without breaking a sweat. Additionally, it is equipped with almost everything you need (rear rack not included) for convenient commuting or urban riding.
Finally, you can rely on the XP off-road as it has 4″ tires and front fork suspension with plenty of power and range in the electronics, making it one of the best budget electric bikes online!
Front suspension
20×3″
160mm mechanical disc brakes
500W motor (800W peak)
5 Pedal-assist range
Lectricebikes.com/
---
#4

| Ride1UP – Core 5

Awesome 650b wheel urban commuter e-bike
MSRP: $1,195
Ride1UP
The Core 5 by Ride1UP is of the company's best eBike options for urban riding, optimized for comfort and performance on the city streets and cycleways.
This cheap electric commuter bike comes is considered Class 3, meaning it comes with a 20mph limit throttle and 28mph pedal assistance. This is possible over ranges of 20 to 40 miles even with a small 10,4Ah due to the lightweight frame and stripped-down components.
All-around performance was at the forefront of design with the Core 5. It uses 650b all-terrain Kenda tires that include K-Shield protection for puncture resistance, a reliable Shimano Altus drivetrain, and Tektro mechanical disc brakes.
Finally, the bike comes with mounts for a rear rack and fenders, as well as a convenient LCD display with all you important ride statistics and battery level.
Range: 20-40mi
Class 3 pedal-assist
20mp/h throttle
750W motor
60Nm torque

Ride1UP – Roadster is the cheapest of their bunch – a single speed $1,095 city bike.
Ride1UP.com/
---
#5

| Electra – Townie GO! 7D

MSRP: $1,600
REI Co-op

Trek's Electra brand specializes in great, affordable electric bikes and the Townie GO! 7D is one of the most reliable and comfortable models they sell.

The GO! 7D is designed in a classic beach cruiser style with comfort-focused components, delivering a relaxed and smooth ride on city roads and urban trails. Its shock-absorbing, 2.3″ tires, soft grips, and a comfy saddle with suspension all contribute to the premium ride feel.

In addition, the Flat Foot technology that Electra has come up with allows you to pedal in the optimal position while also being able to get your foot flat on the ground whenever you need.

Lastly, for power, you can rely on a small but punchy 250W motor and a removable rack-mounted battery.  You can get ranges of up to an impressive 50 miles, stretch that even further with a Shimano Deore 7-speed drive train for this lightweight (48lbs) e-bike.
250W rear hub
Range – Up to 50mi
7-speed Shimano Tourney
Mechanical disc brakes
REI.com/
---
#6

| Aventon – Pace 350
MSRP: $1,199
Aventon
Aventon's Pace 350 step-through e-bike is an extremely highly-rated product with thousands of 5-star reviews and accolades from magazines such as Forbes.
Aventon optimized this bike for accessibility and comfort, without sacrificing power. To do so it has a step-through frame design making mounting and dismounting easy, a plush seat, cruiser-style handlebars, and large 2.2″ tires.
All of this is combined with a 350W motor and 11.6Ah battery giving you five levels of pedal assistance to last between 25 and 47 miles. Due to the light aluminum frame and reduced components of the Pace (46lbs), if your battery dies, you can still cycle easily unlike most heavy e-bikes.
Finally, this bike charges very fast in 3-4 hours and has an easy-to-read LCD screen that records all you ride metrics.
Frame: 6061 Aluminum
Tires: Kenda 27.5″ x 2.2″
Brakes: Mechanical Disc w/ 180mm Rotors
20mp/h assisted
Range – up to 35mi
Aventon.com/
---
#7

| Blix – Aveny
MSRP: $1,599
Blixbike
The Aveny Dutch-style electric bike by Blix Bikes is one of the most well-balanced affordable options out there. The stylish European design paired with modern components and technology makes this bike a joy to use.
As with most Dutch city bikes, the Aveny is fully equipped with a matching rack and fenders. Additionally, it has smart mounting points allowing you to add any further Blix accessories very easily, and integrated LED lights with helpful taillight brake activation.
The battery and motor combo on this bike are formidable. It has a powerful 500W hub-moto and a 14Ah Samsung battery which provide plenty of kick and range (up to 45 miles) for steep hills or heavy cargo. The battery is also under the seat which improves handling.
Lastly, another useful feature worth noting is the brake-activated cut-off in the motor. This eliminates unwanted forward motion and saves battery when you're braking.
Frame: 6061 Aluminum
Brakes: Tektro Mechanical Disc
LCD Screen with USB Charging
Shimano 7-speed Drivetrain
Tires: 2.0" puncture-resistant
BlixBike.com/
---
#8

| Sixthreezero – AroundtheBlock 250W
MSRP: $1,649
Sixthreezero
Sixthreezero's AroundtheBlock is another great budget-friendly e-bike. It comes with a simplified beach cruiser design that maximizes comfort and convenience for any urban riding.
For power, the AroundtheBlock has a 250W motor that operates in pedal assistance or throttle activation modes. With a full battery, riders can get anywhere from 15 to 30 miles of riding, with top speeds of 24mph with pedal assistance. Additionally, it has a 7-speed derailleur for when you want to spin the legs.
The integrated motor, battery, and cabling on this bike add to the sleek look, while the rear rack and fenders ensure you're fully equipped for any job.
Finally, Sixthreezero chose a large cushioned saddle, soft grips, wide shock-absorbent tires, and an ergonomic pedaling position to make this bike supremely comfortable.
26″ wheels and 2.1″ tires
Throttle
Mechanical Disc Brakes
Riders 5′ to 6′ tall
250 Lbs Maximum Rider Weight
SixThreeZero.com/
---
Conclusions
Inexpensive electric bikes are very common in 2022 and will continue to grow in popularity as the technology advances, urban cycling infrastructure improves, and the benefits of eBikes for commuters are recognized by the general population.
As we have shown in this article, finding a cheap electric bike that is reliable, versatile, and powerful is easy when you know where to look. For between only $1000 and $1700 you have access to a range of e-bikes in various different styles depending on your needs. Most of these companies sell direct-to-consumer, meaning the customer gets a lower price for dealing directly with the manufacturer.
We hope you have found something that catches your eye so that you can begin riding your new e-bike as soon as possible!
---
RELATED Reviews
Best Electric Bikes Under $1,000