Marin Bikes is a bike brand founded in Marin County, California in 1986. Marin County is the birthplace of the mountain bike culture.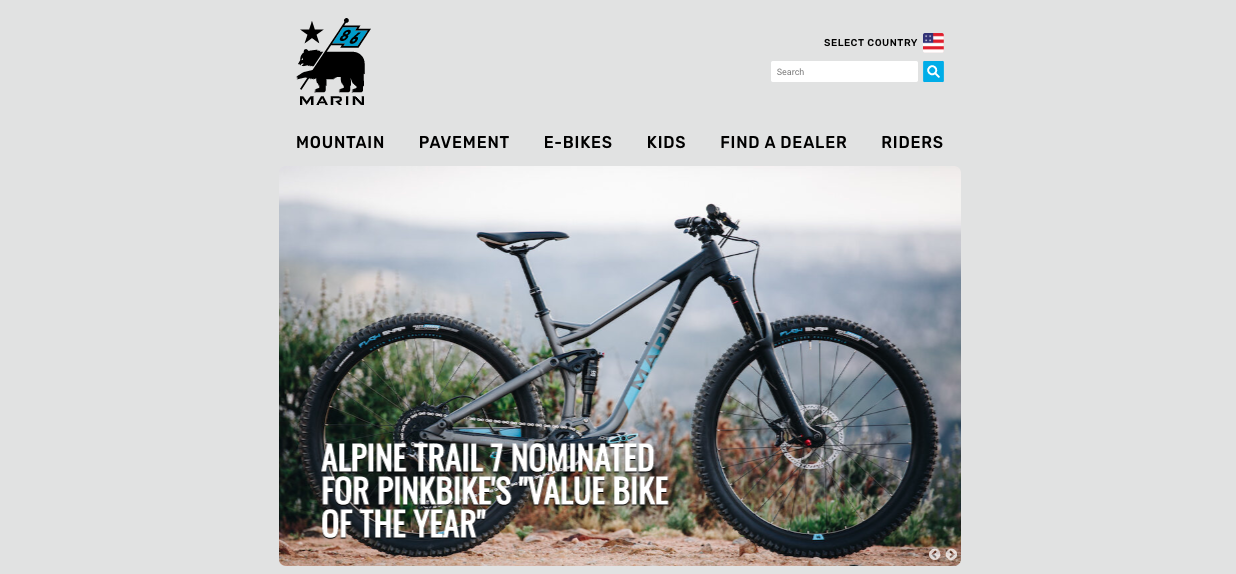 Its legendary informal race down Mt. Tamalpais partly shaped not only the sport but the whole mountain bike lifestyle. Marin Bikes was founded in the early days of this uproar and today offers a complete line of mountain, road, pavement, and kid's bikes. Bob Buckley, one of its founders, became enamored with the sport thanks to the advice of a local doctor.
He soon found that he wanted to make a living from selling his passion and teamed up with local enthusiasts and engineers, and created Marin Bikes. His vision? Create affordable quality bikes that handle like champs on rocky terrain. The marketing hit that was Marin's first model, the Madrone Trail, laid the foundation for three decades of their products.
In 1988, Marin was one of the industry's first mass producers of titanium mountain bikes. Over the years, the company has created hybrid models. explored and patented vogue full-suspension designs, and participated in hundreds of World Championships. Today, Marin offers an aggressive catalog of mountain, fitness/transit, drop bar, and pedal-assist bikes.
Marin builds bikes for all budgets, from entry-level hybrids to competitive mountain bikes worth tens of thousands of dollars. Some of their top-of-the-range bikes are ridden by professional cyclists and often feature in mountain bike competitions around the world.
Where Are Marin Bikes Made?
The Marin bicycle company is based in Marin County, California, an area considered to be the birthplace of mountain biking. The surrounding countryside is dotted with classic offroad biking trails like the Muirwoods, Bolinas Ridge, and Pine Mountain, after which several Marin bike models are named.
Since 1986, Marin bikes designed and built a wide range of bikes in its factory based in Novato, Marin County – several of which have gone on to win awards in various biking competitions. While the bikes are now manufactured in Asia, they are still designed at Marin headquarters in Petaluma, California.
Who Owns Marin Bikes?
In 2012, Marin Bikes was sold to European Investment firm Minestrone in a bid to improve production and innovation and reach broader international markets. The company was founded in 1986 by Robert Buckley and run as a family business for over 25 years.
Marin Bikes Range Overview
---
Marin Hardtail Mountain Bikes

San Quentin
Named after one of Marin County's toughest areas, the Marin San Quentin hardtail is an aggressive 27.5″ trail bike with three model kits.
Nail Trail
This lightweight, 12-speed, aluminum sport hardtail comes with internal routing and 120mm travel suspension forks.
Bobcat Trail
The Bobcat is a singletrack beast with a lightweight aluminum frame to fit 27.5″ or 29″ wheels.
Bolinas Ridge
A solid mountain bike with disc brakes, 27.5″ or 29″ wheels, and fat 2.25″ tires for added comfort and traction
Wildcat Trail WFG
A female-specific bike with short-reach brake levers, aluminum frame, internal routing, disc brakes, and 27.5″ wheels.
Team Marin
This updated 29″ cross country racer features internal routing and a Series 3 aluminum frame built with winning in mind.
Alcatraz
Developed in conjunction with Matt Jones, the Alcatraz is Marin's competitive dirt jump and slopestyle bike with a tapered headtube and horizontal dropouts.
---
Top Model: Pine Mountain 2
MSRP $2,099 JensonUSA / Shimano SLX 12-speed / 29×2.6″ / 120mm RockShox FS 35 / TranzX Dropper Post
Marin's Pine Mountain bikes are in a way the company's flagship.
A catalog of bikes that are carefully overhauled every year and fixed with the newest features and technology available in the market. To put it into perspective, Pine is the equivalent of Marin's iPhone, once a year it gets an upgrade; you can still buy, at a lower price, last year's model.
And the comparisons don't stop there, like the iPhone, Marin started incorporating different features and popping out VIP models that differ from the base design, amongst them, the E line up which incorporates a Shimano STEPS E8000 system & 504Wh battery.
In general, Pine models are double Butted CrMo, 27.5+ Wheels, Boost 141x9mm Open Dropouts, whose other features are a mix and match of that year's best offerings and tech' innovations. This new 29″ inch hardtail adventure trail bike with CroMo frame comes in two models and is ideal for bikepacking.
Buy on Jenson USA Buy on GovVelo.com
---
Marin Full-Suspension Mountain Bikes
Wolf Ridge
The ultimate all-around mountain bike developed in conjunction with Naild suspension, the Wolf Ridge provides excellent pedaling efficiency without compromising suspension.
Mount Vision
Featuring the Naild R3ACT 2-play suspension system, 27.5″ wheels, and 150mm front, and rear travel, Mount Vision is Marin's newest full-suspension trail bike.
Alpine Trail
Team Marin's Enduro 29 World Series trail bike featuring its critically-acclaimed MultiTrac suspension system. Read our full Marin Alpine Trail review.
Hawk Hill
One of the newer Marin bikes with a frame that inspired the updated Rift Zone, the Hawk Hill has short travel suspension and three models from entry-level to pro.
Hawk Hill Jr
Marin's lightweight offering for younger riders with adaptable wheel sizes from 24 – 26″.
---
Top Model: Rift Zone
MSRP $1,599 JensonUSA / 11-speed Deore / RockShox Recon Silver RL 130mm / X-Fusion Shock
A classic Marin 29'er which has received a 2019 overhaul to meet the current trend of lower and slacker rides, the new Rift Zone uses an adapted MultiTrac system and comes in three models.
Buy on Jenson USAOr Read Our Full Review Buy on GovVelo.com
---
Marin Fitness Bikes
Fitness
The Marin Fitness bike range consists of the Fairfax and Terra Linda, both with comfortable upright positions designed for short weekend rides or work commutes.
Presidio
The Presidio features hydraulic disc brakes and puncture-resistant tires to make a durable commuter bike or entry-level tourer for short weekend excursions.
San Rafael & San Anselmo
These two dual sport bikes offer disc brakes, aluminum frames, and 700c tires for both commuting or long-distance recreational rides.
Larkspur & Kentfield
These two city and sportbikes feature rack and fender mounts for carrying luggage and upright riding positions to keep you comfortable on long rides.
Stinson
The lightweight aluminum Stinson has adjustable ergonomic handlebars and an elastomer-sprung-saddle with low geometry for ultimate comfort.
---
Top Model: Muirwoods
MSRP $999 / 8-speed internal hub drive / Double Butted Steel frame / 650bx47mm / Hydraulic Disc Brakes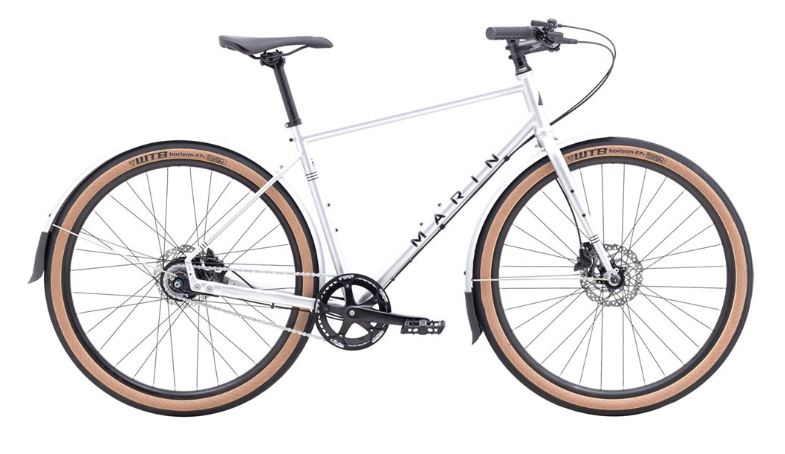 This robust urban bike will have you running errands around the city with no trouble, carrying heavy loads, or simply taking the long route home.
Buy on Jenson USA Buy from GovVelo.com
---
Marin Drop-Bar Bikes

Headlands
This road bike features a single front ring and short chainstays to fit up to 650Bx47mm tires, making it equally suited for racing bumpy off-road trails or riding flat, tarmac roads.
Gestalt X
This adventurous racing bike is designed to tackle mountain or forest trails while still providing a smooth on-road ride.
Nicasio
This lightweight, carbon forked gravel racer is designed to take on any on-road or offroad terrain with comfort and ease.
Lombard
Disc brakes, wide 40mmx700c tires, and a bright, reflective aluminum CX frame make the Lombard a sturdy beast in all conditions.
Gestalt
This high-quality road bike features a Series 3 aluminum frame with fender eyelets, disc brakes, and 35mm tire clearance, making it a long-distance road bike adaptable to any weather conditions.
---
Top Model: Marin – Four Corners Elite
MSRP $1,999 evo.com / 11-speed SRAM Apex 1 / Chromoly Steel / 650B or 700c / 160mm hydraulic disc brakes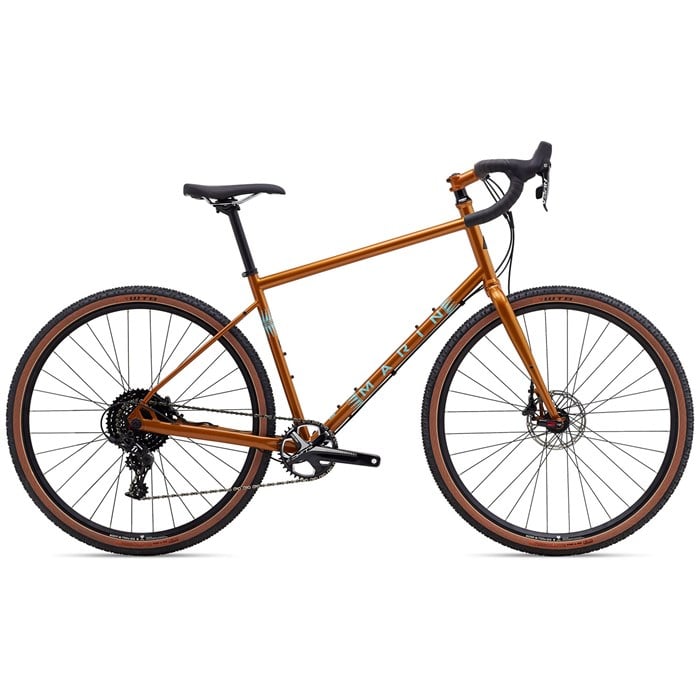 With geometry based on biometric fit data, the Four Corners is a multipurpose touring bike that suits people of all sizes from 4'11" to 6'4″.
Find It on evo.com Buy on GovVelo.com
---
Marin E-Bikes

San Rafael & San Anselmo
These two dual sport electric bikes are perfect for commuting or short distance touring without the worry of arriving sweaty and exhausted.
Pine Mountain E
The powerful Shimano STEPS electric drive unit on this eBike will offer hours of trail riding fun for mountain biking or offroad touring.
---
Top Model: Nail Trail E1
140mm Roch Shox Recon RL / 10-speed Shimano Deore / 500Wh / TranzX YSP18 Dropper Post
The Nail Trail E1 and E2 are two hardtail eMTB bikes that use traditional mountain bike design while giving riders the chance to go longer with less effort. It is a hybrid electric mountain bike that's made for giving the extra boost on rough terrain and long rides. It has all the bells and whistles of a great mountain bike plus a fancy electrical system just for the heck of it. The Nail Tail E1 sports a series 3 E 6061 Aluminum, 27.5+ wheels, Post mount, forged dropouts, 148×12 thru-axle, Crown Gem 27.5×2.8″ tires, and a killer Shimano E8010, 500Wh battery.
---
Marin Kids' Bikes
San Quentin 24/20
Kids' size bike with adult bike capabilities – the San Quentin has two size models on their range, priced for $949 it's got awesome features to check out!
BayView Trail
For $439 this bike features a Shimano Altus 7-speed derailleur, 2.25″ wide tires, and 160mm mechanical disc brakes.
Hidden Canyon
Again, 20/24inch selection for kids. The cheapest, $389 kids mountain bike features Shimano Tourney 7-speed derailleur and 160mm mechanical disc brakes.
---
Top Model: Hack Hill Junior
Marinbikes / 26×2.4″ / 11-speed Shimano Deore / 120mm front travel
A full-suspension kids mountain bike, ideal fit for kids in between the 4'1″ – 5'5″ height range. This is the most advanced kids mountain bike to get by Marin.
---
Marin Bikes Size Chart
Marin is one of the rare brands that offer a complete size chart for all of its models. Therefore, it's super easy to find the right frame size based on your height.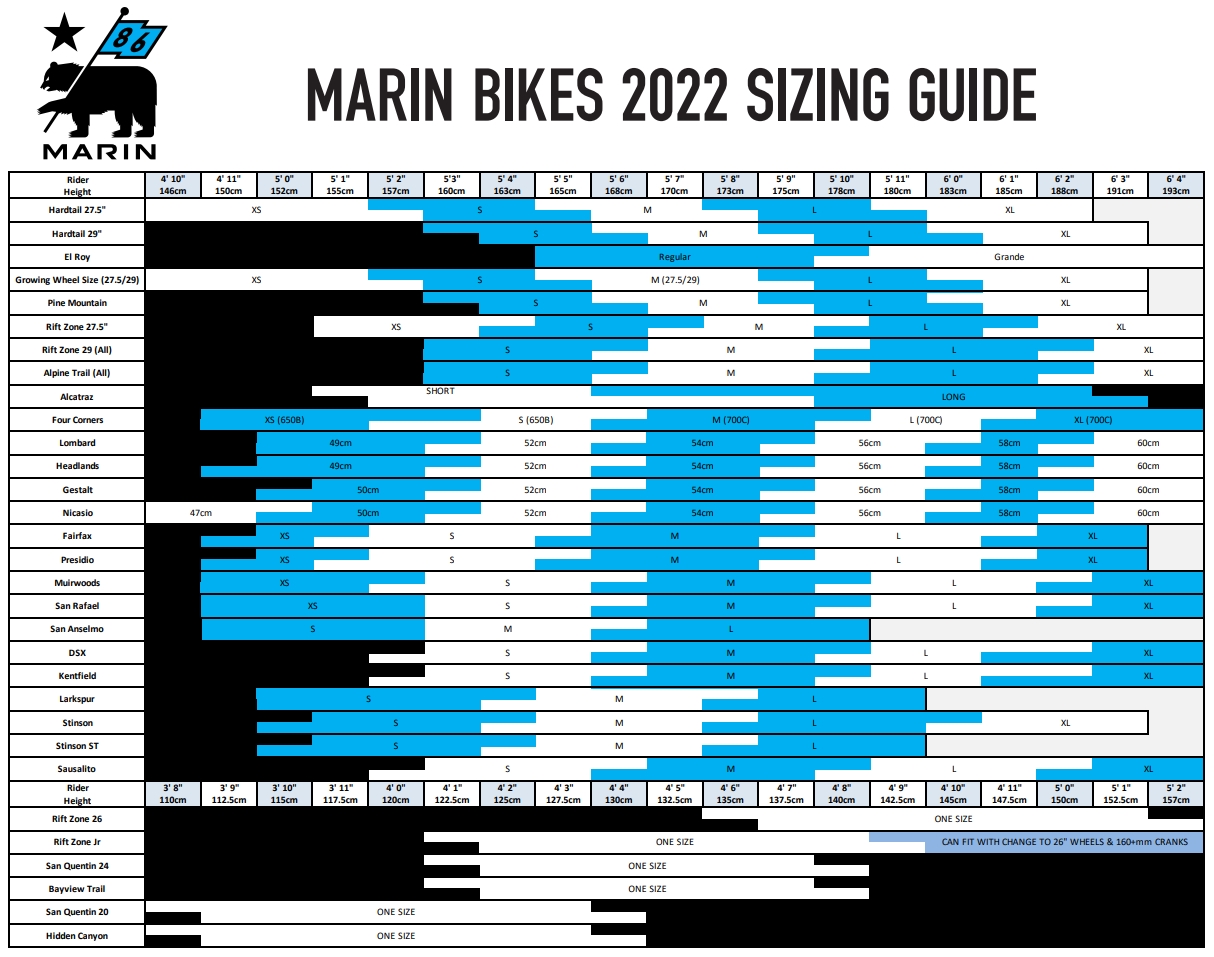 Where to Buy Marin Bikes?
Marin bikes are commonly found in independent bicycle shops around the world as well as several large online distributors.
Shop Marin Bikes on Jenson USA or Shop Marin Bikes on GovVelo.com