Best Gravel Bike Pedals — Our Top Choices of Best Pedals for Gravel Rides
Gravel biking continues to grow in popularity, with more and more riders finding the appeal of riding off-road at high speed. The best gravel bikes combine the fun of rough terrain with the excitement of lightweight road racing – but to achieve this they require specific parts, such as gravel bike pedals.
The best gravel bike pedals are lightweight, double-sided clipless pedals that work with low-profile MTB-style cleats and allow for fast clipping in and out. However, there are several good platform pedals available for those who prefer to ride without cleats.
---
Best Gravel Bike Pedals
---
It's important to choose the best pedals for gravel bike riding that suit your style, budget, and cycling needs. Here is our list of the top 10 best gravel bike pedals available on the market today, followed by a guide on choosing the right gravel pedals for you.
Crankbrothers Candy 2
Price: $100
Weight: 355g
Type: Clipless, 2-hole platform
Reasons to buy:
Platform design allows for riding with or without cleats

Customizable float and release angle

Optional snap-on platform for even better cleat-less riding

Easy to clip in/out
Reasons to avoid:
Not ideal for long-distance platform riding

Slightly heavier than other, similarly priced pedals
The Crankbrothers Candy 2 is a versatile clipless pedal that allows for riding with or without cleats but is not ideal as a long-distance platform pedal. The dual-sided design makes it very easy to clip in and out without having to position the pedal, which is great for riders who are new to clipless pedals.
Notable features include Chromoly steel springs, Enduro Cartridge outer bearings, and Igus LL-Glide inner bearings. Users can also purchase an optional snap-on traction pad that increases the surface area and makes it much easier to pedal with normal shoes.
Made from 6061-T6 aluminum and stamped steel, these Crank Brothers pedals for gravel bike riding are strong, long-lasting, and provide decent value for money. They're the perfect pedal for a beginner to intermediate cyclist who does light, recreational gravel riding but also uses the bike for short commutes in normal shoes.
---
Look X-Track Race Carbon
Price: $270
Weight: 350g
Type: Clipless SPD
Reasons to buy:
Race-ready

Durable and long-lasting

Lightweight

Adjustable tension
These high-performance clipless pedals come with the backing of the well-trusted Look brand. However, at 350g, they aren't the lightest pedals on the market and are a bit heavy, considering the price.
Lateral contact support helps to guide the cleats into the clips, which is another great feature for less-experienced riders. In addition, you can fine-tune the tension, so it never feels too tight or too loose for your personal riding style.
Featuring a stiff carbon body, they're highly durable and long-lasting. The double weather-resistant seal is great at keeping out mud, and Look claims the pedals provide the best power-to-weight ratio in their class – but you'll need to judge that for yourself!
---
OneUp Components Composite Gravel Bike Pedals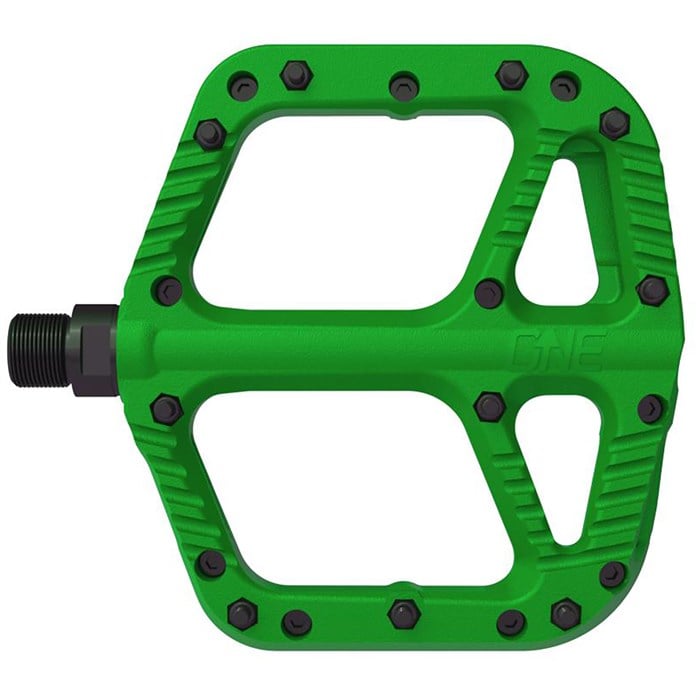 Price: $59.50
Weight: 355g
Type: Platform
Reasons to buy:
Low cost

Excellent grip

Versatile platform pedal suitable for all types of cycling
Reasons to avoid:
Not as light as clipless pedals

Likely to sustain damage in an accident
For recreational riders who prefer to avoid the hassle of clipping in and out, these gravel bike flat pedals from OneUp Components offer excellent grip and a wide contact surface without the need to wear shoes with cleats.
The 10 rear-loading steel pins provide a solid grip on both sides of the pedals in dry or wet riding conditions and are easy to replace when worn.
With a 115x105mm nylon composite platform and Chromoly steel axle, these pedals are strong enough for rough, off-roading cycling but could sustain damage if subjected to a high-pressure impact.
Considering the low price and tough design, OneUp Components Composite is one of the best flat pedals for gravel bike riding and comes in a choice of six unique colors.
They're also highly versatile and work just as well for recreational mountain biking, cross country, or bikepacking and bicycle touring, but I would avoid using them for any competitive racing or downhill riding.
---
Garmin Rally XC 200 Dual-Sensing Power Meter Pedals
Price: $700 (Single)/$1,200 (Dual)
Weight: 455g (Single)/448g (Dual)
Type: SPD Clipless
Reasons to buy:
Power meter pedals provide data about your cadence and pedal stroke

Compatible with Garmin, Edge cycling computers, and most smartphones

Provides critical data to help improve your pedal stroke and increase speed
Reasons to avoid:
Prohibitively expensive

Unnecessary for amateur cyclists
The Rally XC200 dual-sensing power meter pedals are the next evolution in bicycle pedal technology, comprising two integrated sensors that measure power, cadence, platform center offset, power phase, and stability.
The data syncs directly with your smartphone or Garmin and Wahoo devices for post-ride analysis, giving you valuable insights into your cycling ability and helping you improve your pedaling. Additionally, export the data to any compatible cycling app of your choice, including Strava, TrainingPeaks, Tacx, and TrainerRoad.
The XC200 is an off-road pedal designed to fit Shimano SPD-style cleats and can be swapped out with Rally RK or RS pedal body kits when the season changes.
It's pricey equipment that most recreational cyclists would find little benefit from, but if you want to seriously boost your game and shave critical seconds off your race time, these next-gen pedals may be the answer. Battery life lasts up to 120 hours.
If you want to pay less but still get all the benefits of riding with power meter pedals, consider buying the single-sensing model for almost half the price.
Buy from REI Buy the Single-Sensing Model
---
Shimano XTR PD-M9100 Pedals
Price: $180
Weight: 310g – 314g
Type: Clipless, dual SPD
Reasons to buy:
Versatile, with two axle length options to choose from

Super lightweight

Dual-sided

Adjustable bearings
Reasons to avoid:
More expensive than average

Not as durable as some heavier Shimano pedals
Shimano's XTR M9100 is one of the best gravel bike SPD pedals available, featuring dual-sided clips and weighing in at just over 150g each.
Although a bit pricier than the average $100 set of SPD clips, it's easy to see the added value in these pedals. The advanced mud-shedding profile features wide bearing placement for added rigidity and uniform load distribution, while the axle is slimmer than other models to help reduce weight.
With the wider contact area and a 1mm cleat spacer included, the XTR M9100 is compatible with a wider range of shoes and provides added stability and more confidence when clipping in and out.
Cyclists can choose between the standard 55mm model or the shorter 52mm axle, which matches the Q-factor of Shimano's SPD-SL road pedal. This also shaves 4 grams of weight off and puts you in a tighter, more aerodynamic position.
---
Bontrager Comp Gravel Bike Pedals
Price: $110
Weight: 316g
Type: Clipless, dual-sided SPD
Reasons to buy:
Affordable

Chromoly steel spindles

Dual-sided for easier mounting
Reasons to avoid:
No platform for cleat-less pedaling

Not durable enough for heavy riding
These dual-sided SPD pedals from Bontrager are a decent pair of entry-level clipless pedals for intermediate MTB or gravel biking.
Despite the high-quality Chromoly steel spindles, some riders have found the aluminum pedals struggle to hold up to the rigors of hardcore off-road biking and are likely to get damaged by heavy impacts. However, for recreational riders, they are lightweight and offer a versatile and cost-effective clipless pedaling experience.
Compatible with all SPD-style shoes, the Bontrager Comps include a fully adjustable tension release system that lets you fine-tune them to the exact fit that feels right for you.
Although the dual-sided compatibility makes it easy to clip in and out with cleats, the awkward design makes it difficult to cycle even a short distance with normal shoes. This could be a downside for some cyclists who don't always want to go out with their cleated shoes on.
---
Shimano M520 Pedals
Price: Check on Amazon
Weight: 450g
Type: Clipless, SPD
Reasons to buy:
Good value for money

Double-sided

Adjustable bearings

Reliable and easy to service
Reasons to avoid:
Some riders report damage from heavy use or frequent riding.

Heavier than average
These low-cost, entry-level pedals from Shimano are dual-sided, making it easier to clip in and out of, but are quite tight once in. Some riders might find it takes a bit of getting used to the amount of twisting force needed to clip out – but at least you know you won't slip out mid-ride!
The rotation is smooth and the pedal feels very solid on the foot but at 452g, these pedals are definitely on the heavier side of the scale. While the low price makes them attractive to newer riders, the weight may deter more experienced cyclists with a penchant for shaving off grams wherever possible.
While the alloy steel spindles are more than robust enough, some of the surrounding aluminum components feel a bit weaker, with a few users reporting damage from heavy impacts. If you're looking for decent, low-cost pedals for gravel bikes, these are a good option, but I wouldn't put them through too much heavy abuse on intense off-road rides.
---
Crankbrothers Eggbeater 1
Price: $59.99
Weight: 256g
Type: Clipless, egg beater
Reasons to buy:
Forged SCM435 chromoly steel spindle

Very lightweight

Good mud/snow shedding

Easy to clip in and out
Reasons to avoid:
Less durable than other SPD pedals

Maintenance is costly if damaged
Crankbrothers Eggbeater has long been a favorite pedal of cyclists the world over, offering one of the simplest and most lightweight designs found on clipless pedals. The simplicity also makes it one of the cheapest pedals available, but don't let the low price fool you – this is a quality pedal that delivers the goods.
Forged almost entirely from a mixture of Chromoly, stamped, and stainless steel, it's a tough pedal that can handle rough, off-road conditions and features excellent mud-shedding capabilities.
On the downside, it lacks compatibility with varied cleat styles and is near impossible to ride with normal shoes. However, as a long-running and trusted pedal, the Crankbrothers Eggbeater 1 receives consistently good reviews and is often rated as one of the best clip pedals for gravel bikes.
---
Shimano M540 Gravel Bike SPD Pedals
Price: Check on Amazon
Weight: 352g
Type: Clipless, dual-sided
Reasons to buy:
Adjustable tension and bearings

Stronger and more durable than previous versions

Popular and widely used with consistently good reviews

Upgraded metal collar for extra protection
Reasons to avoid:
Some users report threading, which can make it difficult to remove with only an 8mm allen key.
The M540 is a minor upgrade to the Shimano M520 and although it's lighter in weight, it's heavier on the wallet. This pedal is aimed at the more professional rider, one who may plan on taking part in competitive events or longer, endurance-focused rides.
They're tough, durable gravel bike pedals that have long been a firm favorite amongst off-road cyclists. Standout features include excellent mud repelling for year-round use and tension adjustable clips to accommodate a wider range of cyclists.
With a Chromoly steel forged spindle and low maintenance sealed bearing cartridge axle, these dual-sided pedals fit all types of SPD cleats and weigh in at only 176g each. While you may find some lighter pedals, it'll be hard to find something equally as strong, versatile, and cost-effective.
Installation and removal can be a bit clunky, with some users reporting threading issues, but overall this is the perfect everyday gravel bike SPD pedal.
---
Time Atac XC 4 Pedals
Price: $75
Weight: 294g
Type: Clipless, egg-beater style
Reasons to buy:
Super lightweight, glass-filled shell

Steel spindle and bearings

Self-cleaning mechanism

Good value for money
Reasons to avoid:
Lacks adjustable tension

No platform for cleat-less riding
At only 147g each and with a lower than average price, the Time ATAC XC 4 could easily be one of the best gravel bike pedals available today for beginner to intermediate riders.
Featuring both a hollow steel axle and glass-filled shell, Time has managed to keep weight to a minimum without sacrificing rigidity and durability. Not only does the popular ATAC engagement system offer an excellent clip-in and clip-out experience, but includes a self-cleaning mechanism that clears mud out the pedals with each mounting.
Although the ATAC XC 4 pedals lack adjustable tension, they do come with a free set of 10-degree release cleats, which is the most popular neutral option to suit most cyclists.
Both the spindle and bearings are forged from solid steel, promising smooth and hassle-free pedaling for several years without the need for maintenance. Time may not have the brand popularity of Shimano but you'll struggle to find better pedals in this price range.
---
How to Choose the Best Gravel Bike Pedals
---
Our list includes some of the best gravel bike pedals available today, but to decide which one is best for you, consider the following factors:
Gravel Riding Style
The first thing you want to assess is your personal style of riding and the various ways in which you will use your bike. The pedals for best gravel bikes are typically clipless pedals, which require shoes with cleats attached to the bottom.
These make it far less likely that you will slip off the pedals in wet or rough conditions, and provide additional power on your upstroke for more speed. However, if you only do infrequent recreational riding in fair weather and use your bike for general commuting around town, you might prefer to use platform pedals that don't require special shoes.
Gravel bike pedals come in a few different styles, including the basic platform pedal, Shimano SPD style, the minimalist eggbeater style, and the versatile platform style with clips. Almost all gravel pedals use SPD cleats but some are easier to use than others.
If you want to cycle with normal shoes as well as cleats, you'll need to choose a pair that combines a platform with cleats. If you're new to cleats, you should test a few different styles to find one that you feel comfortable clipping in and out of.
Price
Cost is another important factor to consider when choosing the best gravel bike pedals for your bicycle. When it comes to pedals for a gravel bike, it's not a good idea to go cheap – especially if you intend to compete in tough, competitive races over rough terrain. That $50 set of pedals won't seem like such a good idea when you have to buy another pair in six months' time!
Ideally, you want a highly-rated, good-quality pedal that fits your riding style and is within your budget. However, don't go for unnecessarily expensive pedals just because you can afford them—if they're designed for riders with a higher skill set, you might find them difficult to use.
On average, gravel pedals will fit into these price ranges based on competency and usage:
Amateur (light use): $50 – $100
Intermediate (frequent use): $100 – $200
Expert (heavy use): $200 and above
Durability
Gravel bike pedals can take a lot of abuse, so unlike pedals for road bikes, you'll want to get something stronger and more durable. This usually requires heavier materials like steel which add extra weight, but it'll be worth it when you smash your pedal into a rock at high speed!
However, if your style of gravel bike riding is more focused on leisurely rides through countryside lanes or down simple dirt tracks, you may not need something so durable.
In addition to the pricey robust pedals, we've also included a few lightweight but reliable pedals in our list that are perfect for mild, recreational gravel biking.