Best Mountain Bike Shoes of 2023: Clipless and Flat Models Reviewed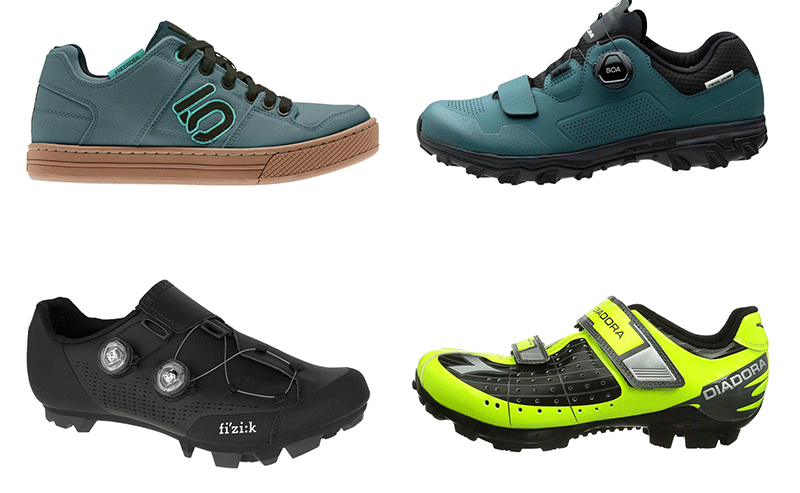 Mountain bike shoes (MTB shoes) are designed to improve your performance while riding when used with a clipless pedal or a platform pedal.
The best MTB shoes are durable, breathable, and comfortable while providing support and also boosting your efficiency on the bike.
Mountain bike shoes for clipless pedals use a 2-bolt cleat connection to clip into the pedal. These shoes have stiffer soles than regular shoes and help keep your pedal stroke even to maximize the efficiency for long-distance riding and non-technical riding.
The key importance of these shoes is that they help you ride better and more efficiently in the style of biking that you prefer, overall making your rides more enjoyable.
MTB shoes for platform pedals are more flexible and have a grippy rubber sole to help increase the traction so your feet don't slip off easily. For this reason, they perform better than regular trainers for mountain biking.
---
---
Best Clipless Mountain Bike Shoes
---
Bontrager – XXX LTD Mountain Bike Shoe
One of the most high-end clipless mountain bike shoes
MSRP: $450
These XXX LTD MTB Bontrager shoes are the most advanced pair that we've found. Designed for pro-level performance, they are ultralight, perfectly stiff, and fit like a glove.
Bontrager's inForm Pro fitting ensures a perfectly balanced fit, with an asymmetrical design that eliminates pressure on the top of your foot. Additionally, the shoe upper material is lightweight and comfortable with exceptional breathability.
The inclusion of a 100% OCLV carbon sole means these shoes have the best stiffness rating possible (14) while remaining almost weightless. Finally, they have an innovative heel cup that stops slipping and chafing while reacting perfectly to your foot movement for maximal efficiency.
100% carbon sole
Stiffness index 14 of 14
Unisex
SPD 2-bolt compatibility
Closure type: BOA
---
Specialized – S-Works Recon
Exclusive Specialized MTB shoes
MSRP: $425
Specialized cycling shoes are consistently some of the best money can buy, and the sleek S-Works Recon MTB shoes are the company's flagship premium pair.
Maximize your pedaling efficiency and power with these shoes due to their FACT carbon plate with a 13 stiffness rating and the lightweight and stiff yet comfortable Dyneema Mesh upper material. The Recon shoes perform best in intense racing such as gravel, cyclocross, and XC competitions.
They use Specialized's Body Geometry fitting design that optimizes the sole and footbed to provide unbeatable support and stability for long, intense rides. Additionally, the PadLock heel construction and Form-Fit toe box ensure they are tight and roomy in all the right places.
Carbon sole
Stiffness index 13.0
Closure type: BOA S3-Snap
2-bolt cleat design
Weight: 270g (size 42, 1/2 pair)
---
Bontrager – Foray Mountain Bike Shoes
Great balance of performance and comfort
MSRP: $160
Bontrager's Foray Mountain bike shoes are an excellent mid-range pair that delivers a lot of performance for a more affordable price.
These Bontrager cycling shoes have one BOA dial for quick and precise fitting adjustments, and they utilize the company's inForm Race design which allows for performance with a slightly more roomy fit.
The upper material on the Foray Mountain shoes is durable and breathable. Additionally, the GnarGuard rubber coating also contributes to reducing wear from hard trail rides. Lastly, these shoes have a nylon composite sole which provides more than enough stiffness for most cycling enthusiasts.
Closure type: Cable lace
Taychon rubber outsole
Unisex
2-hole cleat design
---
Fizi:k – X1 Infinito Cycling Shoe
One of the best Fizik cycling shoes for MTB
MSRP: $400
The Fizik Infinito X1 clipless mountain bike shoes are the company's top product designed for pro-level race performance and comfort.
The X1 shoes fit perfectly, using a dual BOA dial system for ultra-precise adjustments, and pressure-eliminating materials in the 1.4mm thick upper. Additionally, the Dynamic Arch Support technology offers unrivaled support and stability through the mid-foot.
The material in the upper and insole is breathable and lightweight for optimal ventilation and comfort, and the full carbon sole provides exceptional power transfer and stiffness. Finally, the shoes have threads on the heel edge for better mud clearance and detachable cyclocross-style rubber studs.
Full carbon sole
Dual BOA closure
2-year warranty
2-bolt cleat compatibility
---
Giro – Code Techlace
Giro MTB shoes for the messiest trails
MSRP: $300
The Code Techlace MTB cycling shoes are designed to withstand the toughest most gnarly trails you can find, ensuring you are as comfortable as possible along the way.
To do so, these Giro cycling shoes feature a resistant Evofibre microfiber rubber toe guard which is also highly breathable. Additionally, the outsole made in conjunction with shoe brand Vibram for a high-traction, durable rubber combined with an EC70 carbon fiber plate for excellent stiffness.
The Code Techlace shoes also have a mid-foot guard to prevent damage in this sensitive area, boosted with an anti-microbial footbed that provides a comfortable and natural fit with adjustable arch support.
Rubber toe guard
Techlace + Boa L6 dial
Molded Vibram outsole
Weight: 345g (size 42.5)
---
Bontrager – GR2 Gravel Bike Shoe
Best gravel bike shoes
MSRP: $140
Bontrager's GR2 gravel cycling shoes are 100% optimized for performance on rough gravel trails with a Tachyon rubber outsole for excellent traction and grip on varied surfaces.
These stylish gravel shoes do not sacrifice much despite their affordable price. They are made with Bontrager's inForm Race design which perfectly balances roomy comfort with high-performance. Additionally, they include a stiff nylon composite sole which allows great power transfer and efficiency under power.
Other notable features are the GnarGuard rubber coating to prevent wear and tear, along with a lace catcher to help your shoes stay clear of pesky debris.
100% rubber sole
SPD 2-bolt cleat compatibility
Closure Type: Lace
Unisex
---
Bontrager – Evoke Mountain Bike Shoes
Affordable SPD compatible shoes
MSRP: $110
Bontrager's Evoke mountain bike shoes are the perfect choice for any entry-level cyclists who want to boost their efficiency on the trail.
These cheap cycling shoes have a helpful rubber sole that provides grip and traction off the bike, paired with a protective rubberized coating to limit damage from trail debris.
These shoes also take advantage of Bontrager's high-quality inForm Race fitting which is found on pairs twice the price of the Evoke. This balances a spacious fit with a performance focus.
Rubber outsole
2-hole cleat design
Closure Type: Strap
Unisex
---
Men's Mountain Bike Shoes
---
Shimano – ME7 Mountain Bike Shoes Men's
Best MTB shoes for extreme trail riding
MSRP: $200
These Shimano cycling shoes are a mid-range pair built for tough trails. The ME7 shoes overdeliver on durability and toughness, featuring various wear-resisting technologies.
Despite the focus on durability, they also provide excellent stability and power transfer. However, the main features of these shoes are the ankle collars which help protect you from flying trail debris, and the Michelin dual-density rubber outsoles which are highly durable and deliver supreme traction and stability.
Additionally, these shoes have a helpful TORBAL midsole that supports your foot while allowing it to flow naturally on tricky descents.
Rubber outsole
2-hole cleat design
Closure type: Buckle
Weight: 1 lb 10.8 oz (pair)
---
Sidi – Trace 2
Sidi men's cycling shoes
MSRP: $240
These Trace 2 Sidi mountain bike shoes are thoughtfully designed and reasonably priced with lots of helpful features to make your mountain biking easier and more enjoyable.
Notable features include a replaceable soft instep closure system and EVA insole pad that helps distribute pressure evenly and reduce it on the softer areas. The Trace 2 shoes have a BOA dial for precise fitting, paired with a non-slip reinforced heel cup for excellent support and stability.
Finally, these shoes have a specially designed outsole that balances flexibility for walking and stiffness for efficient pedaling. The sole is grippy, disperses mud well, and also provides great stability on varied terrain.
Sole: MTB SR17
Closure type: TECNO 3 Boa system
2-bolt cleat compatibility
Weight: 395g (singe, size 44)
---
Five Ten – Kestrel Pro Boa Shoes
Best Five Ten MTB shoes for men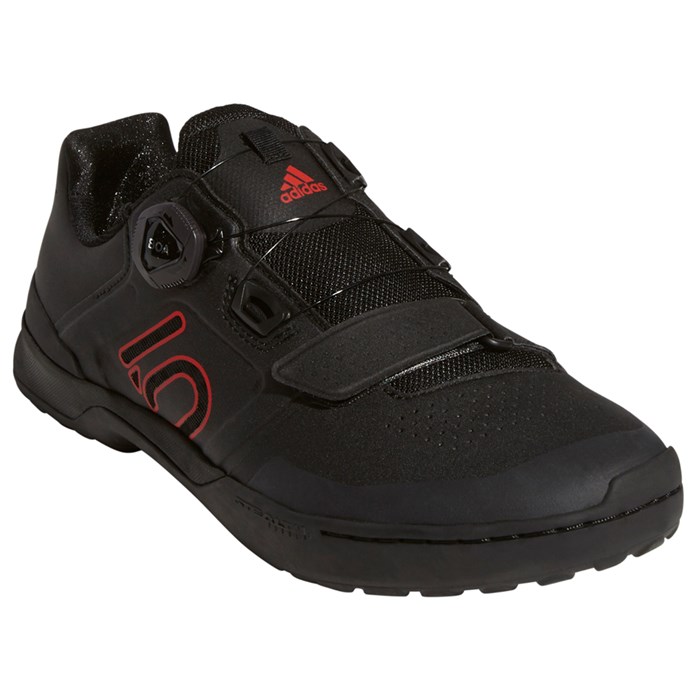 MSRP: $200
Adidas' Five Ten mountain bike shoes are a sleek and high-performance product with plenty of great features for their mid-range price.
The Kestrel Pro shoes come with Stealth C4™ rubber grip which provides excellent traction on or off-bike and the outsole also has a carbon-infused nylon shank which provides a very stiff ride for great power transfer.
The BOA fit system on these shoes allows you to find the perfect fit adjustment quickly and is paired with breathable weather-resistant upper material.
In addition, these shoes have a supportive EVA midsole, no-slip heel cup, and an Ortholite liner to make them really comfortable over long distances with walking and riding.
Rubber sole
Weight: 465g (size 9)
Warranty: 2 years
---
Bontrager – SSR Multisport Bike Shoe
Compatible with SPD cleats
MSRP: $100
Bontrager's SSR Multisport MTB shoe is affordable, comfortable, and durable. A great choice for any entry-level or casual mountain bikers who want to up their game with clipless shoes.
The SSR shoes were designed with versatility and comfort at the forefront of thought. They are equally comfortable on or off the bike, boosting grip and pedaling efficiency with a glass-reinforced nylon plate and grippy rubber outsole.
100% rubber sole
Closure Type: Laces
2-bolt SPD compatibility
---
Best MTB Flat Shoes for Men
---
Five Ten – Freerider Pro
Score: 4.7 / 5 out of 47 reviews at REI
MSRP: $150
The Five Ten Freerider Pro's are one of the most popular pairs of REI cycling shoes for good reason, they are affordable, stylish, and highly functional.
The Stealth S1 rubber outsole offers excellent grip and durability, while the lightweight upper material improves breathability and moisture control while being highly weather-resistant.
Additionally, these shoes have a reinforced toe box and shock absorbent midsoles that provide enhanced arch support and stability.
Outsole: Stealth S1 rubber
Cleat design: platform
Closure type: Laces
Weight: 1 lb 8 oz (pair)
---
Bontrager – Flatline
Mountain bike shoes for flat pedals with Vibram soles

MSRP: $130
Bontrager's Flatline mountain bike shoe utilizes a Vibram outsole that provides excellent traction and is highly durable.
The Flatline shoes use inForm Performance fitting which is the company's most relaxed, comfort-focused design. This helps these shoes keep you equally comfortable on or off the bike. This plush feeling is increased even more with a shock-absorbing EVA midsole.
Finally, multi-directional tread on the heel and toe boosts traction for traversing steep gradients off-bike.
100% rubber sole
No cleat compatibility
Closure Type: Laces
---
Ride Concepts – Hellion Elite
Flat pedal MTB shoes for men
MSRP: $150
These cycling shoes for flat pedals by Ride Concepts are ultra-lightweight and comfortable over long distances.
The Hellion Elite shoes have a very soft rubber sole with DST 4.0 Max Grip technology for excellent traction on the pedal and the trail no matter the conditions. Additionally, the upper material is weather-resistant and breathable microfiber with antibacterial properties to control moisture and boost comfort.
Other notable features of these shoes include a High Impact Zone Insole Technology and EVA midsole that absorbs shocks to keep you feeling fresh for longer, along with an optimized tongue that stops the intake of debris from the trail.
Rubber outsole
Anti-bacterial mesh lining
Closure type: Laces
---
Women's Mountain Bike Shoes
---
Shimano – SH-XC501 Women's
Sleek, affordable clipless MTB shoes
MSRP: $170
The SH-XC501 women's MTB shoes by Shimano are an excellent investment for committed cyclists who want to boost their power and performance in style.
This model makes use of some premium technology while being sold at a mid-range price. This includes the lightweight and high-performing Michelin rubber outsole for great traction and mud clearance, as well as the precise BOA dial closure system.
Additionally, these Shimano shoes have a low stack height midsole to boost power transfer by stabilizing the foot and a glass fiber reinforcement to add stiffness.
Outsole: Glass fiber/Michelin rubber
Closure type: Boa L6/Hook and loop
2-bolt SPD compatibility
---
Giro – Rincon
Giro women's cycling shoes for mountain biking
MSRP: $150
The Rincon MTB shoes by Giro are another great mid-range choice with a focus on durability and functionality.
These Giro bike shoes are tough, comfortable, and versatile, performing best on messy trails. To do so they utilize a nylon composite dual-injected rubber outsole, a thermo-bonded upper structure, and reinforced heel and toe protection.
To maximize comfort, Giro included an EVA footbed with medium-level arch support and breathable mesh material which helps control moisture. Additionally, these shoes utilize BOA closure for quick and precise adjustments on the fly.
Rubber outsole
1-year warranty
Reflective heel tab
---
PEARL iZUMi – X-Alp Summit Mountain Bike Shoes Women's
Ideal Pearl iZUMi cycling shoes for all-day mountain biking
MSRP: $150
Pearl iZUMi women's cycling shoes perform equally on or off the bike utilizing Vibram rubber sole design to deliver unbeatable traction and comfort.
With a focus on comfort, the X-Alp Summit shoes boast all-day comfort. They come with nylon composite soles that balance walkability and stiffness for pedaling efficiency, as well as comfy EVA heel cushioning.
The grippy Vibram ECOSTEP sole helps provide excellent traction on most terrain, while the synthetic leather upper carefully balances breathability and durability. Finally, these shoes have a reinforced toe box to reduce impact from flying trail debris.
Outsole: 40% Vibram rubber, 35% EVA, 23% nylon plastic, 2% steel
2-hole cleat design
Closure Type: Ratcheting BOA cable lace, strap
---
Scott – MTB Comp BOA Lady Cycling Shoe
Scott cycling shoes for off-road biking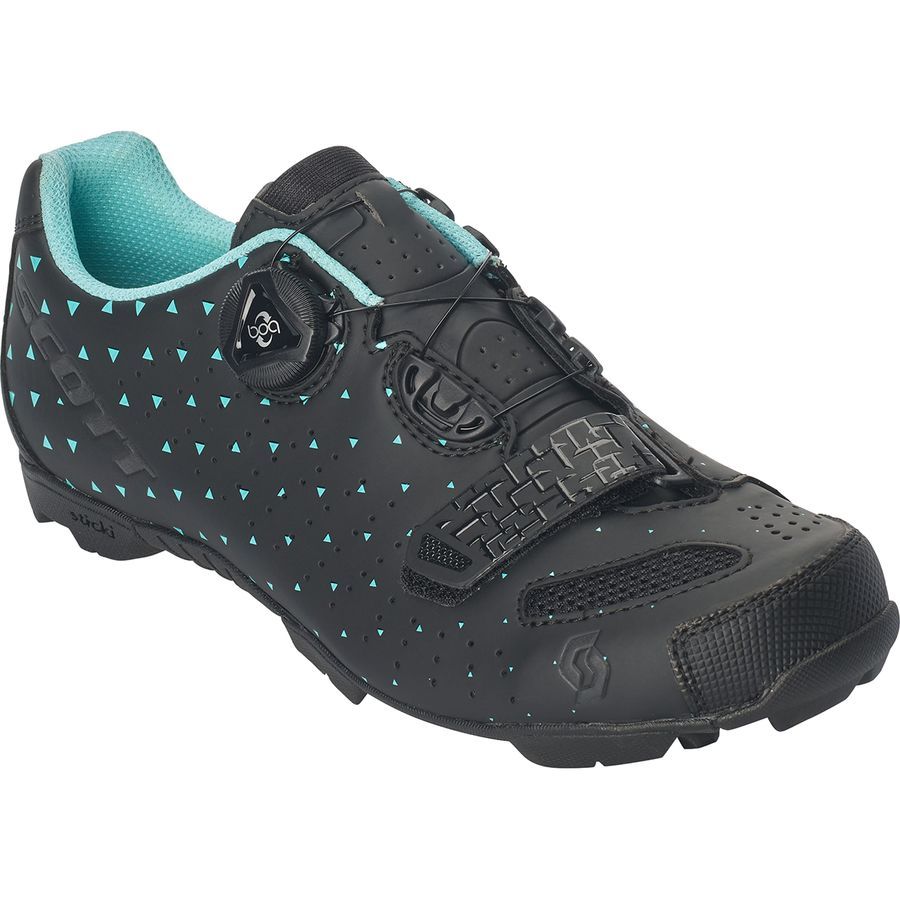 MSRP: $120
Scott's Comp BOA MTB clipless shoes are a great budget-friendly shoe with heaps of features that outperform their modest price tag.
These shoes use an easy-adjust BOA L6 closure system, paired with an anatomically designed strap that aligns with the instep to create a glove-like fit. Also, the Comp BOA's have ergonomic insoles that boost comfort and power transfer and are built with a slightly larger volume for a relaxed fit.
Finally, the outsole is also quite innovative, using Sticki rubber and X-Traction technology for high traction in all weather and conditions, along with a stiffness rating of 6.
Sole: fiberglass-reinforced nylon
2-hole cleat design
Closure type: BOA L6 dial, hook-and-loop strap
Weight: 13.4 oz (single, size 8.5)
---
MTB Flat Shoes for Women
---
Five Ten – Freerider Primeblue, Women's
MTB flat shoes for women
MSRP: $100
Five Ten's Freerider Primeblue flat pedal MTB shoes are highly rated for being stylish, rugged, and functional for long days in the mountains.
The uppers on this shoe are notably made from the Parley Ocean Plastic recycling initiative, helping you reduce your environmental footprint. This material is carefully engineered to be durable and resistant to wear on tough trails.
The Stealth S1 rubber outsoles allow riders to walk and ride safely with plenty of traction on the pedals or the trail. This, paired with molded cup insoles help to keep your feet secure and avoid friction and discomfort in the shoe.
Outsole: Stealth S1 Dotty rubber
Closure type: Laces
Contains recycled materials
Weight: 1 lb 11.2 oz (pair)
---
Giro – Riddance Women's
Innovative Vibram rubber flat MTB shoes

MSRP: $120
Ride with confidence using these stylish, functional Giro Riddance MTB shoes. They utilize premium Vibram rubber technology to deliver unrivaled traction and shock absorption on any terrain.
The Riddance shoes come with a weather-resistant microfiber upper material that provides excellent ventilation and moisture control. To further the durability, they also have heel and toe reinforcement.
The Vibram Megagrip rubber outsole is one of the stickiest the company has designed. Additionally, it delivers the highest level of vibration-dampening that compliments the shock-absorbent EVA midsole, Finally, the insole on these shoes has helpful arch support for added comfort and stability.
Outsole: Vibram Megagrip ISR rubber
Closure type: Laces
1-year warranty
---
Shimano – GR5 Women's
Shimano flat mountain bike shoes for Women

MSRP: $110
These GR5 Shimano shoes for mountain biking are a lightweight and breathable shoe with plenty of grip and protection.
They have a grippy rubber outsole for increased traction when walking or riding, along with durable upper material with breathable mesh sections for optimal ventilation. Shimano designed these shoes to be anatomically suited to women's feet for a more natural and comfortable fitting.
Rubber outsole
Closure type: Laces
Weight: 1 lb 11.2 oz (pair)
---
Kids' Mountain Bike Shoes
---
RIDE CONCEPTS – Livewire Kids'
Flat pedal MTB shoes for kids'
MSRP: $80
Help your kid to up their mountain biking game with these kid's cycling shoes by Ride Concepts.
These stylish shoes look like they belong on the street while performing perfectly in tough MTB environments. They use a grippy Rubber Kinetics outsole for excellent traction, and a shock-absorbent and flexible insole to keep feet safe and secure.
The Livewire kid's shoes are extra durable so they can resist harsh wear. This is achieved with toe and heel guard protection and anti-abrasion upper material.
Outsole: Rubber Kinetics DST 6.0
Closure type: Laces
Weight: 1 lb 6 oz (pair)
---
Five Ten – Freerider VCS Kids'
Kids model of the popular adult MTB shoes
MSRP: $70
Five Ten's Freerider VCS MTB shoes are a kid's version of the popular adult model described above.
They have Stealth Marathon rubber soles which are super-sticky for heaps of traction without having to clip in. The midsoles on these shoes have arch support which helps kids maintain a good pedal stroke.
Additionally, the upper material is damage-resistant and breathable for a comfortable, long-lasting shoe.
Outsole: Stealth marathon rubber
Cleat design: Platform
Closure type: Strap
Weight: 1 lb 1 oz (pair)
---
Diadora – X-Phantom Junior/Kids
Kids' clipless mountain bike shoes
Boost mountain biking performance and enjoyment for your kids with these clipless MTB shoes by Diadora.
They come with a supportive upper design that provides excellent stability and breathability along with an ergonomic heel cup to reduce slipping and wasted movement.
The insole on these shoes is a supportive EVA anti-stretch material and combines with a fiberglass-reinforced nylon composite outsole for walkability, power transfer, and better all-around performance.
Sole: Carbonglass-reinforced nylon
Closure type: Velcro straps
---
Buying Guide
---
Differences between MTB and road bicycle shoes
Mountain bike shoes – Slightly flexible soles which allow more movement of the foot for walking and adjusting position regularly, while also helping you maintain an efficient and consistent pedal stroke. The indented cleat attachment in the bottom of the shoe allows riders to walk off the bike comfortably
If you're a cyclist making the switch to clipless pedals for the first time, it helps to compare SPD vs. SPD SL ...
Road bike shoes – Optimized for rides done mostly in one position. They allow minimal movement with little to no flexibility using very stiff soles. This helps you to maximize power transfer and maintain a consistent pedal stroke. A cleat attachment makes walking in these shoes difficult
Clipless vs Flat Pedals
Clipless MTB shoes have a recessed clip connection in the bottom of the shoe which allows riders to conveniently and quickly lock their foot position to the pedal. These shoes have a stiffer sole than flat shoes to help increase power transfer for long-distance rides.
Deciding between clipless vs. flat pedals can be tricky, especially for beginners. Each cycling discipline has ...
Flat MTB shoes are designed to improve grip and comfort over regular shoes. They have extra-grippy rubber soles that help you "stick" to the pedals and make it easier to get on and off the bike while riding on technical terrain. Arch support is another common feature of these shoes.
Pedal Compatibility
Clipless MTB shoes have a 2-hole cleat connection which you can use with the four pedal manufacturers we list below. Ensure that the pedals you have are compatible with whichever MTB shoes you want to buy.
2-hole cleat system accepts pedals by these manufacturers:
Shimano (SPD)
Crankbrothers
Time
Look
Price range
Mountain bike shoes range from around $60 to $400. However, the majority of pairs fall into the $100 to $200 category. Entry-level shoes should cost $120 or less, mid-range will generally cost up to $250, while pro-level models will cost $250+.
Note that the big-name brands such as Bontrager, Shimano, and Pearl iZUMi will have a slight premium compared to lesser-known brands.
| | | | |
| --- | --- | --- | --- |
| | Entry-level | Mid-range | Pro-level |
| Closure type | Velcro/Laces | Velcro | Dial system |
| Sole material | Plastic | Composite | Carbon |
| Upper material | PU leather/lower quality nylon | Something in the middle | Breathable real leather/lightweight synthetic microfibre |
| Stiffness | Soft | Something in the middle | Ultra-stiff |
| Weight | 400-500g pair | Something in the middle | Ultra-lightweight (1,5-2x lighter that entry level) |
---
FAQs
---
How should cycling shoes fit?
Here are a few things you should look out for when trying on a new pair of cycling shoes:
The shoes you choose must be comfortable when you first try them. Stiff soles make the change from the break-in period minimal.
Your heel shouldn't move up and down when riding.
Your arch should be well supported.
There should be some room to wiggle your toes.
What are SPD cleats?
SPD (Shimano Pedaling Dynamics) cleats are a type of clipless 2-bolt cleat developed by Shimano that is used to clip into the clipless pedal. These were the first off-road cleat and pedal systems, and almost all pedal and MTB shoe manufacturers still use this setup. The work by using a recessed cleat connection in the sole of a MTB shoe.
What are SPD pedals?
SPD pedals are the corresponding pedal that allows you to clip into them using the special cleat on the cycling shoe. Regular SPD pedals for mountain biking are usually double-sided which makes it very quick and easy to clip in. To release the shoe you have to turn your heel away from the bike.