Best Gravel Bike Shoes for All Types of Riders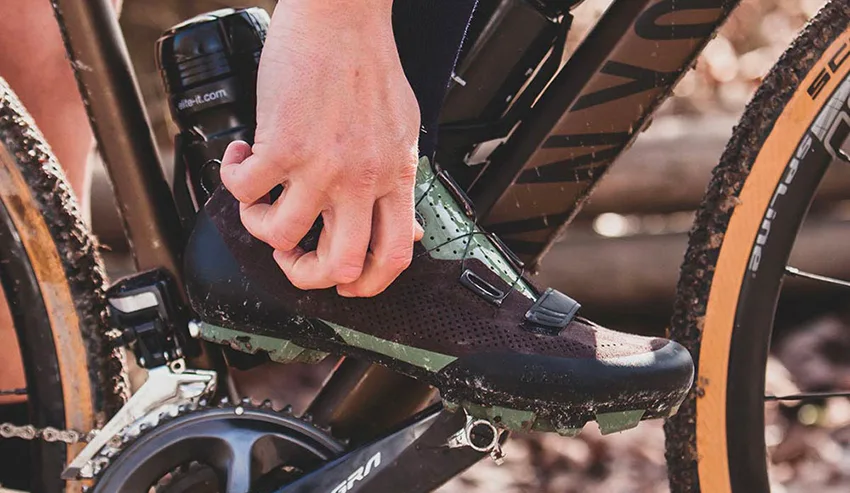 Navigating the rocky terrain of gravel cycling requires the right gear, and at the heart of this equipment are your bike shoes.
Riding on rough gravel paths can be tough for cyclists, but the right pair of shoes can make it easier. Clip in with the right gravel bike shoes and you'll improve stability, confidence, and power transfer.
We've scoured the market to bring you a comprehensive guide to the best gravel bike shoes of 2023. If you're searching for the optimal blend of comfort, durability, and performance, you're in the right place.
Of course, choosing the ideal shoes for gravel biking largely depends on individual preferences and budgets, so we've covered a diverse range of options for all types of gravel riders.
Let's jump right into it with the list of our top choices!
---
Best Gravel Bike Shoes
1. Shimano RX-6 Gravel Bike Shoes (Men's & Women's)
2. Specialized S-Works Recon
3. Bontrager GR2 Gravel Bike Shoes
4. Giro Ventana Fastlace Gravel Shoes
5. 45NRTH Ragnarok Tall Bike Shoes
6. Shimano RX801 Gravel Bike Shoes
7. Fizik X5 Terra Bike Shoes
8. Sidi Dominator 10 Bike Shoes
9. PEARL iZUMi X-Alp Summit Bike Shoes
10. Giro Sector Gravel Bike Shoes
---
1. Shimano RX-6 Gravel Bike Shoes (Men's & Women's)
MSRP: $180
Sole: Carbon-fiber-reinforced nylon/TPU
Weight: 1 lb. 3.3 oz.
Sizes: 40 – 49
PROS:
Walkability

Stiff carbon sole

Affordable

Boa L6 dial closure

Increased breathability
CONS:
Wide fit is not for everyone

Sole may not be stiff enough for some
Shimano's RX6 gravel bike shoes are some of the best shoes we've ever ridden in. Not only are these shoes great for power transfer and overall comfort, but they are also breathable and walkable in off-road conditions. The RX6 shoes, in other words, are both stiff and walkable because you never know where you're going to be riding (or walking) while exploring or bikepacking.
The RX6 also features Boa L6 dials which allow quick and precise micro-adjustment to the shoe and its fit. Made of synthetic leather/polyurethane, the RX6's upper is simultaneously comfortable and breathable. These Shimano gravel shoes are wide and lightweight, with race-inspired materials and lugs for superior performance.
Offered at a very reasonable price, the Shimano RX6 gravel cycling shoes are available in both men's and women's versions.
Buy Shimano RX-6 Mens Buy Shimano RX-6 Womens
---
2. Specialized S-Works Recon
MSRP: $450
Sole: I-Beam reinforced carbon
Weight: 280g
Sizes: 37 – 47
PROS:
Designed using Body Geometry ergonomic technology
Super stiff sole
Dual BOA® Dials
Lightweight
CONS:
Pricey
Lacking extra arch support options
The Specialized S-Works Recon is certainly worthy of the top spot on our list of the best gravel cycling shoes. Made with Body Geometry ergonomic technology throughout, the S-Works Recon claims to be the "fastest off-road shoe on the market." Its price would certainly suggest such claims at $450 a pair.
These Specialized gravel shoes are fully focused on bringing power transfer, weight, and comfort to the gravel cycling shoe market. With a dirt-specific carbon sole, the S-Works Recon shoes are super stiff. However, there is a lack of extra arch support options included with the shoes.
Toe and heel areas of the shoe are coated in SlipNot rubber, which adds extra grip when walking or hiking. The shoe's ergonomic body geometry helps improve comfort, prevent injuries, and increase power output.
On top of the shoes is Dyneema, which is an ultra-strong and lightweight polyethylene that is 15 times stranger than steel. There are even perforations throughout the shoe to increase ventilation while riding.
Though the price tag is a bit too much for some, the Specialized S-Works Recon gravel cycling shoes are certainly one of the fastest cycling shoes available.
---
3. Bontrager GR2 Gravel Bike Shoes
MSRP: $145
Sole: Nylon composite Bronze Series
Weight: 1 lb 13 oz
Sizes: 41 – 48
PROS:
Affordable
Comfortable for walking
GnarGuard rubberized coating
Wide fit
CONS:
Heavy
Rubber soles may not be stiff enough for some
Bontrager GR2 Gravel Bike Shoes may be the best beginner gravel cycling shoe available. Offered at $145, these Bontrager gravel shoes are a great starting point for riders who are getting started with off-road riding. Constructed using a nylon composite Bronze Series, the Bontrager GR2 has a medium level of sole stiffness and tons of grip for when you're off the bike.
Lacking carbon soles, the Bontrager GR2 Gravel Bike Shoes aren't as stiff as other models, but some riders find this style to feel more comfortable. Either way, you will get plenty of grip off the bike thanks to the Tachyon rubber outsoles and durable GnarGuard rubberized coating which protects the shoes from trail debris.
These certainly fit in the category of wide gravel bike shoes, while they also feature a classic lace closure system with elastic laces keeper. Compatible with 2-bolt SPD-style cleats, the Bontrager GR2 Gravel Bike Shoes are perfect for beginner gravel riding and all-day gravel cycling adventures.
---
4. Giro Ventana Fastlace Gravel Shoes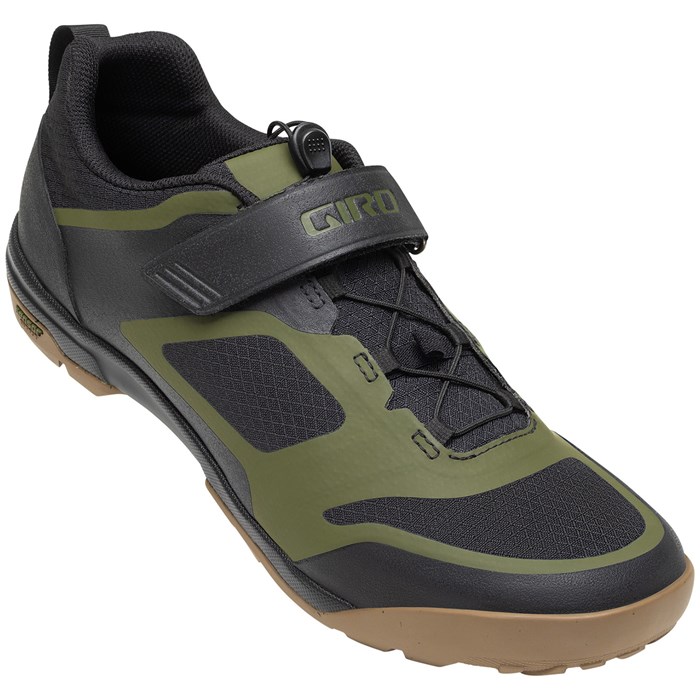 MSRP: $129.95
Sole: Sensor® Rubber Compound
Weight: 1 lb 13.5 oz
Sizes: 39 – 48
PROS:
Lacking stiffness
Super comfortable
Fastlace closure with cord lock and soft lace guides
Molded EVA footbed
CONS:
Lacking stiffness
Quite heavy
"Lacking stiffness" is simultaneously a pro and a con for the Giro Ventana Fastlace Gravel Shoes. Specifically designed for optimum comfort on and off the bike, the Ventana might not be as fast as other gravel cycling shoes. However, it is known for being the most comfortable gravel cycling shoe available.
The Giro Ventana Fastlace is perfect for both gravel cycling and light trail riding. There is plenty of room in the toe box, making the Ventana another addition to our list of the best wide gravel cycling shoes. In terms of sizing, users have noted that the Ventana tends to run a bit large compared to other gravel bike shoes, especially Giro cycling shoes.
Arguably the best of the Giro gravel shoes, the Ventana is made of a wide variety of materials that are most comfortable and functional. The upper is made from a one-piece Synchwire with PU bonded mesh, which the molded EVA footbed and injected EVA cushioning midsole add to the shoe's incredible comfort. A Sensor® Rubber Compound outsole is somewhat stiff, but not as stiff as most other gravel bike shoes. This can sacrifice a bit of power transfer and performance, but it certainly adds to the shoe's overall comfort.
The Giro Ventana Fastlace Gravel Shoes are comfortable and breathable, though they may not be suitable for cold-weather riding or more extreme weather conditions. However, the price is right for many cyclists who are looking for a comfortable and capable gravel cycling shoe.
---
5. 45NRTH Ragnarok Tall Bike Shoes
MSRP: $245
Sole: rubber and nylon
Weight: 2 lbs
Sizes: 39 – 48
PROS:
Rated for sub-freezing temperatures
5-3/4 in. neoprene cuffs
Waterproof membranes
Microglass filament lugs
CONS:
Very heavy
Ankle buff may be uncomfortable for some
You can probably guess the purpose of the 45NRTH Ragnarok Tall Bike Shoes just by looking at them: these gravel shoes are designed for sub-freezing temperatures and wet-weather riding. With the extra material above the ankle, it's no surprise that the 45NRTH Ragnarok shoes are heavier than other gravel shoes, weighing in at 2 lbs for the pair. But the tall neoprene cuffs are warm and functional, keeping moisture, mud, and grit out of your shoes.
45NRTH did a great job designing these gravel shoes with the best materials, making the neoprene cuffs both comfortable and flexible so that they don't impinge your ankle's range of motion when pedaling. Overall, the ankle buff is 5-3/4 in. of neoprene. The redesigned openings and webbing heel make the Ragnarok shoes easy to put on and take off without damaging any material.
A side-mounted Boa connects to the floating 3-finger overlaps, which allow you to dial in the shoe's perfect fit. Rubber outsoles feature an aggressive tread that is great for walking in mud, plus micro glass filament lugs that increase traction on slippery surfaces. The 45NRTH Ragnarok Tall Bike Shoes are a great option for cyclists who want to continue their cold and wet-weather adventures whilst keeping their toes nice and warm.
---
6. Shimano RX801 Gravel Bike Shoes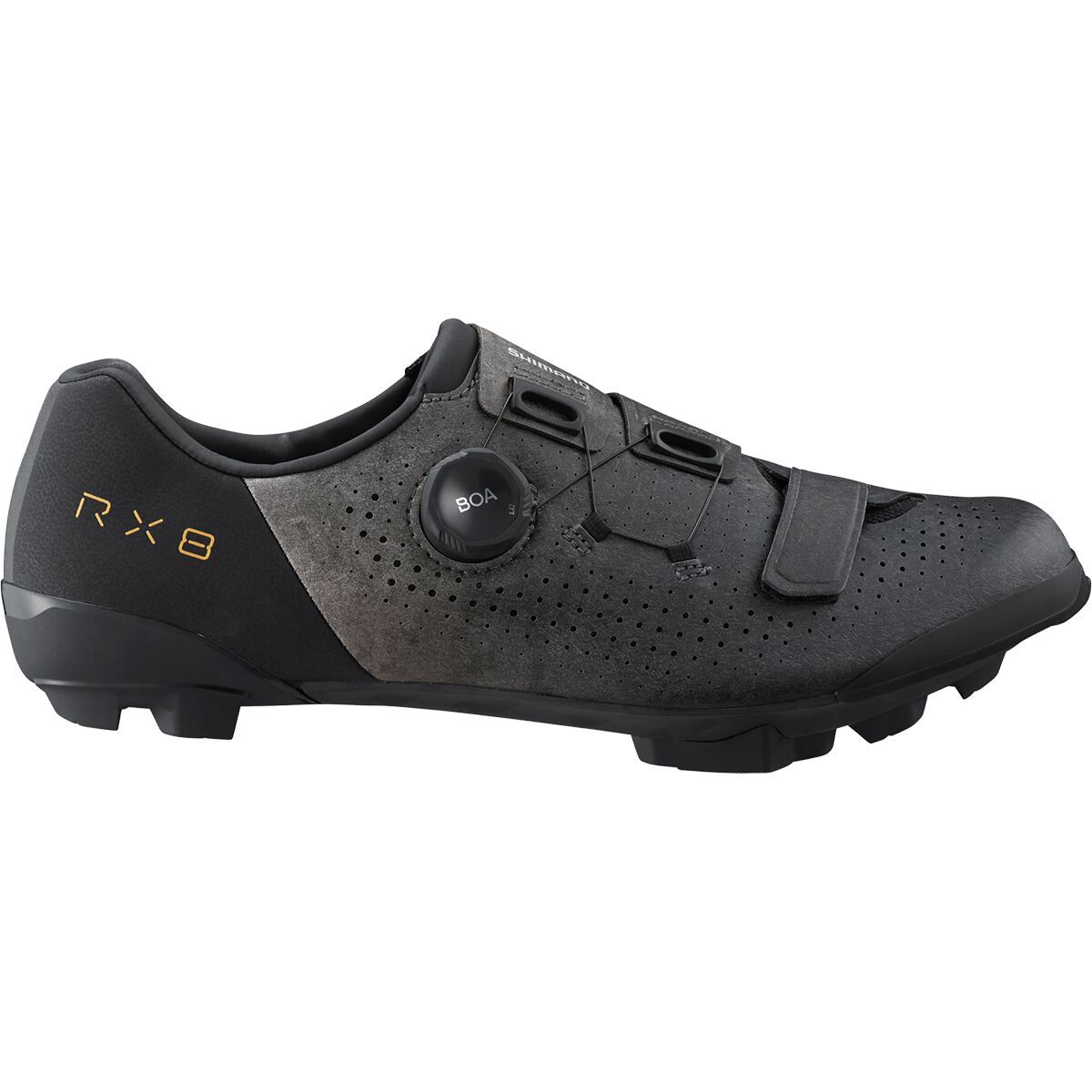 MSRP: $274.95
Sole: carbon composite
Weight: 1 lb 2 oz
Sizes: 40 – 48
PROS:
High-performance gravel racing shoe
Comfortable upper
Lightweight with a carbon sole
Boa Li2 dial
Specially-designed shoe-pedal interface
CONS:
A bit pricey
Sacrifices some comfort for speed
If you're looking for a gravel racing shoe, look no further than the Shimano RX801. These shoes feature the stiffest carbon composite sole of any Shimano gravel shoe. This increases power transfer and allows you to push all of your power through the pedals. Boa Li2 dials help secure the RX801 shoes to your foot while also offering micro-adjustments to your fit.
Abrasion-resistant TPU lugs are attached to the bottom of the shoes, increasing grip on steep or slippery surfaces. The upper is made of synthetic leather, which is comfortable for all-day treks. There is also a broader contact area and built-in heel stabilizer in the RX801, which features better ventilation than older Shimano gravel shoes.
The Shimano RX801 is also a wide gravel cycling shoe thanks to a wider, refined toe box. Lastly, the Boa Li2 dial offers a lower profile than other Boa dials, really driving home the fact that this shoe is built to be the fastest gravel cycling shoe on the market.
---
7. Fizik X5 Terra Bike Shoes
MSRP: $149.99
Sole: composite carbon fiber
Weight: 1 lb 4 oz
Sizes: 40 – 48
PROS:
Very lightweight
Microtex upper
Micro-adjustable Boa L6 dial
fi'zi:k Cycling Insole
Affordable
CONS:
Narrow fit isn't best for all
Sole isn't the highest quality
The Fizik X5 Terra Bike Shoes are designed for mountain biking, but they're great for gravel, too. Lightweight and affordable, the X5 Terra shoes are also durable and versatile on a variety of terrain. They also come with trail-protective materials such as the thick inner tongue of the shoe.
At the top of the shoe is an asymmetric opening that is fastened using a micro-adjustable Boa L6 dial. The shoe's upper is made of laser-perforated Microtex, plus a lightweight and breathable inner mesh. These Fizik gravel shoes have an outsole made of injected carbon and TPU co-injected studs that give you extra grip when walking or hiking on gnarly terrain.
The fi'zi:k Cycling Insole provides extra support and comfort inside the shoe, making the X5 Terra an ideal choice for all-day adventures. You'll be able to put out plenty of power through the carbon-reinforced sole of the shoe, whether on the MTB or gravel bike. The shoe's narrow fit isn't for everyone, but it's not far off from wide gravel cycling shoes, depending on the size. Built for riders who frequent more than light gravel roads, the Fizik X5 Terra are some of the best off-road cycling shoes.
---
8. Sidi Dominator 10 Bike Shoes
MSRP: $349.99
Sole: nylon composite
Weight: 1 lb 10.5 oz
Sizes: 41 – 48
PROS:
Microfibre Microtech materials
Toe-spike compatible
Very comfortable
Durable
Well-fitting
CONS:
Expensive
On the heavier side
Designed for MTB, the Sidi Dominator 10 Bike Shoes offer a blend of features from all the shoes that we've mentioned so far. These best Sidi gravel shoes are actually meant for MTB, but of course, they work both ways. The Dominator 10's are super comfortable, which is a well-known feature of Sidi cycling shoes.
A shoe built for mountain biking is going to be durable, and that's what we've found with the Sidi Dominator 10's. Several of the smaller parts are easily replaceable, and the sole has been upgraded to a more aggressive tread than previous models. The Dominator 10 comes with an RS17 sole that is lightweight, which keeps these durable shoes in the mid-level weight range of cycling shoes.
The Dominator 10's are compatible with toe spikes, making them a great shoe for gravel racing, MTB, and more aggressive trails in all weather conditions. Made from Microfibre Microtech, the Dominator 10's are simultaneously comfortable, water-repellant, and stable. The Sidi Dominator 10 bike shoes are one of the most comfortable gravel cycling shoes thanks to a reinforced heel and the Tecno 3 system, which keeps your foot secure and in place.
Buy from Jenson USA Buy from Mike's Bikes
---
9. PEARL iZUMi X-Alp Summit Bike Shoes
MSRP: $150
Sole: Vibram rubber, EVA, nylon plastic, and steel
Weight: 1 lb 12 oz
Sizes: 41 – 48
PROS:
Vibram ECOSTEP rubber outsoles
L6 Boa Fit System
Affordable
Reinforced toe boxes
The Pearl izumi X-Alp gravel bike shoes look like a basic pair of cycling shoes, and that's not a bad thing. Offered at a very reasonable price, the X-Alp gravel shoes offer many of the same features as high-end gravel shoes that are twice the price.
One of the most unique features of the X-Alp is its nylon composite sole, formed using a mixture of Vibram rubber, EVA, nylon plastic, and steel. Vibram is known as a high-performing rubber compound used to make shoes that perform best in loose, muddy, and rocky terrain. EVA foam is included to assist in dampening vibrations and providing lateral support. The entire shoe is secured with an L6 Boa and Velcro strap near the toes.
Perfect for beginner gravel riders and mountain bikers, the Pearl izumi X-Alp gravel bike shoes are both affordable and comfortable for all kinds of riders. The shoe includes a synthetic leather upper that completes the mid-size shoe that is neither too wide nor too narrow. You can't go wrong with the X-Alp gravel bike shoe.
---
10. Giro Sector Gravel Bike Shoes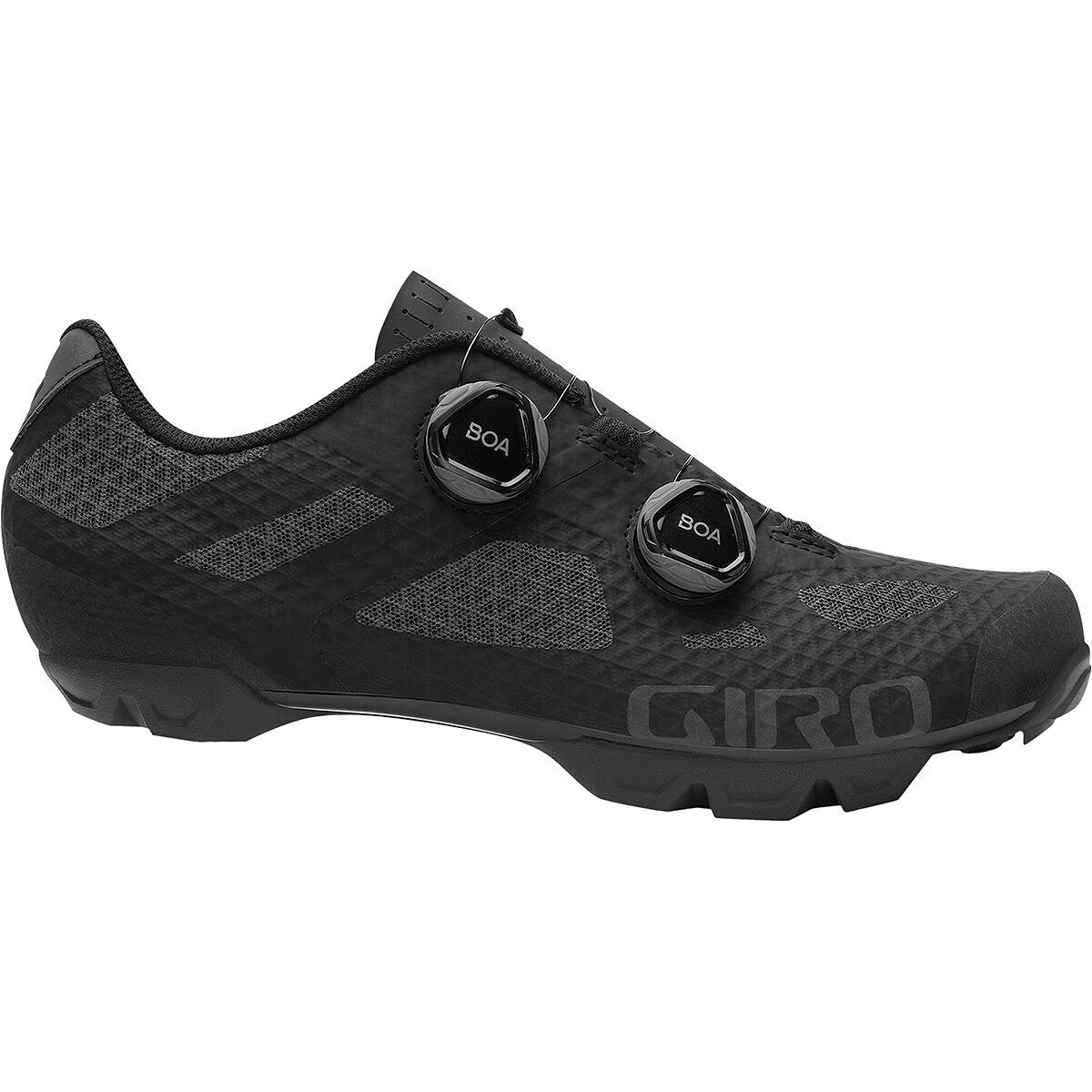 MSRP: $239.95
Sole: carbon composite
Weight: 1 lb 8 oz
Sizes: 39 – 46
PROS:
Dual Boa closure
3D-molded anti-odor footbed
Breathable
Lightweight sole
Dual-injected rubber outsole
CONS:
Not grippy enough to hike in the mud
Runs small
The Giro Sector is a great cross-over gravel and MTB shoe that is both lightweight and durable. With its thin look, the Sector weighs less than most MTB-capable shoes and offers great breathability. Its 3D-molded footbed increases comfort, especially for all-day explorations on the gravel or mountain bike.
One of the best Giro gravel shoes, the Sector is super stable around the foot thanks to a dual Boa design and mesh upper. While the carbon composite sole has tall side lugs, it doesn't quite have the grip of other gravel shoes when it comes to hike-a-bike sections in the mud.
Like other Giro gravel shoes, the Sector uses Synchwire uppers to provide simultaneous breathability and durability around the foot. The price is on the higher side for a gravel shoe, but it's well worth it if you can use the Giro Sector for both gravel cycling and MTB.
Overall, the Giro Sector is perfect for all types of gravel riders. It is comfortable and durable, perfect for complete beginners. At the same time, the Giro Sector is lightweight and stiff enough for competitive gravel racers.
---
How to Choose the Best Gravel Bike Shoes
Types of Closure Systems on Gravel Bike Shoes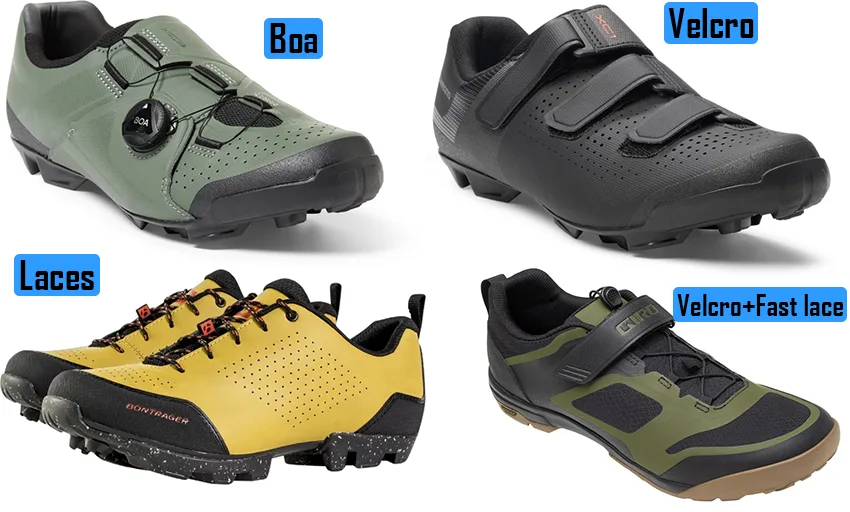 When choosing cycling shoes, you will run into a few different closure systems, mainly Boa dials, Velcro straps, and laces.
The most popular closure system in cycling shoes is dial systems. Most cycling shoes use Boa, which is a specific brand of dial closure systems. These systems lock and unlock with the push of a button and tighten a series of thin but powerful straps along the shoe. Boa dials are known for feeling the snuggest and most secure of any cycling shoe closure system.
Specifically, the Boa system creates an incredibly snug fit without causing any pain points along the foot. These systems aren't for everyone, however, since the incredibly snug fit is not ideal for all riders, though the dial system is a favorite among most cyclists since it is able to provide plenty of pressure without pain in a cycling shoe.
Velcro closure systems are an easy-to-use option for cycling shoes. There is no learning curve with Velcro straps, but they don't fasten as tightly as dials. However, Velcro straps can be tightened and adjusted in a matter of seconds, even while riding.
Velcro straps are lightweight and aerodynamic, making them slightly faster than dial systems. Cycling shoes with Velcro straps tend to be the cheapest version of the shoes compared to those with dials or laces.
One of the biggest drawbacks of Velcro straps is that you can easily pick up debris in the system's mesh. Velcro can also wear out over time, unlike durable and robust Boa dials.
Laces are the old-school way of securing your cycling shoes, just like a regular shoe. However, laces cannot be adjusted while riding, and it can take some time to tie them before your ride.
Laces aren't always ideal for racing, and they can loosen in wet or muddy weather conditions. Aesthetically, many cyclists love the look of shoes with laces, though they are not the easiest to use.
Cycling shoes with laces tend to be cheaper than those with dials, and they are sometimes cheaper than comparable shoes with Velcro closure systems. It is difficult, if not impossible, to fit shoes with laces as tightly and securely as a shoe with a dial system.
Sole Materials
When it comes to gravel bike shoes, there is not necessarily a "best type of sole for gravel cycling shoes." Instead, there are different materials available, each with its own advantages and disadvantages.
For one, composite carbon soles are stiff enough for excellent power transfer, but they are not the most comfortable soles to walk in, especially on slippery surfaces.
Another type of sole material is rubber or TPU (thermoplastic polyurethane), which are typically used in affordable gravel bike shoes. These soles are typically more comfortable, grippy, flexible, and durable. However, they are also heavier.
In a gravel bike shoe, you want a sole that can do it all: simultaneously stiff and flexible, while secure and comfortable at the same time. Sole material is mostly a question of specific use and personal preference. If you are an elite gravel racer, for example, then a composite carbon sole is best. If you are an adventure rider or bikepacker, on the other hand, then a rubber or TPU sole is ideal.
What Cleat Type Is Best for Gravel?
The best type of cleat for gravel depends on what kind of off-ride riding you'll be doing. Casual gravel riders on tamer routes may find three-bolt systems to be better, while more advanced gravel riders may choose two-bolt systems for their quick and easy usage and superior walkability.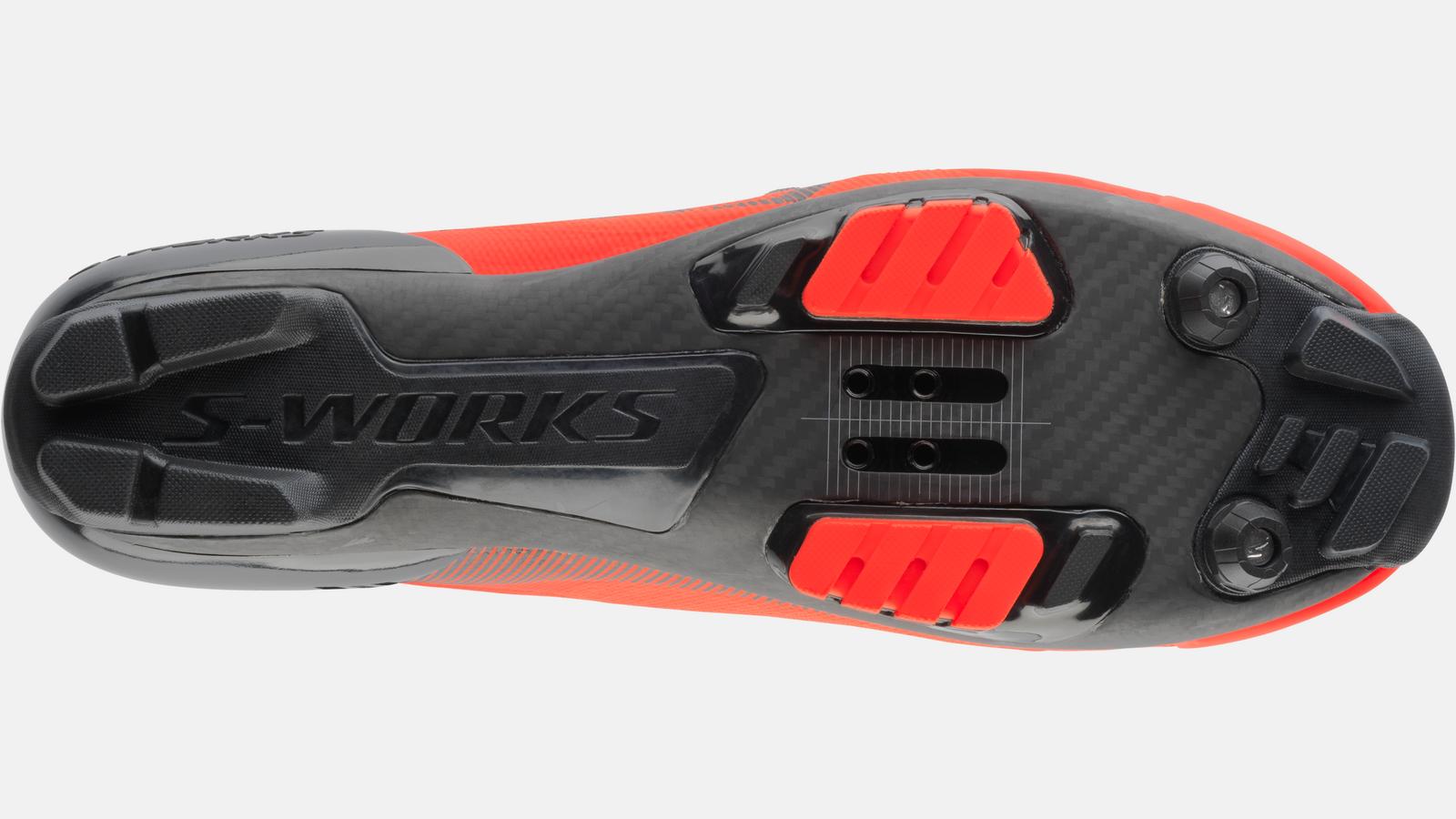 There are many different cleat types available for gravel biking, mainly two-bolt or three-bolt systems. Most road bikes use a three-bolt cleat system, such as Shimano or Look, which are designed for complete and efficient power transfer. Three-bolt cleat systems are often better for road-like routes with little-to-no walking.
Two-bolt cleat systems are more common on off-road bikes such as MTB, cyclocross, or gravel. These systems often feature double-sided cleats, which allow you to clip in easier and more quickly than three-bolt cleat systems.
Shimano SPD and Crankbrothers are two of the most popular brands of two-bolt cleat systems. Two-bolt cleat systems tend to be better for gnarlier off-road routes, especially those with technical sections of trail and walking or hiking.
Can I Wear MTB Shoes for Gravel Riding?
Yes, you can wear MTB shoes for gravel. There are not as many differences between the best mountain bike shoes and gravel shoes as there are between road shoes and gravel shoes.
Both MTB shoes and gravel shoes are designed for high-speed riding, all-day adventures, and walking or hiking through a variety of terrain and weather.
In fact, many of the shoes on our list above are MTB shoes because there is such a great crossover between MTB and gravel biking shoe functionalities.
Are Road Shoes Good for Gravel Riding?
Road shoes can be used for gravel riding, though they are certainly not ideal. The main limitations with even the best road bike shoes occur when you are off the bike.
Road shoes tend to be much lighter than gravel bike shoes or MTB shoes. Their soles are stiff and lightweight and definitely not as durable as off-road cycling shoes.
Gravel bike shoes are designed to be comfortable and walkable on all sorts of terrain, not just gravel. With increased flexibility and durability, gravel bike shoes allow you to traverse rocky roads, steep climbs, and muddy sections of trail without ruining your shoes.
Road shoes can be easily clogged or damaged by walking on gravel or through mud.
Why Are Some Gravel Bike Shoes so Expensive?
High-quality gravel bike shoes share a few characteristics that make them expensive.
Firstly, lightweight gravel bike shoes are typically made from expensive materials that trim weight while maintaining structure and durability. Boa dial closure systems are also more expensive than other systems, such as Velcro or laces in gravel bike shoes.
Breathable gravel shoes are also more expensive because they use a mixture of materials and mesh that is lightweight, breathable, and comfortable while also maintaining peak performance.
The use of carbon throughout a cycling shoe can certainly influence the price, as carbon is quite expensive. Carbon is typically used in the sole of shoes to increase stiffness, save weight, and improve performance. .
Lastly, expensive gravel bike shoes are an investment that you can expect to last for many years, especially when cleaned and maintained properly.