Rad Power Bikes RadRover 6 Plus Review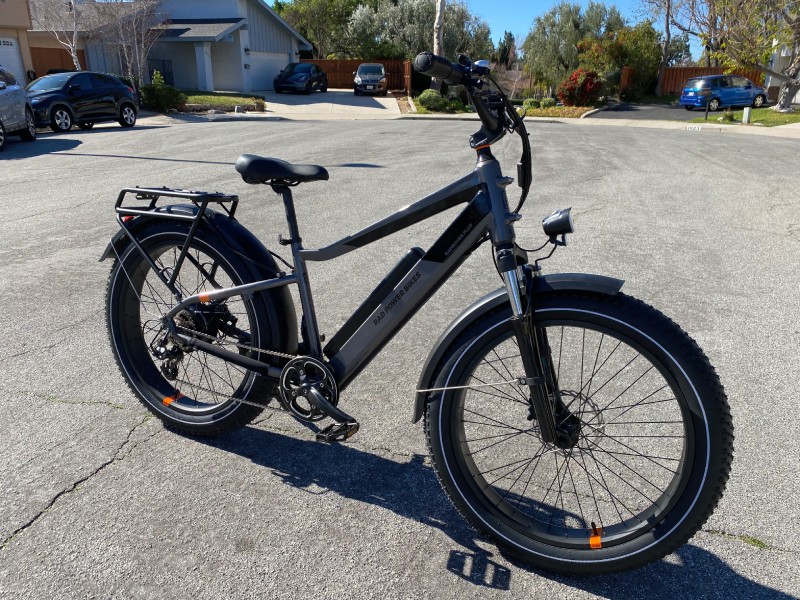 The RadRover 6 Plus is the 2021 update of Rad Power Bikes' best-selling flagship model — The RadRover 5.
In essence, this is a 26″ wheel hybrid electric bike. With fat tires, a 750W hub motor, 60mm front fork and assisted range of up to 45mi, it is quite a good companion for all terrains and user types.
The Rad Rover clearly demonstrates the careful thought and commitment to the improvement of Rad Power Bikes. With the 6 Plus, the company has taken the Rad Rover 5 to the next level.
This includes improvements to geometry from which the ergonomic design reduces fatigue, boosted performance on climbs, a more powerful motor, and various other component upgrades.
With the latest updates, the Rad Rover 6 Plus now delivers a superb ride quality for just $300 more than the previous model.
This model includes greater adjustability for smaller height range riders which leads to improved handling and a smoother feel, a beautifully semi-integrated battery, an updated LCD control panel, and the headlight and taillight automatically switch on with the bike.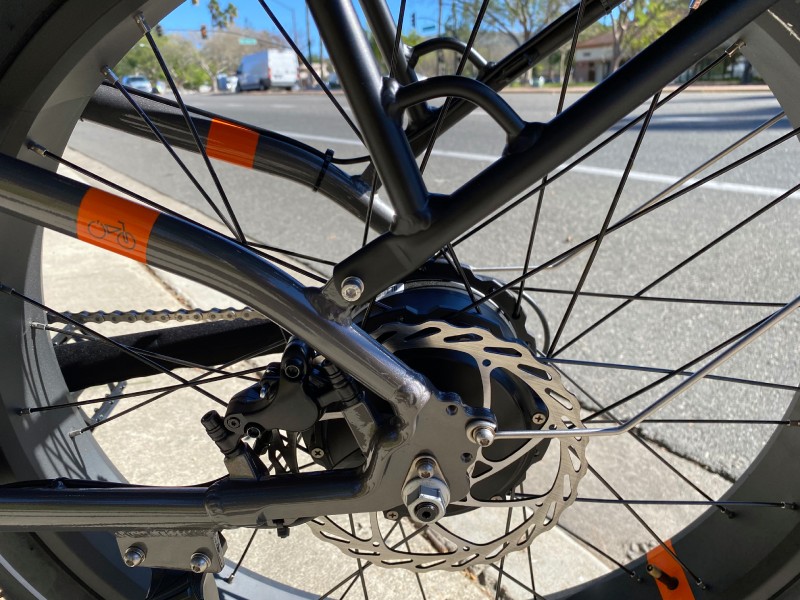 Finally, the hub motor has been fine-tuned and now has more power output and is smoother on steep gradients, and mechanical disc brakes were swapped out for premium hydraulic brakes.
RadRover 6 Plus Main Specs
From our careful review of the new RadRover 6 Plus, we are very impressed. This e-bike easily outperforms its $2,000 price tag, especially when compared to big-name brands.
Although there is an increase in price on the previous model, the updates easily justify the difference. It's more comfortable, powerful, smoother, has better handling, improved look, and all-around better ride quality.
Weight: 72.5lbs
Range: Up to 45mi
Tires: 26×4″ (Max width 4.5″)
Brakes: Hydraulic, 180mm ceramic rotors
Max payload capacity: 275 lbs
Battery: 48V 14Ah, 672Wh
Standard frame fits riders: 5'4″ – 6'2″
Step-over frame fits riders: 5'2″ – 6'2″
Don't miss out on the RadRover 6 Plus if you're on the hunt for an affordable and versatile fat-tire e-bike.
RadRover 5 vs. RadRover 6 Plus: Main Differences
---
Brand
Rad Power Bikes
Rad Power Bikes
Model
RadRover 5 / RadRover 5 Step-Thru
RadRover 6 Plus / RadRover 6 Plus Step-Thru
Type
Electric, Fat, Commuter
Model Year
2020-2021
2021
Designed For
Urban, Light Trails, Commuting, Sand, Snow
Price (USD)
1,699
1,999
Frame Types
Standard / Step-Thru
Frame Sizes
5'4″ – 6'2″
Wheel Size
26″
E-Bike Class
Class 2
Max Speed
20mph
Range (mi)
20 – 45+
Motor
750W – 80Nm
Motor Type
Geared Hub
Brushless Hub motor
Battery
48V 14Ah, 672Wh Lithium NMC Samsung 35e (800 charge cycles)
Controller
48V, 750W
Charger
48V 2A, 100V-240V
USB Ports
USB port
Optional, sold separately
Throttle
Half twist throttle
Display
Backlit LCD – Charge indicator, speedometer, odometer
Backlit LCD – Charge indicator, odometer, trip odometer,
Display
pedal-assist levels, wattmeter, etc
pedal-assist levels, clock, etc
Modes
5 Pedal-assist with 12 magnet cadence sensors
Derailleur
Shimano Acera 7-Speed
7-Speed Shimano Altus
Wiring
Water resistant connectors and wiring harness
Frame Material
6061 aluminum
Front Suspension
80mm
60mm RST spring, lockout & preload
Brakes
Mechanical
Hydraulic
Rotors (mm)
180mm
Tires
26×4″ Kenda Juggernaut, K-Shield puncture resistant liner
Max tire width
4″
4.5″
Saddle
Velo Plush with lifting handle
Ergonomic seat with lifting handle
Grips
Ergonomic leather imitation
Durable leather imitation ergonomic grips
Weight
69 lbs / 71 lbs
72.5 lbs / 73.4 lbs
Max weight (lbs)
275
Warranty
14 Day Free Trial / 1-Year Warranty
What Are the Main Upgrades on the RadRover 6 Plus?
RadRover 6 Plus is built around a similar platform as RadRover 5, but it comes with some significant improvements.
Hydraulic disc brakes with ceramic brake pads
10 LED battery charge display
Updated -futuristic & modern design
Custom geared hub – increased hill-climbing capabilities & more power
26″ x 4″ (Max tire width: 4.5″ instead of the previous 4″)
60mm fork (Instead of the 80mm travel on the previous model)
A more user-friendly control panel
Fatigue reducing geometry
Auto-on LED lights
It's clear from these updates that the RadRover 6 Plus is significantly better than the previous model.
These changes have resulted in more comfortable, powerful, and efficient ride quality for a very similar price. Additionally, the bike handles better and looks much more refined than its predecessor.
RadRover Bike Accessories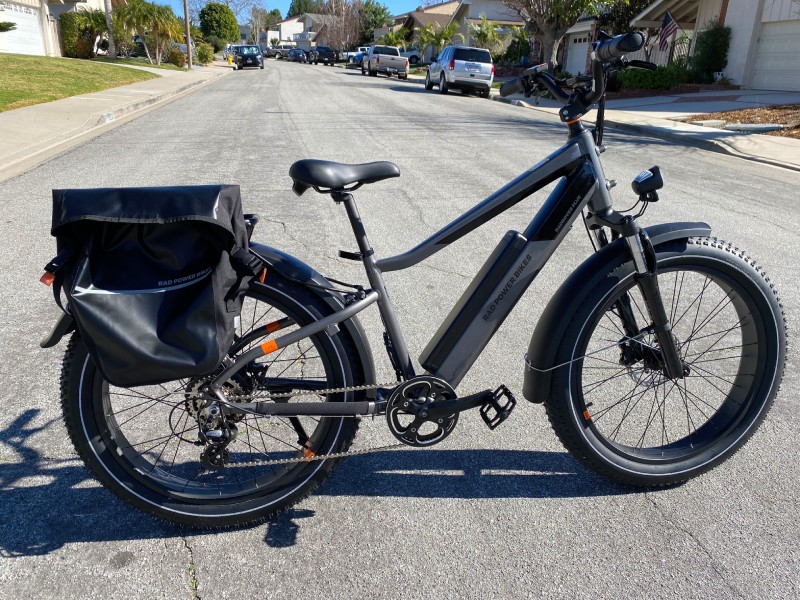 Rad Power Bikes have a huge selection of accessories you can purchase from their online store. These accessories can be used to personalize your e-bike for almost any job you can think of. They also sell spare or replacement parts if needed.
On the online store, you can select an option to only display the specific accessories that fit on the RadRover 6 Plus. This helps avoid confusion while searching for the perfect items.
People Also Ask
Should RadRover 6 Plus be my first e-bike?
The RadRover 6 Plus would be an excellent first choice. It has all the features and components needed for versatility and comfort as well as being very user-friendly.
It's easy to ride and control has plenty of power to take on tough gradients, and even comes in a step-through design for added comfort if needed. This is a great universal fat-tire e-bike for almost every type of rider.
Is RadRover 6 Plus good for commuting?
Yes, this bike works perfectly for commuters. It has plenty of range and power for any type of commute, it's comfortable, and it is compatible with various accessories to make commuting convenient and easy.
Is RadRover 6 Plus good for fat bike touring?
Yes, the RadRover arrives with a basic touring setup of full fenders and integrated lights. However, it is compatible with many bike touring components from the online store including a rear rack, front rack, various sized baskets, Rad Power Bike pannier, and basket bags, cargo straps, and more.
Are fat e-bikes heavy?
Although in general fat-bikes and so the Rad Rover Bike weight can be quite high, the ride quality isn't affected so much. With the RadRover 6 Plus, for example, the extra weight doesn't matter because it is very powerful and has great handling and control because of the high-quality components and geometry.
---
Other Rad Power Bikes Models
| | | | | | | |
| --- | --- | --- | --- | --- | --- | --- |
| RAD POWER | TYPE | MSRP $ | FRAMES | SPEEDS | TIRES | FORK |
| RadTrike 1 | Tricycle | 2,499 | Step-through | Single-speed | 18 x 2.25″ | Rigid |
| RadRunner 1 | Utility | 1,299 | ST & Standard | Single-speed | 20×3.3″ | Rigid |
| RadRunner Plus | Utility | 1,799 | ST & Standard | 7 | 20×3.3″ | 80mm |
| RadWagon 4 | Cargo | 1,899 | Step-Through | 7 | 22×3″ | Rigid |
| RadMini 4 | Folding | 1,499 | ST & Standard | 7 | 20×3″ | 80mm |
| RadRover 5 | Fat Hybrid | 1,699 | ST & Standard | 7 | 26×4″ | 80mm |
| RadCity 4 | Hybrid | 1,599 | ST & Standard | 7 | 26×2.3″ | 100mm |