Best Hardtail Electric Mountain Bikes in 2023
Hardtail e-MTBs are great for many riders due to their versatility. They allow riders to tackle mountain trails and urban roads equally – making for great all-around bikes. Additionally, with the aid of a motor, riders can go for longer distances, ride on softer surfaces, and fly up steep gradients.
Like with the purchase of any new bike, choosing an electric mountain bike requires thought and consideration of your needs and abilities as a rider, as well as your budget.
Why Choose a Hardtail Over a Full-Suspension Bike?
---

A hardtail e-bike has a few distinct advantages over full suspension alternatives:
They use fewer parts and have less design complexity, as a result, hardtail bikes are almost always cheaper.
Hardtail bikes are lighter. The rear suspension can be quite heavy especially in lower-priced bikes.
They are faster on roads, going uphill, and on smooth trails. This is because suspension absorbs a good chunk of momentum on some of the force you put into the pedals.
Easier, cheaper maintenance. Adding extra components means more complicated and expensive maintenance and repair.
Beginner-friendly. Hardtail bikes are better and easily adaptable by new mountain bikers.
---
The 13 Best Hardtail Electric Mountain Bikes of 2023
1. Trek Powerfly 4
2. Ride1UP Prodigy XC
3. Juiced Bikes RipCurrent S
4. Aventon Aventure
5. Diamondback Response
6. Rocky Mountain Growler Powerplay 30
7. QuietKat Apex
8. Orbea Keram 30
9. Vvolt Sirius
10. Charge XC
11. Ancheer Sunshine AT1
12. Orbea Urrun 30
13. Haibike HardSeven 5
---
1. Trek Powerfly 4
Best value hardtail electric mountain bike
MSRP: $3,850
Class 1 eBike – 20 mph | Mid-Drive Motor | Torque: 85 Nm | 500Wh Bosch Battery | Range: 3-5 hours
Alpha Platinum Aluminum frame
SR Suntour XCM 34 coil fork (80-120 mm)
27.5″ or 29″ tires
10-Speed Shimano Deore
Tektro HD-M275 Hydraulic Brakes
Weight: 51.53 lb
Trek Powerfly 4 is Trek's only hardtail electric mountain bike at the moment. It's a versatile entry-level e-MTB suitable for XC riding, gravel exploring, and light singletrack.
The Powerfly 4 boasts a Bosch Performance CX 250W mid-drive motor with 85 Nm of torque, combined with a 500 Wh battery pack integrated into the down tube. That leaves room for two water bottle cages in the main triangle.
The SR Suntour XCM 34 coil fork is not impressive by any means, but it will get the job done for most rides out there. It adds a bit of weight but smooths the ride out nicely.
The Powerfly 4 also comes with a Shimano Deore 10-speed drivetrain and Tektro's hydraulic disc brakes, so you're all set for climbing and descending.
All in all, Trek Powerfly 4 is a very competitive choice by USA's biggest bike manufacturer, equipped with great electronics and capable drivetrain and brakes.
---
2. Ride1UP – Prodigy XC
Best high-quality budget-friendly class 3 e-bike
MSRP: $2,295
Class 3 eBike – 28mph | Mid-Drive Motor | Torque: 90nm | 504Wh Samsung Battery | Range: 30-50mi
Lightweight Alloy Frame
120mm Travel, Air Suspension
27.5×2.4″ Maxxis Forekaster Tires
9-Speed Shimano Alivio
Tektro HD-M290 Hydraulic Brakes, 180mm Rotors
Weight: 48 lbs
Ride1UP's Prodigy hardtail (also called XC model) is their highest spec e-bike which is optimized for off-road performance.
The Prodigy has tons of power in its electronics beginning with a Brose 250W/90Nm mid-drive motor which delivers super-smooth power using torque sensing technology.
The juice comes from a large 504Wh Samsung battery which provides ranges between 30 and 50 miles. Additionally, you can rely on a 9-speed Shimano Alivio drivetrain to get you the rest of the way.
Grippy 2.4″ Maxxis Forekaster tires, a 120mm air suspension fork, Tektro hydraulic disc brakes, and balanced geometry combine for excellent handling and ride quality on varied terrain.
---
3. Juiced Bikes – RipCurrent S
Supercharged electric touring and an urban hardtail
MSRP: $2,499
Class 3 eBike – 28mph | 1,000W Rear Gear Hub motor | Torque: N/A | 998Wh Battery
Custom Aluminum Heat-Treated Frame
Air Suspension
26×4″ Tires
9-Speed drivetrain
Hydraulic Brakes
Juiced Bikes' RipCurrent S hardtail is an e-bike with the purpose of opening up opportunities for adventure that were previously out of reach.
This thoughtfully designed bike is perfect for touring with its 70+ miles of range. Starting with an aluminum frame that supports heavy loads including fully packed frame bags without sacrificing stability or compromising the frame.
A huge 1000W geared hub motor provides plenty of power to get you up steep hills or across soft trails. Powered by a 998Wh battery and a 9-Speed drivetrain you can expect long ranges.
Finally, air suspension, 4″ fat tires, and powerful hydraulic disc brakes provide smooth and confident riding on or off-road.
---
4. Aventon – Aventure
MSRP: $1,799
Motor – 750W Hub | Battery – 720Wh
Aluminum frame
Suspension fork, 80mm travel
26 x 4″ tires
8-speed Shimano Acera
Hydraulic disc, 180mm rotors
The Aventon Aventure electric bike is a versatile hardtail with an entry-level price and a premium ride feel.
Whether going up or downhill this Class 3 electric bike can do it all in style. Starting out with a set of powerful electronics including a 750W motor and 720Wh battery. Combine this with the 8-speed Shimano drivetrain and you can achieve massive ranges up to 53 miles.
Finally, 180mm-rotor hydraulic disc brakes, 4″ tires, and an 80mm fork all ensure this bike handles well and feels comfortable on technical trails and in all weather conditions.
---
5. Diamondback – Response
MSRP: $4,100
Aluminum 6061
Rock Shox Judy Gold 120mm travel
Class 3 eBike – 28mph
250W mid-drive motor – Bosch Performance Line Speed, 85Nm
500Wh battery – Bosch Performance Line Cruise
Magura Fifty4, 4-piston hydro brakes
Shimano Deore 10-speed drivetrain
The Diamondback Response is a great mid-range choice with all the components needed to deliver a smooth and fast ride on or off the trail.
This plus-sized hardtail eMTB is packed with power and range from Bosch Performance Line Speed battery and motor combo. This includes a 65Nm/250W mid-drive motor and a 500Wh battery giving you all you need for long hard days in the saddle up to 65 miles.
High-quality components such as a Rock Shox Judy Gold fork with 120mm travel, powerful Magura hydraulic disc brakes, and 2.8″ Schwalbe Super Moto-X tires with puncture protection mean this bike handles as good as any in harsh conditions and lumpy terrain.
---
6. Rocky Mountain – Growler Powerplay 30
Sleek e-MTB with trail optimized geometry

MSRP: $4,199
Jenson USA
Class 1 eBike – 20mph | Dyname 3.0, 108Nm Mid-Drive Motor | 643Wh battery | Range: N/A
FORM Alloy Aluminum frame
Suntour XCR34 air suspension, 130mm travel
27.5×2.8″ Maxxis Rekon tires
Shimano Deore 12-speed drivetrain
Shimano MT4100 hydraulic brakes
Rocky Mountain's Growler Powerplay 30 is a popular mid-drive e-bike that easily outperforms its price.
Hit the trails in style and with confidence using this well-balanced, smooth, and powerful e-MTB. Using Dyname 3.0 electronics you can be sure of consistent and accurate pedal assistance with a huge 108Nm of torque. The fast-charging 643Wh motor is fully-integrated and almost undetectable in the downtube, providing you with tons of range for a day or two on the trail.
Classic hardtail design and trustworthy components ensure the Rocky Mountain Growler Powerplay 30 delivers a balanced and lively ride quality. 27.5″ wheels, 2.8″ Maxxis Rekon tires, 130mm travel XCR34 air suspension, and Shimano hydraulic disc brakes all contribute to this premium experience.
---
7. QuietKat – Apex
Best fat tire exploration hardtail e-bike by QuietKat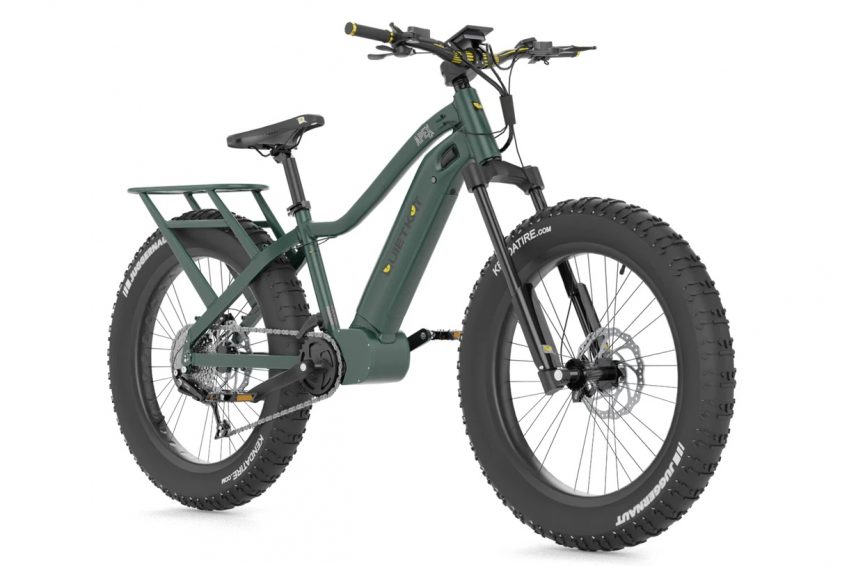 MSRP: from $4,999
Class 2 eBike – 20-28mph | 750W / 1000W / 1,500W Mid-Drive Motor | 696Wh / 840Wh Battery | Range: Up to 58mi
150mm Travel, Inverted Air Suspension
26×4.5″ Kenda Juggernaut Tires
9-Speed SRAM
Tektro 4-Piston Hydraulic Brakes
Weight: 71 lbs
Quietkat's Apex is the hunting e-bike brand's highest quality hardtail choice. With this model, you can tackle extreme conditions with confidence and rely on a lifetime frame warranty.
This unusual hardtail e-bike comes with the added benefit of an integrated pannier rack which allows you to increase load capacity without compromising stability.
When purchasing, you can choose between 750W, 1000W, or 1500W mid-drive motors for your bike. Depending on the motor size you choose your bike will provide you up to 58 miles of range thanks to a 696Wh / 840Wh battery.
For any outdoors person, an electric off-road bike or hunting bike is the perfect tool to support your trips and ...
To ensure great control and handling on varied terrain this powerful bike includes 4-Piston hydraulic disc brakes, a QuietKat 150mm travel fork, and 4.5″ Kenda Juggernaut puncture-resistant tires.
Size Recommendations
15″: Under 5'6″
17″: 5'6″ – 6′
19″: 6'+
Buy from QuietKat Read Our Full Review
---
8. Orbea – Keram 30
A fast hardtail with quality electronics
MSRP $2,999
Class 1 eBike – 20mph | 250W mid-drive motor | Torque: 40Nm | 400Wh Battery
SR Suntour X1 Coil LO, 100mm travel
Kenda K1153 2.35″
1×10-Speed Shimano Deore M4100/M5120
Shimano MT200 hydraulic disc
The Orbea Keram 30 is a low-travel hardtail with an affordable price and components from leading manufacturers.
This bike shows off excellent Bosch electronics. This includes a 400Wh integrated battery and an Active Line mid-drive 250W motor that assists up to 20mph.
The frame on this bike is a hydroformed 6061 aluminum with integrated cabling. Finally, a lockable Suntour X1 Coil 100mm fork, 2.35″ Kenda K1153 cross-country tires, Shimano MT200 hydraulic disc brakes, and a smooth-shifting Deore drivetrain round out a great value e-bike.
---
9. Vvolt – Sirius
MSRP: $2,799
Class 1 or 3 eBike – 20/28mph | 250W 80Nm MPF Mid-Drive Motor | 375Wh CelXpert Downtube
Aluminum frame
Air suspension fork, 100mm
2.4″ mixed-terrain tires
Enviolo 380% TR hub
Hydraulic disc brakes, 160mm rotors
Vvolt's Sirius hardtail e-bike is a fast and capable choice designed to tackle urban rides or hit the trails without breaking a sweat.
The aluminum frame is light and strong and features internal cabling, rack and fender mounts, and a rear kickstand.
The Sirius has a mid-drive motor with 80Nm of torque and a 375Wh battery that returns a modest 20 to 40 miles of range. The Enviolo hub and Gates Carbon belt drive make for smooth and reliable shifting that doesn't lose efficiency.
Finally, a 100mm air suspension fork, 2.4″ knobbly tires, and hydraulic disc brakes give you plenty of confidence when the conditions become difficult.
---
10. Charge – XC
Cheap hardtail equipped with an urban setup

MSRP: $2,699
Class 1 eBike – 20mph | 250W Shimano E7000 | Torque: 60Nm | 504Wh Battery | Range: Up to 50mi
Aluminum alloy frame

SR Suntour XCM 34 Coil suspension fork

Goodyear Peak 29 x 2.25″ tires
Shimano Altus 8-speed
Shimano MT200 Hydraulic discs
Charge's XC hardtail e-bike is an option with trail geometry, powerful electronics, and a fully-equipped commuter setup that allows riders to take on any adventure on or off-road.
This e-MTB uses Shimano's E7000 60Nm mid-drive, a large 504Wh battery, and a Shimano Altus 8-speed drivetrain to get max ranges of 50 miles.
The geometry of the Charge XC makes for confidence-inspiring handling on fast, flowy mountain trails. Finally, components like hydraulic disc brakes, 100mm fork suspension, and 2.25″ XC-style tires further boost the capability of this bike.
---
11. Ancheer – Sunshine AT1
Sub-$1,000 hardtail e-bike

MSRP Check on Amazon
Class 1 eBike – 20mph | 350W high-speed brushless gear motor | 374Wh Battery | Range: Up to 40mi
Aluminum Frame
Fork suspension
26×1.95″ Tires
21-Speed Shimano drivetrain
Dual mechanical disc brakes
The Sunshine by Ancheer is a super-cheap hardtail e-MTB with a decent range and durable build.
For power, this bike has a 350W motor supported by a 374Wh integrated battery which delivers ranges up to 40 miles. Additionally, you have a reliable 3×7-speed Shimano drivetrain you can always find the right gear.
Finally, snappy 26″ wheels, fork suspension, 1.95″ tires, and mechanical disc brakes all combine to give you confidence and control on and off the trail.
---
12. Orbea Urrun 30
E-bike with innovative frame technology

MSRP: $4,300
Class 1 eBike – 20mph | Shimano EP8-RS Mid-Drive Motor | Torque: 60nm | 540Wh Battery
Aluminum frame
Marzocchi Bomber Z2 120mm travel
Maxxis Rekon 2.40″ 120tpi, 3CMaxxTerra Exo+
Shimano Deore M5120 10-speed
Magura MT30 hydraulic brakes
The Urrun 30 by Orbea is a high-performance hardtail from the famous Spanish brand. The aluminum frame is sleek, with integrated wiring and electronics and smoothed-out welds that give it a carbon look.
Power comes from a smooth torque-sensing Shimano STEPS EP8-RS mid-drive motor with 60Nm of torque. This motor is complemented by a 540Wh battery and a reliable 10-Speed Shimano Deore drivetrain returning up to eight hours of ride time.
Finally, premium Maxxis Rekon EXO+ tires, Magura hydraulic disc brakes, Marzocchi Bomber Z2 120mm travel suspension, and trail-specific geometry make the Urrun a joy to ride.
---
13. Rambo – Roamer
MSRP: $4,000
Class 3 eBike – 28mph | 750W Bafang mid-drive motor | Torque: 120Nm | 672Wh battery
6061 Aluminum Frame
GT MRK suspension fork
Kenda Krusade anti-puncture 26″ x 4.0″ tires
1×8-Speed Shimano
Logan HD-E500 hydraulic brakes, 180mm rotors
The Rambo Roamer is an electric hardtail bike built to handle the demands of hunting, angling, and camping trips.
This bike has huge power from its 750W Bafang mid-drive motor which allows you to tow a full trailer and maximize the 300lb payload capacity. The battery has 672Wh of juice which returns a modest max range of 35 miles.
Rambo uses durable off-road components like puncture-resistant Kenda Krusade 4″ fat tires, fork suspension, and hydraulic disc brakes to ensure you can tackle extreme backcountry terrain.
Finally, this bike has valuable extras like a kickstand, a large LCD display, USB charging, and compatibility with a range of accessories to make your trips more convenient.
---
14. Haibike – HardSeven 5
Mid-level e-bike perfect for hard trails and urban riding alike

MSRP: $3,325
250W Bosch Performance Line Cruise mid-drive motor | Torque: 65Nm | 500Wh Bosch PowerTube | Range: N/A
6061-Aluminum frame
SR Suntour XCM32 DS Boost, 120mm travel
WTB Ranger Comp 27 x 2.25″ Tires
Shimano Alivio RapidFire Plus, 9-Speed
Tektro HD-M275 Hydraulic discs
Haibike's HardSeven 5 is a high-performance trail e-bike with smart, reliable components perfect for new or experienced mountain bikers.
The HardSeven 5 comes with an efficient and powerful 250W/65Nm Bosch mid-drive motor which when combined with a large 500Wh battery and a 9-Speed Alivio RapidFire drivetrain provides ranges for a full day on the trails.
Class 1 eBike which limits the speed to 20mph. In order to perform well on trails, this bike comes with 120mm travel Suntour suspension, 2.25″ WTB tires, Tektro hydraulic disc brakes, and a durable 6061 aluminum alloy frame.
---
Electric Hardtail Bikes Guide
What is a hardtail e-MTB?
Hardtail electric mountain bikes are those MTB models with fork suspension only. This is compared to full-suspension MTBs which have an additional rear shock suspension.
What is the Intended Use of Trail eMTBs?
This type of bike is perfect for light to moderate mountain trails with equal ability to climb and descend. With the help of a motor and battery, these bikes open up tough and demanding rides that may have previously been out of reach.
Additionally, you can use your electric trail mountain bike for regular riding on roads and around your town or city. They provide a comfortable and efficient way of getting around and often times have compatibility with fenders, pannier racks, and other convenient commuter accessories.
Mid-Drive vs Hub-Drive Motor Differences
In terms of mountain biking, mid-drive motors are far superior to the cheaper, less efficient, and heavier hub-drive alternatives.
For climbing hills, mid-drive motors provide smooth and consistent power from an efficient RPM. This also makes it easier to find traction on softer surfaces. However, if you have an issue with your chain you will have to push your bike because mid-drive motors rely on the drivetrain to be intact whereas hub-drive motors do not.
Most Important Components
Frame – a durable, lightweight frame with specific hardtail geometry will help ensure a comfortable, controlled ride. High-quality aluminum alloy or carbon fiber are generally the best for this style of bike
Suspension – hardtails rely on fork suspension to do the heavy lifting when it comes to shock absorption. High travel suspension helps with stability and control on the rough trails
Brakes – powerful disc brakes are essential to keep you safe as possible while trail riding. These breaks give you the best stopping power in poor conditions and on soft surfaces while also giving you the ability to stop in an instant. Hydraulic disc brakes with large rotors do this best
Tires – wide knobby MTB tires are key for providing traction and stability on loose surfaces giving you the ability to corner safely. The perfect tire will give you a good balance of stability and maneuverability for technical trails
FAQs
---
Are Trail Hardtail E-Bikes Good?
Yes. They are great all-around bikes and the perfect choice for many types of riders especially those who like trails don't require high-performance standards from their bike.
Hardtail Electric Bikes & Climbing
This type of bike is the best mountain bike for climbing as less of your power is lost while pedaling compared to full suspension alternatives. The more suspension that you have and the higher the travel the more power is lost on each revolution.