Best Hardtail Electric Mountain Bikes in 2023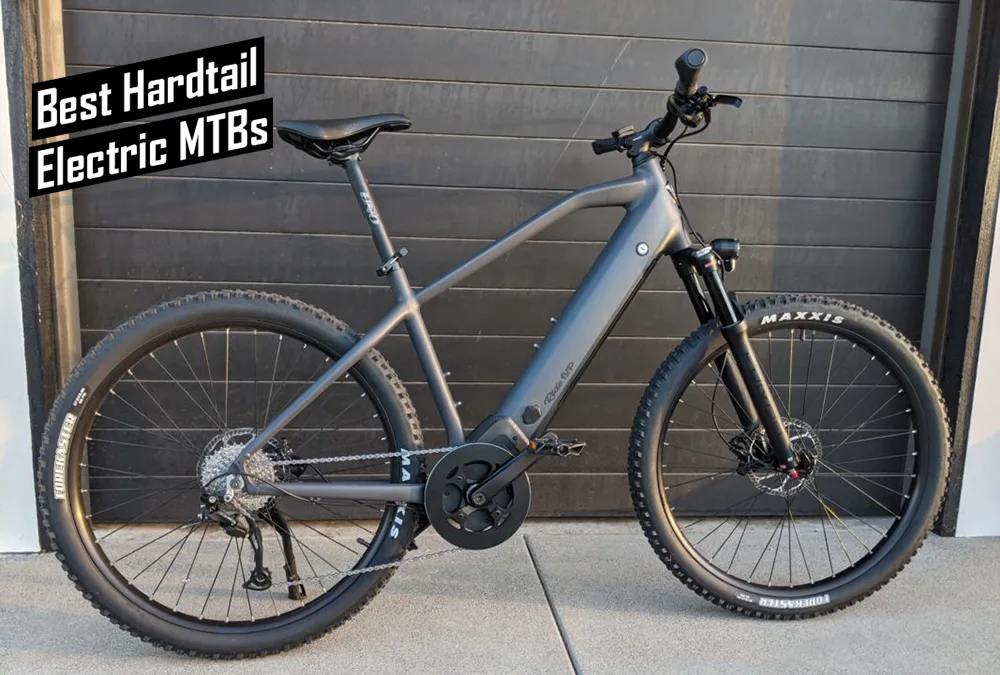 The best hardtail electric mountain bikes are great for a variety of riders due to their versatility. They allow riders to tackle mountain trails and urban roads equally well, making for great all-around bikes.
Additionally, with the aid of a motor and battery, riders can cover longer distances, climb steeper hills, and preserve energy for technical sections.
But when buying a new electric mountain bike, it's important to consider your riding needs, abilities, and budget.
In the article below, we aim to explain some of the main benefits of hardtail electric bikes and share the best models we recommend right now.
Why Choose a Hardtail Over a Full-Suspension Bike?
---

A hardtail e-bike has several distinct advantages compared to its full-suspension counterparts.
Firstly, these bikes have fewer components and simpler designs, which results in generally more affordable options. Additionally, hardtail bicycles are notably lighter, as the absence of rear suspension reduces the weight, particularly evident in lower-priced models.
Furthermore, hardtail e-bikes exhibit superior performance on roads, uphill terrains, and smooth trails. This advantage stems from the fact that suspension systems tend to absorb a significant portion of the momentum generated when pedaling, impacting the overall performance.
Maintenance is also notably simpler and less costly for hardtail e-bikes. The incorporation of fewer components translates to reduced complexity and expense in maintenance and repair.
Lastly, hardtail e-bikes are known to be beginner-friendly. Their design makes it easier for new mountain bikers to learn the ropes, making them the preferred choice for those new to the sport.
---
The 14 Best Hardtail Electric Mountain Bikes of 2023
1. Rad Power Bikes RadRover 6 Plus
2. Trek Powerfly 4 Gen 4
3. Ride1UP Prodigy XC
4. Blix Ultra
5. Aventon Aventure.2
6. Giant Talon E+ 3
7. Rocky Mountain Growler Powerplay 30
8. QuietKat Apex
9. Orbea Keram 30
10. Vvolt Sirius
11. Charge XC
12. Ancheer Sunshine AT1
13. Liv Tempt E+ 3
14. Bakcou Mule
---
1. Rad Power Bikes RadRover 6 Plus
Entry-level Ebike for Light Trails and Commuting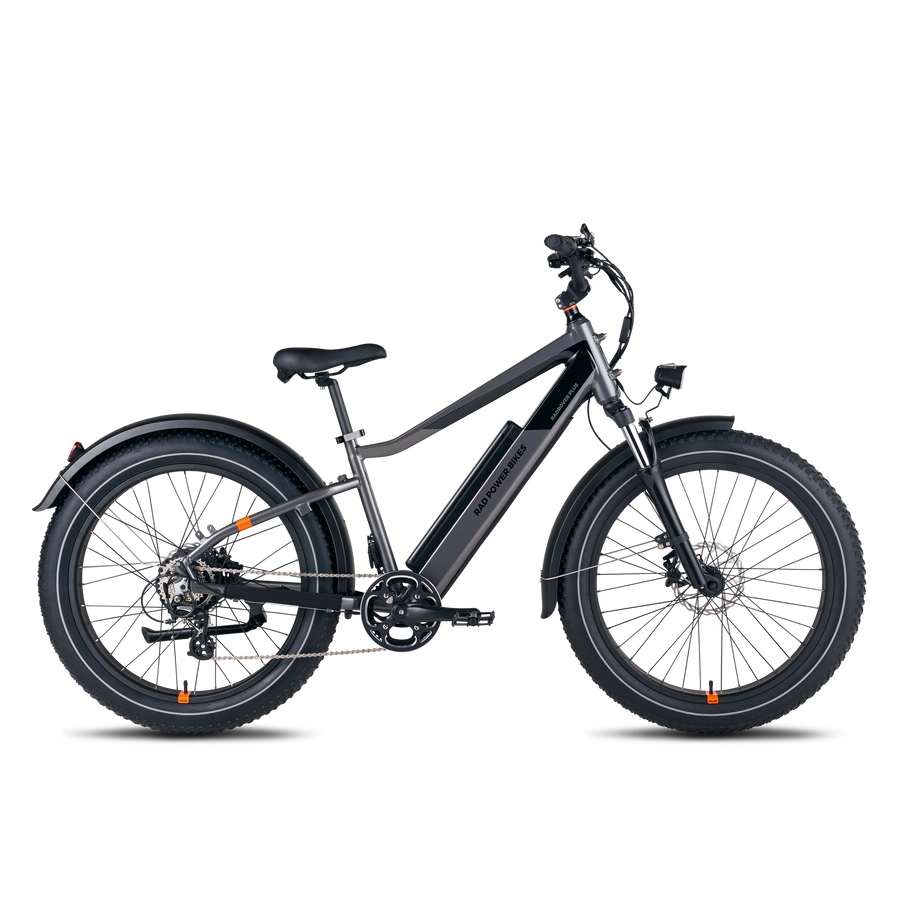 MSRP: $2,099
Motor: 750W rear hub, 80 Nm
Battery: 672 Wh
Suspension: 60 mm travel fork
Gears: Shimano Altus 7-Speed
Tire size: 26" x 4.0″
Rad Power Bikes RadRover 6 Plus is a fat tire e-bike with an affordable price tag and decent components, perfect for mountain bikers who want urban functionality.
The RadRover 6 Plus comes with a powerful 750W, 80 Nm hub motor, which, when combined with a large 672 Wh battery and a 7-speed Altus drivetrain, provides 45 miles of range and a 20 mph top speed.
To perform well on trails, this bike comes with a 60 mm travel suspension, 4″ Kenda fat tires, hydraulic disc brakes, and a durable 6061 aluminum alloy frame.
The RadRover 6 Plus also boasts excellent accessories, including fenders, front and rear lights, and a kickstand.
This has been one of the most popular ebikes in the $2,000 dollar range for years, which doesn't come as a surprise considering the high value for the money it provides.
---
2. Trek Powerfly 4 Gen 4
Winner! Best Value Hardtail Electric Mountain Bike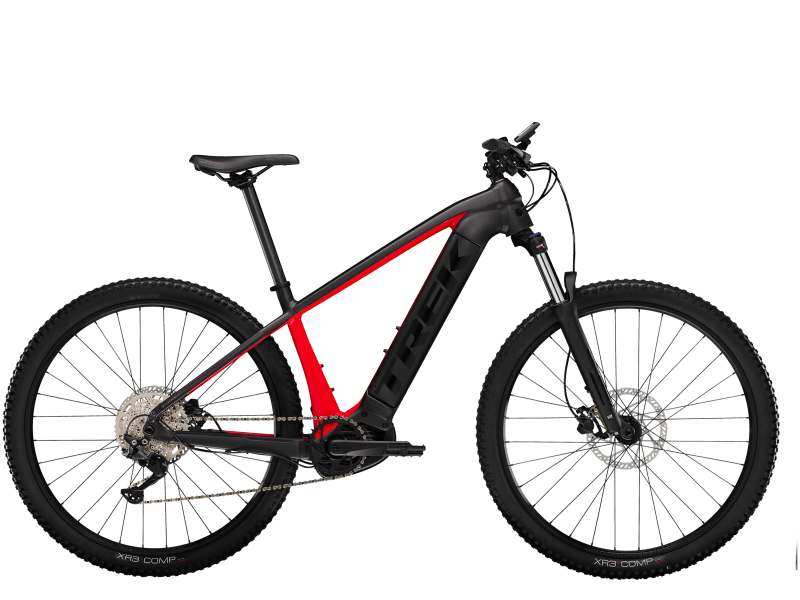 MSRP: $3,650
Motor: Bosch Performance CX 250W, 85 Nm
Battery: 500 Wh Bosch Battery
Suspension: SR Suntour XCM 34 coil fork (80-120 mm)
Gears: 10-Speed Shimano Deore
Tire size: 27.5 or 29 x 2.35"
Trek Powerfly 4 Gen 4 is Trek's only hardtail electric mountain bike at the moment. It's a versatile entry-level e-MTB suitable for XC riding, gravel exploring, and light singletrack.
The Powerfly 4 boasts a Bosch Performance CX 250W mid-drive motor with 85 Nm of torque, combined with a 500 Wh battery pack integrated into the down tube. That leaves room for two water bottle cages in the main triangle.
The SR Suntour XCM 34 coil fork is not impressive by any means, but it will get the job done for most riders out there. It adds a bit of weight but smooths the ride out nicely.
The Powerfly 4 also comes with a Shimano Deore 10-speed drivetrain and Tektro's hydraulic disc brakes, so you're all set for climbing and descending.
All in all, the Trek Powerfly 4 is a very competitive choice by the USA's biggest bike manufacturer, equipped with great electronics and capable drivetrain and brakes.
---
3. Ride1UP Prodigy XC
Second Choice! Best Budget-Friendly Class 3 Hardtail
MSRP: $2,395
Motor: Brose TF Sprinter 250W, 90 Nm
Battery: 504Wh Samsung Battery
Suspension: 120mm Travel, Air Suspension
Gears: 9-Speed Shimano Alivio
Tire size: 27.5 x 2.4″
Ride1UP's Prodigy XC is the brand's best-equipped e-bike, optimized for off-road performance thanks to its air front suspension with 120 mm of travel and trail-ready 27.5×2.4″ Maxxis Forekaster tires.
The Prodigy offers tons of power for proper trial rides thanks to its Brose TF Sprinter 250W/90 Nm mid-drive motor which delivers super-smooth power using torque sensing technology. As a Class 3 ebike, it has a 28 mph top speed, which is uncommon on mountain bikes.
The juice comes from a large 504 Wh Samsung battery which provides ranges between 30 and 50 miles range while being seamlessly integrated inside the down tube. Additionally, you can rely on a 9-speed Shimano Alivio drivetrain to get you the rest of the way up a climb.
Like all proper hardtail mountain bikes, the Prodigy has hydraulic disc brakes and balanced geometry for excellent handling and ride quality on varied terrain.
Surprisingly, this ebike even has a bright battery-powered headlight, so you can ride it at night or use it for urban commuting.
---
4. Blix Ultra Fat Tire Bike
Third Place! Dual Battery Capacity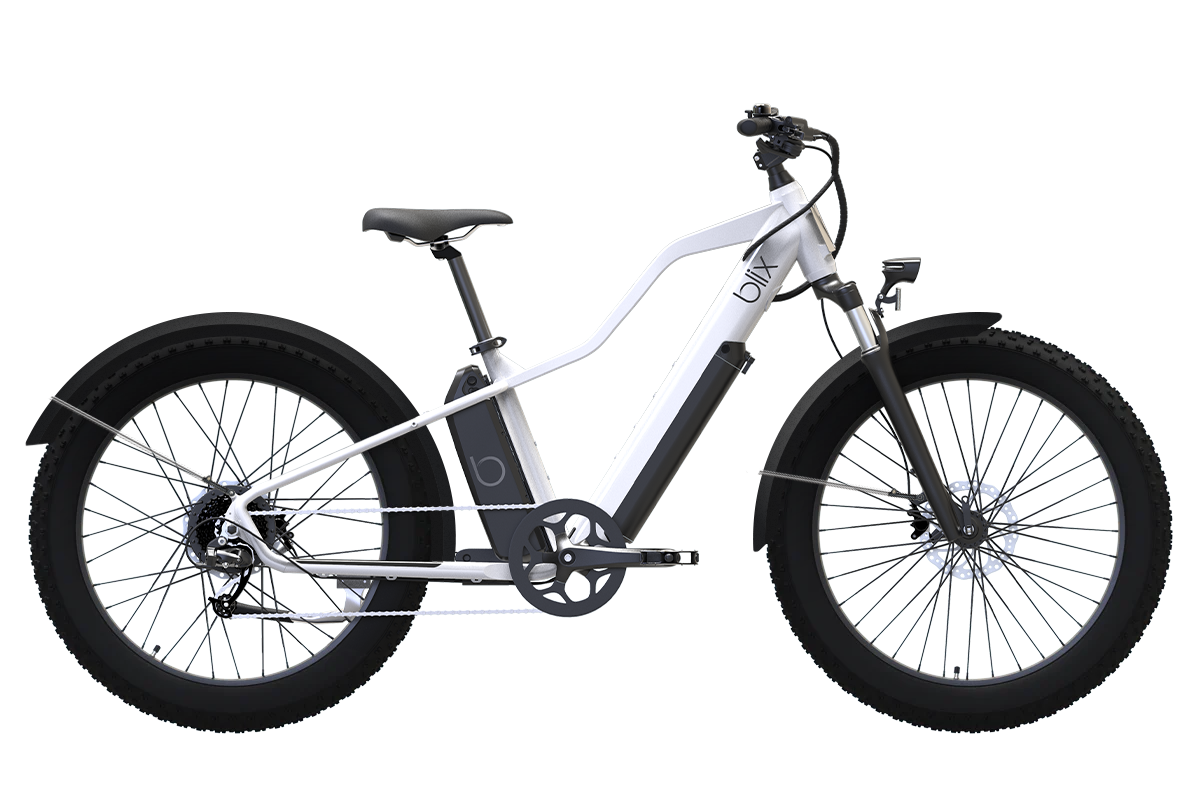 MSRP: $2,099 – $2,499
Motor: 750W rear hub motor
Battery: 1344 Wh dual batteries
Suspension: Coil suspension fork
Gears: 8-Speed drivetrain
Tire size: 26″ x 4″
The Blix Ultra is an electric hardtail mountain bike intended for heavy off-roading and covering long distances.
This thoughtfully designed bike is perfect for touring with its 1344 Wh dual battery capacity that returns 80 miles of range. However, the original model comes with a single 672 Wh battery, so you'll have to pay an extra $400 at checkout for the second battery.
The Ultra is powered by a 750W geared hub motor that provides plenty of power and 90 Nm of torque to get you up steep hills or across soft trails. It will support you up to 28 mph with pedal assistance and throttle, making this a class 3 ebike, but you can toggle between Class 2 and Class 3 modes.
Blix Bikes also equipped it with a coil front suspension, 4″ fat tires, and powerful hydraulic disc brakes that provide smooth and confident riding on paved and unpaved roads.
If you want to ride proper trails, there are better options on this list, such as the Trek Powerfly 4; but if you want a do-it-all machine for on- and off-road commuting, the Blix Ultra is the best hardtail e-MTB for you.
---
5. Aventon Aventure.2
Best Affordable Fat-Tire Hardtail Ebike
MSRP: $1,999
Motor: 750W rear hub motor
Battery: 720 Wh Battery
Suspension: 80 mm suspension fork
Gears: 8-speed Shimano Acera
Tire size: 26″ x 4″
The Aventon Aventure.2 electric bike is a versatile hardtail with an entry-level price and a premium ride feel. Whether going up or downhill, this Class 3 electric bike can do it all with ease.
It boasts a list of powerful electronics, including a 750W motor and 720 Wh battery. Combine this with the 8-speed Shimano Acera drivetrain, and you can achieve a range of up to 60 miles per charge.
The Aventure.2 also boasts hydraulic disc brakes, 4-inch fat tires, and an 80 mm fork, which ensures good handling and confident performance on unpaved roads and in different weather conditions.
Aventon Aventure also comes with all the accessories you need for urban commuting, including fenders, a rear rack, a kickstand, and even lights. The highlight is the integrated rear lights with turn signals and brake lights, which is truly a premium feature.
Get this bike if you want just one electric hardtail for all your needs, including city riding, gravel exploration, and occasional dirt detours.
---
6. Giant Talon E+ 3
Best 29er Hardtail Ebike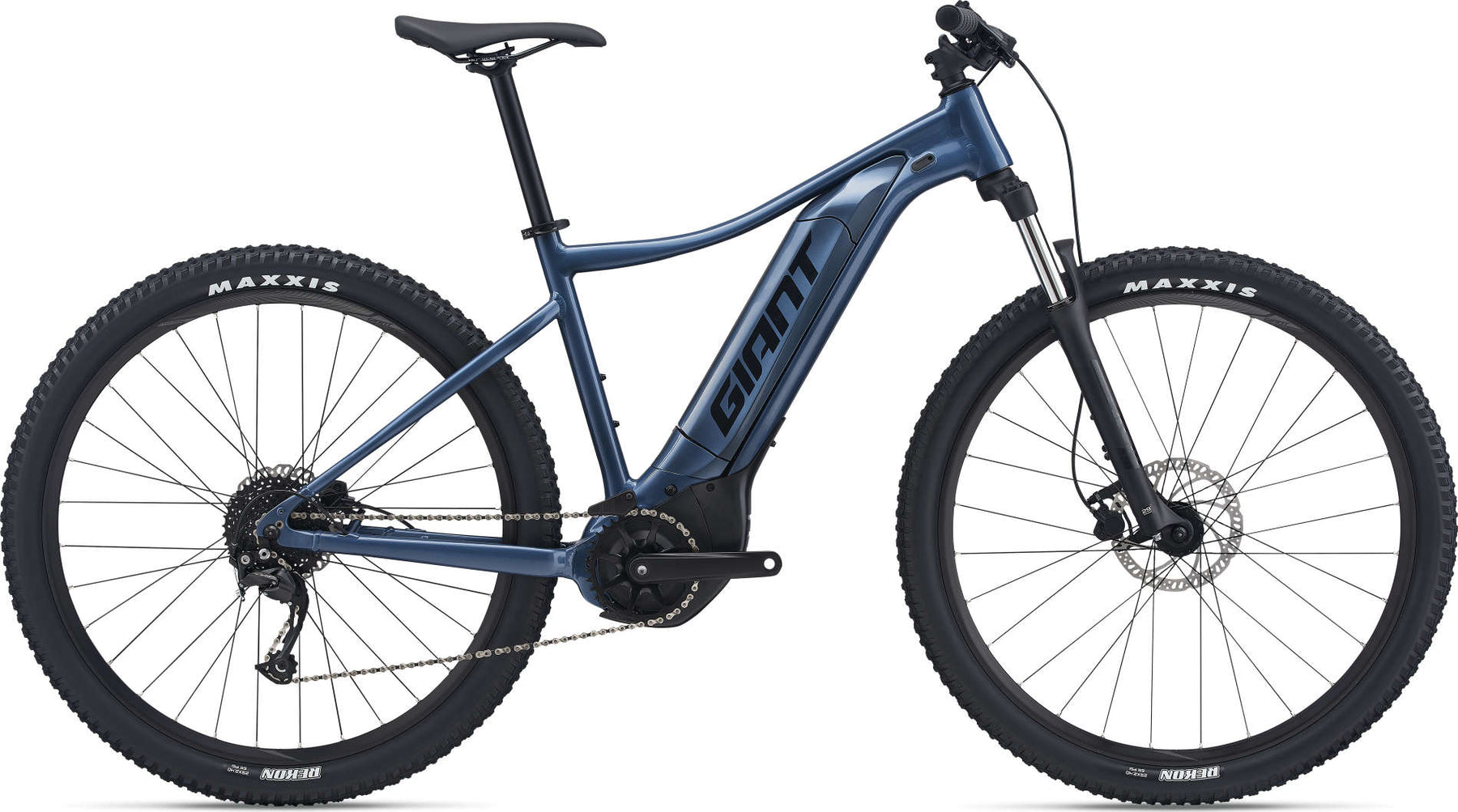 MSRP: $2,900
Motor: 250W Giant SyncDrive Core, 50 Nm
Battery: 400 Wh Battery
Suspension: SR Suntour XCM ATB 100mm travel
Gears: Shimano Altus 9-speed
Tire size: 29″ x 2.4″
The Giant Talon E+ 3 is an excellent mid-priced electric hardtail bike built for proper off-road riding on rough dirt roads and moderate singletracks.
The Talon E+ 3 is powered by Giant's proprietary SyncDrive Core mid-drive motor that offers 250W of power and 50 Nm of torque, as well as a 400 Wh battery that provides plenty of range for long hard days in the saddle.
This bike also features a 1×9 Shimano Alivio drivetrain and Tektro hydraulic disc brakes, both of which are decent components for the price. However, the 9-speed cassette has a limited range, which means you will have to use a higher pedal-assist level to climb steep hills.
The SR Suntour XCM ATB 100 mm coil fork and Maxxis Rekon 29″ x 2.4″ tires are also worth mentioning, even though the fork adds quite a bit of weight.
Overall, the Giant Talon E+ 3 handles well on light singletracks and rough fire roads, but its limited gearing and front suspension prevent it from hitting heavy singletracks.
---
7. Rocky Mountain Growler Powerplay 30
Hardtail E-MTB with Slack Trail Geometry

MSRP: $4,999
Motor: 250W Dyname 4.0 MTB Drive, 108 Nm
Battery: 480 Wh Battery
Suspension: RockShox Recon Gold RL, 120mm Travel
Gears: Shimano SLX, 12-Speed
Tire size: 27.5″ x 2.8″
Rocky Mountain's Fusion Powerplay 30 is a popular mid-drive e-bike that easily outperforms its price.
The Fusion Powerplay 30 is a well-balanced, smooth, and powerful e-MTB that uses a 250W Dyname 4.0 motor with 108 Nm of torque. The fast-charging 480 Wh battery is fully integrated and almost undetectable in the downtube, providing you with tons of range for a full day on the trails.
Slack trail geometry and trustworthy components ensure that the Rocky Mountain Fusion Powerplay 30 delivers a balanced and lively ride quality.
Its 27.5″ wheels, 2.8″ Maxxis Rekon tires, 120 mm travel RockShox Recon Gold RL air suspension, and Shimano hydraulic disc brakes all contribute to this premium experience. You also get a Shimano Deore/SLX 12-speed drivetrain that performs well in all conditions.
If you want a powerful hardtail electric bike with proprietary electronic components and progressive geometry, the Rocky Mountain Fusion Powerplay 30 is hard to beat.
---
8. QuietKat Apex Pro
Best Fat-Tire Hunting Hardtail Ebike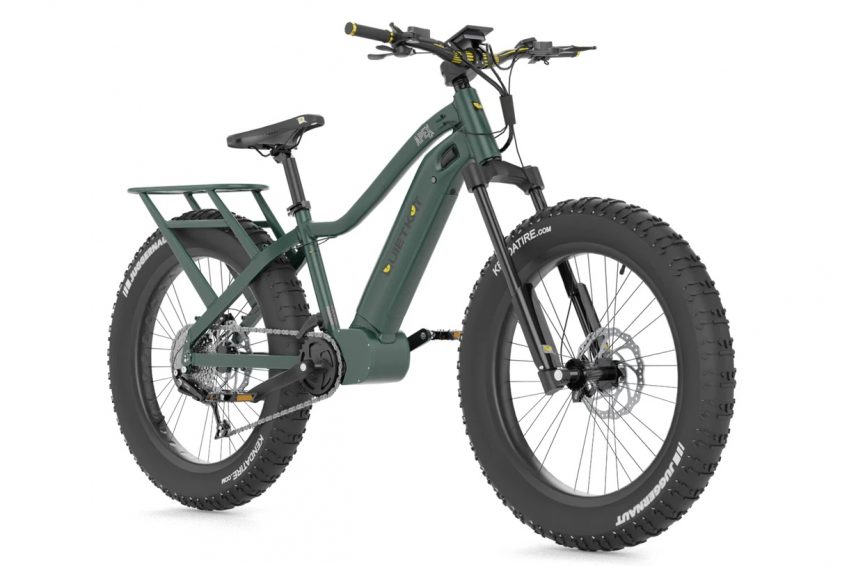 MSRP: from $4,999
Motor: 1000W mid-drive motor,
Battery: 828 Wh Battery
Suspension: 140 mm Inverted Suspension Fork
Gears: SRAM 9-Speed
Tire size: 26" x 4.5"
Quietkat's Apex Pro is the hunting e-bike brand's highest-quality hardtail choice that can tackle extreme conditions and carry lots of additional cargo.
This unusual hardtail e-bike comes with the added benefit of an integrated pannier rack which allows you to increase load capacity without compromising stability.
The Apex Pro is powered by a 1000W mid-drive motor and an 828 Wh battery that will provide you with 25-52 miles of range. This is a Class 3 ebike with a throttle, so the maximum speed is 28 mph. However, you can change the class in the settings, so the Apex Pro can become a Class 1, Class 2, Class 3, or even an unrestricted ebike, depending on your needs.
For any outdoors person, an electric off-road bike or hunting bike is the perfect tool to support your trips and ...
To ensure great control and handling on varied terrain this powerful bike includes 4-piston hydraulic disc brakes, a 140 mm suspension fork, and 4.5″ Kenda Juggernaut puncture-resistant tires.
So if you want one of the most powerful hardtail ebikes on this list that you can use for hunting or recreational off-road riding, the QuietKat Apex Pro is the best choice.
Buy from QuietKat Read Our Full Review
---
9. Orbea Keram 29″ 30
A Fast Hardtail with Quality Electronics
MSRP $3,000
Motor: 250W Bosch Active Line, 40 Nm
Battery: 400 Wh Battery
Suspension: SR Suntour X1 Coil LO 100 mm
Gears: Shimano Deore 10-Speed
Tire size: 29″ x 2.35″
The Orbea Keram 30 is a low-travel hardtail with an affordable price and components from leading manufacturers.
This bike shows off excellent Bosch electronics, such as a 400 Wh integrated battery and an Active Line mid-drive 250W motor that will assist you up to 20 mph.
The frame on this bike is made from hydroformed 6061 aluminum with integrated cabling and combined with a lockable Suntour X1 Coil 100 mm fork.
The Orbea Keram 30 rolls on 29″ x 2.35″ Kenda K1153 cross-country tires, and also boasts Shimano MT200 hydraulic disc brakes and a smooth-shifting 10-speed Deore drivetrain.
This hardtail ebike is perfect for beginner mountain bikers who plan to ride on moderate trails and explore fire roads and forest paths.
---
10. Vvolt Sirius
Best Maintenance-Free Hardtail E-MTB
MSRP: $2,799
Motor: 350W Mid-Drive Motor, 40 Nm
Battery: 375 Wh Battery
Suspension: 100 mm Air Fork
Gears: Enviolo TK 380% Transmission Hub
Tire size: 27.5″ x 2.1"
Vvolt's Sirius hardtail e-bike is a fast and capable choice designed to tackle urban rides or hit the trails without breaking a sweat.
The aluminum frame is light and strong and features internal cabling, rack and fender mounts, and a rear kickstand.
The Sirius has a mid-drive motor with 80 Nm of torque and a 375 Wh battery that returns a modest 15-40-mile range. The motor will assist you up to 26 mph, which makes the Sirius a Clas 3 ebike, but you can reduce the top speed to 20 mph to comply with Class 1 requirements.
The Enviolo hub and Gates Carbon belt drive make for smooth and reliable shifting that doesn't lose efficiency. This setup also means that you don't need to worry about maintenance, except for a quick wash from time to time.
Finally, a 100 mm air suspension fork, 2.1″ knobby tires, and hydraulic disc brakes give you plenty of confidence when the conditions become difficult.
---
11. Charge XC
Cheap Hardtail with an Urban Setup

MSRP: $2,699
Motor: 250W Shimano E7000, 60 Nm
Battery: 504 Wh Battery
Suspension:

SR Suntour XCM 34 Coil suspension

Gears: Shimano Altus 8-speed
Tire size: 29 x 2.25″
The Charge Bikes XC hardtail e-bike is an interesting option with trail geometry, powerful electronics, and a fully-equipped commuter setup that allows riders to take on any adventure on or off-road.
This e-MTB uses Shimano's E7000 60 Nm mid-drive motor, a large 504 Wh battery, and a Shimano Altus 8-speed drivetrain to get to a top speed of 20 mph and a 50-mile maximum range.
The geometry of the Charge XC makes for confidence-inspiring handling on gravel and dirt roads, but all the accessories make it a great choice for urban commutes as well.
Moreover, components like hydraulic disc brakes, 100 mm fork suspension, and 2.25″ XC-style tires further boost the capability of this bike.
The Charge XC is also easy to store as the handlebar rotates 90 degrees to become parallel with the rest of the bike and save room in tight spaces.
Buy it if you can only afford one electric bike but you want to be able to ride it anywhere.
---
12. Ancheer Sunshine AT1
Best Sub-$500 Hardtail E-Bike

MSRP: Check on Amazon
Motor: 350W brushless rear hub motor
Battery: 374 Wh Battery
Suspension:

Front fork suspension

Gears: Shimano 21-speed
Tire size: 26 x 1.95″
The Sunshine by Ancheer is a super-cheap hardtail e-MTB with a decent electric range and a beginner-friendly build.
This ebike has a 350W motor supported by a 374 Wh integrated battery which returns a range of up to 40 miles. It has a 20 mph top-assisted speed which can be reached with a throttle or using one of the five available pedal-assist levels.
Additionally, Ancheer Sunshine features an entry-level 3×7-speed Shimano drivetrain and mechanical disc brakes, which are good choices for such an affordable electric bike.
Finally, dynamic 26″ wheels, fork suspension, 1.95″ tires, and front lights all combine to give you confidence and control on and off the trail.
If you have a really limited budget and you're looking to spend less than $500 on your next hardtail, the Ancheer Sunshine is the only worthy choice we managed to find.
---
13. Liv Tempt E+ 3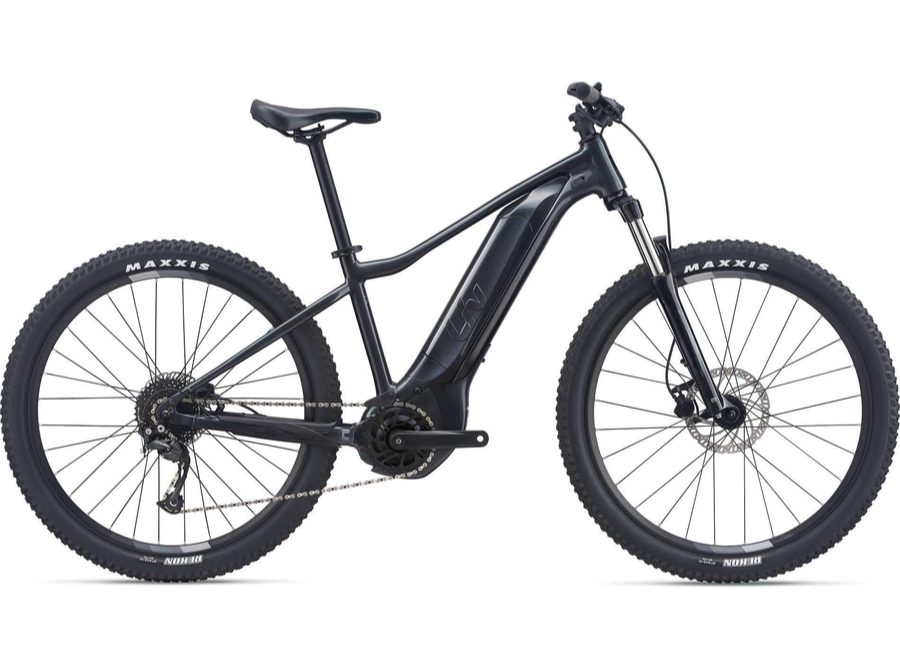 MSRP: $2,900
Motor: SyncDrive Core Motor, 50 Nm
Battery: 400 Wh Battery
Suspension: SR Suntour XCM ATB Coil 100 mm
Gears: microSHIFT Advent, 9-speed
Tire size: 27.5 or 29 x 2.4″
The Liv Tempt E+ 3 is a reasonably-priced hardtail e-bike intended for adventurous women who want to explore off-road trails. It comes with a sleek aluminum frame coupled with an SR Suntour XCM ATB Coil 100 mm fork.
The Tempt E+ 3 is powered by a smooth torque-sensing Giant SyncDrive mid-drive motor with 50 Nm of torque. This motor is complemented by a 400 Wh battery and a reliable 9-speed microSHIFT Advent drivetrain.
This female-friendly hardtail electric mountain bike also boasts Maxxis Rekon 27.5″ or 29″ x 2.4″ tires (depending on the frame size), Tektro hydraulic disc brakes, and trail-specific geometry.
The only downside is the coil SR Suntour fork that adds more weight than we'd like and has just 100 mm of travel, but beginners and recreational rides won't find anything wrong with it.
Buy the Liv Tempt E+ 3 if you want a women's hardtail ebike that offers excellent value for the money, looks good, and has female-friendly geometry.
---
14. Bakcou Mule
Most Powerful Hardtail Electric Mountain Bike
MSRP: from $4,799
Motor: Bafang M620 Ultra 1000W
Battery: 48V 17.5 Ah, 19.2 Ah, 21 Ah, or 25 Ah
Suspension: BCEB GT MRK 100 mm AIR Fork
Gears: Shimano Alivio 9-speed
Tire size: 26" x 4.0″
Bakcou Mule is an electric hardtail bike built to handle the demands of hunting, angling, and off-road camping trips.
This bike has a powerful 1000W Bafang mid-drive motor, which allows you to tow a full trailer and maximize the 300 lb payload capacity. The battery has between 840-1200 Wh of juice, which you can choose at checkout. This means you will never run out of battery, even on long expeditions.
Depending on where you intend to ride, you can toggle between 750W and 1000W modes to comply with different ebike classes, as the unrestricted mode offers top speeds of 35+ mph.
Bakcou uses durable off-road components like puncture-resistant Maxxis Minion 4″ fat tires, 100 mm Air fork suspension, and 4-piston hydraulic disc brakes to ensure you can tackle extreme backcountry terrain.
Finally, the Bakcou Mule has valuable extras like a kickstand, a large LCD display, a rear rack, fenders, and a derailleur guard. Overall, this is an excellent ebike for extreme conditions, such as snow, mud, or the remote backcountry.
How to Choose the Best Electric Hardtail Bike
---
What Is a Hardtail Electric Mountain Bike?
A hardtail electric mountain bike combines two key features: a hardtail frame and an electric motor.
The "hardtail" refers to the absence of rear suspension, meaning the bike has a fixed rear triangle and a front suspension fork. This design provides more pedal efficiency and direct power transfer, especially on climbs.
The electric motor assists riders by amplifying their pedaling power, allowing for longer rides, faster speeds, or easier uphill climbs.
This fusion of traditional hardtail design with e-bike technology offers a versatile riding experience, suitable for varied terrains and riders of different skill levels.
Hardtail electric mountain bikes are best-suited for beginners and recreational riders, but even more experienced riders can use them and utilize their off-road benefits.
What Are Hardtail Ebikes Used For?
This type of bike is perfect for light to moderate mountain trails and riders who enjoy climbing and descending equally. With the help of a motor and battery, these bikes make it possible to ride tough and demanding rides, that may have previously been out of reach.
Additionally, you can also use your electric hardtail mountain bike for regular riding on roads and around your town or city. They provide a comfortable and efficient way of getting around and oftentimes have compatibility with fenders, pannier racks, and other convenient commuter accessories.
Some models on this list, such as the Charge XC or Blix Ultra come fully equipped both of off-road adventures and urban commutes.
Mid-Drive vs. Hub Motors on Hardtail Ebikes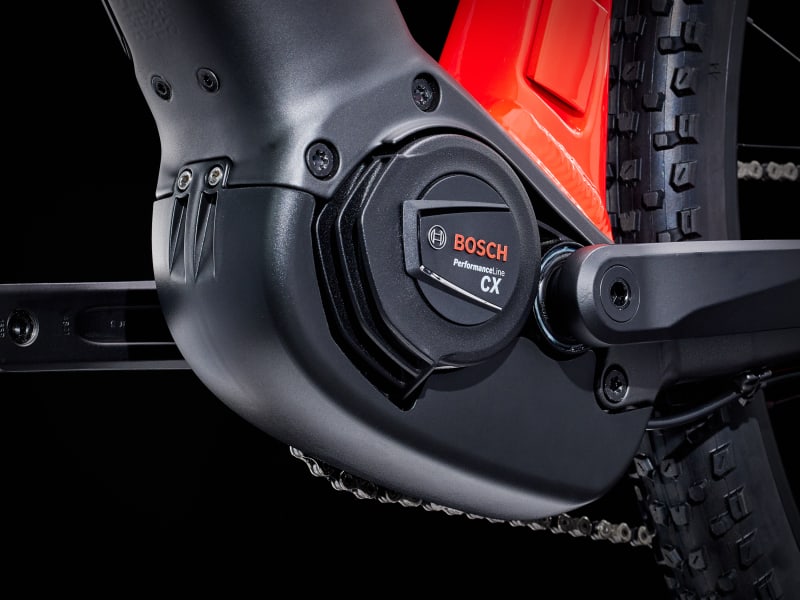 In terms of mountain biking, mid-drive motors are far superior to the cheaper, less efficient, and heavier hub-drive alternatives.
Mid-drive motors are a much better choice for climbing steep hills, as they typically have a higher torque rating and provide smooth and consistent power.
This also makes it easier to get and maintain traction on softer surfaces, which is a common problem when riding on unpaved roads.
The only downside to mid-drive systems is that they are more expensive than hub motors and require the rider to pedal harder to reach the same speeds. But, if you prefer a more natural pedaling experience, you will enjoy how mid-drive motors feel to ride.
Important Components to Consider
Navigating rough terrains requires specific features in a hardtail mountain bike; here's what to look for:
Frame: A durable, lightweight frame with specific hardtail geometry ensures a comfortable, controlled ride. High-quality materials like aluminum alloy or carbon fiber are typically the best choices for this style of bike.
Suspension: Hardtails depend on fork suspension for shock absorption. High-travel suspension ensures stability and control on rough trails.
Brakes: Powerful disc brakes are vital for safety during trail riding. These brakes offer superior stopping power, especially in poor conditions and on soft surfaces, allowing for instantaneous stops. Hydraulic disc brakes with large rotors are optimal.
Tires: Wide, knobby MTB tires are crucial for traction and stability on loose surfaces, ensuring safe cornering. The ideal tire provides a balanced mix of stability and maneuverability on technical trails.
Final Thoughts
Hardtail electric mountain bikes are redefining the biking experience, enabling enthusiasts to take on both rugged trails and city streets with ease.
With the combination of traditional mountain bike design and modern e-bike technology, riders can now traverse longer distances, tackle steeper terrains, and conserve energy for technical challenges.
In this article, we have highlighted the key advantages of hardtail e-bikes over their full-suspension counterparts, notably their affordability, weight efficiency, and beginner-friendly nature.
Whether you're a seasoned rider or a newbie, there's a hardtail e-mountain bike out there that fits your needs and budget.
We're sure you'll find the perfect one among the 14 best models we have recommended above.
Happy riding!