Best Cycling Backpacks of 2022
Cycling backpacks are accessories tailored specifically to make your life easier when you ride.
The features of cycling bags differ greatly between manufacturers and intended purposes. Things you should consider before you choose a cycling pack include:
How you like to ride
The size/weight of what you need to carry
The duration of your trip
The terrain
The weather conditions where you live
The right backpack should be compact, yet have enough space for all of the gear you need for the ride. This includes basic repair tools, water, clothes, work equipment, your laptop, and more. Size and features vary, so make sure to choose one big enough and with the right spec for your needs.
---
What to expect in a good cycling backpack?
Ventilation
Stable when loaded
Padded straps
Chest and/or hip closure
15-25L volume
Variety of pockets
Hydration (off-road)
A laptop pocket (commuter)
Weatherproof
Looking for waterproof commuter bags?
The waterproof cycling backpack we have covered in this article is the Thule Pack'N'Pedal. This stylish backpack is covered in more detail below. Most of the other packs have waterproof rain covers that can be pulled over the pack when needed.
In the rest of this article, we cover a range of the best-reviewed and most popular cycling backpacks. Whether it is a mountain trail or the daily commute to work, we're going to help you choose the right bike backpack for the job.
---
1

. Osprey – Radial Bike Commuter Pack (34L)

The best osprey backpack for cycling!
MSRP: $180
REI Co-op
Osprey is the maker of premium backpacks and they back that up with a lifetime repair guarantee. Their Radial cycling commuter backpack easily delivers on all of that renowned quality.
They have designed the Radial to be feature-rich. These features range from an integrated kickstand to keep your pack standing upright, to a scratch-free electronics and sunglasses pocket. However, all of these extras mean it has a heavier base weight than its competitors.
The main pocket has a padded laptop/document sleeve with a separate shoe or clothing pocket to keep items organized. The capacity of the bag can be increased from 26 to 34 liters with a zippered expansion, leaving plenty of room for extras. Each pocket also has stretch-mesh fabric to allow storage of bulky items.
The Radial backpack is especially comfortable to ride with.  A ventilating 'AirScape' back panel paired with a padded hip belt for stabilization makes the bag joy to use even when fully loaded. For unfavorable weather conditions, the bag has an integrated easy-access reflective rain cover too.
Weight: 3lbs 5oz
Reflective print
Hidden LidLock helmet carry attachment point
---
2

. Thule – Pack'N'Pedal Commuter Backpack (24L)

Best bike backpack

Thule is a brand that's been around for 75 years creating some of the most durable transportation products for active families. Their motto is centered around bringing as much as possible to all of those fun adventures.
Did you know, that Thule used to have a 25-year warranty policy for their early backpacks? That's pretty much a limited-lifetime warranty!
The Pack'N'Pedal in black is long-lasting and lightweight. The pack is comfortable to wear with padded shoulder/chest straps, and there is more than enough space and pockets, allowing you to carry all the essentials you may need for your trip.
Weight: 2.6lb
Helmet pocket out front
Great organization
Waterproof cover
Chest zip
Reflective stripes
---
3

. REI Co-op – Commuter Pack (25L)
Best cycling backpack with hip and waist belt!
MSRP: $90
REI Co-op
With their commuter pack, REI Co-op has delivered an excellent cycling commuter backpack, at a very competitive price.
This 25-liter bag is built with sleek, lightweight, and durable oxford packcloth. The material is then coated with water repellent to help keep out the elements, with a built-in rain cover also included, for extra protection.
This cycling backpack still has ample storage despite its compact size. The spacious main pocket has a laptop sleeve that can be adapted for extra water storage with the purchase of a hydration reservoir. For quick access to essential items and water, the bag is fitted with two side pockets and a zippered top pocket.
Finally, REI has added padded shoulder straps, an adjustable sternum strap, a detachable waist belt, and a mesh foam back panel to make their bike bag one of the most comfortable on the market.
Weight: 1lb 10oz
Hip and chest belt
Compression straps double as helmet-carry attachment points
Made by using Bluesign-approved materials
---
4

. Timbuk2 – Especial Medio Cycling Laptop Backpack (30L)

Best cycling commuter backpack for laptops
MSRP: $179
REI Co-op
Timbuk2 is a specialized cycling bag brand that prides itself on its "tough-as-hell" products. The Especial Medio is a premium-quality cycling commuter backpack that delivers on that promise, backed-up with a lifetime warranty.
This innovative bag is constructed with ripstop, water-resistant nylon, with highly-reflective materials added for improved visibility on the road. A notable feature is the waterproof laptop pocket. It is made out of coated, flexible nylon with welded seams to deliver completely waterproof protection.
The capacity of the pack is highly adjustable. It does so with a compact form that expands up to 30 liters when needed, as well as compression straps to carry bulky items externally or stabilize the load inside.
While being extremely functional, this cycling laptop backpack is also comfortable to use. This is due to its padded and flexible foam back panel, with adjustable shoulder straps and detachable hip belt.
Weight: 3lbs 3.2oz
Fits up to 15″ laptop
Made of ripstop CORDURA nylon
U-Lock/water bottle pocket
---
5

. Patagonia – Refugio Women's (26L)

A commuter backpack for women with a chest-strap
MSRP: $89
REI Co-op
Patagonia is not one of the widely recognized cycling backpack brands. However, their Refugio Women's commuter bag is still of excellent quality and highly functional, like all of their products.
This commuter backpack is designed specifically to fit a woman's torso using shoulder straps that have a straighter cut and are tapered more. The straps are also made of an ultrasoft and breathable mesh material to prevent overheating.
For storage, 3 main pockets help keep your cargo organized, including a lined tablet sleeve for quick access to your electronics. The same compartment can double as a hydration reservoir for days spent on the trails. The bag also has neat zippered pockets and a front stash pocket for smaller items.
To protect your load from the elements the bag is coated with durable water repellent. It doesn't, however, come with a waterproof cover.
Weight: 1.5lbs
Comes in six colors
Fits a 15″ laptop
Chest strap
Stretchable mesh pocket for water bottles
---
6

. Tomshoo (20L) cycling backpack

Tomshoo cycling backpack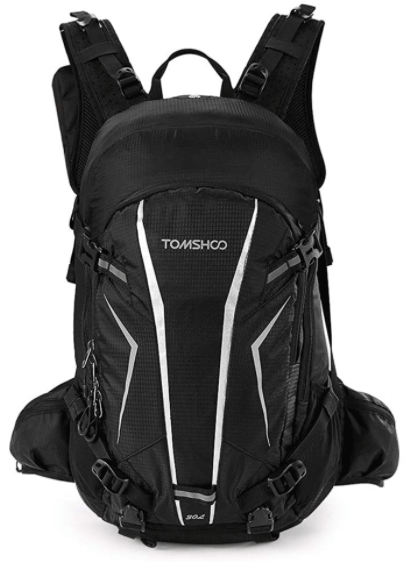 The Tomshoo backpack is one of the best small cycling backpacks available. It is also a budget-friendly option packed with many of the features seen in its premium competing models.
It's got a 20-liter capacity, more than enough for you to take all the essentials you need for a day on the mountain trails. This bike bag is made from lightweight, waterproof, and tear-resistant nylon fabric, making it durable and resilient. It also includes a rain cover.
The Tomshoo lightweight cycling backpack is designed for sports and outdoor activities. It also functions perfectly for light daily usage. It features a hydration system with a convenient tube attachment.
The porous mesh design allows for maximum breathability and comfort, even on hot summer days. Ergonomic and padded shoulder straps also help provide extra back support while you ride.
Mesh cover to hold helmet

Removable pouch on shoulder strap for cellphone
---
7

.

Proviz Sports Reflect360 (30L)
The Daily Telegraph – "Almost impossible for other road users to miss!"
Proviz's Reflect360 is an innovative cycling backpack that provides unbeatable visibility for cyclists who must cycle during periods of low light.
Its certified reflective material can be easily identified from over a quarter-mile away. This gives drivers more time to react safely to your position on the road.
This riding backpack fits tightly to the user's body for stability. It is designed with adjustable waist and chest straps, as well as easy-release buckles, to ensure a secure, comfortable fit. It also has a ventilation system that allows air to move more freely around your back.
The waterproof pack material is paired with waterproof storm zips to help keep your valuables safe from the elements. The large storage area with various size pockets allows you to neatly organize your cargo. Finally, for use on the trails, the pack is compatible with a hydration pack and clipped in straw.
Weight: 1lb
360degrees reflective
Laptop compartments
Compatible with a 2L hydration pack
Water-resistant materials up to 1500mm
---
8

. Timbuk2 – Tuck Pack Urban Commuter Backpack (20L)
MSRP: $79
REI Co-op
Timbuk2's Tuck Pack offers all of the features an urban commuter might ask for with a simple, streamlined design and look.
This bicycle backpack is lightweight, yet comfortable and durable. It is designed to be extremely convenient to use with roll-top closing. When closed, your load can still be accessed easily from a convenient side zip.
The Tuck Pack has various pockets and an internal organization system for easy storage of all you need for your journey. Side slip pockets also make it easy for you to fit your U-lock and umbrella.
Above all, this no-frills bike pack is the perfect addition for any urban commuter who appreciates the durability sleek design that Timbuk2 prides itself on.
Weight: 1lb 8oz
REI Score: 4.5/5 out of 100+ratings
Roll-top closure
4 main compartments
---
9

.

VAUDE Wizard (24+4)
Best hydration backpack for cycling
The Vaude Wizard is a premium sports backpack centered around a highly breathable design that makes it a pleasure to use.
The Wizard comes with a full suspension system featuring easy-adjust hip and shoulder straps. They are made from padded mesh material to make the pack comfortable and stable even while fully loaded.
The pack has an expandable design, allowing users to take an extra 4 liters of volume when necessary. The backpack's side stretch pockets and pocket organizer in the front compartment help you stay organized while taking everything you need for your adventure. In addition, bulky items also attach easily outside of the bag.
For more demanding journeys, the pack has an opening for a hydration system. When the weather changes you can pull down its integrated rain cover to protect your cycling gear backpack.
Weight: 2.2lbs

Safety light attachment

Sternum strap with tube holder clip

Hip belt with pocket
---
Didn't find what you were looking for? Check out the rest of the popular queries:
Michael Kors – Kent Cycling backpack
---
RELATED
Best Bicycle Computers & Speedometers
Best Bicycle Pumps – Floor & Portable