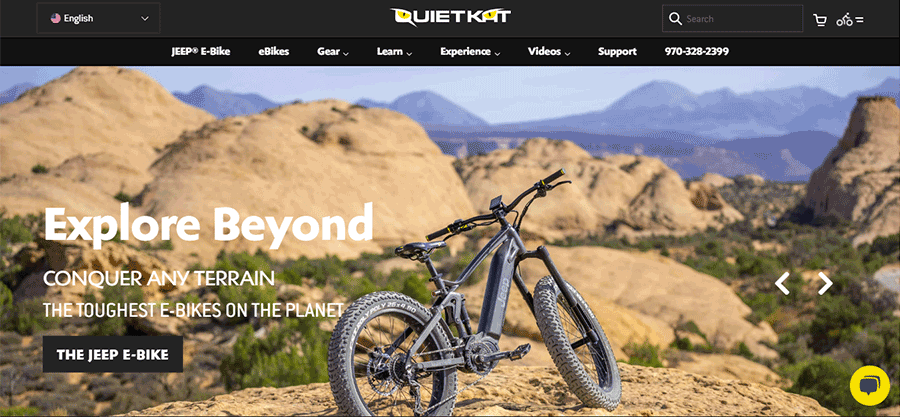 Based out of Eagle, Colorado, QuietKat eBikes was founded by twin brothers Jake and Justin Roach.
They are one of the leading brands of off-road specific e-bikes, and each bike is designed to be used in different ways such as hunting, trail riding, fishing, mountain biking, and camping to name a few.
The QuietKat bikes aim to take away some of the impact of hunting and other outdoor activities on the environment, as well as increase the distance you can travel for your activity. The weight of the QuietKat electric bikes means that degradation of the ground is minimized when riding compared to an ATV or SUV.
You can also buy plenty of attachments for the e-bikes suitable to your activity such as trailers and storage solutions so that you can carry all of your equipment easily.
QuietKat tests and develops their bikes to withstand some of the harshest terrains, using the Colorado countryside as a testing ground.
The brand has grown substantially since its inception in 2016 and now offers a range of e-bikes to suit a wide variety of activities and needs. They distribute the bikes through their network of over 100 dealers across the United States, and directly to the consumer through their website.
The brand runs an ambassadors program but as of yet, there is no high-profile sponsorship of athletes or influencers in their respected fields. The QuietKat eBikes are made in Asia and come 95% assembled from the factory to the brand's headquarters in Eagle, Colorado.
QuietKat Bikes Range
---
MODEL
TYPE
MSRP
RANGE
TIRES
GEARS
WEIGHT
BRAKE TYPE
SUSPENSION
MAX LOAD
MOTOR (W)
BATTERY
Jeep
Full-Suspension
from
$7,299
44mi
26×4.8″
9
70
Hydraulic
Air
300
750 / 1000
14.5Ah/48V
Ibex
Full-Suspension
from $6,799
63mi
26×4.8″
9
70
Hydraulic
Air
300
1000
21Ah/48V
Apex
Hardtail
from $5,499
58mi
26×4.5″
9
71
Hydraulic
Air
325
750/1000/1500
Ranger
Hardtail
from $3,499
48mi
26×4.5″
7
65
Mechanical
Coil
325
11.6Ah/48V
Villager
City
from $3,199
40mi
26×3″
7
50
Mechanical
Coil
325
500
11.6Ah/48V
Pioneer
Rigid
from $2,499
29mi
26×4″
1
61
Mechanical
Rigid
325
500/750
9.6Ah/48V
In total there are nine bikes in QuietKat's electric vehicle range, including electric hunting bikes, ambush bikes, all-terrain bikes, urban bikes, and kids bikes to name a few.
The idea behind QuietKat bikes is to make electric bikes more accessible and to encourage people to travel on their electric vehicles for outdoor activities rather than SUVs and other heavy vehicles. This allows people to enjoy their outdoor pastimes without leaving a mark on the environment.
QuietKat Jeep
---
Motor: 750W mid-drive
Battery: 14.5Ah / 48V Panasonic
Torque: 160NM (Max output 1,500W)
Range: Up to 44 miles
Extras – Angler's Kit, Overland Kit, Ultimate Hunter Kit
The most high-profile bike in the range, the QuietKat partnership with Jeep has brought about one of the best all-terrain electric bikes on the market to date.
It features a mid-drive motor, which in turn allows riders to tackle steeper hills and gnarlier terrain with more ease than a hub-drive motor, and a whopping 1500W max assisted output from the motor (in the upgraded option).
4.8″ fat bike tires mean you can tackle the most extreme terrain imaginable and the 150mm of front and rear suspension means it'll rocket down the descents too. It's available in a Jeep Charcoal colorway.
With an MSRP between $6,299.00 – $6,499.00, the QuietKat Jeep electric bike can be considered an investment, but a pretty fun one. It is built to last and will exceed expectations over even the toughest of terrains you can throw at it.
Size Recommendation
17″ (S/M) – Under 5'6″ to 6′
19″ (M/L) – 5'6″ to 6′ and over
Buy Quietkat Jeep Read Our Full Review
QuietKat Ibex
---
Motor: 1,000W ULTRA MID-DRIVE MOTOR
Battery: 21Ah / 48V (1008Wh)
Torque: 160Nm (Max output 1,500W)
Weight: 70lbs
Load Capacity: 300lbs
The QuietKat Ibex is the new addition and an extremely capable full-suspension electric hunting bike. Second only to the Jeep models, the Ibex is equipped for handling the roughest terrain and turning any hunting trip into a success.
This model is easily one of the best electric hunting bikes you'll find. Additionally, it can carry gear for camping, angling, or backcountry adventuring.
Unlike many QuietKat bikes, the Ibex has an excellent max range of 63 miles, thanks to the huge 1008Wh battery. The motor is a 1000W ultra mid-drive that can power you and your gear over any gradient you find.
The suspension on this bike includes a 130mm rear shock and a 140mm inverted air fork, giving this bike high-travel trail MTB status. Unfortunately, the heavy weight can make the bike a little hard to control on extremely chunky downhill terrain.
Choose the QuietKat Ibex if you want power, range, and capability, and you've got a big budget.
Size Recommendations
Small – Under 5'6″
Medium – 5'6″-6′
Large – 6′ and over
QuietKat Apex
---
Range: Up to 58mi
Motor: 750W, 1000W, 1500W BBSHD
Battery Options: 14.5Ah / 48V Panasonic, 17.5Ah / 52V
Weight: 71lbs
Load Capacity: 325lbs
One of QuietKat's most popular fat tire hunting bikes, the Apex is an incredibly versatile hardtail framed electric mountain bike, designed to excel on a number of terrains.
Overhauled for 2021, the bike now includes a heavy-duty pannier rack system so you can carry more on your adventures, as well as new color schemes (Midnight Green and Veil Caza Camo) and a smaller frame size option.
It features a powerful mid-drive motor to help get you to the top of mountains with the choice between 750W, 1000W, and 1500W motors, giving you the choice of power best suited to your style of riding.
With long-travel front suspension and a powerful mid-drive motor, there are not many places the QuietKat Apex won't be able to go. Designed as an electric hunting scooter style bike, the addition of the rear pannier rack and weight limit of 325lbs means you can comfortably carry more cargo on your next hunting trip.
Size Recommendations
15″ (S) – Under 5'6″ to 6′
17″ (M) – 5'6″ – 6
19″ (L) – 6'+ and over
Buy QuietKat Apex Read Our Full Review
QuietKat Ranger
---
Range: Up to 48 miles
Motor: 750W ULTRA-DRIVE MOTOR (Upgradable: 1,000W Unrestricted)
Battery: 14.5Ah / 48V Panasonic
Torque: 160NM (Max output 1,500W)
Load Capacity: 325lbs
Extras – Angler's Kit, Overland Kit, Ultimate Hunter Kit
The QuietKat Ranger is ideal for those lighter trail days when you want to keep on riding.
Featuring the brand's innovative frame geometry and balanced weight distribution across the bike, the result is an optimized ride feel and improved handling on any terrain. For 2021 they have included a heavy-duty pannier rack so you can carry more of the necessary equipment for your activity.
The Ranger includes a hub motor, available in both 750W and 1000W configurations. Hub motors reduce maintenance requirements for your bike as they place no strain on your drivetrain, unlike mid-drive motors.
QuietKat has also included adjustable dropouts so you can switch from single speed to a geared drivetrain easily to suit your style of riding.
With 100mm of front suspension travel and a choice of powerful motor size, the QuietKat Ranger is a versatile bike for those easy trail riding days. It's available in a choice of two colors; Sandstone, and Veil Poseidon Dry Camo.
Size Recommendations
15.5″ (S) – Under 5'6″ to 6′
17″ (M) – 5'6″ – 6
19″ (L) – 6'+ and over
Buy Quietkat Ranger Quietkat Ranger Full Review
QuietKat Villager
---
Range – Up to 40mi
Motor: 500W (Class 2)
Battery: 11.6Ah / 48V
Weight: 50lbs
Load Capacity: 325lbs
Upgrades: Urban Commuter Kit, Angler's Kit, Overland Kit
The QuietKat Villager Urban E-Bike is a striking cruiser-style bike best suited to riding around town.
With an ergonomically designed step-thru frame, the bike is suitable for both men and women across a large height range. A 100mm front fork makes the ride smooth and comfortable, paired with 3″ tires for extra puncture resistance.
QuietKat has also included 203-millimeter disc brake rotors for ultimate stopping power no matter the weather.
This Class 2 electric bike is powered by a 500W motor and is compatible with a range of QuietKat bike accessories including trailers, tire inserts, and lights.
With an MSRP of between $2,799 – $2,899, the QuietKat Villager eBike is an affordable yet fun way to get around town. It's available in a choice of two colorways – Veil Poseidon Blue Camo, and Classic Blue.
Size Recommendations
16″ frame only
QuietKat Pioneer
---
Range: Up to 29 miles
Motor: 500/750W Geared hub
Battery: 9.6Ah / 48V / 460Wh
Load Capacity: 325lbs
Extras – Angler's Kit, Hunter Kit
The QuietKat Pioneer is ideal for shorter days on the trail where you still need the power to tackle steep gradients. This model is the latest release from the hunting e-bike specialists and slots in at the entry-level price point in the range of nine bikes.
The Pioneer is a low-maintenance yet capable e-bike that would make a great urban commuter or short-distance off-roader. It has a simple single-speed drivetrain that pairs with a 500W or 750W geared hub motor. Either combination offers plenty of punch to get up steep hills.
This electric bike also has powerful Tektro mechanical disc brakes, massive 4″ fat tires, and stable mountain bike geometry, making it easy to control and maneuver on rough terrain and wet weather. Additionally, the Pioneer has various color finishes depending on your preferences.
We think this is a strong choice in the entry-level hunting e-bike range as got plenty of power for off-roading and is comfortable for use as an urban e-bike.
QuietKat Accessories
---
QuietKat makes a number of high-quality accessories and parts to go with their bikes, including fenders, trailers, racks, and more. Here are just a few of the accessories they make, for a full range, please visit their website.
QuietKat fenders
The QuietKat fenders are ideal for their mountain bikes when you need coverage from the mud and rain when you're riding, although they don't recommend using them on full-suspension bikes. Made from durable plastic, they will protect your front and rear and frame from the spray off of the road, and mud as you ride. They are easy to attach and at 5″ wide provide high coverage from the elements.
QuietKat replacement battery
QuietKat also produces their own spare and replacement batteries for their bikes. There are several options and each compatible bike is listed in the 'features' tab on their website. The high-quality lithium-ion batteries allow you to replace your battery when it's worn out, or to add an extra battery for a longer range on your bike.
QuietKat Trailers
QuietKat currently makes two trailers for their bikes, the Single Wheel All-Terrain and the Two Wheel All-Terrain. The trailers are ideal for when you require extra cargo space to haul more gear, or even bring the large game back in from the countryside. They are suitable for most bikes but each product has a list of compatible bikes so make sure you check the list before purchasing. The MSRP is $349 for the single-wheel option and $379 for the two-wheel option.
---
FAQ
---
Where can I buy a QuietKat bike?
The best way to buy a QuietKat e-bike is online, on the brand's official website. QuietKat is a direct-to-consumer company so it simplifies the supply chain by eliminating retailers and middlemen. The result is a lower price point of complete bikes for the final customers.
What brands are QuietKat similar to?
QuietKat is one of the first eBike manufacturers to specialize in off-road and overland electric bikes, however, they aren't the only ones. There have been comparisons between Rambo Bikes vs Quietkat as they are their closest competitor. Bakcou bikes also dabble in the same niche.
How much is a QuietKat eBike?
QuietKat bikes vary in price depending on the quality of components, the power of the motor, the capacity of the battery, and the accessories. The prices range from around $2,500 USD to $6,500 USD depending on the bike and model. Therefore, almost anyone can afford a QuietKat bike.