Ride1UP Turris Review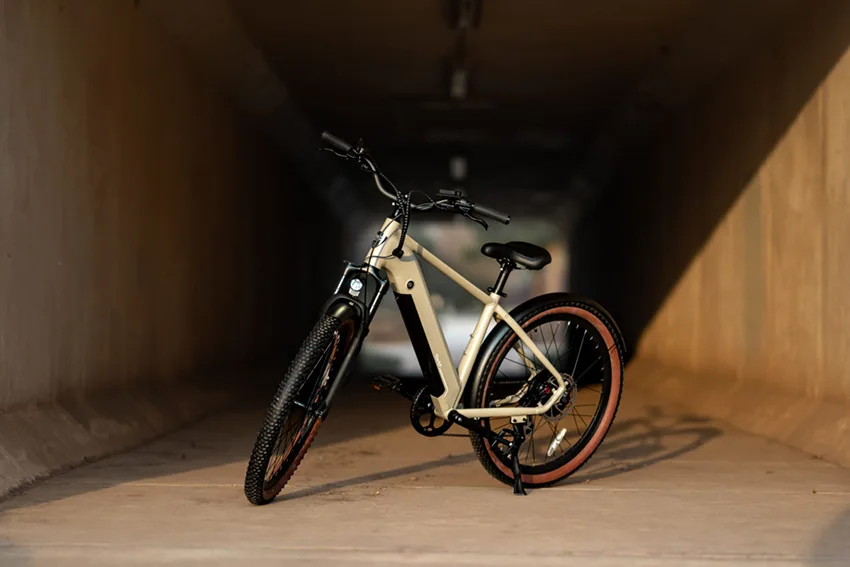 Ride1UP's motto is "The Best Value Electric Bikes", and the Turris is no exception. The Ride1UP Turris is affordable, reliable, and extremely comfortable. It's also beautifully designed for all sorts of ebike riders.
Upright responsive geometry is one of the pillars of the Ride1UP Turris' design, along with hydraulic disc brakes and fork suspension. Available now at a discounted price of $1,095, this ebike is hard to beat in overall value.
In this Ride1UP Turris review, we will take a closer look at this touring-style ebike's specs, features, and who it's designed for.
PROS
Powerful 750W motor
300-lb payload capacity
Excelent accessories
Integrated battery
CONS
No rear rack
Range could be better
Ride1UP Turris Main Specifications
MSRP: $1,095.00
Motor: 750W geared hub (28mph max speed)
Battery: 48V 12.8ah Reention Prism LG cells
Drivetrain: 7-speed 12-32T
Range: 25–45 miles
Charge time: 4-8 hours
Tires: Kenda 27.5″ x 2.4″
Brakes: hydraulic disc brakes with 180mm rotors
Bike weight: 55 lbs
Weight capacity: 300 lbs
Fork: suspension with 100mm travel
Ride1UP Turris Review
Ride1UP Bikes has just released one of their best e-bikes yet. The Ride1UP Turris ebike is a powerful adventure touring-style ebike suitable for all sorts of terrain. It has front fork suspension with 100 mm travel, which is something you won't find in many comparable ebikes.
Even more powerful are the Ride1UP Turris' hydraulic disc brakes with 180 mm rotors, and a Class 3-capable motor that can assist up to 28 mph. Above all, the Ride1UP Turris is built for comfort. Its upright and responsive geometry coupled with 2.4" touring tires make it beautifully designed for all kinds of riders and terrain.
The Ride1UP Turris is one of many ebikes options available from RideUP, and it will fit into almost any budget, especially at this price. Other ebikes can cost well over $2,000, but the Ride1UP Turris is on sale now for $1,095.
Why Choose a Touring-Style eBike?
The Ride1UP Turris is designed to balance both power and comfort. Few other bikes offer 750W of power and a 28 mph top speed, along with fork suspension and upright geometry. Its 2.4" touring tires increase comfort on all sorts of terrain, and the Ride1UP Turris' hydraulic disc brakes are more than suitable for all terrain and weather conditions.
Ride1UP Turris also includes new and improved accessories such as a 60 lux front headlight, front and rear fenders, an adjustable kickstand, theft protection, and a handlebar-mounted LCD display.
Frameset, Geometry, and Payload Capacity
Ride1UP Turris is built using a lightweight alloy frame with protected internal components and locked electronics. This helps keep its weight down, which is one of the lowest we've seen for a full-size ebike. At a weight of 55 lb, the Ride1UP Turris is suitable for a wider range of riders than comparable ebikes that weigh 65-85 lb.
The aluminum alloy frame is suitable for a wide range of rider heights: 5'1" – 6'2" (ST step-through model) and 5'6" – 6'4" (XR step-over model). Built with an upright responsive geometry, the Ride1UP Turris is one of the more comfortable ebikes on offer, with an easy fit and ergonomic design.
In addition, this touring ebike features an adjustable seat, handlebars, and stem to help dial in your position.
The 12.8 Ah battery is integrated into the frame's downtube as part of the removable integrated battery system. This bike also comes with two keys and a theft protection design, which allows you to lock up the battery when you're on the go.
One of the best parts of the Ride1UP Turris is its weight. At 55 lb, it's one of the lightest ebikes that we've ever tested, and that includes the front fork suspension, 2.4" tires, fenders, and integrated battery. Still, the Turris has a 300-lb payload capacity, which means that most riders will be able to haul their laptop, books, groceries, and more.
Ride1UP Turris Motor and Battery
The Ride1UP Turris 750W motor includes 60 Nm torque and a PAS (integrative sensitive cadence) sensor, which adds to the smoothness of the motor function. You can utilize this power to its fullest by using the pedal assistance up to 28 mph or 20 mph using the throttle. Its motor provides smooth engagement and acceleration across a range of speeds.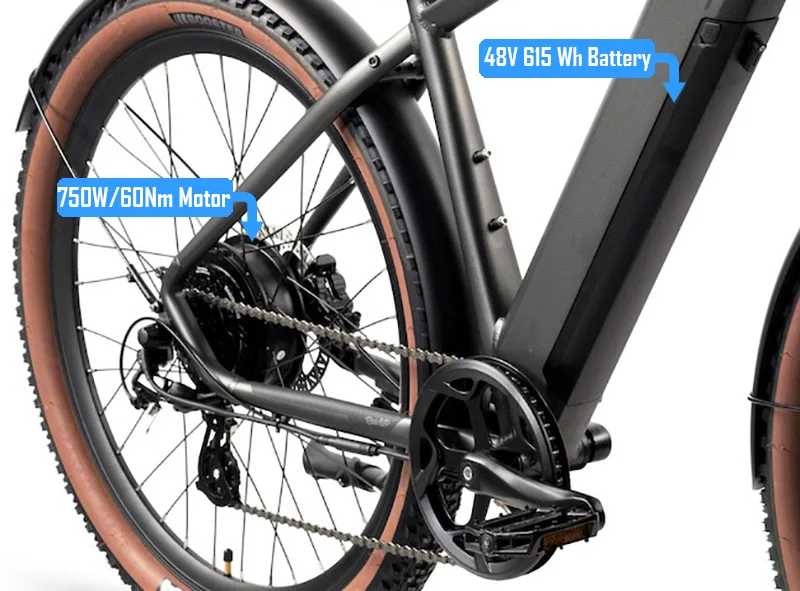 While the Ride1UP Turris lacks a torque sensor, its cadence sensor system is one of the best. Real-world testing suggests the Turris can beat its claimed range of 25–45 miles, which is on the low end for a high-quality ebike. One of the reasons for this range is the Kenda 2.4" tires.
The battery has a 615 Wh capacity and takes 4–8 hours to fully recharge, which is standard for this type of powerful ebike. The Ride1UP Turris' range is heavily affected by the bike's (and rider's) weight, terrain, pedaling, and many other factors. For an ebike at this price point, 25–45 miles is solid but not the best we've seen.
Ride1UP Turris has five different pedal assist levels and a 28 mph top speed, which is more than fast enough for most ebike users. Level 5, the highest power setting of pedal assistance, can take you up to 25 miles at 20-28 mph, which is plenty of range for a high-speed commute or grocery run. Using the throttle only, you can still go up to 20 mph, though the range will suffer.
Ride1UP Turris Components
Ride1UP Turris comes with a 7-speed drivetrain and 12-32T cassette that provides plenty of gearing on all sorts of terrain. Aboard the ebike's Kenda 2.4" anti-puncture brown sidewall tires, and you'll be able to tackle some off-roading on the Ride1UP Turris.
The 100 mm travel in the front fork suspension is one of the standout features. Upright touring bikes don't often include suspension, but the Turris does a nice job at cushioning impacts from the road on all kinds of terrain.
You can control the throttle by using the left-side thumb lever and monitor your battery and motor using the LCD mounted on the handlebars.
The Ride1UP Turris comes with Shimano components, including the 12–32T cassette and Shimano Altus rear derailleur. These are low-level components that help keep the bike's price down, but they may need more maintenance than higher-end components.
Lastly, the Ride1UP Turris comes with a KNUS ergo gel MTB saddle that is wide and comfortable. This is the best saddle for most riders, especially beginners who are looking to explore some off-road terrain. The Ride1UP Turris is also IP-65 rated, which means that it is water-resistant.
Ride1UP Turris Accessories
Ride1UP Turris comes with an impressive list of accessories, especially for an electric bike at this price point.
First is the 60 lux front headlight that improves visibility in all conditions. The Ride1UP Turris also comes with alloy front and rear fenders that will keep you and your bike clean whether you are riding through the rain or navigating light gravel.
An adjustable kickstand is attached to the Ride1UP Turris' chainstay and can be used when you store or park your bike. The kickstand is designed to withstand a high load capacity, providing extra support and stability whenever you need it.
Water bottle bosses and a chainstay guard are also included, which are accessories you don't often find on a sub-$1,100 ebike.
Who Is Ride1UP Turris Best Suited For?
Ride1UP Turris is designed for beginner to advanced e-bike riders looking for a comfortable and upright bike. Its 2.4" tires, hydraulic disc brakes, and 100 mm of front fork travel make this ebike suitable for beginner-level riders on variable terrain and in all weather conditions.
Many of the bike's features make the Ride1UP Turris perfect for commuting, light adventure riding, and quick city jaunts. The top speed of 28 mph and moderate range is more suitable for beginner riders and city-dwellers, as adventures may be limited by the battery capacity.
Ride1UP also offers the 700 Series, a fully loaded commuter ebike available for $1,395. Besides the price, there are a few standouts when it comes to the Ride1UP Turris vs 700. The 700 Series has a slightly longer 30–50 mile range, in part because of its larger 15 Ah battery. This brings the 700 Series' weight up to 62 lb, which is 7 lb heavier than the Ride1UP Turris.
Therefore, the 700 Series is a good alternative for riders with a bigger budget who want a bit more range.
What's Our Verdict?
In this Ride1UP Turris review, we've taken a closer look at Ride1UP's powerful adventure touring-style ebike. Its lightweight frame comes with impressive features and accessories, currently available at a discounted price point.
This review wouldn't be complete without mentioning its this ebike's 100 mm travel fork suspension and upright riding position. These standout features make the Ride1UP Turris more comfortable than most ebikes, especially those with a 28 mph top speed.
With a 7-speed drivetrain, five levels of pedal assistance, and 25–45 mile range, you can conquer a wide variety of on– and off–road terrain.
In conclusion, the Ride1UP Turris is one of the best-value touring-style ebikes on the market. Get it now before it's gone, as it is one of the best all-around comfort ebikes equipped for adventure.