Best Bike Tool Kits for Home Mechanics in 2023
It's no secret that owning a bike will require some maintenance from time to time.
Whether it's a quick puncture repair at the side of the road or a full bearing set replacement, you don't need to be a professional mechanic to save yourself some money and do at-home repairs, but it can be helpful to have an idea of how to look after your bike.
Tools are key to any home mechanic's success, and bikes require some common and some unusual tools to work on—particularly depending on the type of bike you ride. In this article, we'll quickly discuss the types of tools you should look for in a good toolset, and dive into recommendations for some of our favorite tool sets.
Things to Know About Bike Tools
If you're new to the game of bike maintenance, then a bike tool kit might seem a bit excessive.
What are all those tools for? And realistically, am I going to use them all? The answer does vary, admittedly. The thing about bike maintenance and mechanical repairs is that a lot of it is learnable from home, you just need the correct tools.
If you're thinking, 'can't I just use a normal household tool set?' then you might get away with using the Hex keys and screwdrivers, but anything beyond that and you should really look into a specific bicycle tool kit.
Bike-specific tools aren't just a gimmick to encourage you to part with your hard-earned cash. Instead, they're useful for a variety of tasks – from bearing presses to chain tools, there are things that you'll only find in a bicycle tools set.
Additionally, as we all know, bike technology keeps evolving. Remember when 11-speed groupsets were the big new thing? Well, now there's 12, and even 13-speed available—and each requires different tools (for example, chain tools) to be worked on with. And let's not even discuss the fact that every manufacturer likes to have different standards of things like bottom brackets or chainsets.
Things like bike chain tools and bottom bracket tools may need to be updated if you change bikes or groupsets and you want to repair or replace the chain or other drivetrain parts. So having an up to date set of bike tools will make working on your bike from home a breeze!
Essential Tools Every Bike Tool Kit Needs to Have
Now that you know why you should use bike specific tools, which ones do you need and why? These are the ones we think are a must-have for every home mechanic.
Allen/Hex Keys
Named a Hex key thanks to its hexagonal head, these are one of the most important bicycle tools you'll find in your bike repair kit. Most bolts on a bike are Allen head bolts (or socket screws) such as those on your stem or seatpost.
Pedal Spanner
A pedal spanner allows you to attach or remove pedals to your bike. Although it should be noted that some pedals can be removed using a Hex Key, such as many gravel bike pedals, most road bike pedals require a pedal spanner for installation or removal.
Chain Whip and Cassette Tool
One of the more bizarre tools for bikes you'll see, a chain whip is used to hold the cassette tight while you use the cassette tool to either remove or install the cassette. Look for chain whips with rubber handles for pain-free gripping.
Additionally, cassette tools can vary depending on the manufacturer of the cassette. For example, a Campagnolo cassette has a different fitment to a Shimano one so a different cassette tool is needed.
Chain Breaker Tool
Also known as a chain splitter or chain tool, a chain breaker tool has the important job of removing a link from your chain so you can uninstall the chain from your bike. Different tools are required depending on the type of groupset you have, the speed of the groupset and the manufacturer.
For example, a Shimano 10-speed chain requires a different tool than a Campagnolo 12-speed chain. This is due to the difference in chain-link designs (Shimano and SRAM use quick-links whereas Campagnolo does not), and the widths of the chain, which varies depending on the number of speeds.
Bottom Bracket Tool
A creaking or worn-out bottom bracket will happen to all of us eventually. The easiest way to remove that annoying noise is by removing the bottom bracket and either replacing it entirely or regreasing the bearings.
A bottom bracket tool is the best way to remove it, and it usually consists of a tool which fits over the bottom bracket cup so you can release it. If you have a press-fit bottom bracket then you will need a separate tool to install a new bottom bracket. Again, each bottom bracket is different so one tool does not unfortunately fit all.
Spoke Wrench
A spoke wrench helps you to adjust your spokes and thus align or 'true' your wheel. Just like most bike tools, they also come in different shapes and sizes depending on the spokes you have on your wheels. Be sure to check the tool is correct for your spokes before purchasing.
Torque Wrench
Although not typically found in cheaper tool kits, a torque wrench is vital to the proper installation of components on your bike—particularly if the frame is carbon fiber as the bolts require specific Newton Meter (Nm) tolerances so that they do not crack the frame or cause damage.
Bonus: Bike Repair Stand
Of course, bike repair stands are not a part of bike tool kits, but it's an invaluable piece of equipment for any home mechanic that frequently tinkers with their bikes.
Jobs such as indexing the gears, adjusting the brakes, truing the wheels, or cleaning the drivetrain become much easier if the bike is mounted securely on a bike stand and both of your hands are free.
---
Best Bike Tool Kits in 2023
---
Park Tool AK-5 Advanced Tool Kit
First on our list of best bike tool kits is the Park Tools AK-5 Advanced Tool Kit.
Park Tool are very highly regarded in the world of bike maintenance, and their tools are of high quality. This particular tool kit comes with its own carry case and even a manual on bicycle maintenance. The tools included are widely varied, from basic tools like tire levers and Hex keys, to more advanced tools like cone wrenches and cable cutters.
It contains almost all you'll need for everything from cleaning the bike and basic maintenance to some of the more complex repairs.
---
Foundation Elite Bike Tool Kit
The Foundation Elite Bike Tool Kit is a great bike tool set for older bikes.
Within the tool kit, there are several cone spanners, which are used on older bicycle wheels that do not use quick-release skewers or thru-axles. Beyond this, there is a wide variety of tools from things like the chain scrubber for cleaning your chain, to cassette removal tools and chain whips.
It's not the most advanced selection of tools but it's relatively cheap for what you get and there is enough to get your home mechanic life started.
---
23-Piece Bike Tool Kit
One of the cheaper bike tool kits on the list is this 23 Piece Bike Tool Kit by the brand Cyclists, available through Amazon.
The handy carry case means it can be mobilized easily, while the expansive range of tools means you'll be able to fix most issues from your own home. While we can't comment on the quality or longevity of these tools, the variety means most types of bikes are catered for, from road, mountain, hybrid or tourer, for example.
The tools provided are pretty standard bike tools but it also includes a patch kit for you to take on your bike and repair a puncture if you don't want to use another inner tube (or have run out of them!)
---
Fix MFG MTB Field Kit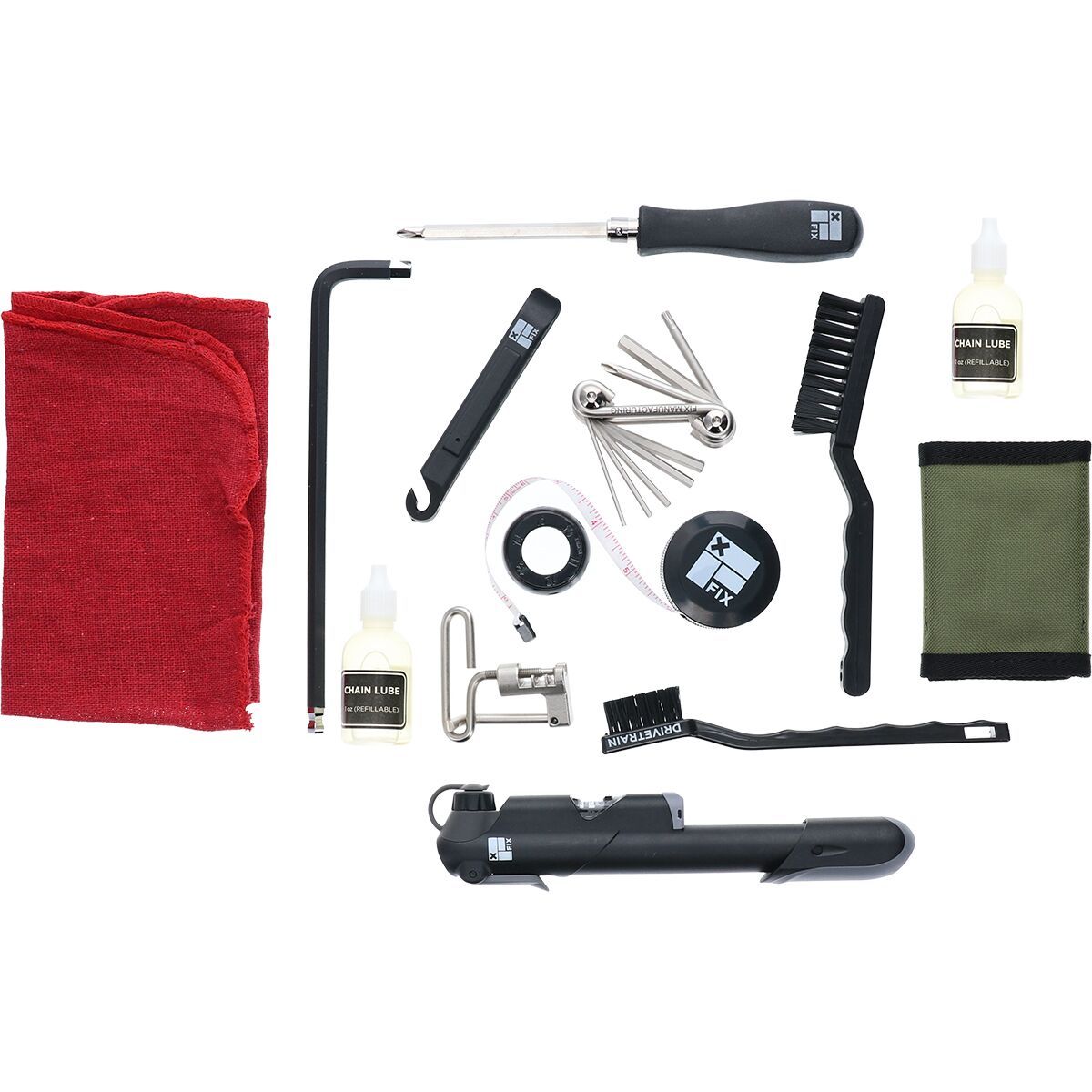 Now, this isn't a home kit, per se, but it is designed to keep you from needing to return home to fix your bike.
When you're out on your mountain bike the last thing you want is a ride-ending mechanical, particularly if you're far away from the nearest road or trail head. The Fix MFG MTB Field Kit aims to eliminate this risk by including all the tools you might need to fix your MTB on the go. It includes 16 tools and accessories such as a multi-tool, pedal wrench, chain breaker, etc.
If you don't already carry a saddle bag or a tool pack in your rucksack then this is an appealing option, with everything you'll need in one easy to carry kit.
---
Feedback Sports Team Edition Tool Kit
Designed to cover all maintenance and repair needs, the Feedback Sports Team EditionTool Kit is a great way to make sure you're always ready to ride.
Slightly more expensive than some of the other more compact tool kits on our best home tool kit list, but it's ideal for getting your bike in tip-top shape. It comes with 19 tools from valve core tools (for both Schrader and Presta valves), a rotor truing tool, a 15mm axle wrench, and more.
Each tool is crafted with professional-grade durability, and the carry case makes it ideal for chucking in the trunk of your car or moving around your house so you can work on your bike.
---