Best Bike Repair Stands — Choosing the Best Work Stand for Your Needs
Basic at-home bike maintenance and repair is something all cyclists can learn to do.
With some inexpensive tools and the help of online guides, you can keep your bike in good working condition and prolong the life of the individual components.
A bike repair stand is an essential tool for doing basic maintenance. Mounting your bike on a work stand frees up your hands and allows you to access all bike parts comfortably.
The best bike repair stands will hold your bike securely but delicately, be easy to use, stable under load, and adjust to your requirements.
This article will highlight some of the highest quality and best value products on the market and guide you in choosing the perfect repair stand to suit your needs.
---
Best Bike Repair Stands in 2023
---
Park Tool
PCS-9.3 Home Mechanic Repair Stand
MSRP: $219.95
Weight: 15lbs 14oz
Max weight: 80lb
Foldable: Yes
Max height: 57″
Reasons to buy:
High weight capacity
Foldable and height adjustable
Fully adjustable clamp
Large, sturdy base and steel construction
Park Tool is a leading manufacturer of tools and equipment for bicycle maintenance and repair.
Their products are known for their exceptional quality but high prices, and the PCS 9.3 Park Tool bike stand is no different.
This all-steel bike maintenance stand allows 18″ of adjustment to the height (between 39 and 57″), meaning you can work on your bike standing or sitting.
The clamp is also fully adjustable, fitting any shape seatpost (including droppers and aero posts) between 7/8″ to 3″ in diameter. In addition, the clamp rotates 360-degrees.
Finally, this bike floor stand folds quickly into a 44×14.5″ package for storage or transport, and when set up, it has a sturdy base.
The PCS 9.3 is a solid choice for any home mechanic who wants to invest in a long-lasting repair stand.
---
Foundation Bike Repair Stand
MSRP: $92
Weight: 20lbs
Max weight: 50lbs
Foldable: Yes
Max height: N/A
Reasons to buy:
Excellent price
Adjustable height
Attachable tool tray
No assembly required
Reasons to avoid:
Tips over backward when empty
Not suitable for heavy bikes
Foundation Bike Tools' Bike Repair Stand is one of the most competitively priced options available. For under $100, you get a solid, easy-to-use stand that you can fold up for storage and transportation.
This stand has adjustable height functionality, and the clamp rotates 360 degrees, giving you full access to all bike components while you work.
A great feature of this bicycle repair stand is the detachable tool tray to keep everything you need within your arm's reach.
Although the stand is quite sturdy, many reviewers note that it can tip over backward pretty easily when empty, but it becomes stable once you mount a bike on it.
Nevertheless, this bike stand is a great value option for those with light bikes and a tight budget, thanks to a very high user rating.
---
Feedback Sports
Sprint Work Stand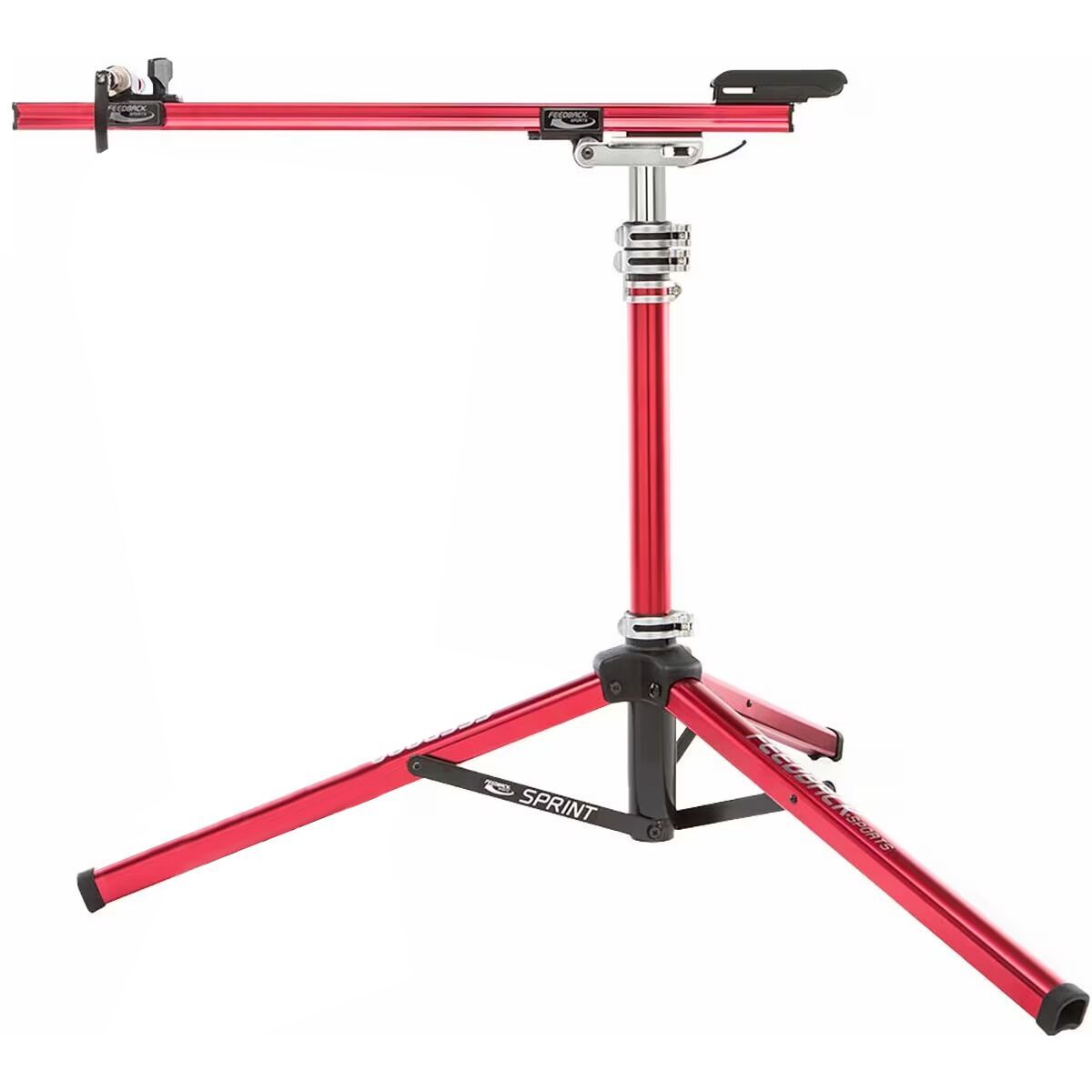 MSRP: $350
Weight: 12.6lbs
Max weight: 85lbs
Foldable: Yes
Max height: 48″
Reasons to buy:
Dropout and bottom bracket securing
Lightweight
Sturdy tripod base
Complete adjustability
The Feedback Sports Sprint Work Stand for bicycles is a professional-level product with full adjustability and a race-style design that secures the bike using the fork or rear dropout and bottom bracket.
This stand folds neatly into a 5×7.5×30″ package and is very lightweight (12.6lbs), ideal for transportation and at-home storage.
Thanks to the quick-release clamps, the setup process is relatively straightforward, and the tripod design ensures unbeatable stability once folded out.
Securing the bike is straightforward. Remove the front wheel, attach either your quick-release or thru-axle dropout, and rest the bottom bracket on the rubber holder. You can then adjust the height of the stand and work on your bike standing or seated.
Although expensive, if you choose the Sprint by Feedback Sports, you're sure to have a bicycle work stand for life!
---
SONGMICS Quick-Release Bike Repair Stand
MSRP: Check on Amazon
Weight: 16.3 lbs
Max weight: 66 lbs
Foldable: Yes
Max height: 67.7″
Reasons to buy:
Cheap
Wide range of height settings (38.9-67.7″)
Clamp rotates 360 degrees
Sturdy four-legged base
Reasons to avoid:
Can slide on smooth surfaces as feet don't have grips
Not very sturdy
The SONGMICS Quick-Release bike repair stand is the best budget bike repair stand on our list, offering excellent value for money.
This work stand has many of the features typical of more expensive alternatives, including a 360-degree rotating clamp, a 29″ height adjustability, a handy magnetic tool tray, and easy-to-use quick-release clamps.
The SONGMICS repair stand has a partial folding design that allows you to fold the legs, but not the main body, meaning the folded package is slightly bigger than its more expensive competitors.
The stand is made with plastic and steel, which provides a sturdy base but a slightly flimsy feel when working on a bike.
All things considered, this is a solid choice that performs above its price for any new home mechanics that want to begin working on their bikes without breaking the bank.
---
Park Tool PCS-12.2 Home Mechanic Bench-Mount Repair Stand
MSRP: $179.95
Weight: 7lbs 5oz
Max weight: 80lbs
Foldable: No
Max height: 9 and 7/8″ from the bench
Reasons to buy:
Simple and sturdy steel design
High max weight of 80lbs
Mounts to any flat bench
360-degree clamp rotation
Reasons to avoid:
Not portable
Bolts not included for mounting to work bench
Park Tool's PCS 12.2 is a bench-mounted stationary bike stand. Like all Park Tool's products, this stand is durable and easy to use.
The body of the PCS 12.2 is steel to maximize stiffness and durability. The internal parts are made with a glass-filled nylon composite material, ensuring smooth rotation and secure positioning.
The clamp is highly adjustable with 360-degree rotating and a micro-adjust closure that can hold frame tubes and seatposts 1-3″ in diameter.
Don't look past the PCS 12.2 if you want a permanent stand for bike repair to last you a lifetime!
---
Feedback Sports Ultralight Work Stand
MSRP: $260
Weight: 10.5lbs
Max weight: 65lbs
Foldable: Yes
Max height: 57.7″
Reasons to buy:
Lightweight
Compact folding design
22″ height adjustment range
Sturdy tripod base
Reasons to avoid:
Not very sturdy for heavy bikes
The Pro Ultralight Feedback Sports bike stand is the most portable and lightweight model on the market, but it comes at a hefty price.
This stand folds at the legs and clamp arm to create a 37″ package that you can throw into your trunk for travel or store neatly at home.
The clamp features 360-degree rotation, fits tubes up to 1.9″ in diameter, and uses a delicate quarter-turn action to grip tubing without causing damage.
The Pro Ultralight stand has a broad height range between 35.6″ and 57.7″ and can hold a bike weighing up to 65lbs thanks to its solid construction and sturdy tripod base, a superb choice for those who travel regularly.
---
Park Tool
PCS-10.3 Deluxe Home Mechanic Repair Stand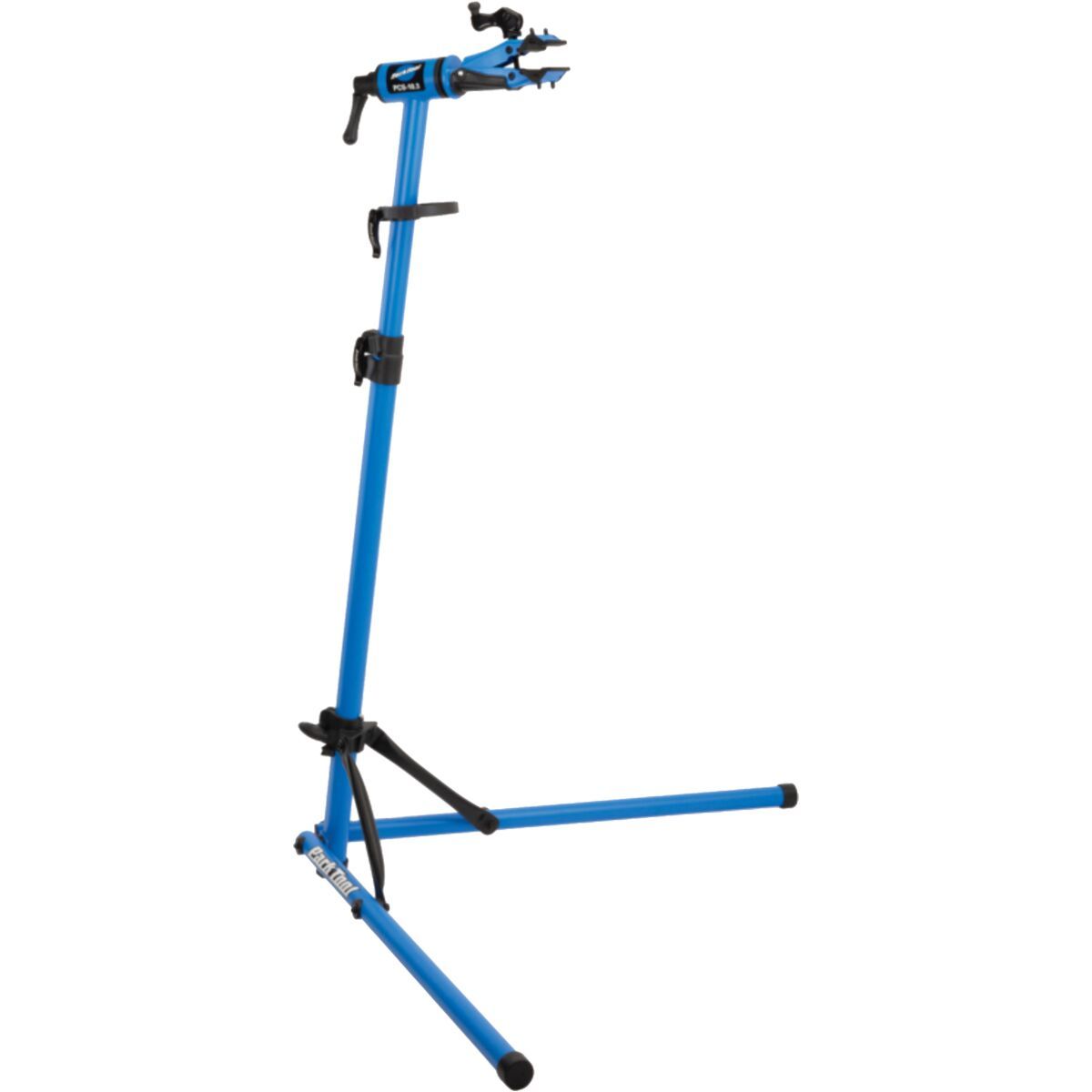 MSRP: $279.95
Weight: 21lbs 6oz
Max weight: 80lbs
Foldable: Yes
Max height: 57″
Reasons to buy:
Micro-adjust clamp with 7/8″ to 3″ tube compatibility
Sturdy and durable all-steel construction
18″ of height adjustment
Fast and easy folding mechanism
Reasons to avoid:
Slightly abrasive clamp material
The Park Tool PCS 10.3 Deluxe repair stand is another high-quality product from the bike tool manufacturer.
Again, the product has a solid steel design with smooth one-hand cam-actuated mechanisms for securing the clamp and operating the 360-degree rotation. Unfortunately, an all-steel composition means it's heavy.
The clamp is one of the most versatile on the market, holding tubes of any shape between 7/8″ to 3″ in diameter. The clamp is also adjustable between 39″ and 57″ from the ground.
The folding mechanism is easy to use with one smooth motion, and the folded package measures 45×14.5″. Finally, a helpful addition by Park Tool is a small height-adjustable tray to hold small tools and screws.
---
Bikehand E-Bike Repair Stand
MSRP: Check on Amazon
Weight: 13.8lbs
Max weight: 110lbs
Foldable: Yes
Max height: 59″
Reasons to buy:
Heavy-duty stand with 110lb capacity
20″ height adjustable with quick-release
Magnetic tool tray
Compact folded package
Reasons to avoid:
Clamp can be difficult to operate with a heavy e-bike
Bikehand's electric bike repair stand is the product with the highest weight capacity we've seen, ideal for heavy e-bikes and fat bikes.
This stand is surprisingly lightweight (13.8lbs) and sturdy. The body is made with aluminum to keep weight down, and it uses two foldable legs as a base. The one issue with the double leg design is there is a greater likelihood of the stand tipping backward when your bike is not mounted on it.
Bikehand designed their repair bike stand to be highly adjustable and versatile, with a height range between 39″ and 59″, an adjustable angle, and 360-degree rotation of the clamp. In addition, the clamp fits tubes 1-2.55″ in diameter.
Finally, this bike floor stand can fold down in about 15 seconds, and it has a magnetic tool tray to make your repairs more convenient. This could be the perfect stand if you've got a heavy e-bike at home!
---
Foundation Bench/Wall Mount Repair Stand
MSRP: $90
Weight: N/A
Max weight: 50lbs
Foldable: No
Max height: 8″ from the bench
Reasons to buy:
Very sturdy
Easy to set up and use
Affordable
Saves space
Reasons to avoid:
Clamp mechanism isn't very smooth
Low clearance from the mount
Foundation's mountable bike repair stand is another affordable option available to home mechanics. This product offers excellent value for money, demonstrated by the high rating and lots of positive reviews.
This bench or wall-mount bike stand has a steel body and mounts using bolts to create an extremely sturdy and long-lasting build.
The clamp has 360-degree rotation and fits tubes roughly 1-3″ in diameter. Although the clamp mechanism is a little clunky, it is very secure once the bike is locked in place.
Don't miss out on this Foundation wall/bench mount bike maintenance stand if you're looking for a durable and permanent sub-$100 option.
---
How to Choose the Best Bike Repair Stand
---
When choosing a bike repair stand, consider your budget and space limitations, as well as your requirements and abilities as a mechanic.
Most home mechanics will be satisfied with a lightweight, portable repair stand that can tuck away in a closet when not in use or fit neatly in the trunk for family road trips. However, if you do regular, detailed maintenance and repairs on various bikes, you may benefit from a heavy-duty or permanent stand.
Likewise, if you've got plenty of space at home or you're operating in tight quarters or outside, this will change the characteristics of the stand you require. First, let's take a look at the different types.
Types of Bicycle Repair Stands
There are two ways to categorize bike work stands; by how it secures the bike and whether it is portable. Each has different strengths and weaknesses, pricing, and functionality.
Clamp Stand vs. Race Stand
The first way to categorize bike maintenance stands is by the mechanism for securing the bike, the most common of which is the clamp.
These stands use an adjustable clamp to hold the bike at the seatpost or top tube. The products are typically cheaper and fit a wide range of tube diameters, making them ideal for anyone of a budget, newer home mechanics, or those with different kinds of bikes.
However, it's advisable to clamp the bike at the seatpost as holding it by the frame may damage the tubing. Another consideration is that some clamps mightn't be compatible with aero or dropper seat posts.
The other type is race-style stands. These are more expensive and less common. They work by securing the bike at the front or rear axle (thru-axles may require an adaptor) and resting the bottom bracket on a rubber pad.
The advantage of race-style repair stands is that they don't stress your seatpost or frame. In addition, these stands allow rotation of the bike so you can work on both sides without walking around.
Portable vs. Permanent
The other main categorization is whether the stand is portable or not. Portability significantly impacts sturdiness, especially in more affordable models.
Portable bike stands fold down into compact packages for storage and transportation, ideal for those with limited space in the home or who want to take theirs on the road. The problem with portability is there is always a trade-off with stability. Nonetheless, the premium portable repair stands are stable regardless.
Permanent or mounted work stands are much more stable and secure, even in the low to mid-range. These mount to a workbench, the wall, or even the floor to create a solid base that functions well for heavier bikes and bike maintenance procedures that involve removing tight components.
The only issue with these products is the limitations to where you can install them, and it's not easy to move them once mounted.
The Key Features to Look For in a Bike Repair Stand
The best bike repair stands are often feature-rich, so choose the product with the most relevant options for you. Some features, like 360-degree rotation, are standard across most products, while others, like quick-release operation, are found only on the premium stands.
Clamp Adjustment and Jaw Material
The clamp design is arguably the most important characteristic of a high-quality stand. A clunky, hard-to-use, and unstable clamp will make mounting the bike and doing bike repairs difficult.
The best clamps fit a wide range of tube shapes (aero posts and dropper posts) and diameters, and they have smooth, micro-adjustable closure mechanisms. In addition, the clamp head should rotate 360-degrees, so you can adjust the angle of your bike as needed. The jaw material should also be delicate and non-abrasive so it doesn't damage or mark the tubing.
Height and Angle Adjustment
It's essential to choose a stand that can adjust to match your height, as time spent doing repairs in a bent-over position could result in a back injury. Most portable repair stands have telescoping bodies or adjustable legs to allow you to manipulate the height to your ideal setting. Keep an eye out for the maximum height setting if you are tall.
Angle adjustment (clamp rotation) is another vital feature. This mechanism differs hugely between products and can be flimsy on the cheaper ones. On the other hand, high-end products like Park Tool's PCS 10.3 Deluxe have incredibly smooth and easy-to-use adjusters.
Weight Limit
The weight capacity of a stand is another thing worth considering. Electric bikes, downhill mountain bikes, and other heavier models necessitate high-capacity products like Bikehand's e-bike stand. In general, steel-frame designs are favorable for heavier bikes and any repairs that require more force.
Foldability and Portability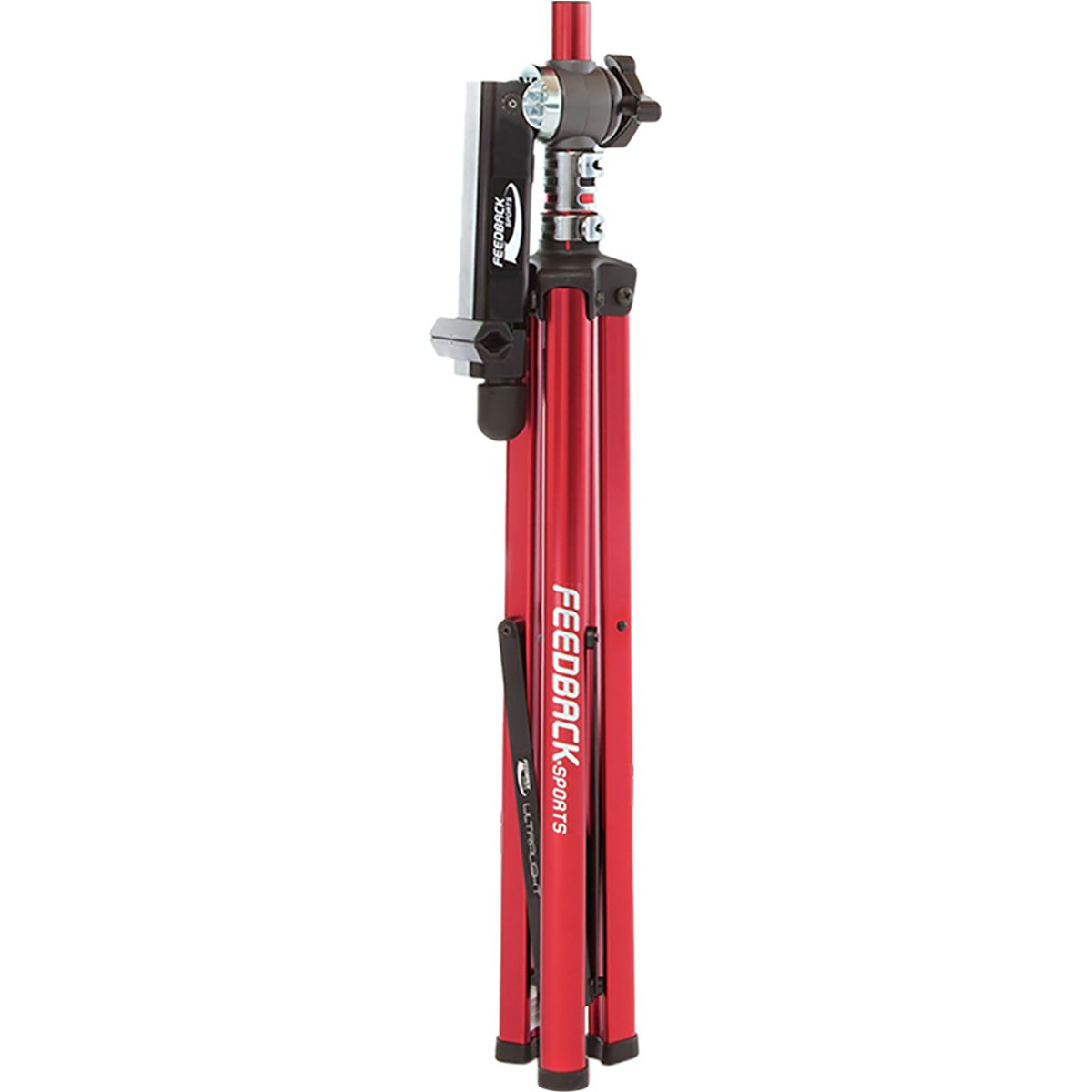 As we touched on above, the weight and size of a stand when folded are two key considerations. A lightweight and compact stand like the Feeback Sports Ultralight Pro is perfect for those who need to travel to events or take it on road trips.
The quality of the folding mechanism also impacts portability. For example, higher-end models have super-smooth folding that can be done in one motion, while others are more time-consuming to fold and set up.
Base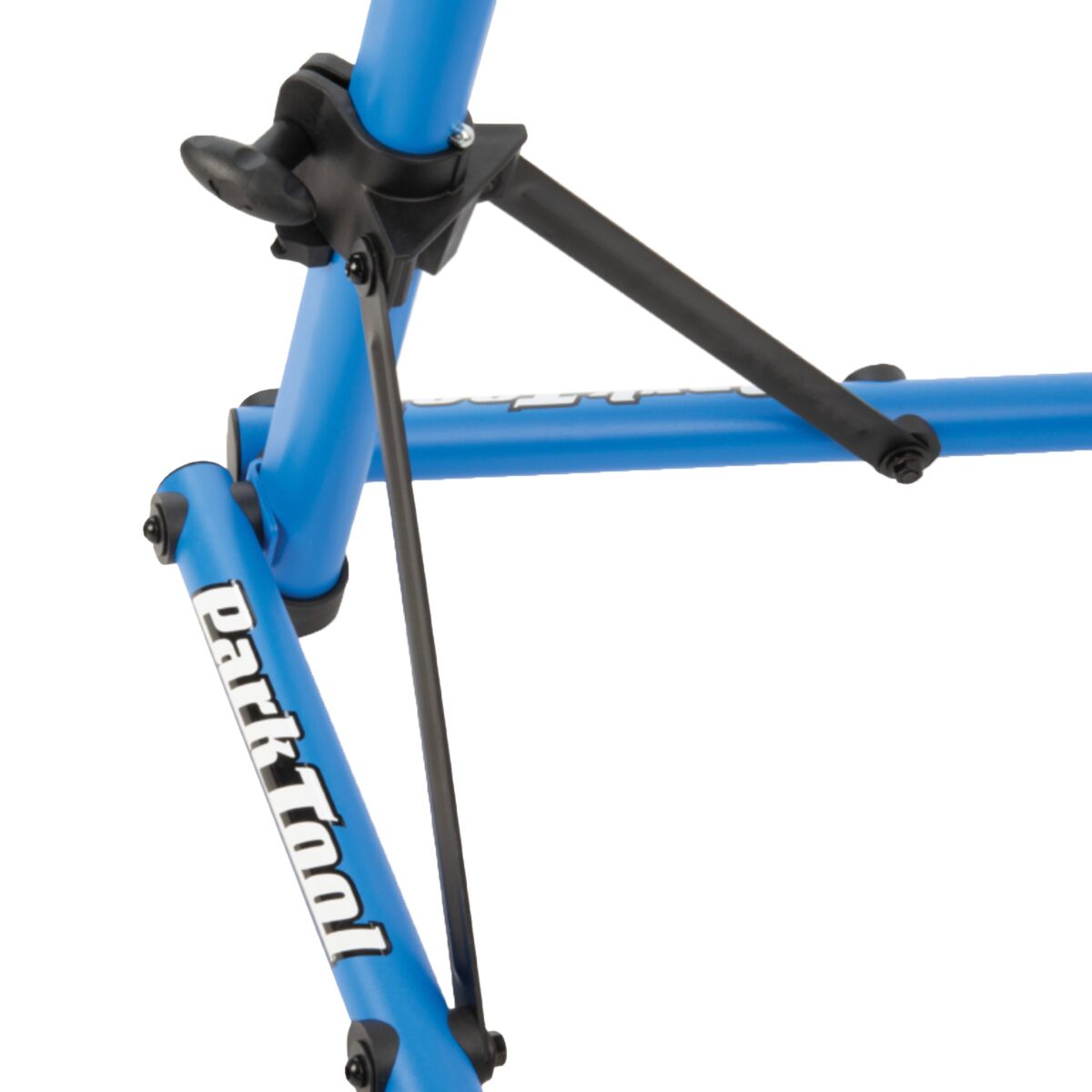 Stability is one of the most important characteristics of a high-quality repair stand. Nobody wants to be worried about the stand tipping over at the slightest touch, so a solid base is essential.
Tripod and four-legged bases provide the most stability, although some dual-leg ones are also very stable. Another consideration is the feet; if you use your stand on a smooth surface, non-slip feet are essential.
Quick-Release Functionality
Quick-release clamps vastly improve the usability of a work stand, allowing you to set up yours, adjust the settings, and mount and unmount your bike quickly and with one hand.
DIY Bike Stands
Building your own DIY bike repair stand is another option for anyone experienced with such projects. If this is the method you choose, ensure that the clamp you use is sturdy and doesn't damage the tubing of your bike.
DIY bike repair stands can be made using wood, PVC pipes, ropes, metal, or any other material that you know how to work with.