Best Electric Hunting Bikes Under $4,000
In this article, we cover the best models available for less than $4,000 from top manufacturers in the space.
For any outdoors adventurer, a hunting mountain bike can be an amazing tool and companion to support bicycle touring, hunting trips, angling expeditions, overlanding, backcountry trail riding, and more.
This type of bicycle makes your job much easier by carrying your cargo and giving you the ability to traverse huge distances, crossing extreme terrain such as snow, sand, and mud without worry.
The features that make hunting eBike so good at its job include
Large motors – usually 750W+
Long ranges due to big batteries
Puncture-resistant wide tires
Shock-absorbent suspension
and the ability to carry heavy loads
Additionally, the most innovative models usually have camouflage paint jobs, quiet motors, pannier racks, and compatibility with hunting bike accessories.
The Must-Have Components for a Hunting Bike
Powerful (yet quiet) motor
Large Battery Capacity
Strong & Lightweight Alloy Frame
4″ Fat Tires
Suspension
Large Load Capacity
How Much are Electric Hunting Bicycles Worth in 2023?
This type of e-bike can cost anywhere between $2,000 and $10,000. However, majority of models fall between $3,000 and $6,000.
Affordable Models vs High-End Models
Related: Best Electric Hunting Bikes of 2023
The difference between affordable and premium models can be quite significant. For example, premium models will have huge ranges, top-end mid-drive motors, smoother ride qualities, and greater durability across their components.
That being said, affordable models are still great bikes which served their purpose perfectly and are enjoyable to use. Riders may, however, be limited by battery capacities or other components.
---
Best Electric Hunting Bikes Under $4,000
1. Rambo Roamer 750 XC – $3,999
2. QuietKat Ranger – $3,199
3. Bakcou Flatlander – $3,547
4. Bikonit –
5. E-Cells Super Monarch – $3,895
6. QuietKat Voyager – $2,899
Feel free to add your recommendation to the comments section!
---
1

. Rambo – Roamer 750 XC

The most affordable Rambo hunting bike
Weight: 63 lbs | Load Capacity: 300 lbs | Motor: 750W Mid-Drive | Battery: 672Wh | Range: up to 35mi
MSRP: $3,999 Rambobikes.com
Rambo Bikes' Roamer hunting e-bike is one of the company's best for value and level of components.
This powerful bicycle uses a large 750W motor and 14Ah Samsung battery combination which delivers 35 miles of range for speeds up to 28mph. Riders can also take advantage of a 5-speed internal geared hub that reduces maintenance needs compared to a regular drivetrain.
In order to perform well off-road the Roamer has durable double-wall rims, wide puncture-resistant Kenda Krusade 4″ tires with Kevlar, GT MRK fork suspension, and powerful Tektro hydraulic disc brakes.
Finally, this bike is compatible with all of Rambo's hunting accessories which you can choose to personalize your bike.
Frame: Aluminum Alloy 6061
Fork: GT MRK
Tires: 26″ x 4.0″ Kenda Krusade Anti-Puncture
Gearing: Internal 5-Speed Sturmey-Archer
Brakes: Logan HD-E500 Hydraulic, 180mm Rotors
Rambo Bike Accessories
Hunting, angling, and camping are complex activities that require lots of different tools and gear to be successful. Thankfully, you can purchase the right tools which are compatible with your bike so that each trip is a success. These include things like trailers, extra storage, coolers, gun holders, and more.
Learn more about hunting bike accessories.
Rambo Bike Problems
There are no known issues with the bike. Although some users have stated some minor problems with Sturmy Archer's internal gearing.
Can be damaged when shifting under big loads
It has to be well adjusted for smooth shifting
Less gear range
Hard to take the rear wheel off
On the other hand, the same gearing system has many benefits, too:
Eliminates derailleur
No "ghost shifting"
Less maintenance
Mud and water are not harmful since the gears are sealed inside
You can shift while stopped.
---
2

. QuietKat – Ranger

Best value hunting e-bike from QuietKat
Weight: 65 lbs | Load Capacity: 325 lbs | Motor: 750W / 1,000W Hub-drive | Battery: 557Wh Panasonic | Range: up to 48mi
MSRP: from $2,599
The Ranger hunting bicycle by QuietKat is another affordable option designed for extreme riding optimized to be a great companion on hunting or angling trips.
As with each QuietKat e-bike, the Ranger has a large motor that runs almost without noise. Additionally, the paint finish is a stylish camo design that helps you and your bike hidden.
The electronics on this bike are powerful enough to carry large loads and tackle extreme terrain. This includes a 750W or 1000W motor and an 11.6Ah battery which provides ranges up to 48 miles.
The other components that contribute to making the Ranger comprehensive hunter bike are the 4.5-inch Kenda Juggernaut tires, fork suspension, rear rack, and LCD control panel.
Frame: Aluminum with Lifetime Warranty
Fork: Mozo Coil Suspension
Tires: 26″ x 4.5″ Kenda Juggernaut
Gearing: 1×7-Speed SRAM
Brakes: Tektro Mechanical
More Affordable Ranger 5.0
The Ranger 5.0 by QuietKat has key differences including smaller 4″ Kenda Juggernaut tires, a single-speed drivetrain that reduces maintenance needs, and no fork suspension. The motor and battery are smaller than the regular model. However, with 500W you will have plenty of power to take on tough terrain along with 40 miles of range (just 8 less).
500W Motor
Single-Speed
Rigid Fork
---
3

. Bakcou – Flatlander

Hunting e-bike designed for lighter riding

Weight: 63 lbs | Load Capacity: 300 lbs | Motor: 750W Hub-drive | Battery: 696 Wh / 835 Wh / 1,008 Wh | Range: 40+mi
MSRP: from $3,547 Backou.com/
Bakcou Bikes' Flatlander is a hunting camo bike designed for individuals without extreme requirements from their bike at a more budget-friendly price.
The Flatlander has many premium components including a lightweight 6061 aluminum alloy frame, GT MRK air suspension 100mm travel, fifth premium dual-piston hydraulic disc brakes, and the reliable Shimano Alivio 9-speed groupset.
For power, is bike has a 750 W rear-hub motor, and a 17.4Ah battery that provides you with up to 40 miles range. Other components that make this bike perfect for all of your adventures are the integrated rack, kickstand, LED lights, and puncture-resistant Maxxis Minion fat tires.
Frame: Aluminum Alloy 6061
Fork: BCEB GT MRK Air Suspension, 100mm Travel
Tires: 26″ x 4.0″ Maxxis Minion
Gearing: 1×9-Speed Shimano Alivio
Brakes: Tektro Dual Piston Hydraulic, 203mm Front, 180mm Rear Rotors
---
3. Bikonit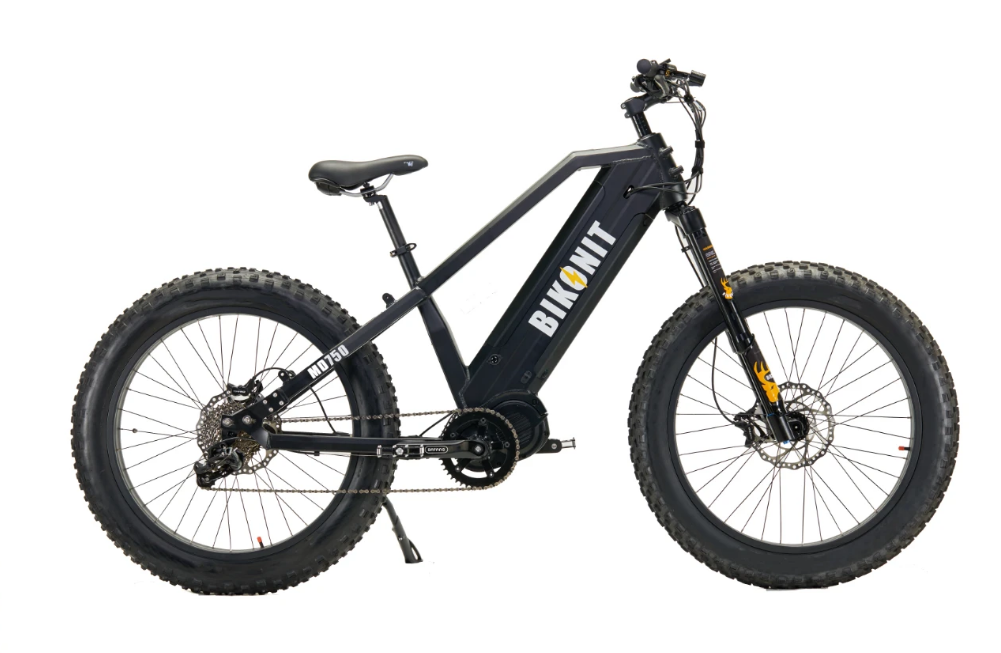 MSRP: $3,799
EBikeGeneration
Bikeonit's Warthog MD 750 is an electric hunting bicycle with premium components rarely seen on hunting bikes in this price category.
Most notably, this bike has a top-end Bafang 750W ultra mid-motor. This motor provides unbeatable three-sensor power transfer thanks to multiple sensors, ensuring you receive the appropriate amount of power at all times.
In addition, the battery is an integrated 15Ah LG that provides up to 45 miles of range with a reliable 9-speed SRAM X5 drivetrain to support it.
The other standout features of this Bikeonit electric bike include four-piston hydraulic disc brakes with wide 203mm rotors, high-traction Kenda 4.5″ tires, a large 300lb payload capacity for carrying cargo, and performance-optimized mountain bike geometry.
Finally, the Warthog hunting e-bike has a relatively low base weight of just 78lbs, making it much lighter than its competition.
Derailleur – 9-speed SRAM X5
Fork – 120mm Bikonit Customized Air Suspension
Brakes – Tektro HD-E725 w/ power cut-off function
4-Piston hydraulic, 203mm rotors
Weight – 70lbs (78lbs with battery)
Frame – 6061 alloy
Tires – 26 x 4.5″
Motor – 750W Bafang G510 Ultra Max
Mid-drive
Battery – 48V 15Ah LG battery – 720Wh
Weight capacity – 300lbs
---
4

. E-Cells – Super Monarch

Unique dual motor, dual battery bike

Weight: 94 lbs | Motor: 2x500W Hub Motors | Batteries: 840+672Wh
MSRP: from $3,895 Ecells.com
E-Cells' Super Monarch e-bike is a heavyweight choice with enough power to pull huge payloads of up to 400lbs.
The Monarch electric bike has dual Bafang 500W motors and two Samsung batteries (14.5Ah and 17.5Ah) with a combined 1504Wh. This impressive battery/motor pairing allows riders to tackle tough inclines, soft terrain, and long distances fully loaded. Nine levels of power assistance and a 10-Speed Shimano Alivio ensure you get where you need to go.
To perform well off-road this E-Cells bicycle has RockShox rear suspension, a GT Mark 120mm fork, 4-piston Tektro Dorado hydraulic disc brakes, and 4.0″ Kenda K-Shield puncture-resistant fat tires.
Finally, this bike is equipped with a pin code secured LCD display and is fully equipped with a kickstand, rear rack, and fenders making any job easier.
Frame: Aluminum Alloy 6061
Fork: GT Mark, 120mm Travel
Rear Suspension: RockShox Monarch RL
Tires: 26″ x 4.0″ Kenda K-Shield Puncture Technology
Gearing: 1×10-Speed Shimano Alivio
Brakes: Tektro Auriga Hydraulic, 180mm Rotors
---
5

. QuietKat Pioneer

Rigid fat-tire hunting ebike
Weight: 61 lbs | Load Capacity: 325 lbs | Motor: 500W Rear-Hub | Battery: 614 Wh | Range: 19-39 mi
MSRP: $2,000 – $2,400
QuietKat's Pioneer is a rigid electric bike designed to perform well both on urban roads and tough trails with versatile fat tires.
This hunting ebike comes with minimal accessories, meaning it is designed for performance rather than practicality. But, you can equip it with fenders and a rear rack for daily riding.
For power, the Voyager has a punchy 500W motor. This is paired with a single-speed drivetrain and a 614 Wh battery for ranges up to 39 miles.
Finally, the components that ensure this bike rides smoothly off-road include mechanical disc brakes, 4″ puncture-resistant fat tires, and pedal-assist, throttle, and walk-mode assistance.
Frame: Aluminum Alloy
Fork: Rigid
Tires: 26″ x 4.0″
Gearing: Single-speed
Brakes: Mechanical disc brakes
---
FAQs
Can I use a regular electric mountain bike for hunting?
Yes, you could use a regular e-MTB for hunting, however, MTBs are built to be perform well in a speed sense and be lightweight. They are not designed to carry large loads over long distances.
Hunting e-bikes are purposefully built for power, strength, and durability under load. Additionally, electric MTBs don't usually have a throttle or rack, which are key for hunting bikes.
Can I use a hunting bike for some other activity too?
Yes. These bikes are great for any type of riding, they generally come with all the components typically seen on commuter bikes or fat tire mountain bikes. This allows them to be used in a wide range of situations.
Can I climb hills with an electric hunting bike?
Yes. Most electric hunting bikes have lots of power and torque which gives them the ability to tackle steep gradients even while carrying heavy cargo