A bike rack is essential for many cyclists who must drive to their favorite bike routes or want to get to the riding destination faster. They also allow you to take bikes on weekend getaways and road trips.
There are six distinct bicycle rack types:
– each of which serves the same purpose: to help you get your bike(s) from A to B safely.
The variety of styles accommodates the wide variety of vehicles and bikes on the market.
Choosing the perfect rack for you will depend on:
Your vehicle type.

How many bikes are you planning to haul.

Your bike's frame shape, tire size, and weight.

The frequency of use.

Budget.
This article will cover how to choose the right rack, the pros and cons of each style, rack accessories, and some frequently asked questions online.
Quick facts
Most bicycle racks for a car are made in the hitch-mount type.
The average bike weight capacity per bike is around 30-35lbs.
The maximum weight capacity per bike is approximately 80lb (on a 2-bike hitch rack).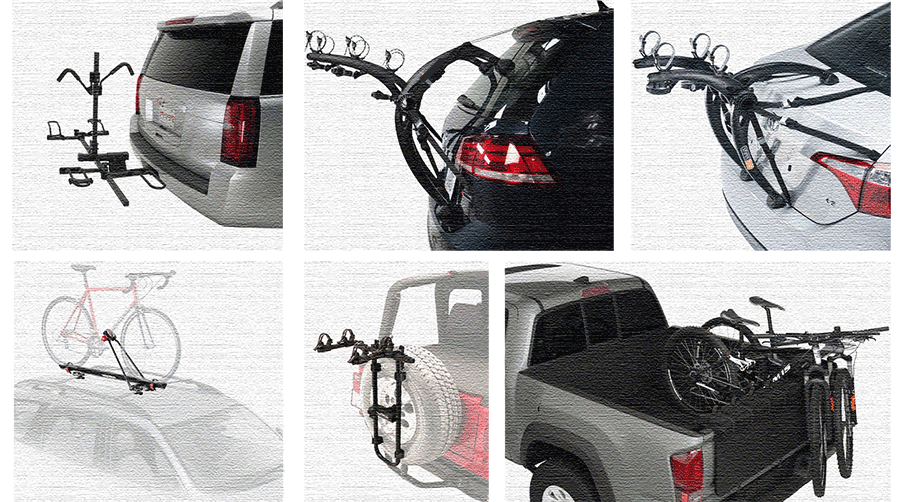 ---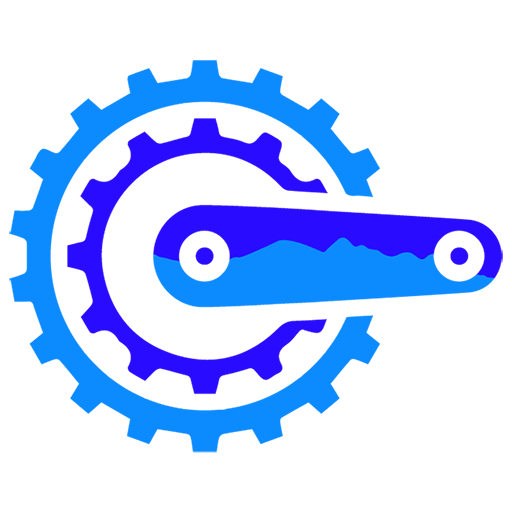 ---
1

. How To Choose a Bike Rack?

Where to mount / How many bikes to carry / Budget
Where can you mount the bike rack?
Here are the five options for mounting a bike rack to your vehicle.
Roof
Hitch
Trunk

Truck bed

Spare tire
*Recommendations based on convenience and the number of racks available:
#1 Hitch
#2 Roof
#3 Trunk
How many bikes are you planning to haul?
1 bike – Platform, hanging, boot, roof, spare tire racks
2 bikes – Platform, hanging, boot, roof, spare tire racks
3 bikes – Platform, hanging, boot, roof racks
4 bikes – Platform, hanging, boot, roof racks
5+ bikes – Hanging rack, truck bed
What is your budget?
Bicycle carriers can cost as little as $30 for the cheapest trunk-mount racks to as high as $850 for brands like Kuat's and Thule's premium models.
Cheap racks are perfect for shorter journeys, light use, and inexpensive vehicles/bikes. For those with an expensive bike/vehicle or who require the rack for heavy use, consider the more robust models to keep your bike and car as safe and secure as possible.
---
2

. Types of Bike Racks for Car (& Motorcycle)

Hitch – Roof – Trunk – Truck Bed – Spare tire – RV/Minivan – Motorcycle

A bike holder for cars may rely on a hitch receiver or a spare tire, which significantly limits the number of users. The limitation of each style means there are a wide variety of types, so all vehicle owners can find one that works.

As mentioned in the previous section, six choices are available, all with different strengths, weaknesses, and compatibility.

In addition, there is a niche manufacturer of bicycle carriers for motorbikes. For RV/Camper owners, hitch-mount racks are the best option. Below we cover each style in depth.
Hitch-Mount Bike Racks
---
Platform bike racks / Hanging racks
Hitch mount bike racks are the most popular and straightforward to use once the rack is installed on your vehicle. They fit 2″ receivers, 1.25″, receivers, or both. In addition, the construction and strength of the hitch attachment make them very stable and secure.
The best tow hitch bike racks often have various security and anti-sway features, appealing to many cyclists. These racks are perfect for heavy use, unlike a trunk rack.
The price of trailer hitch bike racks is the most varied, with a wide variety of capacities, features, build qualities, shapes, and sizes. They require minimal effort to lift the bikes onto the rack at waist height (compared to roof racks) and are usually straightforward to lock. The disadvantage is they are often heavy and require practice to drive with because they extend your vehicle's tail.
How to Choose?
Determine the hitch size – 1.25″ or 2″
Number of bikes you need to haul
Type – Hanging or Platform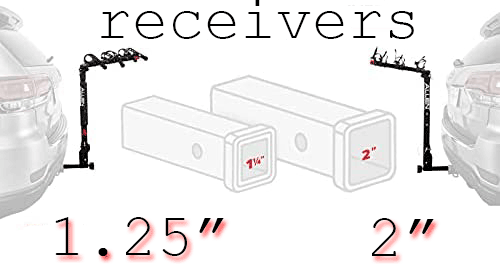 Tire Grab vs Frame Grab on Platform Racks
Tire grab platform racks use one or two hooks with straps to lock the tires in place on a platform rack. They are excellent because there is no contact with your frame, making them ideal for carbon frames.
Frame grab systems use a hook to lock the frame in place. Their downside is the frame contact, but they have broader compatibility as they aren't limited by wheelbase, tire width, and wheel size.
Hanging vs Platform
Hanging hitch racks are cheaper than platform options and generally support many bikes. However, they are often limited by frame shapes and sizes, requiring adapters to fit non-horizontal frames. They support the bikes with one or two arms that cradle the frame.
Platform bike racks are the most versatile and heavy-duty. However, they require more space than hanging racks because the wheels are secured in wheel trays, not held by the frames. Tray bike racks also take up more space at the vehicle's rear than hanging hitch racks.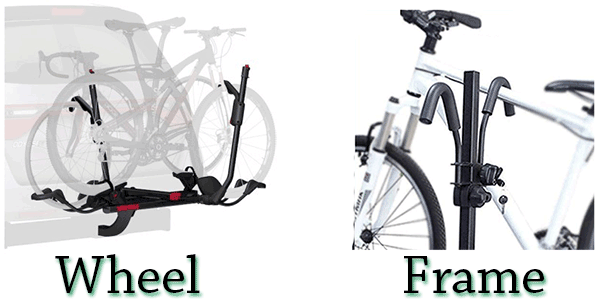 Platform Rack PROs
Easy loading and unloading.
Stable (most hitch mounts have an anti-sway system).
High carrying capacity (up to four bikes).
High weight capacities (up to 80lbs per bike).
Locking features.
Tilt away to access the rear of the vehicle (sometimes with a fully loaded rack).
Mostly foldable for convenient storage.
No-frame contact options are available (grabs the wheel).
CONs
Fat bikes need an adapter on some racks.
The increased length of the vehicle (+width in some cases).
Very heavy.
Difficult to access the trunk on some models.
Require a hitch.
They can be inconvenient to install.
Bikes get dirty driving on dirt roads.
Hanging Rack PROs
Affordable hitch rack.
One rack can fit up to 5-6 bikes.
Lighter than platforms.
More compact for storage and transportation.
Extra security features.
CONs
The 4 bike hitch rack has often limited space between the bikes
Bikes may sway while driving
Bikes may scratch the car paint
Adapters needed for some frames like kids', womens', and MTBs (see accessories below)
Wheels might start to spin while driving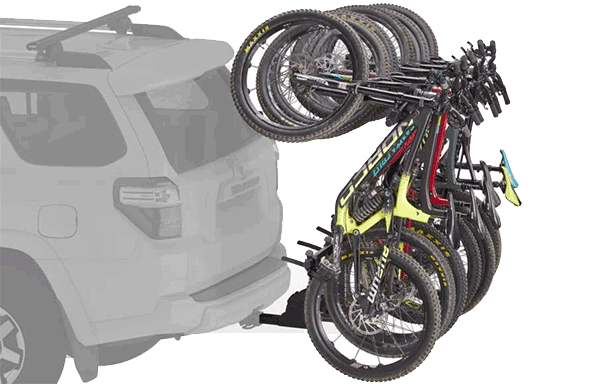 Roof Bike Racks
---
Fork Mount / Tire Mount /  Frame Mount
Bike roof racks are generally very secure, simple to use, and don't require regularly mounting and unmounting the carrier.
There are a few methods to attach a roof rack depending on your vehicle. Many vehicles have crossbars or mounting points, which make installation easy. However, retrofitting these mounting points can be very expensive and deter people from using roof carriers.
There are two ways to attach the bike with these racks, with the front wheel attached (frame/wheel straps) or by removing it (fork attachment), making the process easy or inconvenient.
PROs
No hitch needed
More secure than trunk bike racks
Bike & rack can be locked in most cases
Accessibility to the trunk
No rear vehicle visibility issues
Doesn't extend the vehicle length
Can be used next to a roof box
Lightweight
Affordable
CONs
One rack per bike
Increased height limits access to low-clearance areas like parking lots
Heavy bikes are difficult to load
Slight aerodynamic drag
Crossbars or mounting points required
Models which require front wheel removal are inconvenient
Trunk Bike Racks
---
Boot mount / Hatch mount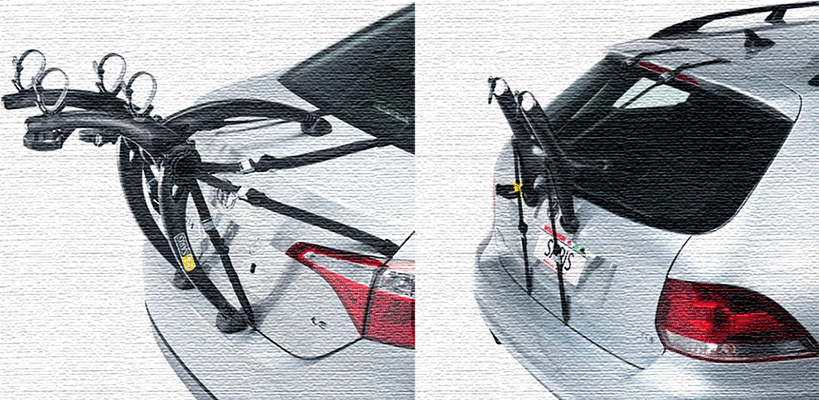 Trunk (boot) bike carriers are consistently the cheapest and lightest racks you will find.
They use four or six straps with hooks to mount to the trunk door, along with two arms to support the bike frames. Their design makes them the ideal bike rack for hatchbacks and a great bike rack for minivans.
Bikes hang from the top tub on two cradle arms that stick out at the vehicle's rear. As the hooks are the only attachment point, these racks shouldn't be left unattended.
The lightweight build of trunk-mounted racks makes them quite unstable. Additionally, they often require top tube adapters and have low weight capacities. Further, the hooks on some models can scratch your vehicle paint.
PROs
Cheap
Lightweight
Quick installation and removal once you get used to it
No need for a hitch mount or crossbars
Easy to load
Broad vehicle compatibility
CONs
Unstable
Low weight capacity
They often scratch the car paint
Limited or no accessibility to the trunk
Little to no security features
Suitable only for short to medium journeys
Truck Bed Bike Racks
---
Pickup truck bike racks come in four unique options, making transporting bikes effortless. These racks are usually affordable and high-capacity but are just for truck owners.
The most common racks are tailgate pads and truck bed racks that attach to the truck bed's floor or wall. Some of these racks can hold up to seven bikes. The main limitations are the truck bed size, not the weight capacity.
Tailgate pads are heavy-duty material that allows you to rest the bike's fork over the tailgate and secure the bike to the pad. Otherwise, the three racks include a fork mount, wheel mount, or side clamp rack. Each model has its pros and cons, but they're all convenient and secure.
PROs
Can fit up to 7 bikes
Affordable
Quick and easy to install
Sturdy
No extra mounting points needed
Broad compatibility with bike shapes, sizes, and weights
CONs
Heavier bikes can be challenging to load and unload
Limits the storage in the truck bed
Extra security measures are required (locks/cables)
Spare Tire Bike Racks
---
a.k.a 5th wheel bike racks
A spare tire carrier is the perfect bike rack for SUVs with no hitch. They function similar to a hanging hitch rack, using two cradle arms to support the bike frame.
Although, these are relatively uncommon due to the small number of vehicles with rear-mounted spare tires.
They are affordable, easy to set up, and simple to use, making them an excellent choice when your options are limited.
The disadvantages of these racks are the limited carrying capacity (two bikes), you must remove the tire wheel covers, and they extend your vehicle's tail.
PROs
The only option available for Jeep Wrangler and similarly designed vehicles
Lightweight
Easy to set up
Easy to load and unload
Security features available
CONs
Limited to one or two bikes
Lower weight capacity
Must remove the wheel cover
Extra rear-vehicle clearance needed
RV Racks
---
Vertical & Platform
Many popular hitch-mounted carriers are compatible with RVs and function perfectly as camper trailer bike racks.
Because of the considerable distance between the driver and the rack, the limited visibility, and the extra clearance, the manufacturer must specify RV compatibility to ensure safety.
Brands like Swagman and Hollywood Racks offer RV-specific models with very high capacity and broad bike compatibility.
Motorcycle Bike Racks
---
Yes, you can even add bikes to your motorcycle. Check out 2x2cycles.com for more.
The brand 2×2 Cycles sells unique products that allow motorbike riders to take their bikes on adventures.
They are a US-based company that makes handbuilt racks for carrying different sports equipment, including bicycles, all covered by a lifetime guarantee. These carriers are affordable and easy to use.
The additional benefit of these products is that you don't need to drive a gas-heavy truck to transport your bike from place to place now.
3

. Accessories
---
Tension strap
These straps are essential for any racks where the bike hangs from the frame. They stop the wheels from spinning while you drive.
Frame adapters
Most racks that hold the bike by the frame just fit horizontal top tubes. This limitation means kids' bikes, step-throughs, mountain bikes, and other styles require an adapter to sit on the cradles correctly.
Another frame adapter is for platform racks to stop direct frame contact with the securing hooks, as pictured below.
Which type of bike rack is best for fat tire bikes?
In general, platform racks are the best equipped to carry fat bikes. They often have wide capacity wheel trays which fit up to 4.8 or 5 inches. For small capacity wheel trays, purchase a fat-tire adapter.
Which type of bike rack is best for electric bikes?
Again, platform hitch racks or trunk bed bike racks are the best choices to carry e-bikes. These racks have the highest weight capacities, which is essential as the average electric bike weights over 50lbs, the upper limit of most bike racks.
Read more > Electric Bike Racks
Which type of rack is best for hauling longer wheelbase bikes?
Specific bike racks are suitable for long wheelbases, such as cargo bike racks or recumbent bike racks. The brand Hollywood Racks sells this type of carrier. However, these are only available in hitch-mount platform racks.
Cargo carrier with bike rack
It's possible to find a 2-in-1 cargo carrier and bike rack combination online from brands like Tow Tuff or Apex.
Some models can carry cargo and bikes simultaneously using a system like a hanging hitch rack; others just fit bikes in place of cargo.
---
4

. FAQ & Recommendations
---
Which is the best bike rack for SUVs?
There is no specific best bicycle rack for SUVs. SUVs come in various shapes and sizes and with or without hitch receivers. The way to find out if a bike rack is suitable for you and your vehicle is to consider the five criteria we noted in the introduction.
Additionally, you can consult any manufacturer's fit guide such as these:
Where's the best place to use the rack on a car?
The best place to use a bike mount for cars is in the vehicle's rear, as five of the six styles are mounted there. However, for some riders, a roof bicycle carrier is very convenient.
Which is the best mountain bike rack?
Platform bike racks with wheel-grab security are the best style for carrying mountain bikes because the frame shapes and suspension can get in the way of a frame grab system and limit compatibility. 
When looking for a rack, ensure your bike's wheelbase, tire width, and wheel diameter fit on the wheel tray (you may need a wheel tray adapter on older models). 
Are suction cup bike racks worth the money?
Suction cup bike racks are the last available option among traditional racks. They do leave marks on the car and are not as safe or convenient.
Products like the SeaSucker Talon (4.5/5 stars on Amazon) are affordable and highly rated by hundreds of users.
Can you carry bikes with a Cabrio/convertible car?
You'll be needing a custom set of roof racks (pictured) installed on the boot or simply get a boot-mount bike rack only if the roof doesn't fold in the trunk.
---
Let us know in the comments if you agree or disagree with some of the points. If you have an awesome rack you are extremely satisfied with, feel free to let us know and we can cover that here!
Read next
or,