Best Trunk Mount Bike Racks
These best trunk-mount bike racks are the go-to solution for transporting your bicycles in terms of convenience and price.
These carriers are the easiest to install or remove from your vehicle and require the smallest amount of setup once your bikes are loaded. Because the weight is primarily supported by the tension in the straps, trunk bicycle carriers are also the lightest compared to all other types of bike racks for vehicles.
Other benefits include:
No-hitch installation
Broad compatibility that isn't limited by wheel sizes
More compact folding for storage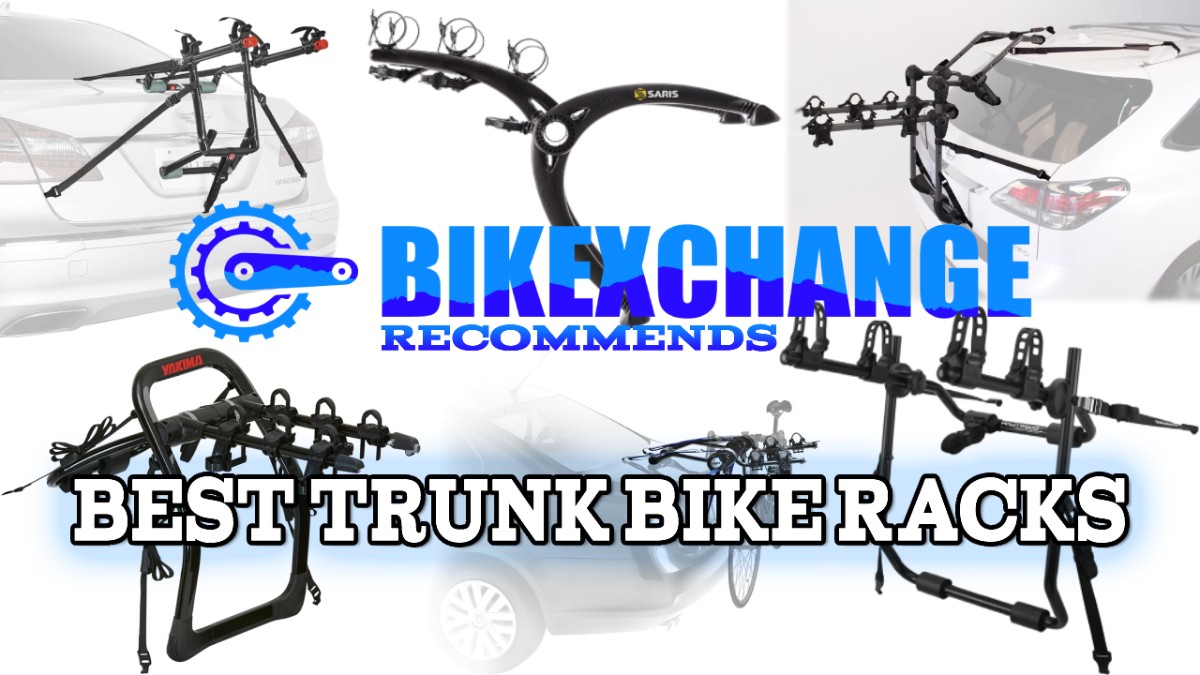 Their lightweight and simple design limit the functionality. Trunk racks are not very stable/secure compared to hitch racks and they also don't last as long.
The trunk bike rack comes in many shapes and sizes, with various functions to match. This article will cover models between $69 and $349 from well-established manufacturers, including Saris, Allen, Yakima, Thule, and Hollywood Racks.
From this selection of 11, choose between two, three, and four-bike models. Before making your choice, consult the manufacturer's fit guide to ensure your vehicle fits, and finally, be aware that non-horizontal top tubes may require an adapter to work with these carriers.
---
11 Best Trunk Bike Racks of 2023
Saris – Bones
Allen Sports – Deluxe 🏆
Allen Sports – Ultra Compact
Thule – Passage 2
Thule – Gateway 3
Yakima – FullBack 3
Yakima – HalfBack 3
Hollywood Racks – Over-The-Top
Hollywood Racks – Express Trunk Mounted
Hollywood Racks – F4 Heavy Duty 4-Bike
---
Saris Bones
The Saris Bones 3-bike trunk mount bike rack for cars is an excellent choice for its lightweight, sturdy design, and protective features.
This carrier is convenient to use and can be installed on most cars and SUVs, with a helpful fit guide available on the Saris site to ensure your vehicle fits.
Its unique arc-shaped build has both aesthetic and practical functionality, as it separates your three bikes on different levels. This separation, alongside coated frame straps, helps protect your bike from damage. In addition, the anti-sway properties of the straps eliminate movement in transit.
The other main feature of the Bones 3 is the rubberized feet that attach to your vehicle in seconds, protecting the paint. Finally, this rack is made using 100% recyclable materials.
Adapter needed for non-horizontal top tubes
35lb p/bike
Weight: 12.2 lbs
The PROs:
Unique arc-shape keeps bikes separated more effectively, anti-sway properties, broad vehicle compatibility.
The CONs:
No security features, an adapter needed for some top tubes, doesn't work well with spoilers.
The SUM:
A sturdy and effective rack with broad compatibility for vehicles but limited to horizontal top tubes unless you purchase an adapter. Slightly overpriced.
---
Allen Sports Deluxe 2-Bike Trunk Mount Rack, Model 102DN-R , Black
Allen Sports' Deluxe 2 bike trunk mount rack is one of the cheapest options on the market despite being from a well-established, reputable rack manufacturer.
The Deluxe is very lightweight; it fits on a wide variety of vehicles, including minivans, sedans, SUVs, hatchbacks. This simple setup makes it quick and easy to install the Deluxe, and Allen Sports has a helpful installation video for reference.
To protect your bikes, Allen Sports designed this carrier with an individual tie-down system and two side straps to stop any movement while you're driving. The padded frame material also keeps your vehicle free from scratches.
Finally, this two-bike carrier folds flat for neat storage when you're not using it.
Weight. 7.5lbs
70lb max (35lb/bike)
The PROs:
Super lightweight and budget-friendly.
The CONs:
Complicated to setup, limited top-tube compatibility, and metal hooks can scratch vehicle paint.
The SUM:
The most affordable bike rack performs as expected, perfect for storage and transport as it is light and small.
---
Allen Sports Ultra Compact
Allen Sports Ultra Compact trunk-mounted bike rack is another budget-friendly choice with decent compatibility and a neat design.
This Allen carrier works with most small to medium-sized vehicles, including SUVs and minivans. First, however, consult their rack finder guide to ensure your vehicle is compatible.
This lightweight product can support up to 70lbs for two bikes as it is built using high-strength steel. The dual-compound locking cradles secure the bikes and keep them steady. In addition, the straps on the left and right eliminate sway while you drive.
Another notable design feature is the lower frame. It is made to stop bike-to-vehicle contact and is padded where it touches the vehicle. Finally, the ultra-compact size of the folded unit makes for headache-free storage and transport.
Weight: 6lbs
70lb capacity
The PROs:
Ultra-lightweight, cheap, and folds up into a neat package.
The CONs:
Not very sturdy, better for light bikes, no security features are included.
The SUM:
Very affordable solution with a conveniently compact design, perfect for light use.
---
Thule Passage 2-Bike Trunk Rack
4/5 out of 21+ ratings
MSRP: $160
REI Co-op
Thule's Passage2 is a two-bike rack for car trunks. This affordable transportation solution is compatible with various vehicle styles, so check their buyer's guide for confirmation before purchase.
Some key design features stand out when considering the Passage 2. Soft rubber frame cradles keep your bike secure while you drive. The cradle arms are close together to fit a variety of bike frames, including kids' bikes. In addition, the anti-sway design stops bike-to-bike contact.
To install the rack, Thule has patented a 'FitDial' system. This 6-strap system ensures a super-simple setup. Once in place, the vinyl-coated straps and cushioned pads hold your vehicle firmly without scratching the paint.
Finally, you can fold the rack up into a small package for storage when you're done using it.
Weight: 9.6lbs
35lb p/bike
Step-through frames require an adapter
The PROs:
Doesn't scratch bike paint, effective anti-sway functionality, and intuitive setup with FitDail
The CONs:
Difficulty fitting smaller bikes, adapter required for step-through bikes.
The SUM:
An affordable Thule bike rack that is easy to use and sturdy, however, compatibility isn't the best.
---
Thule Gateway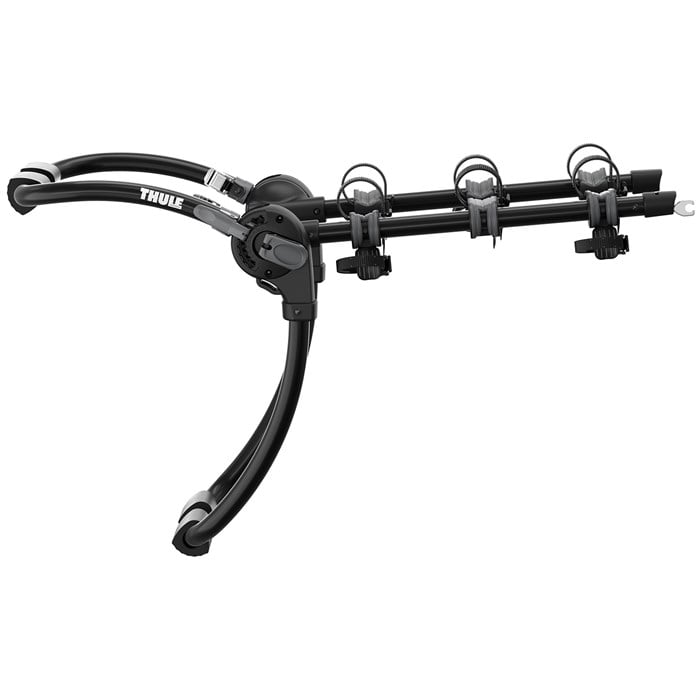 MSRP: $250
evo.com/
The Getaway Pro 3 is a mid-range Thule trunk bike rack with some helpful upgrades to the cheaper Passage mentioned above.
This carrier weighs almost 15lbs but supports an extra bike totaling 105lbs. It is designed to be easy to carry, transport, and install, however, users report it's more difficult to install than expected.
The Getaway Pro holds three bikes with 7″ of space between them to keep your bikes from touching each other. The bikes quickly attach to the rack with the ratcheting straps on the cradles.
You can adjust both cradle arms to fit various bike shapes and sizes. In addition, they fold down when you are finished using the rack.
For installation, there are six straps to minimize sway. These straps have padded hooks to protect your vehicle's paint.
Finally, Thule's Getaway Pro also has an integrated cable lock that allows you to lock the bikes to the rack.
7″ space between bikes
Max capacity: 105lbs
Lifetime warranty
The PROs:
Integrated cable lock, adjustable cradles arms for different bikes, and lots of spacing between the bikes.
The CONs:
Particularly difficult to install, not very stable considering the high price.
The SUM:
A good rack in terms of the security features and compatibility, however, slightly overpriced.
---
Yakima FullBack 3-Bike Trunk Rack
MSRP: $279
REI.com/
Yakima's FullBack is a three-bike trunk-mounted bike rack. This model puts a modern spin on the traditional strap rack making it more secure, stable, and easier to use.
The FullBack utilizes SuperCush ZipStrip cradles to hold up to three 35lb bikes. These cradles make for effortless loading and unloading. Once loaded, the ZipStrips secure the bikes, and they can be removed to create space when you're not using them. Additionally, Yakima designed the cradles to be anti-sway.
Installation of this carrier can be done in seconds thanks to the interlocking hub that aligns the adjustment points, a reduced four-strap configuration, and the number dial to match the strap tension.
A final important feature of the FullBack is the Same Key locking system that secures the rack to the vehicle and the bikes to the rack to avoid theft.
3 bikes
35lb p/bike
Weight: 21lbs
The PROs:
Interlocking strap hub and number dial make installation effortless, great security with SKS locking.
The CONs:
Heavy for a trunk rack and hard to maneuver, relatively bulky.
The SUM:
A highly stable and secure trunk rack, with extra security features but at a high price.
---
Yakima HalfBack
MSRP: $160
REI Co-op
The HalfBack by Yakima is an affordable alternative to the FullBack described above. This model has most of the same features, without the SKS locking, anti-sway, or the number dial setup.
This three-bike trunk-mount rack is also easy to install, secure, and compact. Using four individual straps with an interlocking hub, you can install the HalfBack in a couple of minutes. Once installed, the padded frame helps keep your vehicle free from scratches.
The same SuperCush cradles hold up to three 35lb bikes. The removable ZipStrips are then used to hold the bikes in place. Finally, like all Yakima racks, the HalfBack comes with an integrated bottle opener and folds up neatly when not in use.
35lb p/bike
Weight: 20lbs
3-bikes
The PROs:
Sturdy, interlocking hub makes installation straightforward, protective cradles and frame.
The CONs:
Weight makes it hard to install.
The SUM:
Excellent price option with a secure, protective, and easy-to-use design.
---
Hollywood Racks Over-The-Top Trunk Mounted Bike Rack

The F2 Over-the-Top is the best trunk mount bike rack available from Hollywood Racks.
This model can carry up to three 35lb bikes with regular horizontal top tubes. However, you must purchase an extra adapter to use this carrier with kids' bikes, ladies' bikes, and some MTBs.
Hollywood Racks chose the name 'Over-the-Top' because of its unique ability to fit SUVs, sedans, hatchbacks, and minivans that have spoilers. It does this with a high-rising frame that stops the straps from touching the spoiler, potentially making it come loose.
This rack is slightly heavy for a trunk rack (21lbs), but this is necessary because of the extra height. It has removable hatch anchors and quick-connect straps that make it effortless to install.
Lastly, the F2 OTT has anti-sway side cradles to stop movement in transit and rubber feet to protect your vehicle's paint. Additionally, it can fold flat for storage or transportation.
35lb p/bike
Weight: 21lbs
Load capacity: 35lb
Lifetime warranty
The PROs:
Robust and secure build, excellent vehicle compatibility, straightforward installation.
The CONs:
Too expensive for a trunk rack, heavy, limited bike compatibility.
The SUM:
A heavy-duty trunk rack built for stability, however, is overpriced considering the limited bike frame compatibility.
---
Hollywood Racks Express Trunk Mounted Bike Rack
The Express two-bike trunk carrier is Hollywood Racks' most affordable, no-frills choice.
This lightweight model is compatible with most vehicles, including SUVs, hatchbacks, sedans, and minivans; however, check the trunk rack fit guide to be sure it fits your car. Installing the Express is easy thanks to it its simple adjustment hubs.
The cradles and the bike straps have a protective rubber coating to avoid paint damage to your bike. In addition, there is an extra integrated strap for tieing both bikes once you lock them onto the cradles.
Finally, the Express folds flat for convenient storage when you're not using it and comes with a limited lifetime warranty.
Weight: 10lbs
Capacity: 35lbs
The PROs:
Lightweight, simple to install, and fits a broad range of vehicles
The CONs:
Difficult to mount the bikes, can scratch vehicle paint.
The SUM:
A good rack for the cheap price tag, nevertheless, not very sturdy.
---
Hollywood Racks F4 Heavy Duty 4-Bike
4 .2 / 5 out of 500+ ratings
MSRP: Check on Amazon
The F4 trunk mount bike rack for SUVs, sedans, hatchbacks, and minivans is the mid-range model from Hollywood Racks. Use their Fit Guide to ensure it works for your car.
The steel build of this bicycle carrier makes it perfect for heavy usage, supporting up to 140lbs (four 35lb bikes). Each connection point with the vehicle is padded or coated in rubber to eliminate paint damage.
To ensure compatibility with all frame shapes (including womens', kids', and some mountain bikes), you may need to buy the top-tube adapter sold separately.
Once your bikes are on the cradle, fix them there with the integrated strap which wraps around the frames. Finally, the F4 folds flat for storage when it's not in use.
Weight – 17lbs
Capacity – 35 lbs
The PROs:
Durable steel design, stable when loaded, and protects your bike and vehicle paint.
The CONs:
Requires adapter for some frames, tricky to install, too small for four regular size bikes.
The SUM:
A reasonably-priced 3/4 bike carrier with a stable design, but it takes time to get set up.
---
RELATED Reviews