Best Fat Tire Bike Racks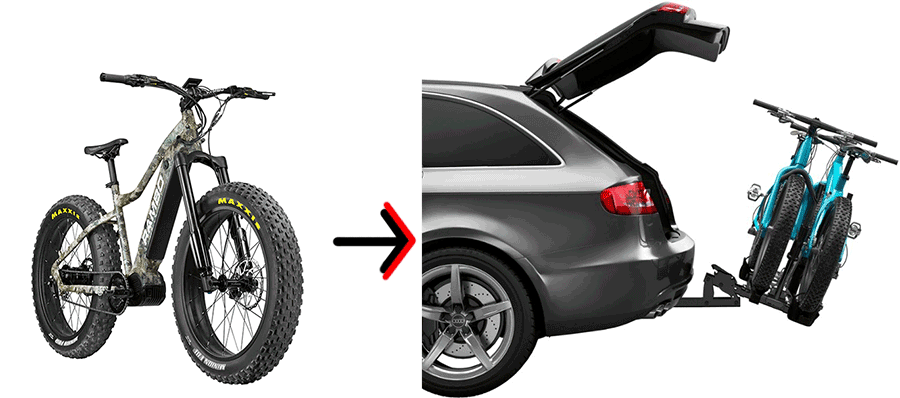 A fat tire bike rack is an essential tool to help keep your bike safe while you transport it. These racks are designed especially efficient heavy bikes with oversized tires.
A bike carrier for fat-tire bikes must be able to fit tires measuring 3.8″ to 5″ in width. Thankfully, due to the popularity of fat bikes, there are many manufacturers who are currently producing this type of rack. In this article, we have put together a list of the best models for both fat-tire e-bikes and regular fat-tire bikes.
Below we have listed and reviewed a bunch of bike racks which
– Fit Bikes With Tires 4.8″ – 5″ Wide
– High Weight Capacity (50-60lbs p/bike) + To carry eBikes as well
---
---
Best Fat Tire Electric Bike Racks
Electric bikes often come with oversized wheels, especially more affordable commuter e-bikes.
An eBike car rack usually has different dimensions, higher weight capacity, and more versatile attachments than regular alternatives. This is essential because e-bikes and be very heavy and they are much more varied in their shapes due to the weight and placement of electronics.
---
QuietKat Design 1UP Bike Rack
100% Designed & Manufactured in the USA
QuietKat's 1UP bike rack is a high-quality bike rack designed to keep heavy e-bikes safe and secure in transit.
This rack is really easy to install and even easier to use. Simply place your bike on the rack and secure the wheels with the arms which attach without touching the frame.
Other great features of this rack are the tilting ability so you can access the rear of your vehicle quickly, a compact folding mechanism, and highway capacity (80lbs per bike). Finally, you can add up to two rack add-ons to carry three bikes at once.
Fits a 2″ standard receiver on most vehicles
Fits wheels: 16″ – 29″
Rapid tilt and folding mechanism for a smaller footprint
All bike rack parts are anodized, except a powder-coat finish on the trays
100% Designed and manufactured in the USA
Carry up to three 80lb eBikes safely and securely
Rapid tilt and folding mechanism for a smaller footprint
Bike Rack arms close to secure tires without touching the frame
Weight: 28lbs / Shipping Weight: 30lbs
---
Rambo Bikes Hitch Hauler
MSRP: $400
Rambo's Hitch Hauler bike rack for fat tire eBikes is another affordable option that is highly versatile fitting two bikes the standard rack.
This fat tire bike rack platform has universal top clamps and an adjustable base for different wheel sizes and wheelbase lengths.
When not in use, you can fold up the hitch hauler for easy storage. Additionally, it has a pivoting feature that allows users to open their tailgate or hatch while the rack is attached to the vehicle. Finally, this bike fits almost all wheel sizes and widths.
Fits 2 bikes
145lb weight capacity
Fits 2″ receivers
All bike sizes – 16″ – 29″
5″ wide
---
Hollywood Racks Sport Rider Ebike Hitch Rack
MSRP: $500
The Hollywood Racks has been a go-to choice for Rad Power Bikes for a while. This e-bike rack features a slightly different connection point from the rest, which allows to use electric bikes with fenders.
As you can see from the product image – you will be needing a frame adapter for non-standard frames.
Maximum wheelbase: 60″
Fits 2″ hitch only (Do not use an adapter)
Max: 80lbs per bike
3″ – 5″ width depending on the model
No-wobble hitch system
Space between bikes: 18″ – RadWagon 3 Edition / 10″ – 2021 Edition
---
KAC Overdrive Sports K2
MSRP: Check on Amazon
KAC Overdrive Sports K2 fat-tire eBike carrier is a sturdy two-bike hitch-mount rack.
The K2 uses a patented anti-wobble hitch lock that stops movements while you travel and keeps your bikes safe. While attached the bikes are held in place with padded clamps and a locking knob.
A great feature of this rack is the quick-release tilt that allows you to access your trunk easily. This model has a slightly lower weight capacity at 60lbs per bike which may not be enough for some e-bikes.
Finally, the K2 is highly adjustable and versatile fitting almost any bike no matter the wheel size, frame shape, or components.
Max weight: 120lbs
Max wheelbase: 54″
Max tire width: 5″
Weight: 45lbs
Anti-wobble system
Locking hitch pin
---
Saris MHS 1-Bike Tray
MSRP: $350
Saris' MHS 1-Bike tray is a premium choice with lots of features that make transporting your bikes easy, convenient, and secure.
The MHS DUO is versatile and easy to use. The spacious wheel trays fit tires up to 5″ and keep them in position using dual-arm holders so as to not damage your bike's paint. The rack can also be tilted away but fully loaded so you can access your trunk easily.
The design of the MHS tray also makes loading and unloading very easy without the need to lift the bikes over the rack. Finally, this rack has complete security with a built-in cable lock.
1-bike
Weight: 33lbs
Attachment point: Wheel
Capacity: 60lbs
20-29″ wheels
Wheelbases up to 53″
---
HYPERAX Volt 2
E-Bike Hitch Mounted Bike Rack Carrier

MSRP: Check on Amazon
The HYPERAX Volt 2 is a high-quality rack that can carry two bikes.
The Volt 2 has all of the important features of a great rack. This includes a tilt function for easy trunk access even while the rack is fully loaded, high-capacity up to 140lbs, versatile compatibility, and reliable security.
To keep your bike in great condition the rack has soft rubberized hooks and reflective Velcro straps to secure it in place, dual key locks to keep your bike from being stolen, and adjustable wheel holders.
Finally, you can hang your rack on the wall of your garbage when not in use due to the integrated wall mount hooks.
Max wheelbase: 58″
Max tire width: 5″
70lbs per bike
Total weight capacity: 140lbs
Fits 2″ receivers
Secured by a 1/2″ anti-wobble pin and a key lockset
---
Best Fat Tire Bike Racks
---
Kuat NV 2.0
MSRP: $849
The NV 2.0 is one of the best-selling bike racks online with very good feedback from almost all of its users.
The Kuat bike rack fat tire model has heaps of features that make it super secure including an adjustable front tire cradle system, an intuitive release front tire ratchet with a hitch lock, integrated cable locks, and a rear tire strap that protects the wheels.
The system is also very easy to use because of the ability to pivot the rack with foot assist and the no-tool install design with a hand-tight hitch cam. Finally, the unit isn't compatible with RVs and it only fits 4.8″ instead of 5″ wide tires.
Updated ratchet arm
Trail doc bike stand included
Rear tire strap is co-molded to help protect wheels
No-tool install
Hand-tightening hitch cam system
Can be extended from 2 to 4 bikes with an add-on (Not included)
Hitch lock included
Cable locks for the bike
Loaded tilt
Weight: 52lbs
---
Thule T2 Classic
MSRP: $550
Swedish brand Thule is recognized for products with exceptionally high-quality products and their T2 classic fat tire bike rack hitch is a great example of this.
The T2 can secure your bikes very fast without twitching touching the frames due to the frame-free ratcheting mechanism and a SnugTite lock. Additionally, you can ensure the bikes don't interfere with each other by adjusting it so there is generous spacing between the mounts.
Other features of this rack include easy easy trunk access as the rack tilts away from the vehicle with a lever and a wide range of support (20 – 29" wheels and up to 5" tires).
Not for use with front fenders
Fits: 2″ & 1.25″ receivers
Weight Capacity:
1.25″ receiver – 100lb
2″ receiver – 120lb
Fits 20″ – 29″ wheels, 5″ thick
Weight: 57lbs
With a Thule T2 Classic Bike Add-on, bike capacity can be extended to 4 bikes
SnugTite Lock (STL) – locks the rack to the receiver
---
Yakima EXO DoubleUp 2-Bike Hitch Rack
MSRP: $500
The Yakima EXO DoubleUp fat tire bike rack for cars is a reliable hitch-compatible model that can support up to two bikes.
This is a relatively cheap rack by a popular brand and it can't be tilted which is why there is a cost-saving. This lightweight rack connects in seconds tool-free with the purchase of an extra part (EXO SwingBase or EXO TopShelf).
StrongArm hooks are used to attach the bikes' front wheels to the rack. This protects the paint on your bike and stops carbon frames from interfering with each other while attached to the rack.
Finally, this rack is widely compatible and can accommodate disc brakes, thru-axles, and full suspension bikes weighing up to 50lbs each.
Weight: 37lbs
Max weight per bike: 50lbs
Fits 2″ receivers
Fits kids' bikes, and 20″ – 29″ wheels
4.8″ wide
Carbon, aluminum, road, hybrid, fat, downhill
Locking SpeedKnobs
StrongArm hooks
SKS locks – basic
---
Thule T2 Pro XTR 2-Bike Hitch Rack
MSRP: $700
Thule's T2 Pro XTR is a heavy-duty, versatile bike rack designed to keep your bike in perfect condition no matter where you take it.
This Thule fat tire bike rack fits almost any type of bike weighing up to 60lbs without putting the frame at all. The T2 Pro attaches to your car's 2″ hitch without the need for tools. When you're not using it, the system has wheels to help you maneuver it and can fold up when not in use into a compact package for storage.
Additionally, a convenient lever allows you to tilt the rack down for easy rear vehicle access, there is an integrated cable lock to secure the bike to the rack, along with generous spacing and side-to-side adjusting to stop your bikes from touching.
Fits 20″ – 29″ diameter
5″ wide tires
Max weight per bike
60lbs
Rack Weight: 52lbs
Carries up to 4 bikes with an Adapter
Integrated locks
Locking: Integrated cable lock, and lock knob for the rack
---
Thule EasyFold XT 2
MSRP: $850
Thule's EasyFold XT 2 fat tire bike rear rack is designed to be very convenient to use and store.
The XT 2 is fully foldable which makes it great for mounting and storage. It has a high capacity which means it supports e-bikes and very heavy mountain bikes.
To attach your bikes to this rack, users can take advantage of detachable bike arms and torque limiter knobs to find the optimal tightness.
Finally, there is a large distance between the wheel holders to support bikes with large wheelbases, adjustable wheel straps (XXL kit available), a rack tilting foot pedal, and transport wheels.
Weight: 45lbs
Fits both 2″ and 1.25″ receivers
Fits long wheelbase
Folds compact
---
Swagman Fat Tire Bike Rack
MSRP: Check on Amazon
The Swagman fat tire bicycle carrier is an affordable option for those with lightweight fat bikes up to 35lbs.
This model is very easy to assemble and use taking just a few minutes to attach to your car and secure your bikes. The rack uses upright ratchet arms which can be adjusted to fit different frame sizes up to 23.2″.
Once attached, the bikes stay secure due to anti-wobble hitch technology. When you're finished using it you can easily store the rack thanks to its compact folding mechanism. Finally, in order to be compatible with fat tires over 2.7″ in width you must purchase fat tire wheel trays separately.
Weight: 28lbs
Anti-wobble hitch
Max weight capacity: 35lbs
20″ – 29″
---
Kuat Transfer V2
MSRP: $349
The Kuat Transfer V2 is a premium one-bike hitch rack and a reliable solution for transporting your bike easily and securely.
This steel rack weighs 33lbs but is highly durable and the Flatlock hitch cam is incredibly stable during use. In addition, the Transfer V2 has a semi-integrated locking cable for added security.
The Transfer V2 is widely compatible with 5″ tires, 18 to 29″ wheels, 50″ wheelbases, and both common hitch receiver sizes. Finally, you can purchase an add-on to turn this into a two-bike rack.
1-bike rack
60lbs per bike
Wheel attachment
---
Truck Bed Fat Bike Racks
---
Fat tire bike racks for trucks allow truck owners to take advantage of their extra space to safely and securely transport their e-bikes from place to place.
As many people do not live close to good bike trails, it is essential to be able to take your bike to trails that ...
A truck bed bike holder is an effective way to keep bikes locked in or secured while hanging over the tailgate or standing on the truck bed. They should be quick to install, easy to use, and versatile. This takes the stress out of transporting your bike.
Thule Insta-Gater Pro
MSRP: $279
Thule's fat tire bike rack for truck beds is a great solution for truck owners who want to transport their bike with ease.
This rack holds one 50lb bike with wheels between 20″ to 29″ and tires from 21mm to 5″ with zero frame contact and superior bike protection thanks to the ratcheting arm.
Let's be honest, we're all guilty of cramming our bikes in the car trunk or storing them in the corner of our garage ...
The rack itself has a universal fit and quick ratchet strap installation/removal that doesn't require any drilling or bolting.
Fits 1 wheel
Fits 20″ to 29″ wheels and 21mm to 5″ tires
No frame contact
---
Bike Racks Buying Guide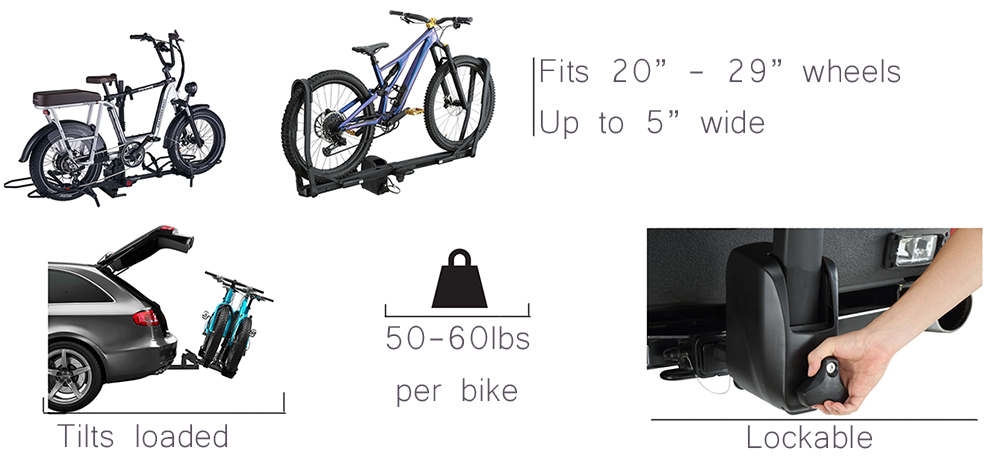 Almost all fat tire bicycle carriers are platform-type racks
No direct frame contact = Grabs the tires
Fat tire bike racks accommodate mostly 20″ – 29″ bikes (Some even fit 16″ – 29″ wheels)
*20-24″ tires might need an adapter as well as low-step and step-through frames
Most racks can be locked to the hitch, and the bikes on the rack as well.
Tilting the rack is a feature that makes using the rack so much easier, especially when you don't have to unload the bikes each time. When it comes to fat bikes, platform racks are the most convenient way to carry bikes on a hitch mount. All racks listed below are designed to carry wide tire sizes (4.8″ to 5″).
The average weight of a fat bike is generally around 30-40lbs, which should also be taken into account. The average weight of an e-bike is around 55 lbs, so make sure to choose an electric bike rack that can support your bike.
Carbon frame compatibility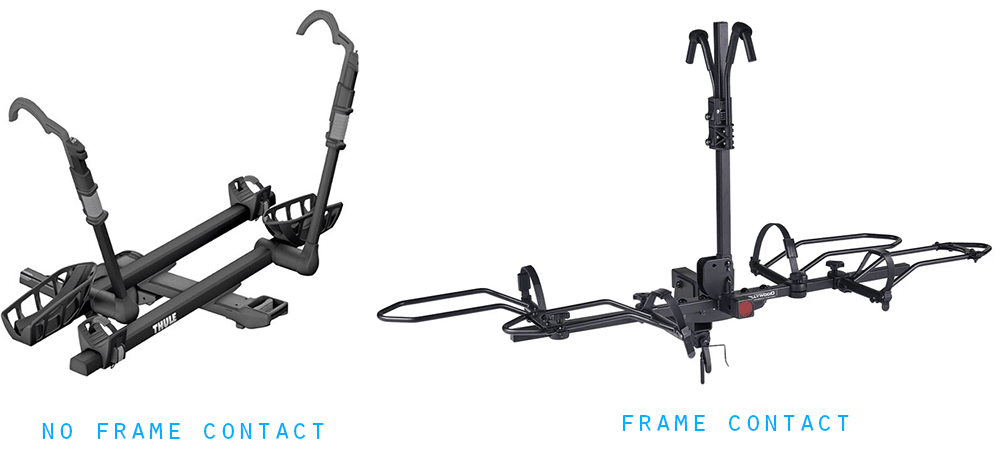 Although there aren't many carbon fat-tire bikes around, many of us will still be stacking different kinds of bikes on a bike rack.
We want to remind you that carbon frames don't like direct contact (racks tightening knobs around the frame).
Most racks reviewed above can accommodate a wide range of bikes due to the universal ratchet hook, but they might not fit bikes with fenders. The rack on the left can be used with integrated fenders but might need an adapter for low-step and step-through frames.
How to carry non-standard frames?
Step-through and low-step frame types can still be used among most bike racks out there, although many require a frame adapter that creates a diagonal space between the saddle and a handlebar.
Thankfully, most racks down below have adjustable cradles that go around the tire.
Although most fat bikes do not have fenders, there are many 3″ eBikes on the market. The Hollywood rack listed above uses a different locking method (From the frame)
Conclusion
A bike rack for electric bikes or regular bikes is an amazing tool for many riders which opens up many possibilities and opportunities for adventure.
Being able to safely at your bike wherever you want, whenever you want is invaluable and justifies the investment of one of the quality bike racks we've described above.
Depending on your budget, which type of bike, and the type of vehicle that you own, make the decision that works for you. Whichever you choose, a fat tire bike mount or rack should keep your bike safe and make your adventures more enjoyable.