Best Electric Bike Racks + Buying Guide
The electric bike sector is one of the fastest-growing areas within the bicycle industry, and with this growth comes the rise of the need for an electric bike rack for transporting the bikes using cars.
More and more people have discovered the ease of use and convenience of electric-assisted bicycles, but face the problem of transporting them by car. Unless you own a folding eBike, your only option might be a tow-bar ebike rack (otherwise known as a hitch mount bike rack).
---
Table of Contents
How To Choose
Feel free to leave a comment and help us & others for information we might've missed!
---
Convenience
Thankfully, there is a handful of useful accessories and features to make loading electric bikes onto racks much easier, for example:
A

loading ramp

Accessibility to the boot by

tilting the rack

(even with the bikes on)
Both the rack and bike(s) can be

locked
What is an electric bike rack?
Standard vs E-bike Rack
Compared to standard bike racks, e-bike specific racks for tow bars have a higher maximum weight capacity compared to standard models. This means that e-bike racks are made using more durable materials and can handle a higher weight.
If you already own a bike rack but don't want to risk the rack breaking while driving, you are better off getting a specific tool for your e-bike. The same goes for an RV bike rack – make sure to check the max load capacity and the compatibility between the vehicle and the hitch-mount.
When choosing for a rack, make sure to check if your e-bike comes with fenders or not. We have marked racks with their attachment points
Does your E-bike have fenders?
Check out the reference to choose the right type we've added under the product image
Attachment point – tire (Might NOT fit e-bikes with fenders)
Attachment point – frame (Suitable for ebikes with fenders)
---
Safety & Precautions
We strongly advise using proper gear according to its proposed usage. E-bikes tend to cost more than non-assisted bicycles, which means it is best to follow the right instructions and recommendations. If you have e-bike insurance, this is extra important as insurance companies will often only pay out if certain storage or transportation criteria are met.
* Always check the vehicles' recommended maximum weight capacity
* Follow the torque settings on the rack. If in doubt, it's better to tighten things to 'wrist tight' over 'elbow tight'
* Keep the rack keys safe, and write down the number written on the keys
* Do not use 1 1/4″ to 2″ racks with an adapter (and vice versa)
* In some states, getting a third number plate is compulsory
---
Anyway, here are the best
bike racks for electric bikes

in 2021 🏆
---
Best
Single

eBike Racks

1Up 2″ Super Duty Single
Rockymounts Monorail Solo
---
Quietkat's 1Up Bike Racks
2″ Super Duty Single
Suits most bike types without the frame-adapter
Price: from $379
QuietKat
Attachment point – tire
Number one in the single ebike racks is a high-tech product by a brand that specializes in bike racks. The Super Duty from 1Up comes in single and double sizes, fits a wide variety of wheel sizes, and is equipped with an anti-wobbling system.
Compared to other racks in this list, what stands out the most is the way bikes attach to the rack. Unlike other racks where the attachment point is on the frame, this rack can be used safely on carbon bikes as well.
If you ever ask the e-bike community how they carry their electric bike by car, the 1Up bike rack will quite often be mentioned. The brand has a different approach to racks than other companies, and has succeeded in the market thus far.
*Ships in reusable box for storage (30″ x 14″ x 8″)
*Anodized, except for a powder coat finish on the trays
*Slot for standard hitch pinholes
75 lbs per bike (Max: 225 lbs with extensions)
Fat tire adapters available
Can be increased to 3 bikes (With extra add-on adapters)
Folds down to 30″ x 14″ x 8″
Weight: 28 lbs
Max tire width: 5″
Tilts down to 30-degrees
Fits: Up to 54″ wheelbase, 16″ – 29″ wheels
---
Rockymounts
Monorail Solo
Max capacity – 60lbs
Price: $320
Jenson USA
Attachment point – tire
Here's a great example of what to expect from a basic single electric bike rack. Even though it looks heavy due to its sturdy construction, the Monorail Solo rack itself is quite light at only 25lbs.
It comes in both 1.25″ and 2″ receivers and includes lock pods and a cable lock. It's quite a basic model but has all the necessities needed to transport your e-bike safely. The Monorail Solo also folds flat against the vehicle when not in use, tilts down to 30 degrees, and has an anti-wobble bolt. All in all, it is a great rack for a single e-bike!
Best for: E-bikes and fat bikes
Includes: Locking pin and standard lock pods
Weight: 25lbs
Max tire width: 5″
Tilts down to 30-degrees
Fits: 1.25″ / 2″ hitches
---
Best 2 eBike Racks
KUAT NV 2.0
Hollywood Racks Sport Rider
Thule T2 Pro XTR
Himiway eBike Hitch
Thule EasyFold XT 2
---
KUAT
NV 2.0 Hitch Rack
REI Score: 4.7 / 5 out of 151+ ratings
Clos tire
Price: $849
REI Co-op
Attachment point – tire
Here's a serious sci-fi-looking tool that enables you to carry eBikes safely on a tow bar. Küat is a well-known name in the bike rack industry, and the NV 2.0 is no exception. Suitable for most e-bikes with 27.5″ (650b) wheels, the Küat NV 2.0 passed the anti-wobble test, and overall, they have positive feedback on many online stores.
For the 2″ receiver model, the capacity can be increased from 2 to 4 bikes. This is a premium product, inside and out. Read more reviews or watch the instruction videos from REI's page to get a full overview of the Küat NV 2.0.
Notes & Features
*20″ – 24″ wheels, BMX, and fat bikes need an adapter
*Not suitable for RVs
Max capacity: 120lbs (60lbs per bike)
Max wheelbase: 48″
Foot lever for tilting
Locking: Individual cable locks & hitch lock

Access Bike Ramp

available as an extra

Converts into a work-stand when folded up!

 🏆
Weight: 52-60 lb
Max tire width: 3″
Tilts down to 30-degrees
Fits: 20″-29″ wheels, 1-1/4″ & 2″ tow bars
---
Hollywood Racks
Sport Rider 2

Bike Rack

Attachment point – tire

Recommended by Rad Power Bikes

Price: $500
Rad Power Bikes

Attachment point – frame 🏆

Just like the 1Up, Hollywood bike racks isn't a new name in the business. Their single electric bike rack can transport even the heaviest of electric bikes. Although the Sport Rider itself is quite heavy at 60lbs, it does a decent job carrying large e-bikes with a max wheelbase of 60″ and tire width of up to 5″.

The updated version carries bikes with heavy-duty wheel holders, ratchet straps, and rim protectors. The rack uses a reinforced frame and external brace for added strength. There is also the anti-wobble system which is a must when carrying expensive e-bikes behind your car.

Another great feature of the rack is that it folds flat against the car when not in use. This is convenient as you can drive your car normally without sacrificing too much space for parking and maneuvering.

*20-inch fat bike needs a small wheel adapter
Distance between: 10″
Max 80lbs per bike 🏆
Maximum width: 5″
Maximum wheelbase: 60″
Tilts down with the loaded bike
Folds in when not in use
Weight: 58 lbs
Max tire width: 5″
Tilts down to 30-degrees
Fits: 2″ only (Do not use 1.25″ adapters)
---
Thule
T2 Pro XTR

2-Bike Hitch Rack

12″ gaps between bikes
Price: $700
evo.com
Attachment point – tire
It is hard not to love the Swedish combination of functionality and design. Thule has been around for 75 years, and they have mastered the art of transportation accessories. Their range includes roof racks, ski boxes, kayak holders, and, of course, bike racks!
The T2 Pro XTR is as professional as it sounds. Right out of the box, XTR fits fat bikes, there's a solid 12.5″ gap between the bikes, an anti-wobble pin system, and much more to rely on. When carrying E-Bikes, the max load rating of 120lbs is quite high. A further reason we like the Thule brand is their wide selection of accessories which can be added to the racks.
Accessories (extras) such as the loading ramp and one-key system are good investments in the long run!
Notes & Features
*While the capacity can be extended from 2 to 4 bikes, the max load ratings stay the same!
*Fits 20″ – 29″ wheel fat bikes up to 5″
*Can't be used on a bike with a front fender
*Ratchet fits 20″ bikes at minimum
*Write down the number marked on keys in case you should lose them
Maximum capacity: 120lbs (60lbs p/bike)
Locks: Cable & knob
Capacity can be extended from 2 to 4 bikes
The ratcheting system is carbon-friendly
Weight: 52lbs
Max tire width: 5″
Tilts: Yes
Fits: 20″-29″ wheels, 1.25″, 2″ hitch mounts
---
Himiway
E-Bike Hitch Rack
Price: $399
Himiway
Attachment point – tire
Himiway is an eBike brand that specializes in making fat-tire electric bikes. What stands out about their brand is the vast number of accessories, and one of them is the pictured hitch rack. Made of sturdy steel, the construction on this model is simple, easy to use, overall – to do the work. There are no locks, but locking pins instead. It is a great tool to carry fat tire electric bike with a maximum tire width of up to 5″.
The Himiway ebike rack is built specifically for two of their current models which means you can compare the specs and see if that fits your bike's specifications.
Made of steel
Folding design
Easy install
Fit on 2″ receivers
Max capacity: 145lbs, 72lb max p/bike
---
Thule

EasyFold XT 2

Hitch Bike Rack
Price: $800
Thule.com
Attachment point – frame 🏆
As much as we are unbiased, we decided to include another rack by Thule.
The Easyfold XT is one of the most compact and convenient e-bike racks you can get for your e-bikes and car. unfortunately, this comes at a price. Yet while expensive, it can be easily folded down to a compact size of 31″ x 12″ x 26″. There are also wheels on the bottom of the rack for easy rolling. It also boasts other additional features such as locks (for both the bike and rack), a foot pedal for easy tilting, and pump buckles. For a perfect fit, you can gently press down on the wheel until you hear a click in order to get the bike to fit on the plate as well as possible.
Features & Know-How
*Bike arm can be completely removed and placed directly through the first bike's frame.
*A Thule Carbon Frame Adapter is a must when carrying carbon frame bikes. The rubberized strap prevents any direct stress to the frame.
*Fat bike extra allows the rack to carry fat bikes with up to 4.7″ tire width
Dimensions – 48.4″ x 25″ x 26.7″
Folded dimensions – 31″ x 12″ x 26″
Maximum weight per bike: 65lb (Total: 130lb)
Maximum wheelbase – 1300mm
Distance between bikes – 9″
Carbon frame compatible – however, it is recommended to use the carbon frame protector
Fits 1.25″ receivers / Fits 2″ receivers
Bike lock included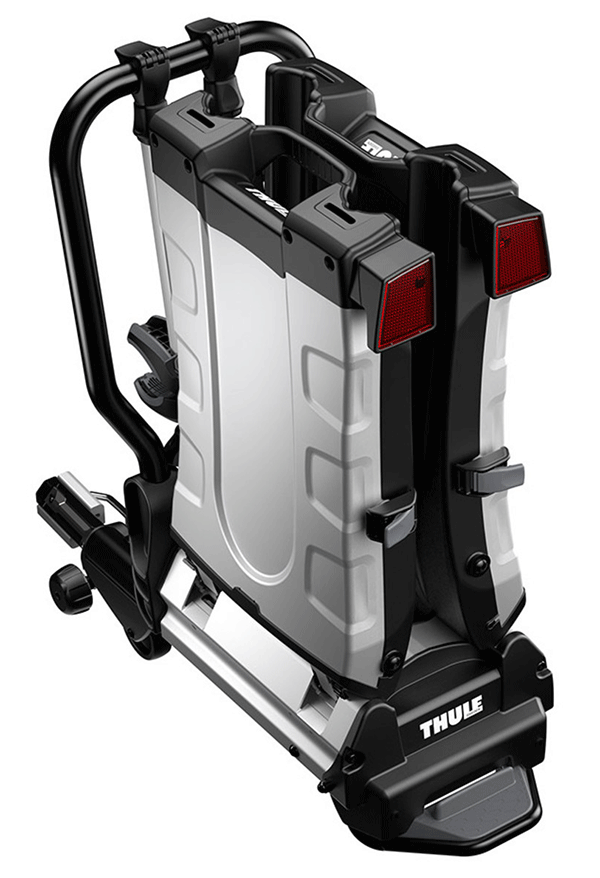 Weight: 45 lbs / max bike weight p/bike: 65lbs (Max 130)
Max tire width: 3″
Tilts down to 30-degrees
Fits: 29″ (With Thule XXL Fatbike Wheel Straps 4.7″)
---
How To Choose &
What To Look Out For?
1. Types of racks
2. Locking
3. Wheel Sizes
4. Adapters for fat bikes, step-through frames
5. Anti-wobbling system
6. Tilting feature
1.
Types
Tow bar vs roof racks
Almost all e-bike racks for cars are designed for the hitch-mount tow bar for obvious reasons – they are easy to load. Some racks, (including the Thule UpRide, pictured below) are great for carrying a lighter electric bike on the roof. Although the ease of loading the heavy electric bike to a hitch-mount bike rack makes it the most attractive rack type.
Hitch-mount (tow-bar) bike racks are heavier than racks for the boot and roof, but they also hold up two to three times more weight. Generally speaking, 60lbs per bike is the norm.
---
2. Locking
Bikes & Rack
Luckily, almost all electric bike racks reside in the mid-to-high-end quality section which means that both the rack and bike(s) can be locked.
In essence, a lock is for 'animals' anyway which won't keep away all the folks with bad intentions. In this situation, prevention is the key, and a lock (of any sort) is a must-have feature, especially if you have e-bike insurance as this will often be a condition of your policy.
---
3. Wheel Sizes & Tire Width Rack Compatibility
E-Bikes come in all sorts of shapes and sizes, and when choosing a rack for your e-bike, make sure that your bike fits within the recommended sizes for the rack.
20″ – Common e-bike wheel size for folding e-bikes
26″ – Found on cheaper electric bikes
27.5″ – A standard e-bike wheel size
29″ – Maximum wheel size
650b = 27.5″
700c = E-Fitness / E-Road wheel sizes
Fat bike tire width – 4″ – 5″
Standard tire width among electric bikes – 2″ – 2.4″
---
4. Adapters
When choosing an eBike rack – make sure to check if you need any special adaptors or attachments for bikes such as fat-bikes, step-through frames, and small wheel size bikes such as 20″, 24″.
A common extra to purchase is a step-through frame adapter
---
5.
Anti-Wobbling System
Another must-have component for high-quality racks is an anti-wobbling system which prevents the rack from moving on the hitch. Although tow bar bike racks come in two sizes (1 1/4″ or 2″ ), I'm sure we've all seen instances of unstable racks when driving down the road. Luckily, this problem can be fixed with an extra tightening knob on the bottom of the rack.
All of the e-bike racks listed down below have an anti-wobble system
---
6.
Tilting
A pivot system with a foot assist is one of the greatest features besides the locks on the rack. Most e-bike racks have quite a high load capacity, but they can still be tilted down for easy access to the boot.
---
RELATED Reviews
The Best Hitch-mount Bike Racks
Best Bike Racks for Home & Garage