11 Best-Rated Platform Hitch Bike Racks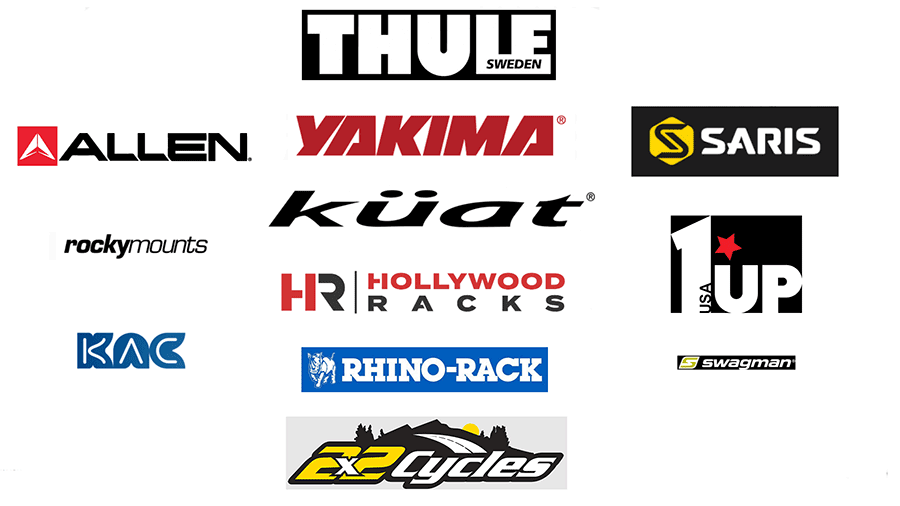 Hitch-mounted platform bike racks are often considered to be the best type of carrier because of their broad compatibility, sturdiness, and security.
The low position of these racks makes it effortless to load and unload your bikes, especially when compared to hanging hitch carriers. Quality platform racks will be durable, widely compatible with receiver sizes and bike types, stable, and protective.
In general, platform racks are slightly heavier than other types because the base is bigger to accommodate varied wheel sizes, wheelbase lengths, and heavier bikes; however, because of this, they can support more weight.
This article covers the 11 best-rated models on the market from brands such as Thule, Kuat, Saris, and Hollywood Racks. These models vary in price, functionality, and compatibility, offering something for everyone.
---
Platform Hitch Bike Racks Buying Guide
---
1.25″ vs 2″ Mounts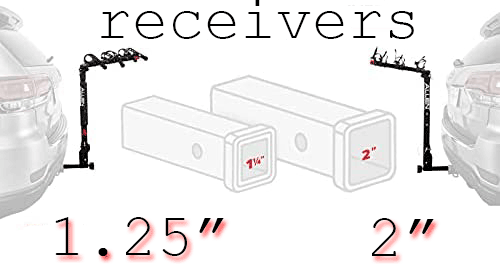 Make sure to check which hitch mount your car is equipped with. While some bike racks can be used on both, you have to look out for the adapter compatibility since *2″ specific racks cannot be used with 1.25″ and an adapter in most cases!
What to look out for?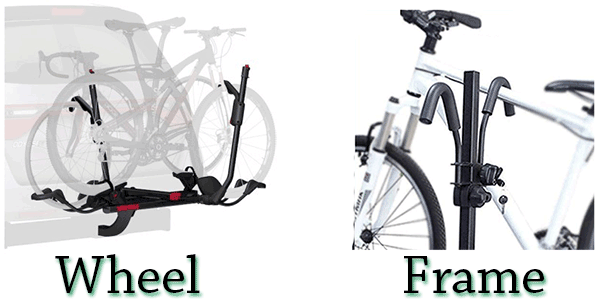 Tilting & folding – Most racks in this list can be tilted when fully loaded, and folded up when not in use.
Locking – Although most bike racks in this list can be locked – make sure to re-check each model to make sure.
Attachment points – Frame vs Wheel (Integrated fenders = frame attachment)
Tire width & wheelbase – Up to 3″ / Up to 5″ wide
Weight capacity – 30-70 lb per bike
---
BEST-Rated Platform Bike Racks of 2023
Allen Sports EZ Load
KAC Overdrive
Saris SuperClamp EX 4
Swagman XTC2
Hollywood Racks Sport Rider SE
Küat Sherpa 2.0
Küat NV Base 2.0
Küat NV 2.0
Thule T2 Pro XTR
Thule EasyFold XT 2
Yakima HoldUp 2
Related: 12 Best Bike Rack Brands
---
Allen Sports – Easy Load
The Easy Load by Allen Sports is one of the best platform bike rack choices out there for price and quality.
This two-bike hitch-mounted carrier is super easy to use and sturdy in transit. The security mechanisms include padded adjustable frame straps, a no wobble hitch bolt, and integrated cable locks.
Although the rack is securely connected, Amazon users report that the 'no wobble' hitch bolt still allows slight side-to-side movement while driving, especially on 1.25″ receivers.
The Easy Load has broad compatibility with both standard receiver sizes, 2″ and 1.25″, bicycles weighing up to 35lbs each, wheelbases up to 48″, and wheel diameters between 20″ and 29″.
Finally, this product quickly folds up into a compact package both on the vehicle and when you remove it. Additionally, it tilts down for easy access to your trunk.
Weight: 30lbs
Fits 1.25″ & 2″
Capacity – Up to 35lb p/bike
---
KAC Overdrive
MSRP: Check on Amazon
KAC's Overdrive Sport platform hitch bike rack is packed with valuable features and made to last.
Transporting your bikes safely and securely is an essential job of a rack, and the Overdrive Sport has multilayer protection to ensure that. Firstly, you have tire straps and an extra safety strap to hold the bikes tightly in place.
The hooks on this rack are padded and have a locking mechanism to help avoid theft. In addition, there is a hitch pin lock to bolster the security further and patented anti-wobble functionality that stops any sway while you drive.
KAC built this bicycle carrier to be highly compatible, fitting wheels up to 5″ wide, 60lbs in weight, and varied wheelbase lengths. Finally, the Smart Tilt feature allows you to access the rear of your vehicle quickly, and when you're finished using it, you can fold the rack up for storage.
Finally, a quick-release lever allows you to unload your bikes quickly, while the Smart Tilt feature gives you quick and easy access to the back of your vehicle with a fully loaded rack. Unfortunately, some users have noted a lack of quality in the threaded bolts used to tighten various parts of the rack, commenting on the quick degradation of the thread.
Weight: 45lbs
Load capacity: 60lbs p/bike
Fits 2″ hitches only
*RV or 5th wheel use is prohibited
---
Saris – SuperClamp EX 2 & EX 4
There are two SuperClamp EX Saris platform bike racks, a two-bike and a four-bike option. You can also check out our complete review of 4 bike rack hitch platform options.
The SuperClamp EX 2 is a premium model which easily justifies the price tag thanks to its ease of use and functionality. In addition, this carrier has a light base weight of just 35lbs, and rigorous testing ensures this Saris platform rack is built to last, and they back this up with a lifetime warranty.
One issue that has arisen for some users is excess wobbling at the hinge joint, which can come loose with frequent use.
The compact design on the SuperClamp allows you to carry your two bikes on one bar. The frame is made with rigid steel, which means you can support two 60lb bikes. In addition, it is compatible with wheelbases up to 50″, bikes with fenders, kids' bikes, and e-bikes, as well as tires up to 4″ (adapter available for wider tires).
Finally, this rack can tilt while loaded, fold up neatly for storage, and secure your bikes without touching the frames.
Weight capacity – 2 x 60lb
1.25″ and 2″ hitches
Loaded tilt and fold up
Max wheelbase: 50lbs
Max tire width: 4″ (adapter available for wider tires)
---
Swagman XTC2 Hitch Mount Bike Rack
Swagman's XTC2 is a budget-friendly and uncomplicated choice with a slightly lower max capacity of 35lbs per bike.
Despite the lower price, the XTC2 has most of the common features seen on premium platform hitch racks. The center arm of this carrier folds down when the rack is empty, so you can access the rear of your vehicle. This folding mechanism also makes it easier to store when you're not using it.
To secure the bikes, use the two padded frame hooks and rubber tire straps. Unfortunately, this model requires extra purchases to maximize its security and compatibility. This includes a locking hitch pin and security cable. Swagman also sells fat-tire wheel adapters if you have tires over 2.5″
The XTC2's lack of functionality as it is sold is a slight deterrent and results in a final price similar to other racks with these components already included in the price.
Finally, this 2-bike carrier is compatible with both 1.25″ and 2″ hitch receivers.
Fits up 29″ wheels
Capacity: 35lb p/bike
Weight: 30 lbs
---
Hollywood Racks Sport Rider SE2
The Hollywood Racks Sport Rider SE2 is one of the best platform hitch bike rack models available, and the top-selling line from the brand. In addition, the SE2 is compatible with an add-on to make it a 4 bike platform rack.
'SE' represents the brand's heavy-duty alternative to the standard model. These versions are only compatible with 2″ hitch receivers and are built more robustly, making them slightly heavier. This is the main downside reported by its users, as dealing with a 50lb rack along with heavy bikes can be a tiring task.
The Sport Rider SE2 has excellent compatibility with all sizes and shapes of bikes. The maximum bike weight is 50lbs per bike, it fits wheelbases 34″ to 60″ long (with an adapter for 72″), and it fits tires up to 3″ (5″ tire wheel trays available).
The safety features of this carrier make it stand out. They include a patented no wobble-no tools installation which eliminates slack and therefore any sway while in transit. Additionally, it comes with a locking hitch pin, integrated security cable, and locking frame hooks.
Finally, the SE2 bicycle rack also has the ability to fold down flat when you're finished using it, or to tilt down while it's loaded so you can access the trunk.
Weight: 50lbs
Capacity: 50lbs p/bike
Fits 2″
Limited Lifetime Warranty
---
Küat Sherpa 2.0
MSRP: $629
The Sherpa 2.0 Kuat platform bike rack is highly rated and feature-rich, but it comes at a premium price tag.
It's super lightweight despite all the functionality weighing just 32lbs, and although the compatibility is good, we hoped it would be slightly better considering the cost. At over $600, we feel some alternatives surpass the Sherpa's functionality and compatibility, offering similar quality at a lower price.
The Sherpa 2.0 will fit two 40lb bikes with maximum wheelbases of 47″, tires up to 3″ in width, and both 2″ and 1.25″ hitch receivers.
The design of this rack is what sets it apart. It is effortless to use thanks to tool-free installation with a hand-adjustable hitch cam. Additionally, a foot-operated pivot function allows you to unfold the rack without using your hands.
Finally, the Sherpa also can tilt while it is fully loaded, so you can access the trunk or take the bikes off more easily.
1.25″ / 2″
40lb p/bike
Weight: 32lbs
Wheelbase up to 47″
Max tire width: 3″
---
Küat NV Base 2.0
MSRP: Check on Amazon
Küat's NV Base 2.0 is another premium 2-bicycle carrier with high compatibility and excellent user-friendly features.
The NV Base is a heavy-duty upgrade to the Sherpa, weighing 52lbs. It also uses a convenient foot-operated pivot lever and tool-free hitch installation with a hand tightening system.
To secure your bikes to the rack, you have a front tire hook that can be ratcheted to close and has an intuitive release and a strap for the rear tire. Also, the rear tire strap is co-molded to prevent damage to your wheels. The extra security cable included with the NV Base is slightly shorter than desired, meaning it doesn't fit around all types of bikes.
This bicycle rack has broad compatibility, including tire widths up to 4.8″, wheelbases up to 48″, and two 60lb bikes. You can also add Küat's Trail Doc kit or a 2-bike add-on.
60lb each

2" & 1.25" hitch sizes

are available
Wheelbase up to 48″
Tires up to 4.8″
Weight: 52lbs
---
Küat NV 2.0
Score – 4.7/5 out of 183+ ratings
MSPR: $849
The NV 2.0 2-bike rack by Küat is the brand's top-end model, with all the functionality and versatility built into the considerable price tag.
Like the NV Base 2.0, you can add an extra 2-bikes to the standard NV 2.0 with the purchase of an extender. However, this add-on is only available for the 2″ hitch model, not the 1.25″.
Notable features of this bike include the integrated Trail Doc system that allows you to perform roadside maintenance, the tool-free hitch installation seen on all of Küat's platform bike racks, and the ability to tilt when fully loaded. We think the extra $100 for the Trail Doc isn't justified as the tool itself can be seen as a gimmick. If this isn't something you want, consider the NV Base described above.
The security mechanisms are also the same as the NV Base and consist of a durable front tire ratcheting strap with intuitive release, a co-molded rear strap, and smartly integrated cable and hitch locks.
Finally, this 2-bike carrier can be installed without tools and has convenient foot-operated pivoting.
60lb p/bike
1.25″ / 2″
Up to 4.8″ wide
Weight: 52lbs
---
Thule T2 Pro XTR
MSRP: $699
Thule's T2 Pro XTR hitch mount platform bike rack is an award-winning, heavy-duty choice with guaranteed quality from a reputable manufacturer.
This 2-bike rack has the best compatibility we've seen, fitting almost any bike conveniently without the need for adapters. The T2 Pro XTR fits wheel diameters between 20″ and 29″, tire widths up to 5″, and bikes weighing 60lbs without touching the frame, which is perfect for carbon fiber or full-suspension bikes.
Thule designed this product with integrated wheels, making it much easier to install. In addition, the carrier folds up quickly when you're not using it.
Attaching the T2 Pro XTR to your car is super simple, thanks to the AutoAttach system, which allows tool-free installation. Once installed, an integrated cable lock and a lock knob will keep your bikes safe from theft. That said, this rack is heavy and bulky, making it a poor choice for users who want to install and remove it regularly.
Finally, this carrier also has a HitchSwitch system which allows you to access your trunk by tilting the rack away from the vehicle even when fully loaded.
2″ / 1.25″
20″ – 29″ & 5″ wide
60lb p/bike
Weight: 52lbs
Can be extended to 4 bikes with an add-on
---
Thule EasyFold XT 2
MSRP: $850
The EasyFold XT Thule platform 2 bike rack is a fat-tire and e-bike-ready carrier with a super convenient folding design.
Thule's folding mechanism allows you to store, transport, and mount this rack quickly and easily. In addition, the EasyFold has an integrated foldable loading ramp and integrated carrier handles.
The receiver connection is highly stable thanks to a lock that eliminates movement. Once connected, you can lock the bike rack to the receiver with an additional lock included with the product.
Loading your bikes is straightforward and secure. First, place your bike on the tray using the integrated ramp, then use Thule's AcuTight limiter knob to lock down the detachable bike arms with the perfect amount of torque. Finally, secure the wheels with adjustable buckles and wheel straps.
Other noteworthy features include the smart foot-operated tilting to give trunk access when the rack is loaded and the extra distance between the bikes that allows for broader compatibility.
The primary problem users experience with the EasyFold is the distance between the bikes. Many found it difficult to place two bikes on the rack without interfering with each other.
65lb p/bike
Tires up to 4.7″
Wheel diameters up to 29″
Weight: 45lbs
1.25″ / 2″
---
Yakima HoldUp 2
MSRP: $479
The HoldUp is one of Yakima's most popular platform bike racks for two bicycles with an extension available to purchase for adding an extra two.
Yakima's expertise and specialization in transportation solutions are evident in this model as it's easy to use and has all of the expected features at a more affordable price. However, reviewers feel it is too difficult to remove the rack when you're not using it, so if you plan to use the HoldUp in this way, you may be better off looking for a tool-free installation model.
The low platform height of this carrier requires less effort to load your bikes. Once loaded, use the two StrongArm's to secure the front wheels and the adjustable wheel straps for the back wheels. The attachment system avoids frame contact and ensures compatibility with more varied frame designs.
For keeping your prized possessions safe, this 2 bike platform hitch rack uses SKS locks to secure the rack to the receiver and the bikes to the rack. Finally, the HoldUp also tilts down while fully loaded and folds up when you're not using it.
Max weight – 60lbs
Weight – 49lbs
Tilts, locks, folds
20″ – 27.5″ wheels supported for 3.0″ wide tires
29″ wheels supported for tires up to 2.5″ wide
Wheelbases up to 48″
Hitch receivers 2″ or 1.25″