Best 4-Bike Hitch Racks for a Car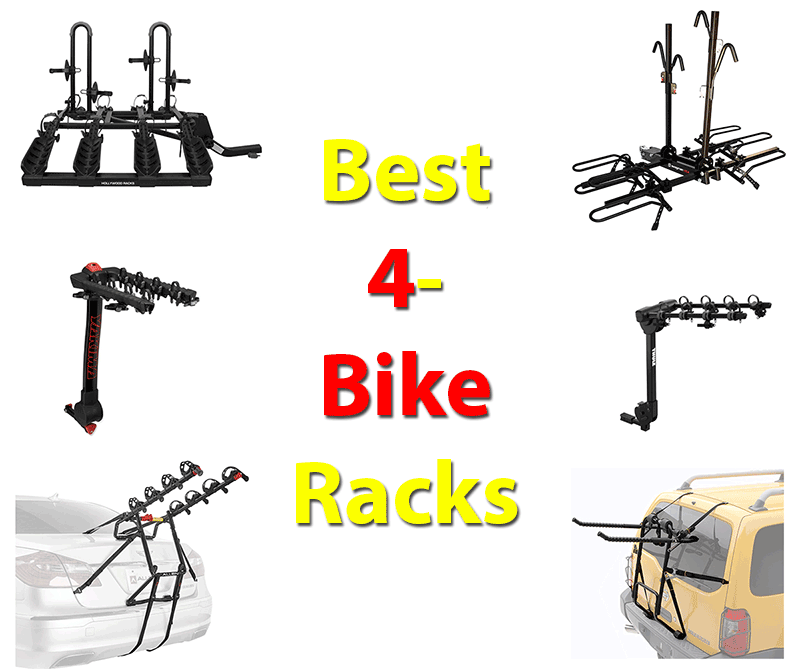 A well-made and user-friendly bicycle rack eliminates any headache associated with transporting your bike from place to place.
Finding the best four-bike hitch rack or trunk rack can be time-consuming due to the number of styles and manufacturers that are available. The benefit to this is that there is a wide range of products and prices to meet the needs of every individual.
When searching for a high-capacity rack, it must be easy to use, secure, durable, and compatible with whatever bike and vehicle you have. Other important things to look out for are price and user rating so that you know you're getting a fair deal on whichever product you decide.
This article will cover a range of platform, hanging, and trunk racks, most of which rely on a hitch. In addition, we will cover the pros and cons of each system, so you are better informed when you make a purchase.
---
Table of Contents
3. Trunk Racks
---
6 Best Platform Bike Racks
PROS:
It's easier to load and unload bikes because the platform is low
High compatibility generally
Very secure because the bike locks in two or three places
Distance between eliminates damage from contact
CONS:
Most expensive style
More complicated to drive with because the rack sticks out significantly behind the vehicle
Heaviest style of rack
It takes up a lot of space when not in use
---
Kuat NV 2.0 (With a 2-bike extension)
WINNER – Best-rated high-end platform rack
The NV 2.0 Kuat 4 bike rack combines the two-bike carrier and an add-on for an extra two.
This bicycle carrier comes at a premium price but doesn't disappoint in its quality, durability, and adjustability. It's worth noting that the two bike model comes in a 1.25″ and 2″ hitch version. However, the add-on is only available for the 2″ rack.
This rack's safety features include highly adjustable cradles that allow for swift and stable bike fitting for tires up to 4.8″ and integrated easy-to-use cable locks for each bicycle. In addition, it has a high-strength ratchet arm with intuitive release and rear-tire straps that have padding to protect your wheels.
Other excellent characteristics include an integrated bike stand for on-the-road maintenance, convenient access to your trunk when the rack is fully loaded, and the tool-free hitch installation system with a hitch lock.
Finally, Kuat makes this product with high-strength materials finished with a sleek metallic powder coat.
60lbs p/bike
1.25″ / 2″
Weight: 52lbs
Fits tires up to 4.8″ wide
EXTENSION
Allows 40lb p/bike
Weight: 37lbs
---
Hollywood Racks – Destination 4
MSRP: $400
The Destination 4 bike platform hitch rack by Hollywood Racks is a modern and lightweight product which easily carries four large bikes (up to 29″ x 3″).
This rack weighs just 42lbs, quite low for a platform rack. In addition, its key characteristics are it's easy to use and keeps your bikes as safe as possible while in transit.
This ease-of-use is because putting your bike on a platform rack requires minimal effort, and the Destination 4 has padded frame holders which protect your bike even on the bumpiest of journeys. In addition, there are ratchet straps that are compatible with every shape and size of bike.
Hollywood Racks included their anti-sway hitch pin to keep your rack from swaying while driving. Finally, this rack also folds up into a compact package against the back of your vehicle when not in use.
Max weight p/bike: 35lbs
Weight: 42lbs
2″ hitch only
Fits – 20″ – 29″, 700c
Max wheelbase: 48″
Max tide width: 3″
Not compatible with hitch adaptor
---
Trimax Road – MAX Hitch Mount Tray
The Trimax Road Max 4 bike hitch rack is a lightweight and affordable choice with a high rating on Amazon.
Notable features include the folding arms for easy gate access when no bikes are mounted and the compact design, which allows you to store it in the trunk when not in use.
Thanks to adjustable padded arms and high-resistance wheel straps with buckles, the Road Max keeps the bikes upright and secure at all times. Additionally, these pads are non-abrasive and fit all rims and tire sizes.
The hitch locking mechanism is solid and easy to attach or remove to any 2″ receiver. Finally, reviewers report that there is little to no sway while driving, great for your peace of mind.
Weight: 41.3 lbs
2″ receiver
---
Saris SuperClamp EX 4-Bike Hitch Rack
MSRP: $1,000
The SuperClamp EX Saris 4 bike rack is one of the best on the market to be safe, durable, and relatively light, making life easy whenever you get on the road.
This rack has a super compact design which allows you to carry two bikes on a single bar. In addition, Saris subject all of their products to the most stringent testing protocols in real-life situations so you can be confident in its durability for life with the company's lifetime warranty.
Rigid steel construction and solid dual hooks ensure high levels of security without touching your bike's frame. This rack can carry a wide range of bikes, including mixed styles and those with a wheelbase up to 50″.
One final noteworthy feature is that the rack tilts so you can access the rear of your vehicle even with four bikes loaded.
Weight capacity – 2 x 60lb (closest to the truck) 2 x 35lbs s p/bike
190lbs total
2″ hitch
Loaded tilt
Max wheelbase: 50lbs
Max tire width: 4.5″
Weight: 63lbs
---
KAC – Overdrive 4
MSRP: Check on Amazon
KAC's Overdrive Sport 4 bike hitch bike rack has tons of useful features and plenty of quality and durability to match.
This rack has multilayer protection, including tire straps and a safety strap to keep your bikes secure in any situation. In addition, lock the top foam padded hook arms with included key and utilize the hitch pin locking system for extra security.
The Overdrive 4 also has a patented anti-wobble system which ensures a smooth and stable journey. The versatility of this racket is also noteworthy. It fits tires up to 5″ wide and any style of bike. Additionally, you can adjust the tire holders to fit your wheelbase or fold the rack for storage.
Finally, a quick-release lever allows you to unload your bikes quickly, while the Smart Tilt feature gives you quick and easy access to the back of your vehicle with a fully loaded rack.
2″ hitch only
Smart tilting
May require an adaptor for step-through frames
It folds down to a 2-bike carrier
240lb Weight Capacity (60lbs each)
Weight: 79lbs
---
Swagman XTC4
MSRP: Check on Amazon
The XTC 4 Swagman 4 bike rack is an affordable and easy-to-use platform option.
Using this rack is as simple as lifting your bike to hip height, placing it in the wheel hoops, and securing the hooks. The wheel hoops are easy to adjust and have quick-release levers, making it convenient to load or unload your bikes.
Another great feature of this bike is that the center arms fold down when you want to access your trunk, so you don't have to disassemble anything. Although the max weight capacity of this rack is relatively low, it is enough for most non-electric bikes.
Finally, to keep your bikes safe, the hitch pin has a locking mechanism, and all parts of the rack that touch your bike have padded materials to stop scratching.
Weight: 64lbs
Made of steel
Capacity – 35lb p/bike
Fits 2″ receivers
Fits 20″ – 29″ wheels
---
Yakima – Four Timer
MSRP: $579
The Four Timer Yakima 4 bike hitch rack boasts all of the reliable quality associated with the specialist manufacturer.
Choosing the right rack will eliminate the problem of transporting different sizes and styles of bikes. The Four Times can carry any bicycle, including fat-bikes and full-suspension bikes.
This rack has padded, contoured arms that hold the bike at the top tube without scratching the paint to keep your prized possessions safe. Additionally, the straps secure both wheels easily with a ratcheting mechanism.
Another great feature of this rack is that it is lower than other competing models, reducing its effort to load and unload. Finally, you can even access your trunk with a full rack.
Fits: 2″ hitch
Fat bikes, kids' bikes, bikes with fenders
*Fat bikes need extra straps!
Maximum bike weight: 45lbs (Total: 90lbs)
Folded tilt
Weight: 66lbs
---
4 Best Hanging 4-Bike Racks
PROS:
Moderately priced racks
Less complicated to drive with as it is more compact
Easy to install and remove the rack
Better for storage when not in use
Lighter than platform models
CONS:
Requires more effort to attach bikes to the rack, which is even worse with four bikes
Harder to maintain separation between the bikes, especially when driving
Reduced bike compatibility compared to platform racks
---
Yakima FullTilt 4
MSRP: $419
The Yakima FullTilt is a premium hanging hitch bike rack for four bikes with excellent compatibility and safety features.
To connect your rack to your hitch, you have an auto-pin automatic securing system that fits 1.25 and 2-inch receivers. Once connected, use the tool-free SpeedKnob and integrated security cable to tighten and lock the rack of your car.
This lightweight rack can hold up to 160lbs of bikes in a stable, secure, durable design. There are padded arms that you can fully adjust along with anti-sway cradles for extra stability and to eliminate contact between the bikes to keep your bike safe.
Finally, convenient zip-strips allow you to quickly secure your bikes to the rack and are fully removable when not in use.
Max weight p/bike – 40lbs
Fits 1.25″ / 2″
Weight: 39lbs
---
Thule Camber 4 Bike Hitch Rack
MSRP: $330
The Camber is an affordable Thule 4 bike rack with tons of innovative features that keep your bikes safe make your life easy.
Most notably, this rack has 7″ of space between each bike so that bike-to-bike contact is non-existent, no matter how bumpy the journey is. In addition, the cradles are highly versatile, fitting a wide variety of styles, sizes, and shapes.
Even with this space and compatibility, the rack has a compact design, using arms that fold down quickly when you finish using it.
Securing the bikes to the rack is made easy with ratcheting straps. Once connected, anti-sway extensions lock in place and ensure unbeatable stability. Finally, you can easily access the back of your vehicle and your trunk with Thule's HitchSwitch lever.
Load capacity – 150lbs
7″ distance between bikes
1.25″ & 2″
Capacity – 37.5″ p/bike
Weight: 34lbs
Unloaded tilt only
---
Saris Bones
MSRP: Check on Amazon
The Saris Bones 4-bike hanging hitch rack demonstrates dedication to high quality and excellence from the rack brand.
This model is ultra-light at only 24lbs, making it very easy to install and store when you're not using it. In addition, the arms fold up and down with ease for quick storage.
Standard features of this bicycle carrier include the anti-sway straps, which protect and stabilize the bikes in transit. In addition, each bike is secured in three spots which further boosts the stability.
These straps have a soft exterior to ensure your paint job isn't scratched. Another excellent feature is the tilting mechanism which allows you to access the rear of the vehicle easily.
Finally, Saris source all materials for this rack in the United States and are so sure of the quality that they provide a limited lifetime warranty.
Weight: 24lbs
Load capacity: 35lbs
Fits: 1.25″ / 2″
---
Allen Sports Premier
MSRP: Check on Amazon
Allen Sports 4 bike hitch racks for 2-inch hitch receivers is one of the best value products we've seen.
The Premier has an innovative design that works with almost all shapes and sizes of cars and SUVs. With a patented quick-snap attachment, you can set it up in seconds.
This rack's key safety features include the padded lower frame that keeps your bikes away from the vehicle, dual-compound tie-down cradles to secure the bikes completely, and big protective pads that distribute the bike load and protect your vehicle's paint.
Another great feature of this rack is the extra-wide, steel bottom bar and side straps which provide excellent stability while driving.
Load capacity: 140lbs
Rack weight: 12lbs
Made of steel
---
Retrospec Lenox
MSRP: Check on Amazon
The Retrospec Lennox 4 bike rack for cars is a budget-friendly, lightweight carrier perfect for riders with light usage needs.
This model fits a Class 2 or 4 2″ hitch, holds up to 140lbs (35lbs per bike), and requires hardly any assembly when it arrives.
The carrying arm has safety at the core of its design, with lots of spacing between bikes and compatibility for most frame styles. In addition, tie-down cradles and straps ensure security and peace of mind when you're driving.
Finally, this bicycle carrier has an anti-wobble adapter for minimizing sway when in transit. Finally, you can fold it down quickly and easily for storage when you're finished using it.
Weight: 23lbs
Fits a 2″ hitch
Max capacity: 140lbs
Folding
---
Best 4-Bike Trunk Racks
PROS:
Very easy to install or remove from your vehicle
Cheapest type of rack
Wide range of vehicle compatibility
Don't require a trailer hitch
Generally lightweight and easy to store when not in use
CONS:
Not as secure because you can't lock your bikes onto the rack
Harder to transport various styles of bikes at the same time
Challenging to keep frames from touching each other
May cause cosmetic damage to your vehicle
---
Hollywood Racks F4 Heavy Duty
MSRP: Check on Amazon
Hollywood Rack's F4 is a classic trunk mount 4 bike rack for SUVs, minivans, and Sedans. To find out if your vehicle is compatible, check out their Fit Guide.
This carrier is super easy for setup and takedown, making your journeys less of a drag. The dual-position trunk/bumper attachment system is secure and easily holds up to 140lbs (four 35lb bikes).
The F4 comes fully assembled on delivery, and when you're not using it, you can fold it flat for tidy storage. Buying an extra top tube adapter might be necessary to ensure broad compatibility with kids, ladies, and mountain bikes.
This bicycle rack is made with heavy-duty steel and coated with rubber to keep your paint intact. Finally, once your bikes are in place, you can secure them with sturdy tie-down buckles and straps for maximum security.
Weight: 17lbs
Load capacity: 35lb p/bike
---
Allen Sports Premier S104, Black
MSRP: Check on Amazon
Allen Sports Premier S104 bike rack 4 bikes is a premium trunk-mount carrier from a high-quality brand.
This product is made to fit most sedans, hatchbacks, minivans, and SUVs. To ensure it works with your vehicle, check the compatibility finder on the product page.
Like many well-made bicycle carriers, this one connects easily and quickly to your vehicle and has broad compatibility for most styles of bike.
To keep your vehicle's paint safe, it has pads to maintain the distance between the bikes and the car. Other safety features include tie-down cradles and lower straps which keep the hooks locked in while you drive.
Finally, this rack is super-lightweight and is made from high-strength steel for added durability.
Rack weight: 12lbs
Capacity: 35lbs p/bike -140lb total