Best Truck Bed Bike Racks
As many people do not live close to good bike trails, it is essential to be able to take your bike to trails that are within driving distance.
A truck bed bike rack gives truck owners the opportunity to make the most out of their space and carry one or more bikes in a simple and secure way without sacrificing the room inside, our outside of the car.
The best truck bed bike rack will be sturdy, protect your bike, keep your truck scratch-free, and be easy to use. In this article, we will cover some of the best products out there in four distinct styles so there is something for everyone: tailgate-mounted, side-mounted, fork-mounted, and wheel-mounted.
No need to disassemble the bike
Save interior space
No weight limit on a bike/rack
No need to get an extra hitch-mount/roof rack
Add as many as 6 bikes on a single pad
Easy on/off
Why Use a Truck Bike Rack?
Truck bed bike racks provide a really simple solution to transporting your bike(s) from A to B.
They are generally easy to use, inexpensive, and durable. Compared to regular bike racks this style of rack is a more user-friendly and better value option overall. However, it requires a truck and cannot be used with a regular vehicle.
---
4 Different Types of Truck Bed Bicycle Racks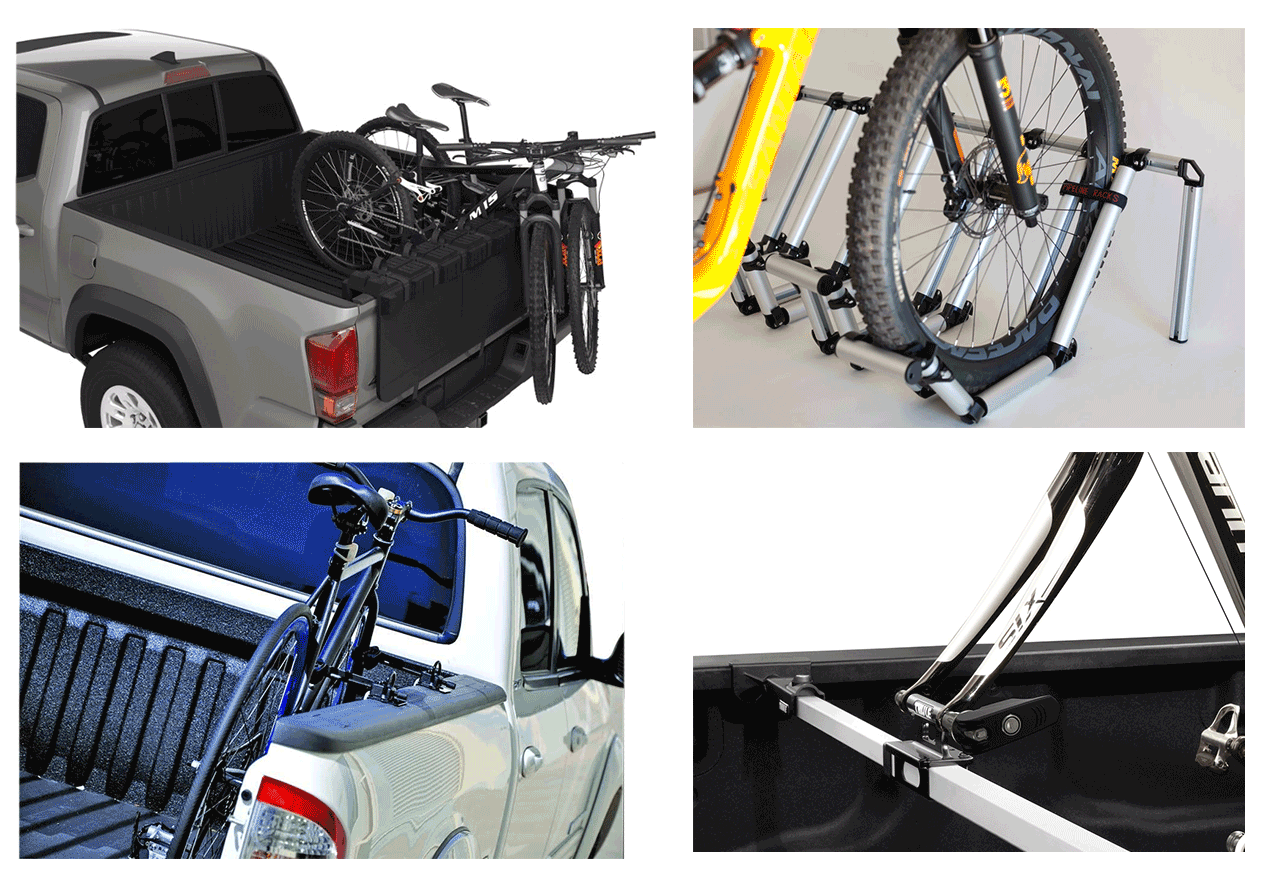 As mentioned above, there are four main types of bicycle carriers for trucks.
1) Tailgate bike pads allow you to secure your bike to your tailgate with a padded sheet covering the tailgate over which you rest the front wheel of your bike. This type of covering keeps your bike and truck free from scratches and has a mechanism to lock down the bike frame.
2) Fork-mounted racks require that you attach your front fork to a bar that spans the width of your truck bed. This means you must take off your front wheel in order to transport your bike with one of these racks.
3) Wheel-mounted racks are much like a traditional street bike rack that you place your wheel into. Once the wheel is in place the clips secure the bike to the rack. This type of rack is installed on your truck bed.
4) A side clamp rack is one that secures to the side of your truck bed wall and uses ties to secure the frame in place tightly while you drive.
---
Best Truck Tailgate Bike Pads
---
Dakine Pickup Pad DLX
MSRP: $125
The Dakine Pickup Pad DLX tailgate bike rack is one designed to fit late-model, full-size Ford and Dodge trucks. This type of pad keeps your truck and bike protected so you can transport your bike to trails with peace of mind.
This tailgate cover for bikes has a large flap that allows you to access your tailgate handle or unblock your rear-view camera. The pad itself has seven individual bikes anchor points so you can take all your family's bikes along.
The product is designed with four cinch straps that keep it locked to the tailgate securely. Additionally, it has anti-theft construction and reflective logos making it more visible.
Number of Bikes: 5 (S) / 7 (L)
Sizes:
S Width: 54″
L Width: 60″
Fits Most Trucks
---
QuietKat STG Pickup Truck Tailgate Pad
MSRP: $179
QuietKat's STG Tailgate Pad is a bike rack for truck tailgates that is built with great durability and is very easy to use.
The pad itself is made with high-density foam which provides lots of protection for both your truck and your bikes. The pad is built with dividers to help keep the bikes in place with enough distance between them so that they are not touching.
Dimensions: 58″x32″
Up to 5 Bikes (100 lbs per Bike)
Fits Most Pickup Truck Tailgates
The product has a helpful Velcro window that gives you easy access to your tailgate door. Finally, the materials used are weatherproof with double stitch seams for maximum durability so you can run the pad full-time on your truck.
---
Race Face Tailgate Pad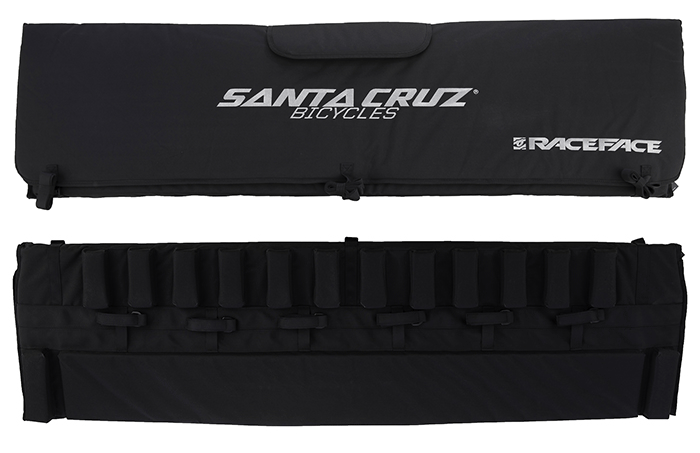 MSRP: $170
The Race Face / Santa Cruz tailgate bike rack is another great way to transport several bikes at the same time with six bikes on the large size and five on the medium size option.
This MTB tailgate pad is made using a super-durable fabric with herringbone weave for reinforcement and DWR treatment for water repellency. The inner lining on the pad is micro-brushed so it keeps your tailgate free of wear marks. Additionally, there are raised bumpers on the inside of the pad which prevents the bikes from coming in contact with each other in transit.
Dimensions: 39.5″x57″ (S) / 47″x61″ (L)
Durable Denier Fabric
Micro-Brushed Inner Lining
Finally, you can secure your bike frames down with Velcro loops and straps and take advantage of the grommet system to lock the bikes. The pad also has a helpful storage pocket.
---
Yakima GateKeeper Tailgate Pad
MSRP: $179
Another great choice of tailgate pad is the GateKeeper Yakima truck bed bike rack.
This model helps to protect your truck's paint as well as your bike's frame from damage or scratches. To do so, this pad has a weather-resistant nylon exterior material and a soft felt interior. The pad has a took away a cover which opens up for your backup camera if needed.
Number of Bikes: M – 5 / L – 6
Dimensions:
M – 53″ x 17″ x 5″
L – 62″x20″x 7″
Integrated SitTight Bike Cradles
HindSight Tuck Away Cover
Hook-and-Loop Cradle Closure
The GateKeeper has integrated bike cradles that allow you to carry up to five (medium pad) or six (large) bikes at a time safely. Once on the truck, a hook and loop cradle closure system is used to secure the bikes. This system is compatible with carbon frames and painted surfaces.
---
Best Fork Mounted Truck Bed Bike Racks
---
Thule Bed Rider Bike Rack
MSRP: $250
Thule's Bed Rider truck bed bike mount Is a simple yet convenient rack that lets you carry up to two bikes without bolting or drilling anything to the truck.
The Thule truck bed bike rack works by securing the sides of your truck bed with SoftGrip rubber feet and an aluminum bar. This bar is compatible with both full-size and small pickup beds. To lock your bike onto the rack and the rack onto the truck sidewalls you have three 1-key lock cylinders.
Up to 2 Bikes
Fits Full-Size and Small Pickups
Fits Without Drilling
The Bed Rider is great because of its compatibility and ease of setup, however, it requires more time to take your wheel off when using it and it requires an extra block to transport more than two bikes at a time.
---
Thule Gatemate Pro Truck Tailgate Pad
MSRP: $209.95
The Thule tailgate pickup bed bike rack is a straightforward and versatile way to transport your bikes from place to place.
This rack fits most mid to full-size trucks and is easily installed through the use of sturdy nylon straps. Moreover, it's available in two sizes: 823 – 54" for compact pickups and 824 – 62" for full-size pickups.
Fits Mid-Sized to Full-Size Pickups
Up to 8 Bikes
Easy Adjustment
Bikes securely held in place
Finally, soft foam padding protects both bikes and your truck's tailgate with ultra-durable, heavy-duty vinyl and the bikes are prevented from sliding on tailgate causing damage to vehicle or other bikes thanks to integrated "Knock-Blocks."
---
Saris Traps Triple Track 47″ Trunk Bed Rack
MSRP: Check on Amazon
The Saris Traps Triple Track 47″ trunk bed pickup bike rack ensures you have a smooth and carefree ride any time you take your bikes (up to four) along.
This product fits any standard truck bed as well as the rear area of most minivans and SUVs making it the perfect product for families with multiple vehicles. The frame of this rack is made with powder-coated 6061 aluminum which is both durable and lightweight.
Fork Mounts and Wheel Mounts Sold Separately
Up to 4 Bikes
Made of 6061-T6 Aluminum
Lifetime Warranty
Another great feature of this rack is that it includes mounting hardware for forks or wheel mounts, whichever you prefer. The mounts are sold separately from the rack. Finally, this rack has a lifetime warranty.
---
Hollywood Racks T970 Fork Block
Single clamp
Hollywood Racks' T970 truck bed bike fork mount can be fixed to any solid structure such as a truck bed or trailer and is very cheap.
Mounts Any Solid Surface
Made from 6061 Aluminum
The mount is made from 6061 aluminum and has a heavy-duty 9mm quick-release skewer to attach your bike fork to. This is a great alternative to the more expensive models but may require some reinforcement if you are attaching it directly to your truck bed.
---
Best Wheel Mounted Truck Bed Bike Racks
---
Thule Insta-Gater Pro Truck Bed Bike Rack
A fat tire bike rack for truck bed

MSRP: $249
Thule Insta-Gater Pro fat-tire bike stand for truck beds provides a fully adjustable and highly versatile method of transporting your bike.
The rack has zero impact on your truck or bike frame as it attaches without the need for bolting or drilling and fits all pickup tailgates.
Holds 1 Bike (Up to 50 lbs)
Fits 20″-29″ Wheels
Fits Up to 5″ Wide Tires
Thule One-Key Lock System Included
This rack holds just one bike weighing up to 50lbs. It attaches quickly to the bike using a ratcheting arm and locks the bike in place without touching the frame. Because of its adjustability, it is compatible with almost any style of bike frame Or wheel size up to 29″ x 5″ tires. Finally, there is s a one-key locking system to lock the bike to the rack.
---
Heininger Automotive 2025
Heininger Automotive 2025 mountain bike truck rack is another wheelbase to mount with great value and compatibility.

This rack allows you to carry up to four bikes at a time without removing your wheels. It installs quickly and without the need for tools meaning you can add or remove the rack from your truck bed anytime. A lockable cable is also included.
Material: Alloy Steel
Dimensions: 31″x27″x6″
Fits Up to 4 Bikes
Soft Paddings to Protect Bike Finish
Portable – Can Be Used as Standalone Bike Rack
The Automotive 2025 is designed to avoid scratching your bike frame and truck paint using soft padding. Finally, this product can also be used as a stand-alone bike rack.
---
Pipeline Racks Truck Bed 4 Bike Rack
For full-sized trucks
Pipeline Racks' pickup truck bike carrier is a wheel mount rack that installs conveniently on your truck bed without the need to drill holes.
This product comes in a two, three, and five bike option fitting minimum bed width of 58.5″. It has great compatibility for all types of bikes and it doesn't require the removal of the front wheel. It can be adjusted to fit 20″ to 29″ wheels 3″ to 5″ in width.
As the frame is made from aluminum It is durable, lightweight, and it doesn't rust.
Dimensions: 30″x58.5″x14.75″ (Minimum Bed Width: 58.5″)
Material: Aluminum
Fits with Most Bike Types – Road, MTB, Electric, Fat Tire
Fits with 20″-29″ Wheels
---
Best Side Clamp Truck Bed Bike Racks
---
Inno RT201 Truck Bed Bike Rack
The INNO RT201 truck bike carrier is a single bike side mount for your truck bed.
This inexpensive solution allows you to maintain most of your carrying space while transporting your bike safely. The RT201 has wide compatibility with almost any type of bike and any standard pickup truck.
To secure your bike to the mount, there ratcheting straps with adjustable rods which hold the bike firmly by the front fork and seat stay. The mount itself attaches to your sidewall using a tool-free twistable clamp. Another great feature of this mount is that the entire process can be done outside of the pickup truck and it doesn't require the removal of your front tire.
Material: Blend
Item Weight: 4 lbs
No Drilling Required
All Hardware Included
---
FAQs
How many bikes is it possible to load on a truck bed bike rack?
On average, a truck bed bike rack has the capacity for five bikes. However, this ranges from single-bike racks up to a max of seven from the models that we have explored.
Can I mount a bike rack over the tonneau cover?
Using a truck bed bike rack with a tonneau cover is certainly possible. This is done using a roof rack style design that uses bars running with the width of your truck bed and attaching to the sidewalls or into the tonneau cover itself depending on your cover's compatibility. Your bike(s) then sit on top of these bars and are clamped down without the need to remove the wheels.
Can I make a truck bed bike rack by myself?
Yes, it is possible to make a DIY truck bed bike rack with the right materials and skills. However, do not attempt to make it rack like this unless you are absolutely sure of your ability to make a safe rack. Any design flaw or malfunction could result in serious damage from a bike coming loose while driving.
Truck bed bike rack vs hitch rack: Which is better?
In general, a truck bed bike rack is preferable to a hitch rack as they are cheaper, easier to use, and have much greater capacity. Of course, it requires that you have a pickup truck to take advantage of the style of rack that most people do not own.