Devinci Troy Review — Race-Ready Trail Bike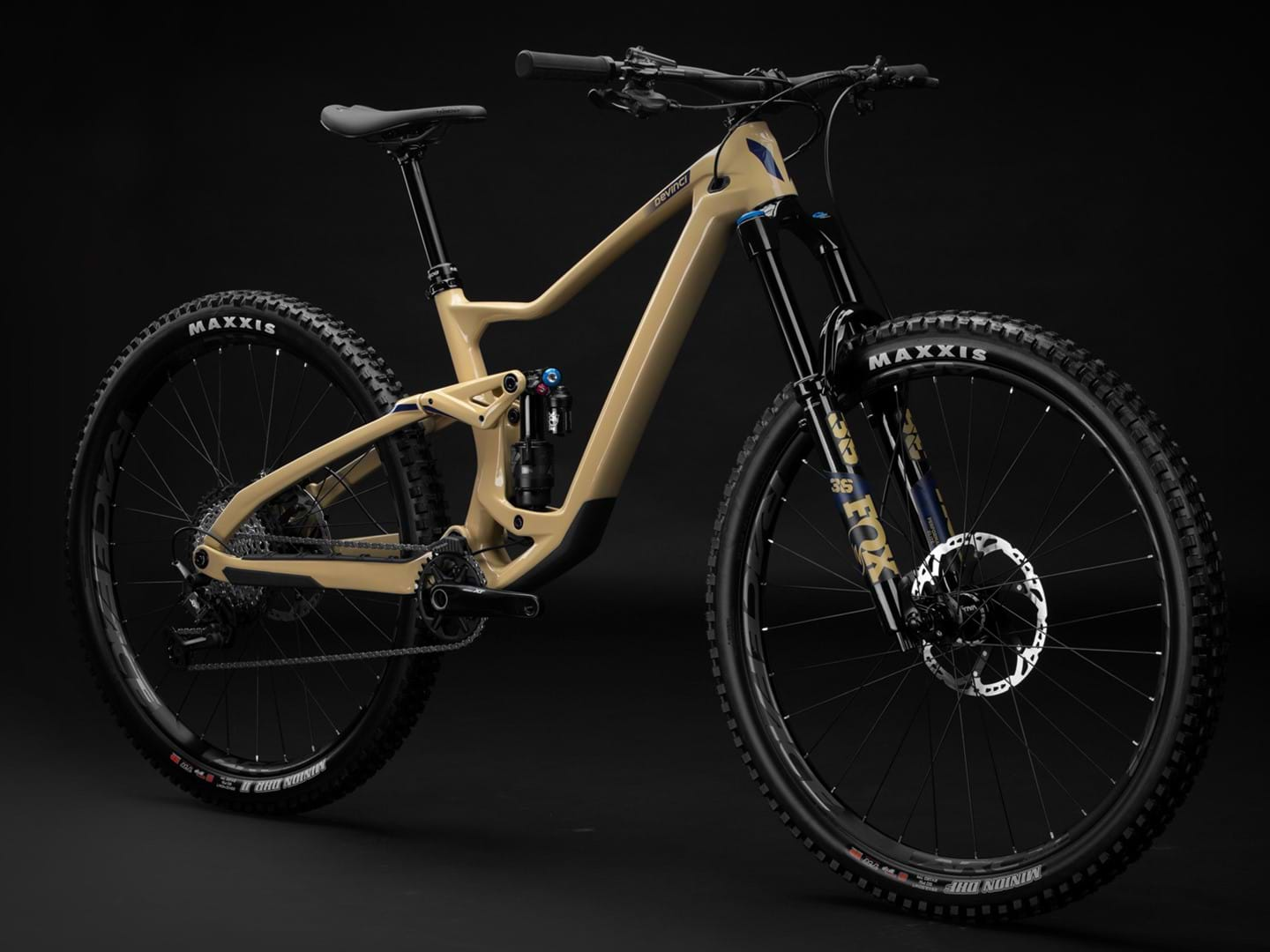 Devinci Bikes is a Canadian-based mountain bike manufacturer that prides itself on making the most reliable, high-performing bikes possible and backing up its process with a lifetime warranty.
Their dedicated Canadian team is committed to value and quality, and they go to great lengths to ensure each of their bikes meets to most strict requirements.
In the Troy all-mountain MTB, you can be confident in taking on anything that the trail has to offer.
This versatile bike can climb quickly, descend rough singletrack, and do everything in between. If you're looking for a bike to do it all, look no further than the 4th-generation Troy.
Devinci made the chainstay length on the Large and XL models of this bike adaptable so riders can have a completely balanced ride feel at all times. Additionally, they built size-appropriate front triangles, further improving stability and handling.
Other notable innovations on this bike are the 15mm longer reach and 1-degree slacker head angle for technical descents. Also, a steeper seat tube angle enhances the bike's climbing ability.
Finally, the Troy has a Flip Chip button for optimizing the geometry on the trail and has protective features of a fortified chain guide, a high-density rock guard, and a chainstay protector.
---
Devinci Troy Size Recommendations
5'3″ – 5'7″ S 160-170mm
6″ – 5'11" M 169-179cm
5'10" – 6'2″ L 178-188cm
6'1″ – 6'6 XL 187-198cm
---
Devinci Troy Geometry
150mm (f) / 140mm (r)
Head Tube: 66°
Seat Tube: 74.5°
BB height: 13.4″
Chainstays: 432mm
29×2.5″ & 2.4″ / 29×2.6″
Best for Trail & All-mountain
---
CARBON Devinci Troy Lineup
The Devinci Troy Carbon comes in two different models based on groupset. The XT is the top-level model in the whole series and has a full Shimano XT setup including brakes.
The GX comes in slightly below with an SRAM GX drivetrain and SRAM Code R brakes. There are some other small differences between the two models however most of the components are very similar.
Devinci Troy 29″ Carbon XT
Fork: 160mm (6.3″), Fox Float 36 Performance Elite
Shock: 140mm (5.5″), Fox Float X2 Performance Elite
Carbon DMC G Frame
Geo Adjust Flip Chip
29×2.5″ & 2.4″, max clearance 2.6″
Shimano XT groupset
Race Face ARC25
The Devinci Troy 29″ Carbon XT is the result of extreme attention to detail and careful development. The premium level of components combined with innovative design technology means this bike outperforms most others in this price range.
A full carbon frame, premium Shimano XT groupset, Fox Float Performance Elite suspension, Maxxis Minion tires, and Race Face ARC25 rims all contribute to the excellent performance of this bike.
The GX cassette has a whopping 10-52T gear range that makes climbing and pedaling on rough sections much easier. Additionally, the SDG Tellis dropper post allows you to quickly shift your bodyweight by lifting and lowering your saddle using the lever.
Finally, the carbon DMC G frame adds to the premium ride feel and maneuverability of this bike reducing weight, boosting the stiffness, and smoothing out vibration usually transferred through the frame.
---
Aluminum Devinci Troy Review
The 4th Gen Devinci Troy 29 Alloy series comes in three distinct models, two SRAM-based setups, GX and SX, or a Shimano Deore setup. The SX and the Deore are priced the same given their very similar level.
The aluminum alloy GX Troy is definitely one of the best value models as it is significantly cheaper than the Carbon GX and has the benefit of the same groupset.
Devinci Troy GX 12S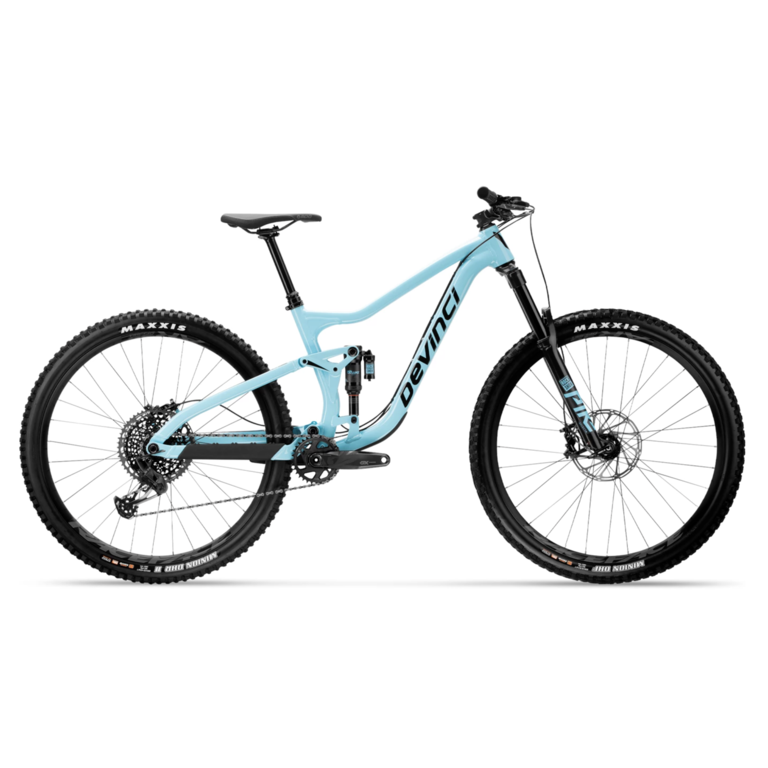 Fork: 150mm, RockShox Pike Select+ Charger 2.1 RC DB
Shock: 140mm, RockShox SuperDeluxe Select R DB Trunnion
Aluminum Optimum G04 frame
29×2.5″ & 2.4″
SRAM GX Eagle
The GX 12S is one of the mid-range Troy models. It notably has an SRAM GX Eagle 12-speed drivetrain with a 10-52t cassette. This groupset is very highly regarded for price and performance and will be reliable and accurate enough for most mountain bikers.
For suspension, you can rely on RockShox in the front and back, the fork being Pike Select+ and shock SuperDeluxe Select. Although not as high level as the Fox Float in the carbon models, this RS combination still provides a very smooth riding experience on tough, technical trails.
It's worth noting that quality aluminum frames can perform just as well as other lower-quality carbon frames. This Optimum G04 aluminum is a super light 6066-T6 alloy.
It undergoes triple butting and high-pressure hydroforming which means excellent durability, premium stiffness, and a strength-to-weight ratio high above its competition. This is evident in the fact that the base weight is less than 1lb higher than the Carbon XT.
---
Devinci Troy 29 SLX 12s
Fork: 160mm, Fox Rhythm 36
Shock: 140mm, RockShox Deluxe Select+
Aluminum frame
Shimano SLX 12-speed
Relocated Geo Adjust Flip Chip – Switch between Hi/Lo mode
The 29 SLX is from the Troy range and comes with a reliable Shimano SLX drivetrain along with the stiff, durable, and lightweight G04 aluminum frame.
This bike uses a Split Pivot suspension system that offers a super-smooth ride with small bump compliance and excellent pedal stroke efficiency. That's the system used by many of Devinci's best models, such as the Marshall trail bike. For suspension, it combines premium Fox Rhythm 36 160mm in the front with slightly lower quality RockShox Deluxe Select+ in the back.
Finally, this model uses the same Geo Adjust Flip Chip button to conveniently switch up geometry on the go. Unfortunately, it doesn't have the extra tire clearance, double-row linkage bearings, and refined geometry with size-specific chainstay lengths and longer reaches like the 4th-gen model.
---
Devinci Troy NX 29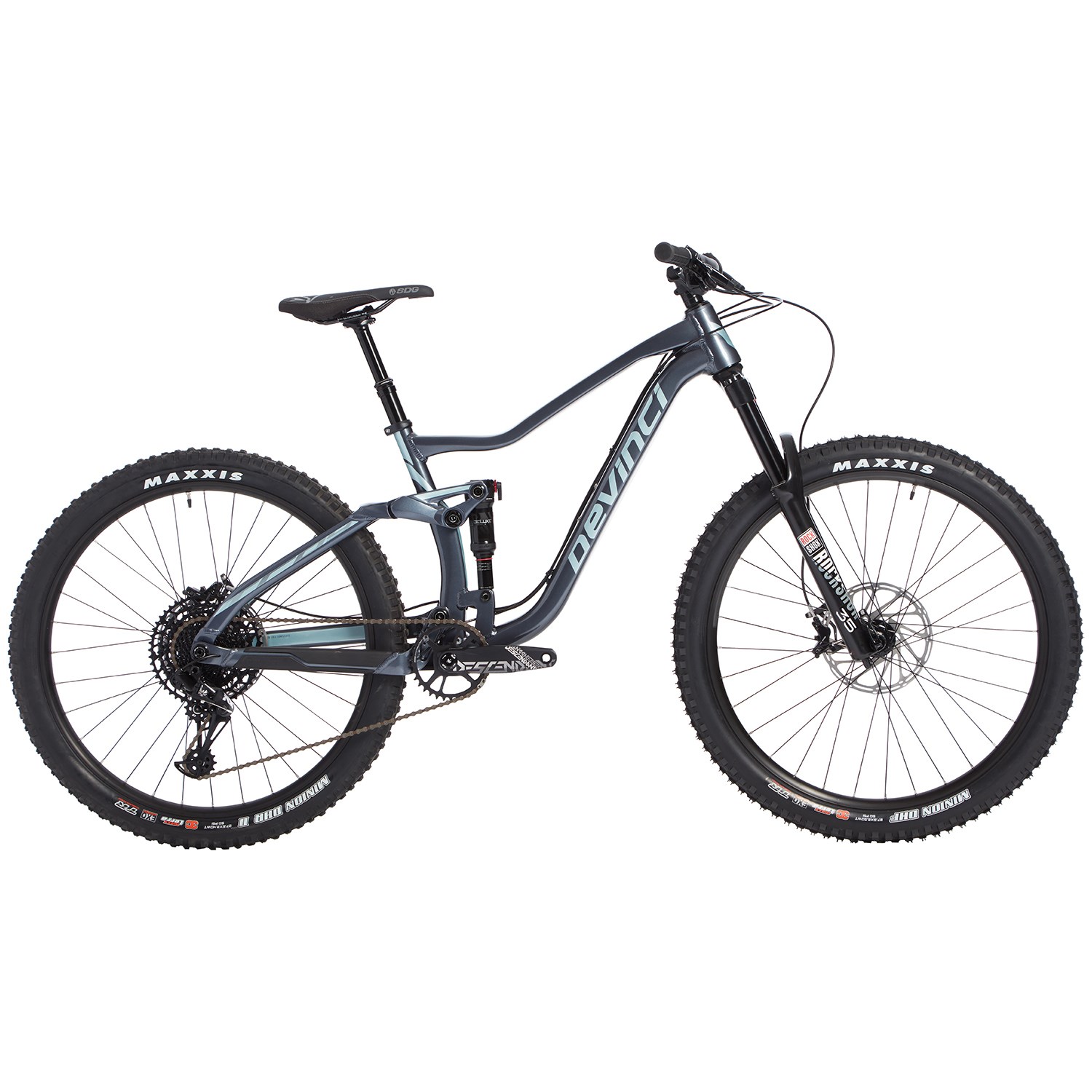 Fork – ROCKSHOX 35 GOLD RL DB 29 150MM 110X15 51
Rear Shock – ROCKSHOX DELUXE S+ DEBONAIR 185X52.5 TRUNNION, 1TOKEN
Alloy frame
TranzX dropper seat post
Geometry Flip Chip
Super Boost 157 stiff rear end
Split Pivot separates braking and acceleration force
SRAM NX 12-speed drivetrain
SRAM Guide T brakes
The Devinci Troy NX is another model from the series before the most recent 4th-generation update. This bike uses a Split-Pivot suspension system to separates braking and acceleration forces to improve pedal stroke efficiency and smoothness.
On the Troy NX you can rely on the reliable SRAM NX Eagle setup with a limited 1×12-speed drivetrain paired with a large 11-50t gear range. This combination is sufficient for varied, less extreme gradients.
This bike has SRAM Guide T hydraulic disc brakes giving you premium stopping power in rough trail conditions, along with RockShox 35 Gold/Deluxe Select+ suspension for smoothing out the trail.
Finally, a TranzX dropper post allows you to conveniently switch between climbing and descending optimization with a handy lever press. As with the other SLX model, you won't have the extra tire clearance, double-row linkage bearings, and refined geometry as with the 4th-gen model.
---
Where to Buy Devinci Troy?
Buy from Backcountry Buy from evo.com