Best Road Cycling Shoes for Women, Men and Kids
Cycling shoes are designed to maximize performance while riding a bike.
Road bike shoes are made to be lightweight and they utilize stiff soles to maximize the transfer of power between the rider and bike.
Road cycling shoes keep your feet in the optimal position, allowing riders to achieve the most energy-efficient pedal stroke.
They function slightly differently from mountain bike shoes, incorporating a cleat that you connect using three screws to the sole of the shoe. This platform has a large surface area that also increases the ability to transfer power.
---
---
Best Road Cycling Shoes for Men
---
Fizik – R1 Infinito
One of the best road bike shoes you can get on the market
MSRP: $450
Fizik cycling shoes are some of the sleekest and most high-performing you can buy, and the R1 Infinito shoes over-deliver in every way.
These shoes are made with a unique knitted material that comes in three distinct designs. This material is super lightweight, breathable, yet supports the foot excellently to improve efficiency and comfort when riding. Additionally, they are built with Dynamic Arch Support technology to further increase the level of support.
The sole of the R1 Infinito shoes is fully carbon fiber which provides the stiffest most responsive base for hard efforts. Finally, these shoes have two Boa dials to make quick and precise adjustments.
Outsole: Full carbon
Closure type: Double BOA
Unique new knitted upper material
---
Bontrager Solstice
Moldable carbon fiber base for a perfectly tailored fit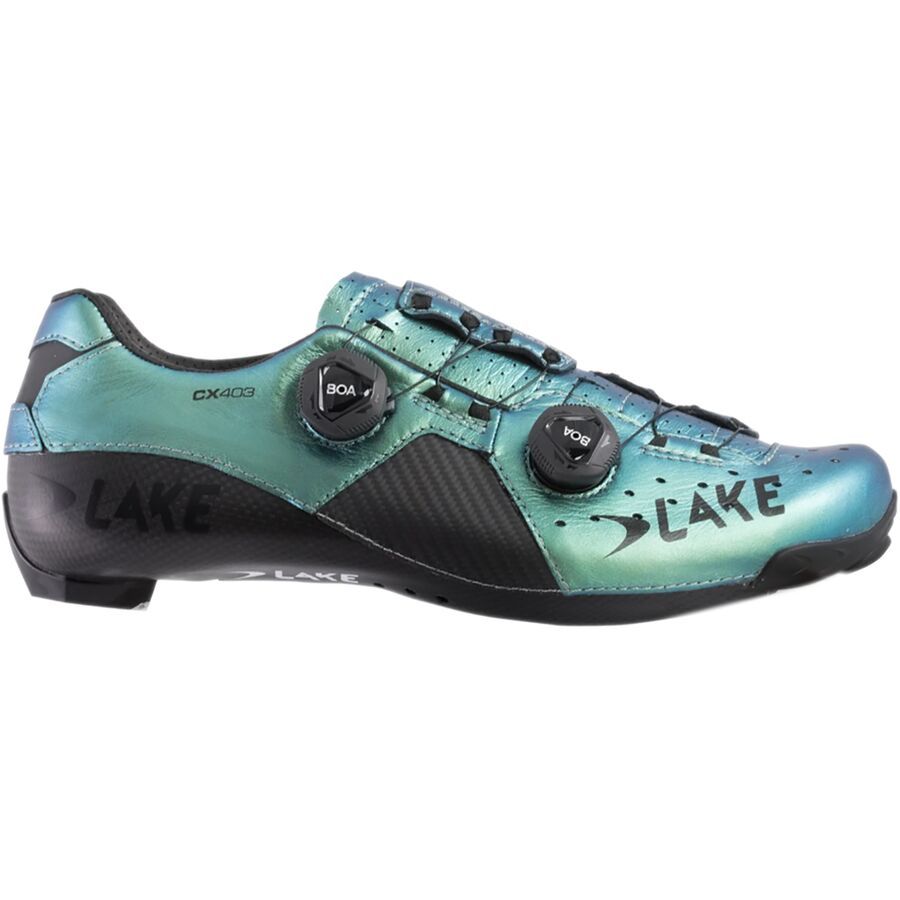 MSRP: $70
The Bontrager Solstice cycling shoes are a cyclist's dream using a stiff sole and breathable upper.
These entry-level shoes are made with a flexible and durable faux leather upper that stretches to the shape of your foot, featuring a Velcro closure system to make adjusting the fit quick and easy.
The stiff base provides unbeatable stability and power transfer and will support your foot shape perfectly, increasing the level of support further.
---
Giro – Imperial
Giro men's cycling shoes for road racing
MSRP: $425
The Imperial Giro cycling shoes are designed to maximize performance for competitive road cyclists through their ultralight and minimalist construction.
The Imperial shoes come with a one-piece synchwire design including two Boa dials for quick and accurate fitting. They also use a thermal-welded structure to give riders excellent support in the places where it matters most.
Additionally, Giro opted for a high-tech carbon fiber plate for supreme stiffness and a featherweight feel to maximize your performance on the bike. Finally, these shoes allow users to customize their arch support using a natural fit footbed system, a truly excellent feature from Giro.
Outsole: Carbon
3-bolt cleat compatibility
Closure type: Dual BOA dials
---
Bontrager – XXX
Extra-stiff bicycle shoes by Bontrager
MSRP: $400
Bontrager's XXX clip in bike shoes are a professional-standard product that is crafted with intricate attention to detail using the most innovative materials available.
The XXX shoes feature the ergonomic inForm Pro fitting design which provides a stable and comfortable fit and the closure system is the premium dual Boa dials which are positioned to reduce top-of-foot pressure.
The shoe's upper material is a lightweight and breathable TPU material, which contributes to their excellent stability along with no-slip heel lining that also stops slipping. Finally, these shoes have the highest stiffness rating of any road cycling shoe because of their 100% OCLV carbon sole. Don't miss out on the XXX road shoes if you are a serious cyclist wanting to boost your performance.
Sole: 100% carbon
Closure type: BOA dial
SPD SL 3-bolt cleat compatibility
Stiffness index 14 of 14
---
Specialized – S-Works 7 Narrow
Specialized cycling shoes that fit perfectly with narrow feet
MSRP: $400
Specialized bike shoes don't get much better than the S-Works 7 Narrow. They are designed to improve comfort and stability for riders with narrow feet who have issues with traditional shape shoes.
These s-works shoes are stylish, have excellent power transfer, and are very comfortable for use on long-distance rides. They are designed with Specialized Body Geometry shaping to make them fit tightly in all the right places so you are stable throughout your pedal stroke, simultaneously reducing the chance of injury.
Their minimalistic design gives these shoes a sleek look, however, the materials such as BOA closure, a full carbon Powerline sole, slip-proof padlock heel, and the tailored support in the arch and forefoot all combine to create the most effective shoe possible.
Finally, it's worth noting the NASA-grade upper shell material that conforms to your foot for slipper-like comfort without a reduction in power.
Powerline sole: Lightest sole ever produced by Specialized
Closure type: BOA
Slip-proof padlock heel
---
Pearl iZUMi – Tour Road
Pearl Izumi cycling shoes with classic lace-up styling
MSRP: $130
These Pearl iZUMi men's cycling shoes are a great affordable option with a classic lace-up style and streamlined performance-focused construction.
With the traditional lacing closure system, you can achieve a precise fit, however, it makes it impossible to adjust them quickly or while riding like with dials. The Tour Road shoes have a seamless upper construction that adapts to your foot shape and reduces pressure on soft spots, as well as vents in the bottom of the shoe for added breathability.
Surprisingly for shoes of this price range, the Tour Road's have a carbon fiber plate under the ball of the foot to maximize power transfer, with the rest being a respectable nylon composite.
Outsole: Nylon/carbon/steel/rubber
3-hole/2-hole cleat compatibility
Closure type: Laces
Weight: 1 lb 3 oz (pair)
---
Mavic – Cosmic Ultimate III
Futuristic style Mavic cycling shoes for road cyclists
MSRP: $385
The Cosmic Ultimate III Mavic cycling shoes are in close competition with the likes of the S-Works and Bontrager pro-quality models. These shoes have a futuristic style with advanced materials and construction to match.
The Mavic Cosmic Ultimate III Shoes use a lightweight full carbon outsole to deliver unbeatable power transfer and stiffness, while the Ortholite insole provides excellent support, moisture management, and cushioning for long, hard efforts in the saddle.
The mesh woven upper material helps to increase the shoe's breathability while being as light as possible. Finally, these shoes come with a unique kevlar insert for abrasion resistance making them super durable with heavy usage.
Outsole: Carbon
Closure type: Double BOA dials
3-bolt cleat compatibility
---
Shimano – RC3
Lightweight Shimano bike shoes for road cycling
MSRP: $120
Balance price and performance by choosing the sleek RC3 Shimano cycling shoes with BOA dial closure and a glove-like fit.
The RC3 shoes use a seamless, perforated upper and midsole design that is lightweight yet stable and breathable, helping you perform better. The shoe is built to wrap across your instep, providing you with added support throughout the pedal stroke.
Finally, to maximize the power transfer and efficiency of these shoes, Shimano includes the best sole material technology they could at this low price which is a lightweight fiberglass-reinforced nylon sole.
Outsole: Nylon
3-hole cleat compatibility
Closure Type: Ratcheting cable lace with BOA Dial
Weight: 1 lb 1 oz (pair)
---
Best Road Cycling Shoes for Women
---
Pearl Izumi Quest
Lake's wide cycling shoes for a competitive road cyclist
MSRP: $100
Pearl Izumi's Quest women's cycling shoes are a supreme quality product made for performance while riding a high cadence and under high pressure.
The shoes come with a stiff sole and carbon fiber forefoot inserts. This helps provide a stiff base and support the foot through intense efforts. Additionally, the heavily perforated film uppers also provide a controlled stretch to increase the stabilization and make these shoes feel super comfortable on any shape foot.
The Pearl Izumi Quest road shoes use three Velcro straps for an accurate fit and the heel is designed to provide maximum support at all times. These shoes are a big investment, but certainly, offer lots of value for serious cyclists.
---
Bontrager – Velocis Women's
Perfect road cycling shoes for female cyclists
MSRP: $180
The Velocis women's Bontrager shoes are an affordable yet high-performance choice for any committed cyclist.
These shoes feature the premium two-way adjustment BOA Fit system and inForm Pro fitting to provide the most comfortable and efficient fit possible.
The soles are made from a carbon and fiberglass composite to create a very stiff surface so you don't waste any power. Finally, the upper is made with synthetic materials that allow for excellent breathability and comfort. The premium build of these shoes means they perform above their price tag.
Sole: Carbon composite
SPD-SL 3-hole cleat compatibility
Closure type: BOA
Stiffness index: 10 out of 14
---
Sidi – Genius 7 Women's
Sidi women's cycling shoes for serious pro-level riders
MSRP: $270
Feel like a pro with these Sidi cycling shoes that offer (almost) all of the top road shoe technology.
The Genius 7 shoes balance performance and comfort for long distances, starting with nylon injected Millenium 5 carbon fiber sole which delivers unbeatable power transfer and extra durability. The heel of these shoes has a stabilizing cup to add extra support and boost power transfer.
The overall build and shape are designed anatomically to mimic a women's foot shape. Additionally, Sidi uses eco-friendly leather for the shoes.
Finally, an important feature of these shoes is the thermo-formed strap that helps to distribute pressure evenly on the instep area, making these shoes even more comfortable.
Outsole: Carbon composite
3-hole cleat compatibility
Closure type: Adjustable buckle/velcro
---
Pearl iZUMi – Attack Women's
Affordable Pearl iZUMi women's cycling shoes
MSRP: $160
Another affordable yet top-quality set of women's shoes are Pearl iZUMi's Attack.
These shoes are designed especially for women, using a tailored shape and fitting with L6 Boa closure and a 1cm heel riser to make it easier to walk.
Expect excellent performance from these shoes with their seamless construction, composite power plates, and carbon forefoot for a high stiffness rating. Additionally, these shoes have reflective surfaces for increased visibility on the road.
Outsole: Nylon/plastic/carbon/rubber
Cleat compatibility: SPD, SPD-SL, Look Road, Look Mountain, Crankbrothers, Speedplay
Closure type: Ratcheting cable lace
---
Shimano – RC5 Women's
Great Shimano shoes for road cycling
MSRP: $160
Shimano road shoes are consistently some of the best on the market for the price and their RC5 Women's are both sleek and high performing.
These shoes are lightweight, weighing just 1lb, and comfortable. To do so they are made with mesh and synthetic leather which boosts breathability. Additionally, they come with a Boa fitting system for rapid, precise adjustments.
Finally, The RC5's combine the use of carbon fiber and nylon composite soles with lock stack height midsoles which transfers power excellently and stabilize the feet.
Outsole: Nylon
3-hole cleat compatibility
Closure type: Cable lace
Weight: 1 lb (pair)
---
Bontrager – Vostra Women's
Bontrager women's cycling shoes for the true road cycling enthusiast
MSRP: $110
The Vostra women's road cycling shoes are an excellent budget-friendly yet performance-focused option by the reliable cycling brand Bontrager.
Bontrager's Vostra shoes are lightweight, sufficiently stiff, stylish, and above all, they don't break the bank like many top cycling shoes. Notable features include the PowerTruss nylon composite soles for a good stiffness to weight balance and inForm Race construction for a snug, performance fit.
Additionally, the Vostra shoes use a 3-strap Velcro closure system and are optimized for maximal comfort with a women-specific design. These shoes would be an excellent pick for any cycling lover.
Outsole: 85% nylon/15% fiber
2-hole and 3-hole cleat compatibility
Closure Type: Strap
---
Best Road Cycling Shoes for Kids
---
Vittoria – Kid Boa Road Cycling Shoes
High-quality kid's road shoe by popular tire manufacturer Vittoria

Make cycling more enjoyable for your kids with these Vittoria kids cycling shoes which allow them to improve their riding efficiency so they can spend longer on their bike.
Vittoria developed this shoe to be perfect for a growing child. It comes with a premium BOA L6 closure dial, a breathable mesh and microfiber upper, and an ergonomic fitting concept for improved performance and comfort.
Additionally, these Vittoria kid's road cycling shoes have a wider cleat area for easier clip-in and increase mud clearance.
Outsole: 10% carbon reinforced
Closure type: BOA
Upper material: Heat-welded mesh and microfiber
---
Vittoria – Kid Road Cycling Shoes
Most affordable kid's road cycling shoe

These Amazon cycling shoes for kids by Vittoria are another great option for those who want to boost their kid's performance and enjoyment of riding without breaking the bank.
This entry-level model has a standard two-strap closure, a nylon sole with carbon reinforcement, and a nylon mesh upper with a convenient hydro repellant coating, making them a great addition for any aspiring child cyclists.
Sole: Nylon
Look pedal compatible
Closure type: Strap/velcro
---
Cycling Shoes Buying Guide
---
What are clipless shoes?
Clipless shoes are used to clip into road or mountain bike pedals. This type of shoe locks into a fixed position, helping riders achieve a more efficient pedal stroke for riding long distances. To un-clip from the pedal, you turn the heel outwards and lift.
Why are clip pedals called clipless?
The name "clipless" can be quite confusing to new riders. Clip-in pedals are called clipless because they don't have a toe clip/cage which is the alternative method of securing your foot to the pedal.
To clip in a road bike shoe:
Set up your clipless bike shoes by attaching the cleat to the shoe with the three screws. For instructions on how to do this correctly for your body, check out this video.
Sit on your bike with one foot down
Put the pedal on the side of the free foot at 6 o'clock
Use your toes to flip the pedal to the side you clip into
Push down with the ball of your foot into the pedal and you will hear a click
Road Cycling Shoes vs Mountain Bike Shoes
Road cycling shoes are designed for rides done mostly in one position. They offer minimal movement and flexibility using very stiff soles. This maximizes power transfer and helps riders maintain a consistent position. Road shoes are also lightweight and sleek compared to mountain bike shoes. As mentioned, they utilize a cleat attachment which makes it difficult to walk in them.
Mountain biking shoes are heavier, mostly have flexible soles, and allow more movement of the foot. This allows riders to adjust their foot position more easily when navigating technical terrain. They clip to the pedal using an indented attachment in the bottom of the shoe, which also makes walking much easier. Because of their heavier build and attachment mechanism, they also tend to last longer.
---
FAQs
---
How should bike shoes fit?
The shoes you choose must be comfortable when you first try them. Stiff soles make the change from the break-in period minimal.
Your heel shouldn't move up and down when riding.
Your arch should be well supported.
There should be some room to wiggle your toes.
To answer the question "what size cycling shoe do I need?", it's important to know your exact foot measurement. Here's a comprehensive guide with a list of real-life sizes by shoe brand and teaches you how to measure your foot correctly.
Can kids use clipless shoes?
Yes, they can. We have included two pairs of clipless kid's road cycling shoes in this article and there are even more to choose from. However, it can take some time to get used to clipping in and unclipping while riding, posing some risk of tipping over.
How to put cleats on cycling shoes?
Setting up 3-bolt cleats requires more thought than simply attaching the three screws. Correct cleat setup helps you avoid injury and poor pedal stroke efficiency. Check out this detailed video for a step-by-step guide to installing your cleats.