Ride1UP Cafe Cruiser Review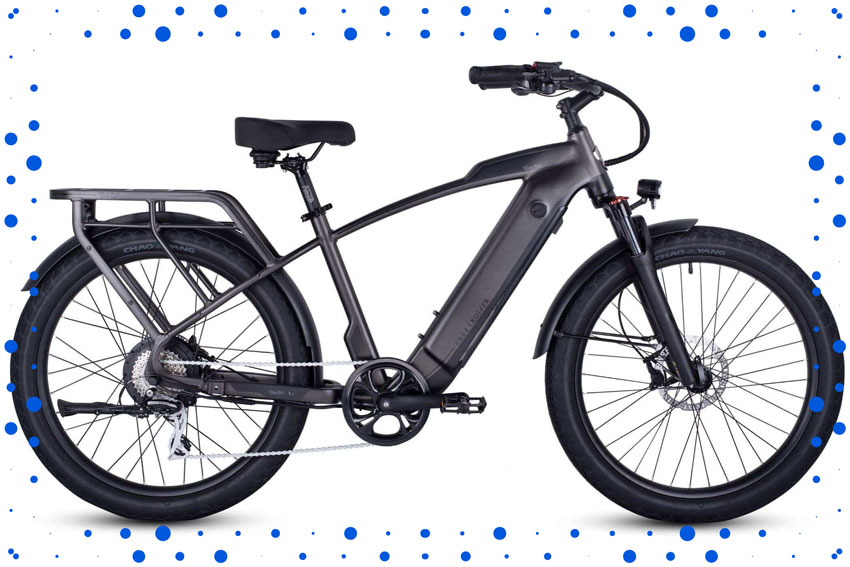 The Ride1UP Cafe Cruiser is the newest addition to the brand's range, bringing the total to seven urban e-bikes.
This bike was announced in late 2021 and began shipping almost immediately in early 2022, an impressive turnaround from the direct-to-consumer brand.
The Cafe Cruiser slots into the middle of Ride1UP's pricing at just $1,595 and, like most of their bikes, delivers excellent quality and versatility for its price.
Our Ride1UP Cafe Cruiser review will break down the main features of this new comfort utility bike, take a closer look at the individual components, and finish off with our opinion on whether or not this bike is worth the money.
Ride1UP Cafe Cruiser
We believe this is an excellent choice for any rider who wants comfort and values versatility. Although it's easy to find a comfort-style bike, it's less common to find one with all the extras included with the Cafe Cruiser.
PROS
Comfort-oriented frame geometry.
Smooth suspension fork.
Sufficient gearing.
Powerful motor and high-capacity battery.
Excellent accessories and extras.
CONS
Removing the battery can be easier.
Semi-internal cable routing.
Ride1UP Cafe Cruiser Key Features
---
Ride1UP's aim for their new release is evident in the name; it's a cruiser-style e-bike designed for pure comfort and utility. Additionally, it has a fully-equipped setup and one of the best specs we've seen on a bike at this price.
The cruiser design jumps out at first glance, with distinct swept-back handlebars and an oversized plush saddle. These two components create a relaxed, comfortable, and enjoyable ride quality suitable for any rider.
Like most of the Ride1UP selection, you have the choice between two frames designs—a step-through and a step-over—and three stylish finishes. Now, let's take a look at the key components.
Ride1UP Cafe Cruiser Quick Specs
Frame: Alloy frame with integrated electronics and cabling
Motor: Bafang 750W geared hub, 60Nm torque
Battery: 720Wh, Samsung Cells, 30-50mi range
Fork: Mozo, 80mm travel, hydraulic lockout
Tires: Chaoyang SandStorm 26 x 3″
Drivetrain: 8-Speed Shimano Acera
Brakes: Zoom hydraulic discs, electric cut-off sensor
Weight: 65lbs
Max capacity: 300lbs
Cafe Crusier Sizing:

XR: 5'5″ – 6'4″
ST: 5'0″ – 6'4″
Ride1UP Cafe Cruiser Review
---
Ride1UP's new Cafe Cruiser is a clear testament to the brand's commitment to continuously improving the quality and value of its bikes.
The Cafe Cruiser is a utility bike ready for almost any job.
It has a large payload capacity, a high-capacity integrated rear rack, and passenger seat compatibility. In addition, upgrades such as a high-quality Bafang motor, Zoom hydraulic disc brakes, and a big 720Wh battery make this bike arguably the best value-for-money offering from the brand.
Comfortable Aluminum Frame and Fork
Ride1UP uses the same lightweight alloy frame for the Cafe Cruiser as for the rest of their range. This choice helps to keep costs down while maintaining a reasonable strength-to-weight ratio and durability.
The highlight of this frame is the careful integration of the electronics and semi-integrated cabling. The battery fits tidily into the underside of the downtube, keeping the weight low and central to minimize the impact on handling. The issue here is that removing the battery can be frustrating until you get used to it.
The bike's front-end cabling enters the frame neatly at the headtube, and the motor cabling is hidden stealthily on the underside of the bottom bracket and chainstays, creating a tidy finish.
Finally, Ride1UP includes an urban suspension fork with 80mm of travel and hydraulic lockout from suspension brand Mozo. This fork is similar to the 700 Series' one and provides plenty of comfort for urban roads and light forest paths.
Strong Motor and Battery
The Cafe Cruiser takes a step up in quality compared to the other Ride1UP bikes, thanks to the high-quality geared hub motor from Bafang.
This motor has 750W of power and 60Nm of torque, which allows the rider to easily sustain the max speeds of 28 mph for this Class 3 e-bike. Additionally, you can quickly reach the limit of 20mph using the thumb throttle.
Cafe Cruiser's Bafang motor uses a sensitive integrated cadence sensor to provide the appropriate amount of power from five levels of assistance.
Finally, you have a 720 Wh (48V 15Ah) Reention Rhino battery with Samsung cells to support the powerful motor. This battery can provide anywhere from 30 miles of full-electric range up to 50 miles using pedal assistance.
Double-Wall Wheels and Wide Tires
This bike comes with standard 26″ alloy double-wall rims, which are relatively lightweight and durable for urban riding.
Ride1UP chose wide Chaoyang 3″ tires to complete the setup. The SandStorm tires have a lightly treaded city design with smooth drainage and blocks on the shoulder for improved cornering and grip. The primary downside is that the tires don't have puncture protection, which is valuable for an urban e-bike. Although this combination won't win any awards, it performs well at this price range.
Wide-Range Gearing and Hydraulic Brakes
This cruiser-style e-bike utilizes an entry-level Shimano Acera groupset, like the similarly-priced models in the Ride1UP range. This Acera setup is a slight upgrade from the basic Shimano Tourney setup seen on most other e-bikes in this price range.
The 11-32t 8-speed cassette pairs with a front 42t chainring. This versatile gearing allows riders to assist the motor on almost any gradients to get the most from the battery. Additionally, the chainring is covered on both sides to prevent grease marks from getting on your clothes.
Finally, the brakes chosen are Zoom hydraulic discs with an electric cut-off sensor that cuts power to the motor when you begin to brake. These provide excellent stopping power in all conditions and long-lasting performance.
Numerous Accessories and Extras
The Cafe Cruiser comes with various extras worth mentioning. Firstly, it's fully equipped for urban riding, including premium alloy fenders, a frame-integrated high-capacity rack, a heavy-duty kickstand, an 80-lumen LED headlight, and a modest LED taillight (which you may want to replace if riding at night).
In addition, you can quickly install accessories, such as Ride1UP's passenger kit or pannier bags. The passenger seat and rack can support up to 130lbs, making it ideal for taking kids on an adventure.
If you purchase the passenger kit, it comes with some sturdy pegs to rest the feet and plastic guards to stop anything from getting caught up in the rear wheel.
Finally, it's worth mentioning the handlebar-mounted display. This screen is monochrome but offers advanced ride metrics, allows you to control the pedal assist level, and is very easy to read on bright days.
Is Ride1UP Cafe Cruiser a Good Choice for You?
---
After a detailed look at the Cafe Cruiser, its components, and its characteristics, you should have enough information to decide if it's the right bike for you and your needs.
We believe this is an excellent choice for any rider who wants comfort and values versatility. Although it's easy to find a comfort-style bike, it's less common to find one with all the extras included with the Cafe Cruiser.
Buy Ride1UP Cafe Cruiser if you value comfort, versatility, and the practicality of having numerous accessories and extras.
This bike has an excellent range and plenty of power to support riders of any fitness level or age. It also has everything you need for carrying cargo or another passenger. In addition, you will enjoy confidence-inspiring control on varied terrains thanks to the wide tires, fork suspension, and powerful brakes.
If any or all of these characteristics and an affordable price appeal to you, Ride1UP's Cafe Cruiser could be the perfect bike.
Other Ride1UP Models to Consider
---
The Cafe Cruiser is a unique choice among the Ride1UP range. It's the only cruiser-style bike, and it has a better spec than the higher-priced 700 Series.
However, if your budget is limited or you want a bike with extra performance, check out one of the other Ride1UP options below.
Their range of urban e-bikes comes with varying spec levels and different specialties. For example, the lightweight, stealthy Roadster v2 is available at one end, costing $1,095, up to the premium off-road-capable Prodigy XR at $2,295.
| | | | | | | | | |
| --- | --- | --- | --- | --- | --- | --- | --- | --- |
| RIDE1UP | TYPE | MSRP $ | FRAMES | SPEEDS | TIRES | WEIGHT | DESIGNS | TORQUE |
| Roadster V2 | Single-sp | 1,095 | S-L | 1 | 700x28c | 33lbs | 3 | 40Nm |
| Core-5 | City | 1,195 | XT/ST | 7 | 27.5″x2.2 | 49lbs | 2 | 60Nm |
| 500 Series | City | 1,295 | XT/ST | 8 | 27.5×2.2″ | 55lbs | 2 | 60Nm |
| 700 Series | Hybrid | 1,695 | XT/ST | 8 | 27.5×2.4″ | 62lbs | 2 | 60Nm |
| LMT'd | Trail | 1,895 | XR/ST | 8 | 27.5×2.4″ | 53lbs | 2 | 100Nm |
| Prodigy | Hybrid | 2,295 | XR/ST/XC | 9 | 27.5×2.0″ | 48lbs | 1 | 90Nm |
Is Ride1UP Cafe Cruiser Worth the Money?
---
There's no doubt that the early signs for the Cafe Cruiser are good, with the first five reviewers giving 5-stars. It seems to be a very competitive choice among sub-$2,000 e-bikes.
It has excellent, reliable features like hydraulic disc brakes, a Bafang motor, a 50-mile max range, and a full commuter setup. Additionally, it's super comfortable, powerful, smartly designed, and stylishly finished.
If you're on the hunt for a versatile cruiser e-bike, then look no further than the Ride1UP Cafe Cruiser.