Marin Pine Mountain Review — Steel Adventure Hardtail with a Modern Twist
The Marin Pine Mountain is a steel-framed adventure bike built for bicycle touring, bikepacking, and light trail riding.
This model is one of the longest-lasting of the Marin lineup and has retained its core identity as a steel hardtail through the years. The Pine Mountain comes in two builds; both built for mixed-terrain adventuring.
Its 4130 Chromoly frame, reliable components, and modern trail geometry make for a smooth and stable ride quality with tons of durability.
This Marin Bikes Pine Mountain review will overview the bike, discuss the two models in detail, and provide our verdict on who should consider buying it.
MSRP $1,579 to $2,499
A 29er adventure bike designed to make bikepacking and trail riding comfortable and convenient.
PROS
Lots of customizability
Agile and stable geometry
Very comfortable
Durable and comfortable frame
Efficienct pedaling position
Affordably-priced
CONS
Cumbersome riding uphill
Very stiff handlebar
Slow tires with poor cornering grip
Slighly cramped reach for some riders
Marin Pine Mountain Overview
---
The Marin Pine Mountain is a unique adventure bike at home on bumpy trails or crossing huge distances with a loaded frame.
Large-diameter wheels and wide tires provide plenty of roll-over ability and comfort on mixed-terrain. In addition, aggressive trail geometry inspires confidence when tackling fast downhills. Combined with a compliant steel frame, the geometry and wheelset mentioned above deliver an incredibly smooth ride.
Models such as the Pine Mountain are among the best hardtail bikes for adventurers and bikepackers who don't want to be limited to light off-road terrain. By choosing this Marin bike, you can be confident in handling almost anything the trail throws your way.
Series 2 and 3 CroMo Steel Frame
---
When comparing the Marin Pine Mountain 1 vs. 2, one of the most notable differences is the frame grade.
The cheaper model has Marin's Series 2 CrMo frame, whereas the higher-priced one has the improved Series 3 CrMo. Regardless of the grade, the Pine Mountain's frame is durable, comfortable, and stable under load.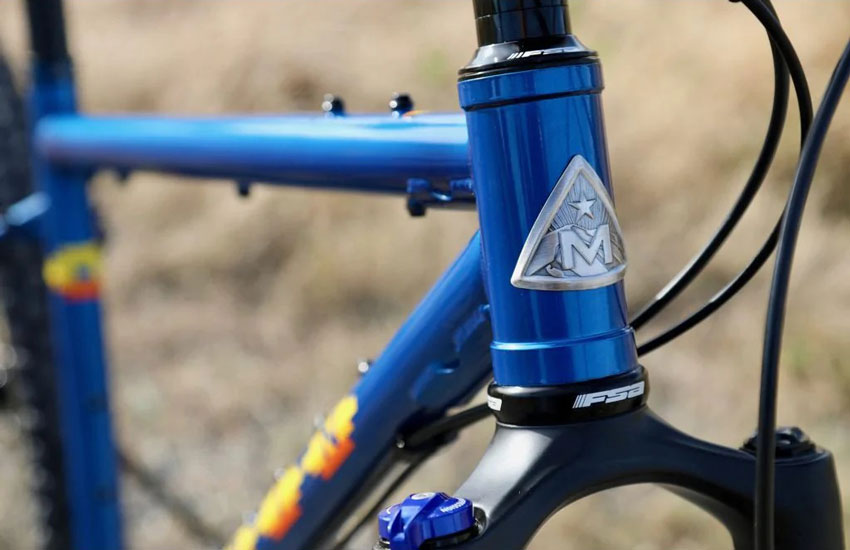 4130 Chromoly steel is characteristically compliant and supple, ideal for reducing vibration fatigue on long days of mixed-terrain riding. Marin's use of narrow-tube chainstays enhances the traits of the steel, increasing flex in the rear end and absorbing more trail chatter.
Along with comfort, Chromoly is known for its toughness and durability, another characteristic that fits with the adventure trail bike personality. Marin also did an excellent job of ensuring the frame is stable and balanced when loaded with gear, inspiring confidence when you hit rough terrain on your bikepacking trips.
The most notable difference between the Series 2 and 3 frames is the move to thru-axles on the more expensive grade. Thru-axles offer improved stiffness and responsiveness over quick-release, giving the Pine Mountain 2 a little more kick when you put the power down.
Modern Trail MTB Geometry
---
The Pine Mountain's geometry is typical of the modern approach trail bikes. Marin chose a slack head tube angle of 66.5 degrees and a relatively steep 74.5-degree seat tube angle, consistent across the four frame sizes.
This geometry is pretty aggressive for a bike that's primarily designed for adventuring and bikepacking. Still, it gives the Pine Mountain some valuable characteristics that allow it to perform well on a range of trails.
The slack head angle creates a feeling of stability and composure when descending on bumpy terrain. Pair this with a dropper post, and you have a highly capable descender.
Additionally, the steep seat angle puts the rider in an efficient pedaling position for flat sections and climbs. However, this setup means the front wheel can feel a little light on very steep terrain.
Another trait of the Pine Mountain's geometry is the short reach (410 to 485mm), short stem (35mm), and tall bars (50mm rise). These factors create a notably upright and relaxed position, similar to a comfort bike. Unfortunately, this position may feel cramped for riders with a longer torso and arms. Consider adding a longer stem if this is the case.
Built for Bikepacking
---
The Marin Pine Mountain is one of the best bikepacking bikes and is perfectly equipped for multi-day, mixed-terrain adventures and tours.
Firstly, as mentioned before, Chromoly steel provides an excellent base for this type of riding. It's comfortable, long-lasting, and easy to repair.
Additionally, the Series 2 and 3 Pine Mountain Marin frame has lots of mounts for installing a rear rack, fenders, multiple bottle cages (including underneath the downtube), and customized frame bags. However, some users may feel the number of bosses is overkill, considering the bike is heavy already.
If you're a keen cyclist, you're probably wondering what this new 'bikepacking' trend is that you've been hearing ...
Another great bikepacking feature is the double-stacked 'Bedroll' handlebar with a straight top. This handlebar adds unnecessary weight and is too stiff for trail riding. However, for bikepacking, it provides an excellent platform for attaching a handlebar bag without it interfering with your cabling or lights.
Marin Pine Mountain Builds
---
The Marin Pine Mountain is available in two builds, each performing well for the price. The bike's versatility makes it an excellent choice for riders with diverse needs, not limiting you to just adventuring, but offering a solid base for trail riding too.
Marin Pine Mountain 1
---
MRSP: $1,579
The Marin Pine Mountain 1 is the entry-level model, priced in the same range as popular hardtail adventurer bikes like Salsa's Timberjack or Kona's Honzo.
This bike is perfect for first-time adventure riders or those upgrading from a drop bar bike or a rigid mountain bike. The Pine Mountain will provide a more capable and versatile ride than most bikepacking bikes, allowing you to tackle light to moderate trails.
As mentioned, the Pine Mountain 1 comes on a Series 2 CrMo frame with quick-release axles. This frame uses a 120mm travel RockShox Recon RL fork with compression and rebound adjustment. This fork isn't very high performance but will smooth out some small bumps on the trail, helping you stay fresher on those all-day epics.
This build comes with a Shimano Deore 11-speed derailleur and shifters, a SunRace 11-51t cassette, and a 32t Marin crankset that gives you plenty of low gears for climbing steep hills while loaded.
Shimano MT400 hydraulic discs round out the groupset. These include a four-piston caliper and 180mm rotor in the front and a two-piston caliper and 160mm rotor combination in the rear.
Finally, this bike has a set of Marin double-wall alloy tubeless-ready rims and 32-spoke hubs wrapped in Vee Tire Flow Snap 2.6″ tires. We'd recommend swapping out these enduro-style tires for something faster (and tubeless-ready) if you want to improve speed on flatter, smoother trails.
Marin Pine Mountain 2
---
MRSP: $2,499
The Marin Pine Mountain 2 gets upgrades in several areas, increasing the price by $920.
As mentioned, this model has a thru-axle Series 3 CrMo steel frame fitted with a marginally-improved RockShox 35 Gold RL 120mm DebonAir fork. This fork can be sticky when new, so if that happens for you, it may be worth getting it serviced.
Another significant upgrade for the Pine Mountain 2 is the stock TranzX dropper post with 150mm (S) or 170mm travel (M-XL). This addition vastly improves the bike's descending capability.
The groupset comprises a Shimano SLX M7100 12-speed drivetrain with an improved 10-51t SLX cassette and an FSA 32t crankset. In addition, the brakeset steps up to MT500/520 for more stopping power and improved consistency.
Other notable upgrades include a Shimano Microspline rear hub and tubeless-ready Flow Snap tires. All things considered, the Pine Mountain 2 is adequately-priced, with more capable, durable, and reliable componentry.
How Does the Marin Pine Mountain Perform?
---
As we've seen, the MTB Marin Pine Mountain is an affordable and versatile adventure trail bike that is comfortable but slightly heavier than you'd want.
It doesn't excel on one specific type of terrain but flourishes as a mixed-terrain bikepacker and light trail machine.
Where Does the Marin Pine Mountain Thrive?
---
The Marin Pine Mountain is perfectly suited to single or multi-day tours with varied terrains but not too much elevation gain.
The supple Chromoly frame, thin chainstays, burly wheelset, and upright ride position provide one of the smoothest and most comfortable ride qualities you will find in an adventure bike. This comfort makes those long days in the saddle feel less taxing.
When it's time to hit the trail, the heavy weight of this bike and stiff suspension give you a solid, planted feel. In addition, the modern trail geometry and dropper post make for confident descending on light to moderate-difficulty trails.
Finally, as a bikepacking and touring bike, the Pine Mountain works with various accessory combinations, making your life easy when setting up for your next trip, no matter the length.
What Can Be Better?
---
Marin Pine Mountain's weight is its biggest weakness. At around 35lbs without gear, it's heavier than you would expect for a hardtail, making it a little less fun in trail riding situations and taxing on steep climbs.
The other major component we'd change is the Flow Snap tires. These are too heavy for an adventure bike, and they have poor sidewalls and cornering traction that can be dangerous when taking corners at speed or on loose terrain. Changing to a lighter, trail-style tire would significantly improve this bike's intended performance.
Finally, a minor issue affecting some riders is the short reach. We recommend test riding this bike to ensure it fits correctly, or else it may leave you feeling slightly cramped.
Marin Pine Mountain Sizing
---
The Marin Pine Mountain frame is available in four sizes, S to XL, fitting riders from 5'3″ to 6'4″. Due to the unique geometry, we recommend test riding the Pine Mountain at a local Marin dealer, especially if you fall between two sizes.
S – 5'3″ – 5'6″
M – 5'6″ – 5'10"
L – 5'10" – 6'2″
XL – 6'2″ – 6'4″
Bottom Line: Should You Buy a Marin Pine Mountain
---
Overall, Marin has done an excellent job with the Pine Mountain. It's versatile, comfortable, has solid components given the price, and is well designed for a bikepacker's needs.
This bike could be the perfect setup for you if you're looking for a touring machine that can handle trail riding from time to time.
Entry-level riders will appreciate the low cost of the Pine Mountain 1, while the more experienced adventurers and trail riders may find the premium model more appealing.
Either way, consider this do-it-all adventurer if you're in the market for a bike to experience the joys of bikepacking and touring without limitations.