Cannondale Quick 3 Review
The Cannondale Quick 3 is an affordable fitness hybrid designed for speed, agility, and versatility.
This bike earns its name with fast-rolling tires, aggressive, forward geometry, and lightweight, responsive SmartForm C3 frame.
If you're in the market for an urban bike that can easily maneuver around the city streets, go hard on fitness rides, or transform into the perfect long-distance commuter machine, look no further than the Quick 3.
This Cannondale Quick 3 review will discuss the bike's main features in detail, where it performs best, and whether or not it's worth the money.
Cannondale Quick 3
A fast fitness hybrid offering value-for-money at $1,050, thanks to its premium Cannondale frame and reliable brand-name components.
PROS
Lightweight frame with integrated micro-suspension
Shimano drivetrain
Fast for a hybrid bike
Rack and fender mounts
Carbon fork
Wheel sensor
CONS
Handlebar too wide
Geometry may be too aggressive for some
Thru-axle wheel is expensive to replace
Cannondale Quick 3 Main Specs
The Cannondale Quick 3 easily competes with similarly-priced hybrids like Trek's FX3 and the Specialized Sirrus 3.0. It stands out through the high-quality Cannondale SmartForm frame with SAVE micro-suspension, the carbon fiber fork, and the wheel sensor.
Aside from the frame, there's plenty to like from this bike's spec list with reliable components from Shimano, Schwalbe, and Tektro.
Frame – SmartForm C3 Alloy, SAVE micro-suspension, hidden cable routing
Fork – Full carbon with thru-axle
Tires – Schwalbe Spicer 700 x 35c with K-Guard puncture protection
Wheels – Cannondale Disc double-wall
Drivetrain – Shimano Altus 2×9-speed
Crankset – Prowheel 48/32
Brakes – Tektro HD-R280 hydraulic disc
Weight – 24.6lbs
Cannondale Quick 3 Review
---
Cannondale's Quick 3 is one of the most feature-rich fitness bikes available. Unique additions such as a ride tracking sensor, OutFront steering geometry, SAVE micro-suspension, and 360-degree reflective properties add finesse to the high-quality componentry.
By choosing a big name brand such as Cannondale, you may pay slightly more than smaller direct-to-consumer or lesser-known brands. Although some of the extra cost is name recognition, you'll also benefit from design and engineering expertise that trickles down from their high-end models, evident in the entire Quick series.
SmartForm C3 Aluminum Frame and Carbon Fork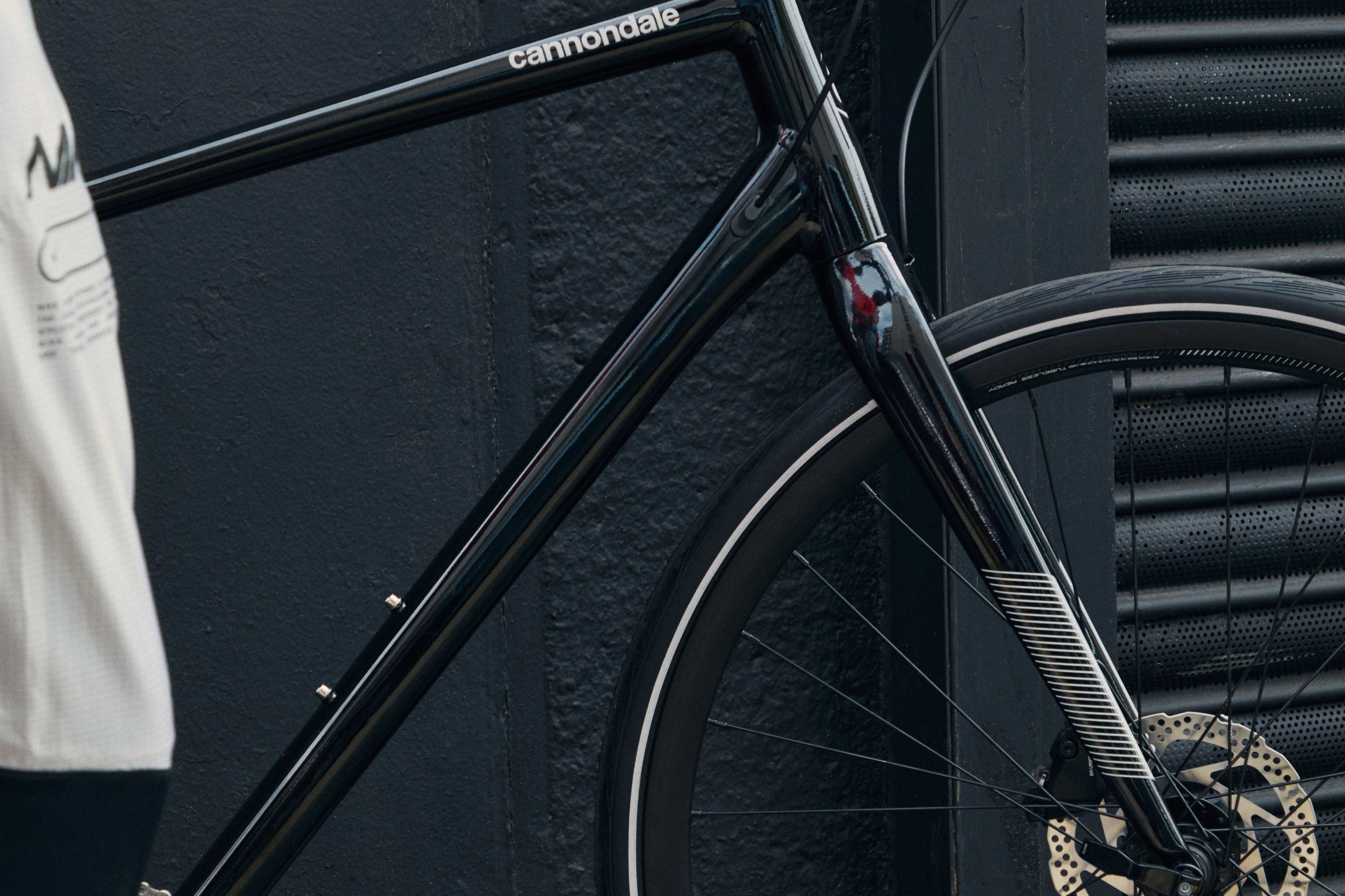 As mentioned previously, the lightweight SmartForm C3 frame and carbon fiber fork are the main highlights of this Cannondale hybrid bike.
Cannondale carefully designs its SmartForm 6061 aluminum frames to concentrate the material precisely where it's needed, maximizing stiffness and strength but reducing weight. The further addition of a carbon fiber fork adds even more to the comfort and responsiveness of the Quick 3.
In addition, this frame has Cannondale's proprietary SAVE micro-suspension to boost comfort further. This design technique optimizes the tubing around the seatpost, seat tube, and rear triangle to increase small bump compliance without sacrificing performance.
Other notable features of the frameset include the mounts for a rear rack and fenders and the tidy straight shot internal cable routing. The one issue with the frame is the mismatched quick-release rear axle and thru-axle on the fork, so replacing the wheelset is more expensive and complicated, if it ever comes to that.
Speed-Optimized Geometry
The Quick 3 has one of the most aggressive ride positions you'll find on a fitness hybrid bike, with geometry about as close as you will get to that of a road bike. Although the rider is farther forward than other fitness bikes, it is still upright enough to ensure you are visible on busy urban roads, and you can see what's going on ahead.
The benefit of aggressive positioning is the reduced aerodynamic drag, meaning you will be more efficient and faster than on other hybrids. However, this type of ride position may not appeal to all cyclists, so if you're unsure, we recommend doing a test ride of this bike before purchase.
Finally, Cannondale built the Quick 3 with their OutFront steering geometry, meaning the front wheel is farther forward to improve stability and control.
18-Speed Drivetrain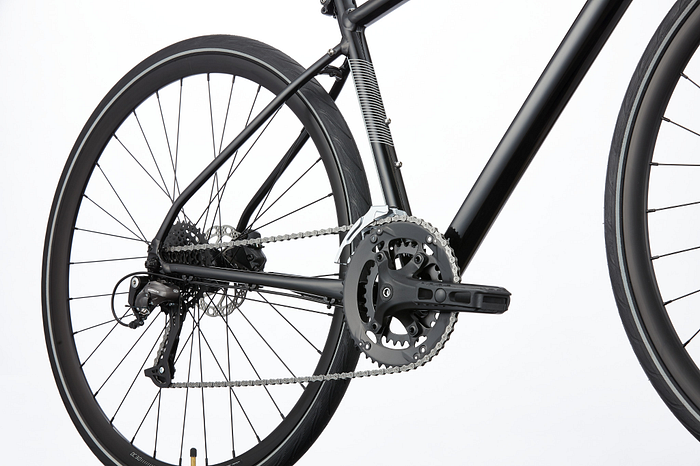 Cannondale went with a mixed-brand drivetrain for this bike, which helps keep the costs down with a slight sacrifice to performance compared to a complete Shimano Altus drivetrain.
The Quick 3 has Shimano Altus shifters, and the derailleurs are Altus (rear) and Acera (front). This combination is a slight step above the budget Tourney setup and perfectly adequate for this price.
The crankset is a slightly lower quality Prowheel 48/32T double chainring, and it's paired with a Sunrace 9-speed 11-34t cassette. Although somewhat underwhelming, this is broad enough for climbing steep gradients (the lowest gear has a 0.94 ratio).
Tektro Brakes
Cannondale chose to save costs again with slightly cheaper Tektro brakes instead of completing the groupset with Shimano ones.
Since their popularization in mountain biking, disc brakes have slowly edged into the other disciplines. Mechanical ...
They chose Tektro HD-R280 hydraulic discs with 160/140mm rotors. Although slightly cheaper, this is a well-respected brand and these brakes offer solid stopping power and durability for a $1,000 bike.
The benefit of hydraulic disc brakes is their unbeatable performance in wet conditions and the relative lack of maintenance they require compared to mechanical discs and rim brakes.
Cannondale Wheels and Schwalbe Tires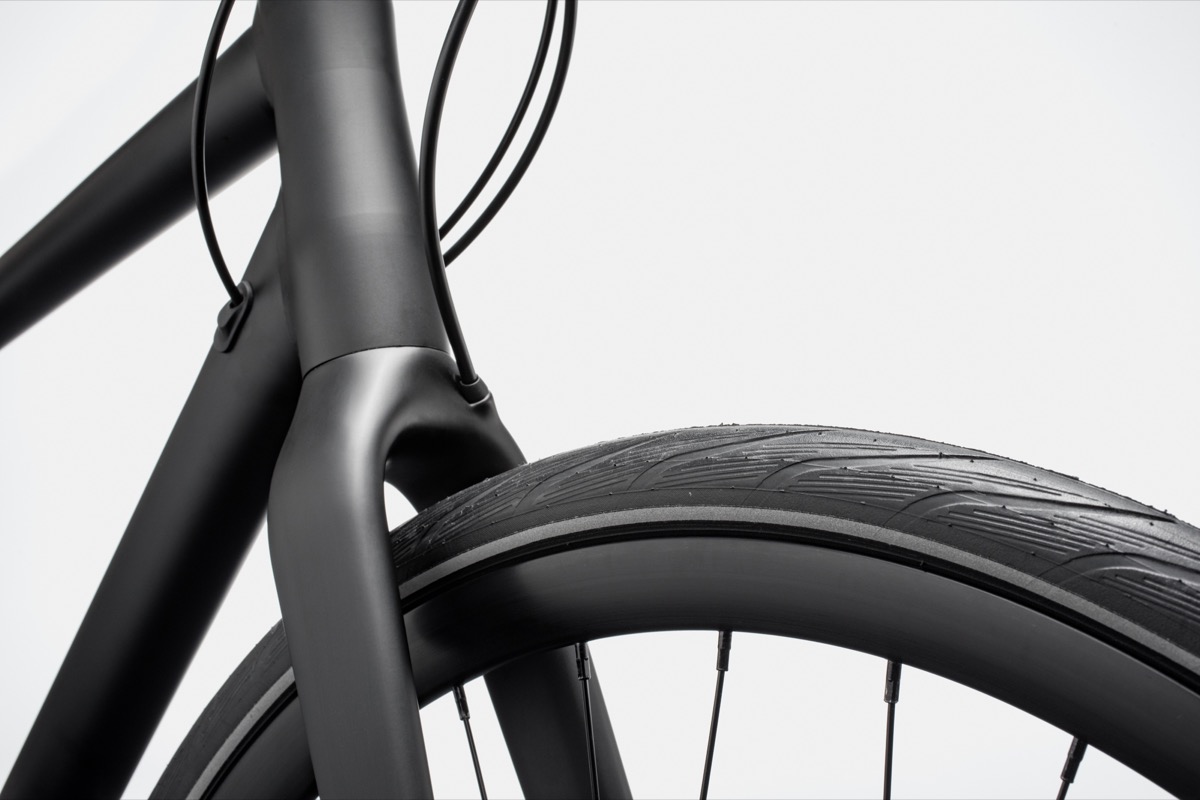 The Quick 3 comes with Cannondale's own-brand double-wall 700c alloy rims. This wheelset won't win any awards but is sufficiently durable for urban riding.
On the rims, you have Schwalble's slick Spicer tires designed to minimize rolling resistance and reduce the chance of punctures with K-Guard. Puncture-resistant tires are an excellent inclusion on a hybrid. These are 35mm tires that balance bump absorption and speed.
Extras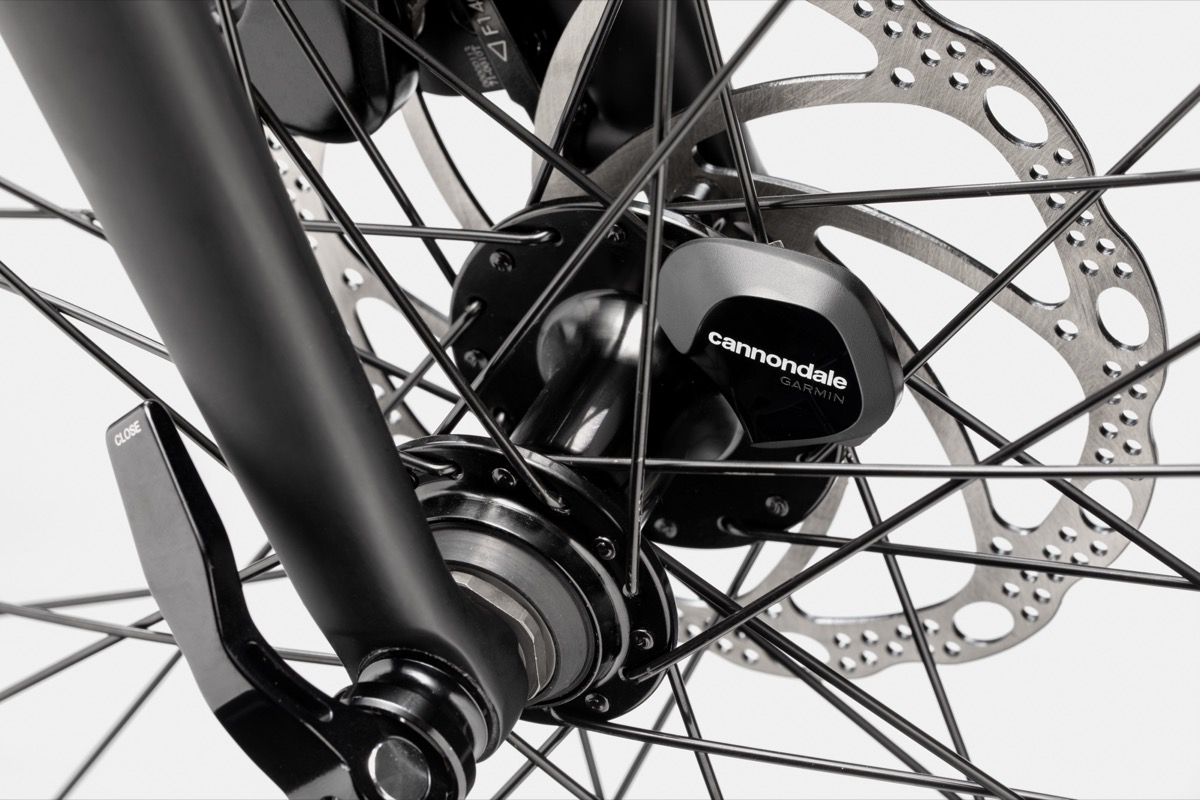 As we touched on above, this bike is loaded with extra features that help give it an edge over its competitors.
Firstly, the integrated Cannondale wheel sensor tracks ride metrics such as speed, distance traveled, ride time, and calories burned. Additionally, once paired with the company's free mobile application, you can register your bike and receive maintenance notifications.
Another great feature of this bike is the 360-degree reflective accents spread across the frame and components. This design increases low light visibility and helps keep you safe.
Finally, Cannondale uses their proprietary stem with Intellimount functionality allowing you to quickly attach any SP-Connect compatible smartphone case to create a ride dashboard using the Cannondale app or easy GPS navigation.
Other Cannondale Quick 3 Models
---
This versatile fitness hybrid has four variations that help reach a broader range of riders and preferences. These include the Cannondale Quick CX 3, a women's CX 3, a Quick 3 Remixte, and a women's Quick 3.
Quick 3 Women's
Cannondale developed a female-specific XS size with a turquoise paint finish for the Quick 3 and released it as their women's model.
The only difference between the men's and women's versions is size range, women's being from XS to L and men's from S to XXL, and the different colors. The price, geometry, and components are the same.
Quick 3 Remixte
Cannondale uses the word Remixte to identify their step-through bikes. The Quick 3 Remixte has a low-step frame design that makes it easier to mount and dismount. The Remixte is a good option for older riders, those with limited mobility, or anyone looking for a slightly more convenient ride.
Quick CX 3
The Cannondale Quick CX 3 bike is the off-road-optimized version of the Quick 3. This bike is tailored for comfort while riding on urban roads, gravel, and even light trails. However, this comfort means a trade-off with weight (29.1 lbs vs. 24.6 lbs).
The CX model is $150 cheaper than the regular Quick 3, coming in at $900. In addition, Cannondale downgraded the drivetrain to a 2×8-speed Shimano Tourney/Acera setup to save costs.
The geometry of the Quick CX 3 is inspired by mountain bikes to be more upright and stable than the regular model. The other key differences are the addition of grippy, all-terrain 40mm Vittoria tires and a Suntour NEX-E25 coil suspension with 63mm of travel to provide stability and comfort on bumpy terrain.
Finally, there is a Cannondale Quick CX 3 women's bike to match the standard Quick 3. Again, the only difference here is sizing and colors.
Where Does Quick 3 Thrive?
---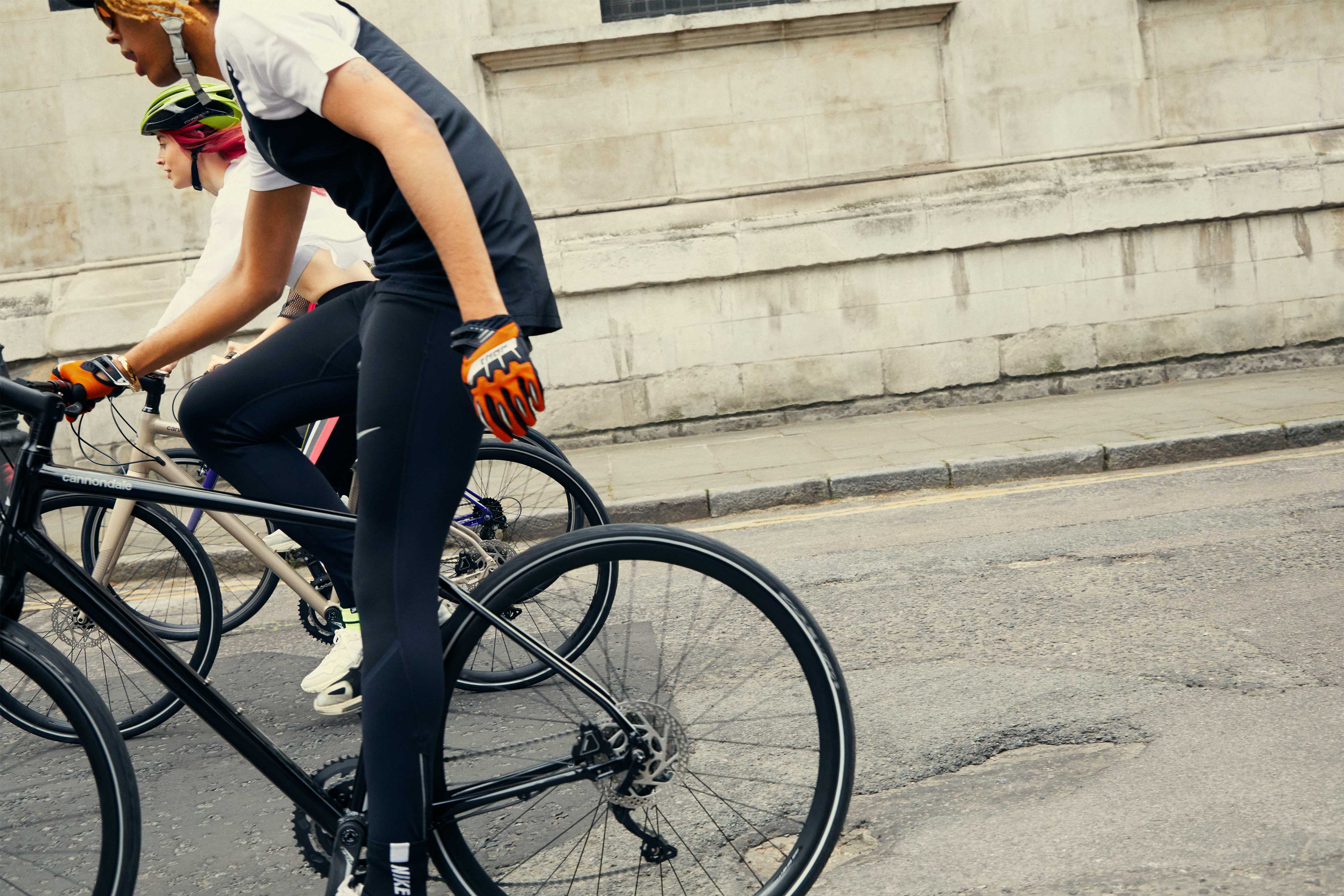 It's clear from the design and component choice that the Quick 3 flourishes in urban environments where agility, speed, and broad functionality are essential.
Nimble yet stable geometry, a responsive and lightweight frame, rack and fender mounts, and wide gearing make this the perfect bike for rapid fitness rides, leisurely weekend spins, or long-distance commutes.
Compared to a road bike with drop bars, the more upright geometry and flat handlebar are favorable as they put the rider in a safer position for navigating city streets.
Finally, with alternative step-through, women's, and off-road-ready models available, Cannondale's Quick 3 hybrid covers all the bases.
Our Verdict: Should You Buy Cannondale Quick 3?
---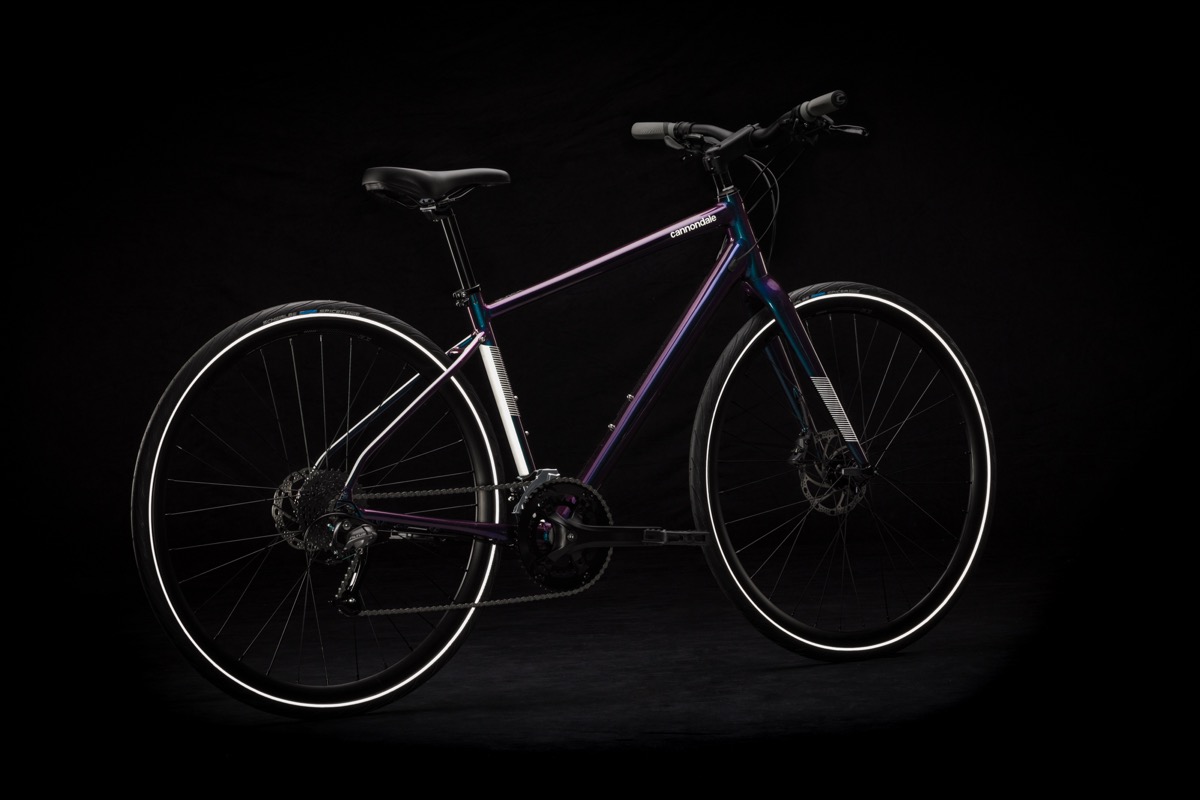 For us, the Cannondale Quick 3 is a very competitive choice in the $1,000 range. Users love the lightweight and responsive ride feel, the reliable frame and components, and the unique extras.
Although Cannondale could make a couple of minor improvements to the drivetrain and the handlebars, there is nothing else that we would change on the Quick 3.
With all things considered, if you're in the market for a fast fitness bike to last for many years, Cannondale's Quick 3 is one of the best options in this price range.