15 Best Cycling Apps in 2023: Easily Track Your Rides and Progress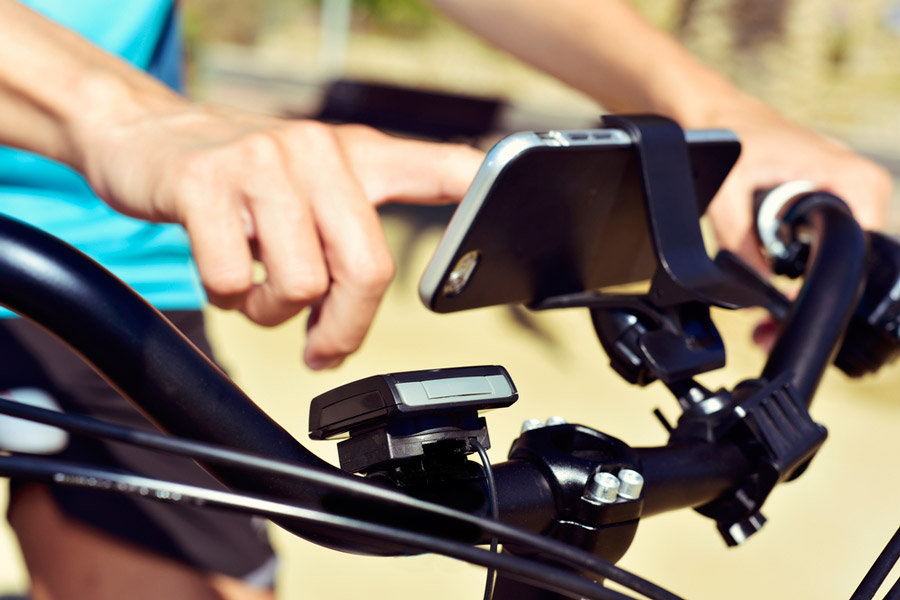 In the modern age of cycling, it has become increasingly possible to track and measure every aspect of your riding. From mapping routes for your GPS computer to tracking your fitness levels, and even making indoor cycling palatable, there are so many applications for cyclists to use.
In this article, we will break down the 15 best cycling apps across a number of categories and explain how using each of them will help you to develop your cycling in the future.
---
The Best Cycling Apps in 2023
Strava
Garmin Connect
Komoot
MapMyRide
TrainingPeaks
MyWindSock
Wahoo SYSTM
Accu Weather
Zwift
Trainerroad
Spoked
Flare
Rouvy
TrailForks
Wattson Blue
---
1. Strava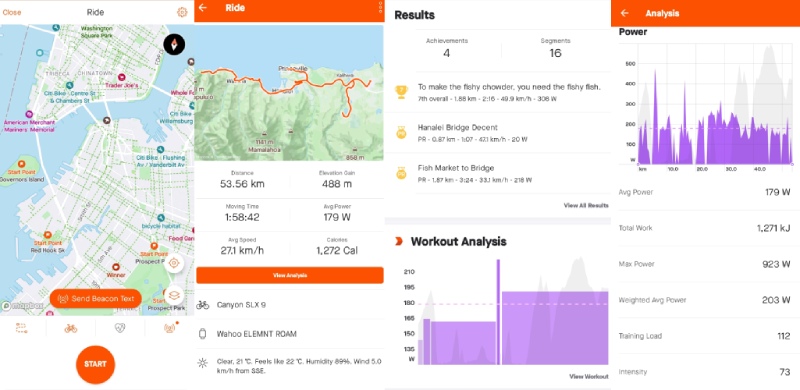 Undoubtedly one of the first apps you think of when you think of the best cycle tracking app, Strava is a diverse application that allows you to track and plan most aspects of your cycling. It contains features for route building through Strava maps, which include the famous segments that riders from across the world can ride on to compete for the fastest time and the coveted KOM/QOM crowns.
Additionally, Strava has plenty of other features for its premium members, including fitness tracking and safety beacons which you can send to your loved ones so they can find you if you have an incident, or just so they know when to put the coffee on when you're on your way home!
Over the past decade, technology developers have been using the popularity of smartphones and tracking devices to ...
Strava is one of the best cycling apps for Android and best cycling app for iPhone as well, as there is so much functionality to the app. For the best experience then consider paying for premium, but even the free version can help you to track your rides and cycling progress easily and share with friends.
This is one of the best apps to track cycling distance too as it calculates your weekly, monthly and yearly totals so you can see exactly how you're performing compared to other riders and of course, yourself.
Available for: iOS and Android
Price: Free (premium version for extra features)
Website: www.strava.com
---
2. Garmin Connect
Garmin Connect is one of the best free cycling apps, particularly if you use a Garmin device such as an Edge cycling computer or a smartwatch to track your activities.
It can be used either on desktop or mobile and is a fantastic resource for serious and leisure cyclists. Users can map detailed routes and export the files to their GPS devices, track their fitness (the types of metrics available depend on your Garmin device), and even activate a safety feature for people to track you with a link.
Cycling computers were originally designed as a specialized tool to collect all of your cycling metrics. However, ...
Garmin Connect offers lots of the same features as Strava but works with Garmin devices only, you can use the app if you have a Wahoo for example, but it won't sync automatically nor will all the data from your rides be available. If you do use a Garmin cycling computer, however, it is really hard to beat for the insights and tracking it provides.
Available for: iOS and Android
Price: Free
Website: www.connect.garmin.com/
---
3. Komoot
Komoot is one of the best cycling route apps for both road and off-road riders. It uses multiple map types and popularity routing in order to gauge the best route for you to take. It's a fantastic way to explore your local area, or even somewhere new and unfamiliar.
The United States is made up of some of the most beautiful and diverse landscapes in the world. Within the 50 ...
There are free and paid versions, and the maps of certain locations may need to be paid for but we think the maps alone are worth the price. You can adapt your route to the type of bike you're riding, your fitness level, and how hilly you want it to be.
It's also a collaborative app that lets users insert points of interest on maps so you can choose to visit them on your route. It's a great way of navigating to the best parts of the areas you're riding in and is built with local knowledge from riders.
Available for: iOS and Android
Price: Free (Premium for extra features)
Website: www.komoot.com
---
4. MapMyRide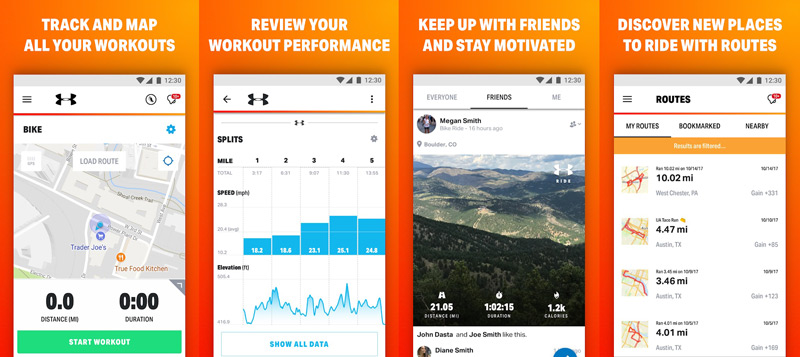 MapMyRide is a great alternative to a GPS cycling computer if you don't have the cash to buy one. One of the best cycling navigation apps, it allows you to create a route and then follow it all from one app on your phone. Routes can be made for all types of riding, although we've found it works best for road cycling and light gravel where there are obvious rights of way.
It also allows you to share routes with your friends so if you are planning a club ride or a big group ride or event, then this is a great way to make sure everyone can follow the same route. You can export the routes to your GPS devices if you have one, or use GPS on your smartphone to follow the way while you ride.
Available for: iOS and Android
Price: Free (Premium for extra features)
Website: www.mapmyride.com
---
5. TrainingPeaks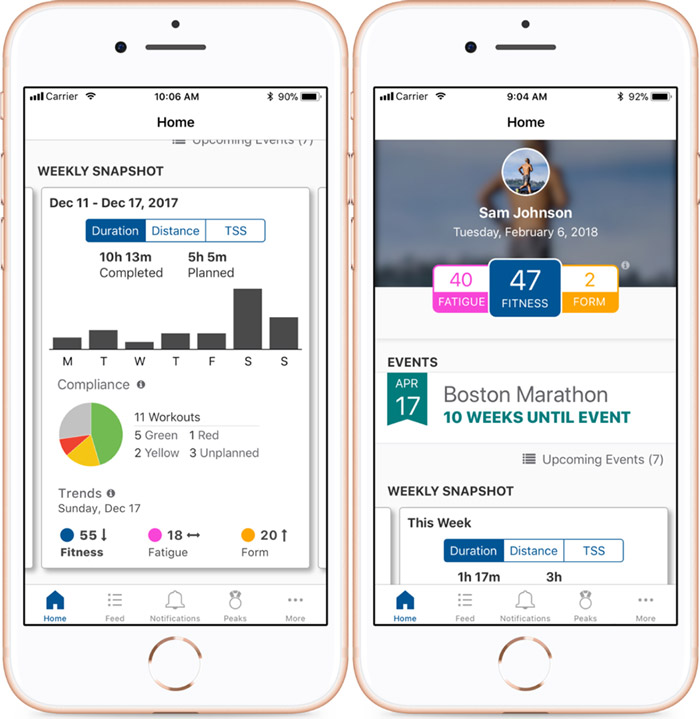 Undoubtedly one of the best cycle tracking apps, TrainingPeaks is well respected in the cycling training community. It works as a website and a standalone app so you can check your cycling progress and what workouts you need to do from anywhere.
You can assign a coach, either one you find outside of TrainingPeaks or through it, and they can set your cycling training plan and monitor your progress remotely.
It is one of the most used training apps across the world, even by professionals. It gives you a score for each workout based on how hard it was, also known as a Training Stress Score (TSS), and this helps to shape your fitness and form numbers also provided by the app.
If you don't have a coach or want one, there are thousands of ready-made training plans on there for you to choose from.
You can create your own workouts in the app or website and then export them to other platforms such as Zwift. It's incredibly versatile and even the free version gives you a great insight into your fitness and total workload so that you can be a better athlete.
Available for: iOS and Android
Price: From $19/month
Website: www.trainingpeaks.com
---
6. MyWindsock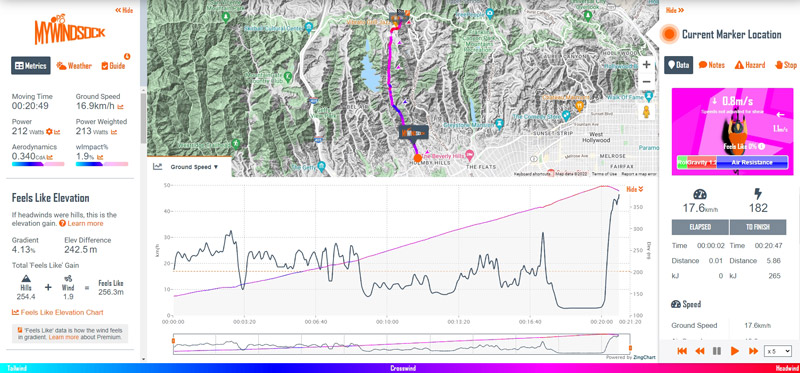 One of the best cycling weather apps, MyWindsock can be used on the web or from your phone on the app – it's not available in the Apple Store or Google Play, so visit their website to find out how to download it.
Essentially, MyWindsock uses weather data like the wind to analyze your rides in a different way. Time triallists use it to figure out where there is going to be a crosswind, headwind, or tailwind on their route, and having this information helps them to figure out how much power they'll need to sustain in order to finish the race in a certain time.
It can use weather forecast information to help you predict your ride times, or it can use previous information to help you analyze your rides and races. This can really help bring your cycling to the next level, as we all know a headwind can make or break a ride or race!
Available for: Desktop only
Price: Free (Premium for extra features)
Website: www.mywindsock.com
---
7. Wahoo SYSTM
Formerly known as 'Sufferfest', the app was acquired by Wahoo and changed its name to Wahoo SYSTM. It's regarded as one of the best indoor cycling apps due to the success users have with it. Essentially, the Wahoo SYSTM is a training app dedicated to enhancing cycling performance.
Firstly, you have to undergo a test to determine your 4DP, or your four-dimensional power. This helps to identify your strengths and weaknesses as a rider, and what type of rider you may be. For example, a rouleur, or a sprinter.
Wahoo's product range is focused on improving and tracking cycling data on a professional level!Wahoo Fitness is a ...
From there, you are prescribed training sessions to train your weaknesses and tailor them to your goals as a rider. The app can be used on Android and Apple phones and tablets but is best used on your computer so you can easily connect your turbo trainer and other devices to it via Ant+ or Bluetooth.
Price-wise, you can get 14 days free as a trial when you're a new customer. Once you've used up your trial, it costs $14.99 a month, or $129 a year.
Available for: iOS and Android
Price: $14.99/month or $129/year
Website: www.wahoofitness.com/systm
---
8. Accu Weather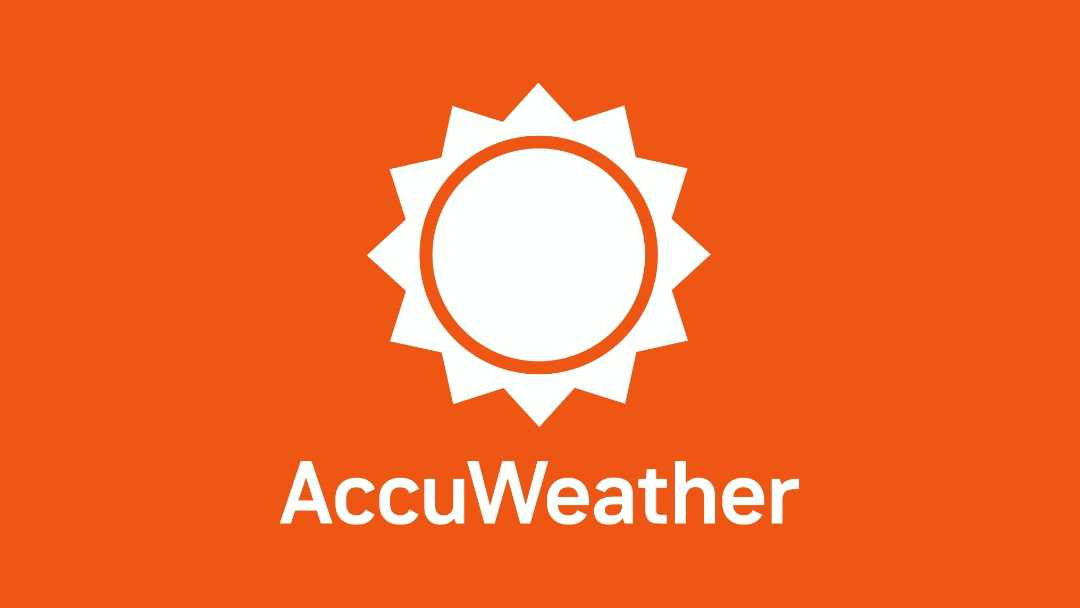 AccuWeather is, unsurprisingly, a weather forecasting app. It is available for use across the globe, so it isn't restricted to certain countries or regions. Predicting the weather can be tricky, but this app provides plenty of helpful information for you to be able to plan your rides accordingly.
Not only does it tell you the typical information in a weather forecast such as temperature, wind speed and direction, and rain possibility, it also includes things like air quality measurements. For people who live in densely populated areas or cities like Barcelona where smog levels can be high, it's important to check things like air quality before undertaking any heavy exercise.
This makes it ideal for cyclists who can check the air quality on their routes as well as other possible allergen levels like pollen and dust. We love looking at data and this app can really help you inform your cycling kit choices as well as route mapping.
Available for: iOS and Android
Price: Free (Premium available)
Website: www.accuweather.com
---
9. Zwift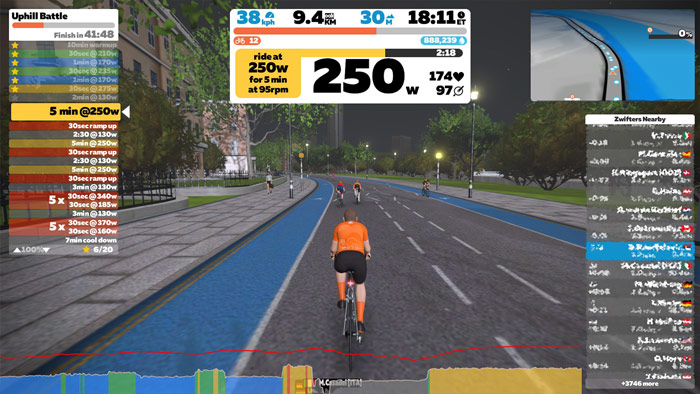 You'll have undoubtedly heard of Zwift, even if you haven't tried it for yourself! Zwift is one of the best indoor cycling apps for many reasons. Zwift was created to make the boredom of indoor training disappear.
How have they achieved it? By immersing riders into a virtual world as they ride. You can choose which world you want to ride in, from the island of Watopia, to the urban metropolis of Neokyo.
Secondly, there are plenty of group rides and races for you to choose from. The group rides are often workouts led by a ride leader, or you can join a meetup with your friends and ride together in the virtual world.
Cycling throughout the winter is undoubtedly more complicated compared to the other seasons. Cold, wet, windy, and ...
If you have a competitive edge, then racing is for you. There are a few categories to choose from, based on your FTP (functional threshold power) and they run along different courses and terrains.
You need a turbo trainer, preferably a smart one to get the most functionality out of this app. Zwift can be run from your computer or your tablet or phone as long as your turbo and other devices can pair to it.
It currently costs $14.99 a month for Zwift, and with all the workouts and functionality, it's a great investment in your cycling fitness.
Available for: iOS and Android
Price: $14.99/month
Website: www.zwift.com
---
10. Trainerroad
Unlike other training apps, Trainerroad is a smart cycling platform that adapts to your evolution as a cyclist. It offers flexible workouts and training plans for all kinds of riders, from mountain bikers to time triallists. Trainerroad uses AI to create the best training plan for your goals and provides all the workouts for you through the app.
The app can be run indoors only and connects to your turbo trainer. Unlike other indoor cycling apps, you do not need a smart turbo trainer to get the most out of it. Instead, you can use a wheel-on trainer with just a speed sensor if you prefer.
As well as indoor workouts, you can transfer the workout files to the great outdoors. You can do this by exporting the files to your cycling GPS devices such as a Garmin or Wahoo, and running the workout off of there.
It costs slightly more than Zwift and Wahoo SYSTM at $19.95 a month, or $189 a year but you do get the functionality of it outside as well as inside.
Available for: iOS and Android
Price: $19.95/month or $189/year
Website: www.trainerroad.com
---
11. Spoked
You may not have heard of Spoked but we promise it's one of the best cycling training apps out there, and for a relatively low cost! Spoked was created by former professional cyclist, Richard Lang, who has worked with a team of developers and world-class coaches to develop an AI-guided cycling training app.
Instead of running the workouts through the app, you can export them to whatever program you use, whether that be Zwift for indoors or your cycling computer for outside.
The app provides the flexibility a coach couldn't offer and allows you to input your time available during the week so it can calculate which sessions to assign to which days.
There are plenty of goals to choose from and training plans that align with those goals. Currently, it can be downloaded on the Apple Store and the Google Play Store and costs about $15 a month (£11.99).
Available for: iOS and Android
Price: £11.99/month (~$15)
Website: www.spoked.ai
---
12. Flare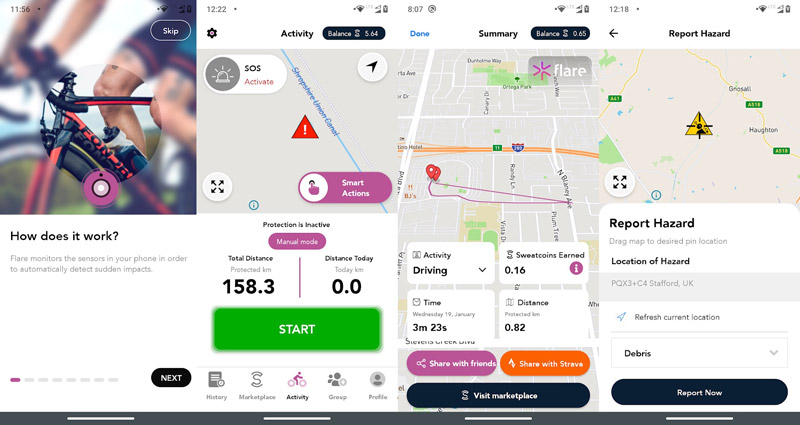 Flare is a cycling safety app that acts as a beacon of sorts so you and your family can have peace of mind when you're out riding. Whether you're a mountain or gravel rider heading off the beaten path, or you're a road cyclist, incidents can happen anywhere. And if they do, the Flare app can alert your emergency contacts and tell them your location so you can get help.
It is currently free, although there is a premium tier that offers more emergency contacts and the ability to share your location with all your contacts among other things. This app is not just great for cyclists, either. If you're a runner, a hiker, or take part in any outdoor sports, it's a handy application to have on your phone in case of emergencies.
Available for: iOS and Android
Price: Free (Premium for extra features)
Website: www.flaresafety.com
---
13. Rouvy
Rouvy gives you the freedom to explore the world on your bike without leaving your house. Another indoor training app, it differs from other cycling platforms in that it provides you with video footage for you to ride with. Famous roads and climbs like Mont Ventoux are included so you can ride along with the video, which automatically adjusts based on your speed and power.
Workouts are also included, as well as races. During the pandemic, Rouvy offered its services for free, making it the best free indoor cycling app. However, now that the world has begun to reopen, they have reintroduced their pricing. Currently, it is $12 a month, or $144 a year.
Available for: iOS and Android
Price: $12/month
Website: www.rouvy.com
---
14. Trailforks
Trailforks is a community-led app that helps mountain bikers find and rate local trails. It allows you to identify trails on the map as well as update their current condition. Information like this can really help riders find new places to ride and plan their rides accordingly if they know whether or not a trail is rideable.
This intuitive approach and impressive level of detail make it one of, if not the best free cycling app for iPhones. If you're not local to an area or are a bit lost in a trail center, you can use the app to find your way around the different trails, and even plan out your whole day. You can use it online, or on Android or Apple phones.
Available for: iOS and Android
Price: Free (Premium for extra features)
Website: www.trailforks.com
---
15. Wattson Blue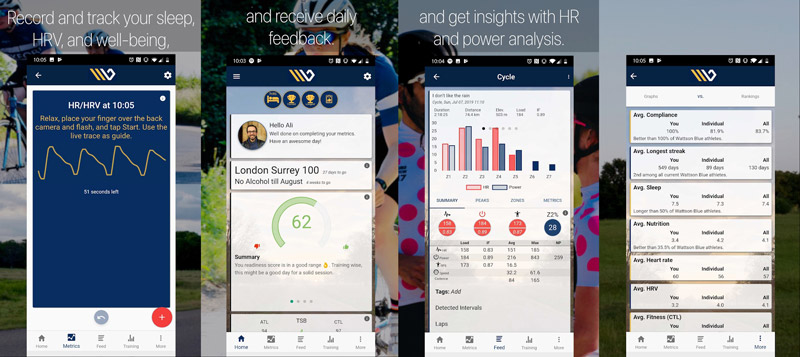 We've all heard of Whoop bands by now, especially with half the pro peloton seemingly using them to track their recovery! Wattson Blue uses your heart rate variability to determine a number of things and estimate how you're recovering, it tracks your sleep, your stress, and other biomarkers to help you be more aware of your health and how it impacts your cycling.
You can sync your training directly from Strava to the Wattson Blue app, which is available on iPhones and Android phones. You can track your metrics within the app, or pull data from wearables such as the Oura rings.
The Wattson Blue app can really make a difference to how you view your recovery, insight into your readiness to train, and other helpful data sets that you need as an athlete.
You can download the app and use it for free, or there is a premium option depending on how much information you need. It costs around $5 a month (£3.99) or $39 (£29.99) a year.
Available for: iOS and Android
Price: $5/month (£3.99) or $39 /year (£29.99)
Website: www.wattson.blue