Cannondale Trail 5 Review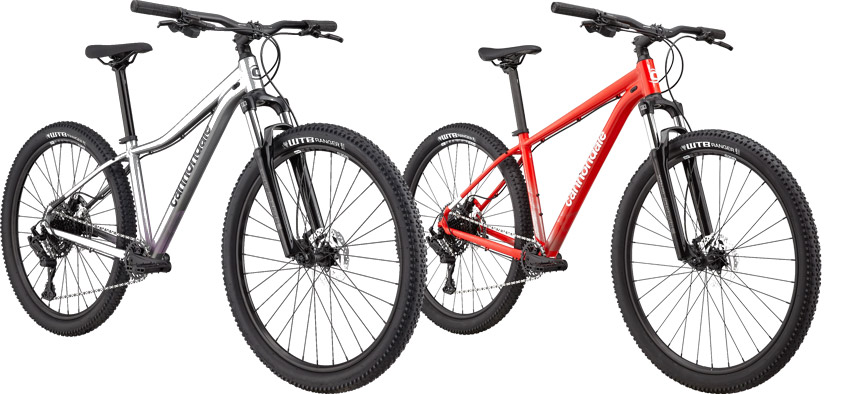 The Cannondale Trail 5 is a reliable hardtail mountain bike with an entry-level build and a competitive price tag.
As the name suggests, this trail/cross-country machine would make the perfect MTB for beginners thanks to its stable geometry, size-specific wheels, and long-lasting design.
This Cannondale Trail 5 review will highlight the bike's main specs, take a deeper look at the individual components and design features, and finish with our verdict on whether or not you should consider the Trail 5.
MSRP $960
This is an affordable and reliable hardtail mountain bike that suits beginners and experienced recreational riders alike.
PROS
Stable geometry inspires confidence
Powerful hydraulic disc brakes
SAVE Micro-suspension
Size-specific wheels
Dropper post compatibility
CONS
Sizing runs a little large
Poor quality suspension
Pedals require upgrading
Cannondale Trail 5 Main Specs
The Cannondale Trail 5 bike is an entry-level trail/cross-country hardtail mountain bike with an affordable price tag and plenty to offer for beginner mountain bikers.
This bike easily competes with similarly-priced trail hardtails such as Trek's Marlin 7, Specialized's Rockhopper, and Giant's Talon 1. Unfortunately, however, the Cannondale Trail 5 weight is roughly 3lbs heavier than the Trek and Giant bikes but similar to the Rockhopper.
The most impressive feature for us is the Smartform C3 alloy frame. This lightweight, responsive aluminum alloy integrates Cannondale's proprietary SAVE micro-suspension to enhance comfort.
Frame – SmartForm C3 alloy, SAVE micro-suspension, dropper compatible, semi-integrated cabling
Fork – SR Suntour XCM coil suspension, 100 mm travel
Tires – 2.25″ WTB Ranger Comp
Wheels – WTB SX19
Drivetrain – MicroSHIFT Advent X 1×10-speed
Crank – Prowheel Charm 30T
Cassette – 11-48T
Brakes – Shimano MT200 hydraulic disc, 160mm rotors
Weight – 32.4lbs
Cannondale Trail 5 Review
---
Cannondale's Trail 5 is a highly competitive sub-$1,000 trail bike with all the quality you would expect from this premium brand. By choosing the Cannondale Trail 5 hardtail, you're guaranteed the best performance and durability for the price.
The innovative frame, clever geometry, and smooth groupset make this bike stand out. However, the Suntour fork and budget touchpoints leave a little to be desired in terms of comfort.
SmartForm C3 Alloy Frame and Geometry
As we've mentioned already, the SmartForm C3 frame gives this bike a distinct advantage over similarly-price alternatives. It's light, stiff, and highly durable, perfect for handling the demands of mountain trails.
Cannondale achieves these ride characteristics by concentrating the frame material in key areas. In addition, the SAVE micro-suspension comes from manipulating the material in the rear triangle, seat tube, and seatpost to increase small bump compliance and comfort without losing performance.
Cannondale Trail 5 is built around a SmartForm C3 aluminum frame, known for its balance of strength, low weight, and comfort.
Another of this bike's main characteristics is its confidence-inspiring handling. Cannondale designed the Trail 5 with a slack 68-degree head tube angle to accomplish this. A slack head tube creates a more stable feel when descending, allowing you to go faster.
In addition, the size-specific wheels ensure stability for all rider heights.
SR Suntour XCM Coil Suspension
The weak point of the Cannondale Trail 5 mountain bike is the SR Suntour XCM coil suspension fork. This fork performs fine on light, low-impact trails, gravel roads, and pavement. However, anything rougher than that makes the bike hard to control as the XCM rebounds too much.
Another downside of this fork is the weight of almost 6lbs, one of the heaviest on the market. Nonetheless, a low-travel fork means the Trail 5 is quite efficient for regular day-to-day use. If you wanted to improve the performance of this bike, we'd recommend upgrading the fork first.
1×10-Speed MicroSHIFT Advent X Drivetrain
MicroSHIFT is fast becoming a household name in drivetrain manufacturing. Although not as well-recognized as Shimano, Campagnolo, or SRAM, their drivetrains are still highly-regarded.
The new Advent X 1×10-speed groupset is their lightest MTB setup, upgrading from the previous 1×9-speed. The drivetrain weighs just under 1lb and features a clutch to stop the chain from slipping by limiting derailleur movement to retain chain tension.
Bicycle groupsets comprise of all the gearing and braking components that make up the mechanical moving parts of a ...
The crank is the only non-MicroSHIFT derailleur component, a 30T Prowheel Charm. This crank pairs with an 11-48t MicroSHIFT cassette and provides plenty of range for tackling the steepest gradients out there, allowing you to climb more efficiently.
Finally, the shifters are a precise thumb trigger with a silicone pad for extra traction.
Shimano Hydraulic Disc Brakes
The MT200 Shimano hydraulic disc brakes are 2-piston mountain bike brakes adjusted for entry-level riders to provide reliable and powerful stopping in all conditions. These are perfectly adequate for a sub-$1,000 trail bike and will encourage confidence in new riders.
The one caveat to this setup is the 160mm brake rotors. Ideally, there would be at least a 180mm rotor up front, as 160mm rotors are prone to overheating on longer descents or if you're braking a lot.
WTB Wheels and Tires
With the Trail 5, Cannondale has chosen a branded wheelset instead of using their own-brand budget alloy wheels which is a big plus.
The WTB SX19 is a great entry-level set that is durable and not too heavy. Unfortunately, they aren't tubeless-ready, so you'd have to replace them if you wanted to go tubeless.
The 2.25″ tires are the tubeless-ready WTB Ranger Comp, a solid tire for this price range. They feature proprietary SG2 puncture protection and are made with three rubber compounds to balance traction, durability, and support. The heavy tread on these tires makes them perfect for holding traction when ripping through corners and on technical climbs.
Finally, the Trail 5 has size-specific wheels, with 29ers on the M to XL frames and 27.5″ on the XS and S frames. This progressive sizing ensures a consistent, stable ride quality for all riders.
Cannondale Trail 5 Women's Bike
The Cannondale Trail 5 women's model has a slightly better spec, despite being the same price. Firstly, Cannondale added the SP-Connect smartphone case-compatible stem. The women's Trail 5 also has a tapered headtube and boost spacing in the rear for improved agility and climbing traction.
Finally, this model also has a curved top tube and comes in a Charcoal/Lavender finish, both of which should appeal more to female riders.
Cannondale Trail 5 Ride Feel
---
The Cannondale designed the Trail 5 for stability on cross-country trails and gravel paths and comfort on roads, as highlighted throughout the review. However, with this extra stability and large wheels, the bike's maneuverability is limited, so tight, technical sections are trickier to navigate.
The 100mm suspension provides enough shock absorption to isolate light to moderate bumps, but anything harsher makes for a bumpy ride. That said, a benefit of low travel suspension is that it hardly affects ride efficiency, making the Trail 5 a solid choice for regular urban riding and commuting.
Cannondale Trail 5 won't satisfy the needs of serious mountain bikers, but it will exceed the expectations of most beginners and intermediate riders.
The saddle and grips on the Trail 5 aren't especially comfortable and you could easily enhance the ride feel by upgrading them. Finally, one component that we would upgrade immediately is the cheap plastic pedals. These don't provide enough grip for safely hitting the trails. Clipless pedals would be a much better choice.
In summary, the Trail 5 has an enjoyable ride feel once you keep within its limits, and with a couple of minor upgrades, you could significantly improve the comfort and performance.
Our Verdict: Should You Buy Cannondale Trail 5?
---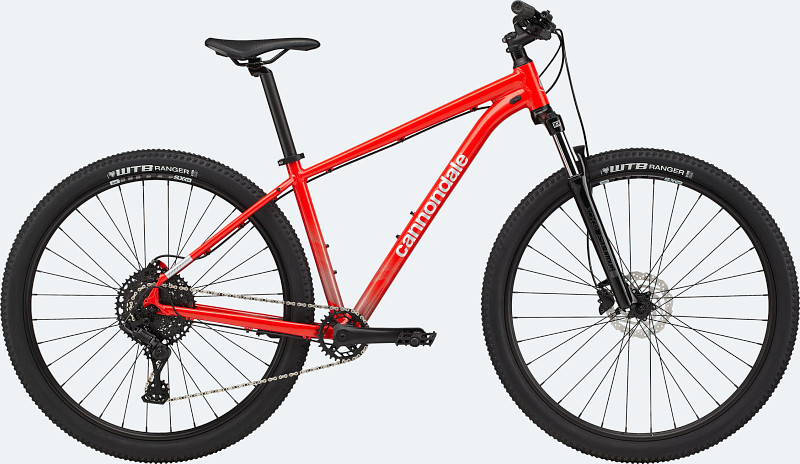 We think the Cannondale Trail 5 is a competitive option in the sub-$1,000 hardtail range. By purchasing a Cannondale bicycle, you're getting guaranteed quality, durability, and performance.
Any beginner mountain biker will be reassured by the stable and smooth-rolling ride quality when tackling trails for the first time. In addition, the size-specific wheels ensure consistent ride quality for all riders.
If you're searching for an affordable, low-travel mountain bike for light mountain trails, gravel roads, and comfortable day-to-day riding, add the Cannondale Trail 5 to your shortlist.