Cannondale Quick 4 Review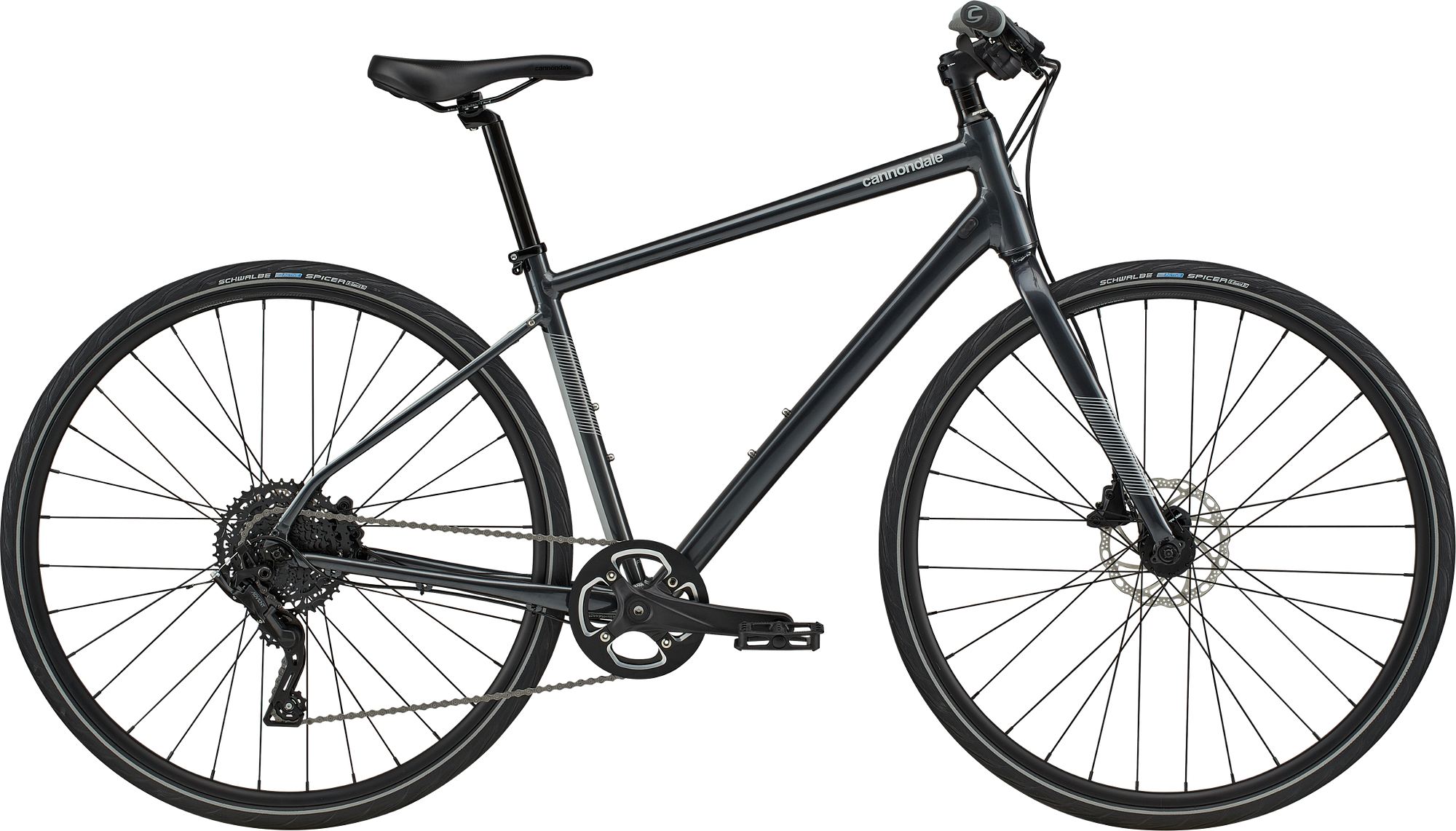 The Cannondale Quick 4 is a versatile fitness bike with unique features and a competitive price.
The Quick series derives its name from the lightweight and responsive SmartForm C3 frame, narrow tires, and aggressive geometry, contributing to a fast and agile ride.
This bike is ideally suited to riders with a sub-$1,000 budget who need a bike to go hard on fitness rides, cover long-distance commutes in comfort and speed, and navigate tight urban roads.
This Cannondale Quick 4 review will highlight the strengths and weaknesses of the bike so you can decide if it's the right choice for you.
MSRP $960
Affordable fitness bike that's fast and comfortable with Cannondale's premium SmartForm frame.
PROS
Advanced frame design with integrated micro-suspension
Hydraulic disc brakes
Rack and fender mounts
Ride tracking wheel sensor
Puncture-resistant tires
CONS
Aggressive geometry for a hybrid
Basic drivetrain
Heavy steel fork
Cannondale Quick 4 Main Specs
The Cannondale Quick 4 is a well-rounded fitness hybrid at an affordable price. For $960, this bike has a lot to offer, but, in our opinion, it falls a little short of its similarly-priced competitors, like Trek's FX 3 Disc ($900) and Giant's FastRoad SL 3 ($950).
The standout features of the Quick 4 are the premium SmartForm C3 frame with Cannondale's proprietary SAVE micro-suspension, the ride-tracking wheel sensor, and Tektro hydraulic disc brakes. Other than that, this bike's spec list has no other significant stand-out components.
Frame – SmartForm C3 Alloy, SAVE micro-suspension, hidden cable routing
Fork – Steel blades
Tires – Schwalbe Spicer 700 x 35c with K-Guard puncture protection
Wheels – Cannondale Disc double-wall
Drivetrain – MicroSHIFT Advent 1×9-speed
Crank – Prowheel 38T
Brakes – Tektro HD-R280 hydraulic disc
Weight – 25.5lbs
Cannondale Quick 4 Review
---
At under $1,000, there aren't many options better than the Cannondale's Quick 4. Although the groupset isn't impressive, the extra features and innovative frame technology make this bike a solid choice.
In addition to design and engineering quality, choosing a renowned brand like Cannondale brings extra benefits such as world-class customer service and excellent warranties.
SmartForm C3 Alloy Frame and Steel Fork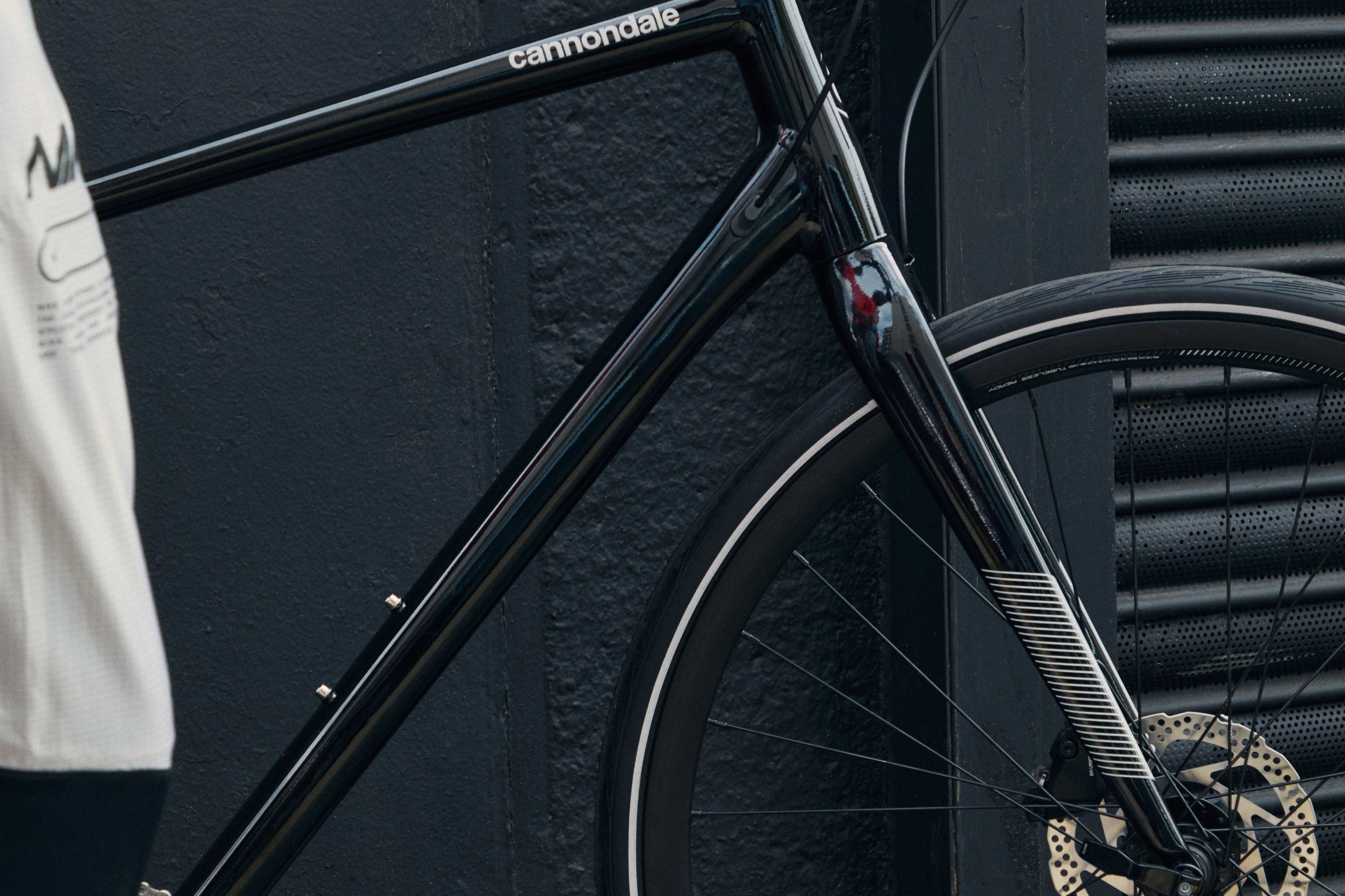 As we touched on above, the highlight of the Quick series is Cannondale's SmartForm C3 frame. This lightweight, stiff, and durable frame material is ideal for a speed-focused hybrid bike. In addition, the 6061 aluminum is concentrated in certain areas to achieve superior ride characteristics while shaving off every last ounce possible.
In addition, the SAVE micro-suspension increases comfort without sacrificing performance. This design technique boosts the frame's small bump compliance by optimizing targeted points around the rear triangle, seatpost, and seat tube.
One disappointing feature of the Quick 4 is the steel fork, a heavier option than the carbon fiber forks used on the equivalent Trek and Giant hybrid bikes. Finally, Cannondale designed the frame with sleek internal cable routing and equipped it with mounts for a rear rack and fenders.
Fast Geometry
The geometry chosen by Cannondale is notably aggressive for a fitness bike, bordering on that of a road bike (without drop handlebars). This forward and down rider position is what makes the Quick 4 so fast despite being a hybrid. However, the Quick 4 might take some getting used to if you're accustomed to a comfort bike.
Impressively, Cannondale still delivers a relatively comfortable and safe ride experience despite the aggressive geometry. Riders are sufficiently upright to ensure good visibility on busy urban roads, and the OutFront steering improves stability and agility by positioning the front wheel further ahead than usual.
1×9-Speed MicroSHIFT Drivetrain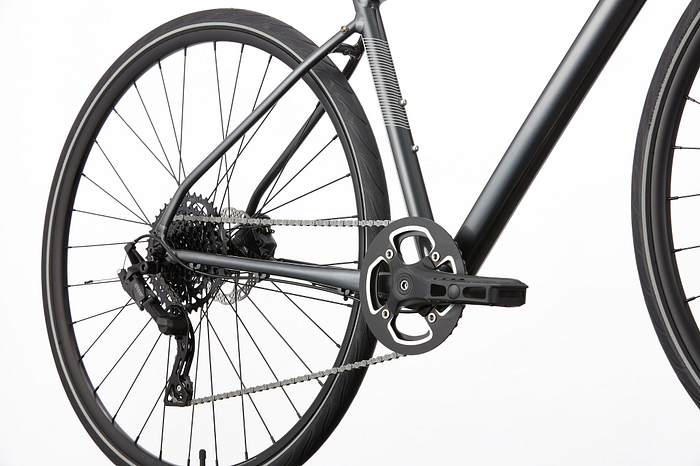 Cannondale chose a simplified single chainring drivetrain for the Quick 4, which, in our opinion, is perfectly adequate for a fitness hybrid bike. The benefit of this setup is reduced maintenance and repair requirements and a slight weight reduction compared to a 2x drivetrain.
The choice of MicroSHIFT to supply the components is slightly disappointing, given the superior Shimano drivetrains used by the competition. Still, MicroSHIFT is a well-respected manufacturer, and their Advent is a reliable setup.
In terms of gearing, the Quick 4 has a 38T Prowheel chainring paired with an 11-42t cassette, giving you some good options for climbing hills, just with bigger jumps between the gears.
Hydraulic Disc Brakes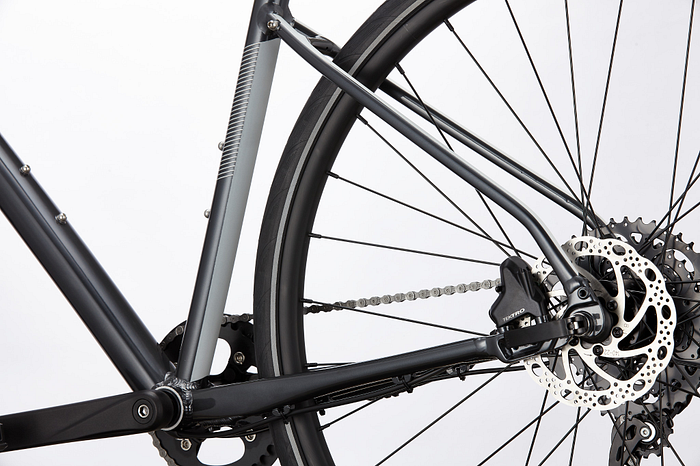 One of the highlights of this bike is the inclusion of high-performance hydraulic disc brakes, as noted in many user reviews. The Tektro HD-R280 brakes and 160mm rotors ensure precise, reliable, and powerful braking in all conditions.
Some noteworthy features of the R280 flat-mount brakes are their low-noise resin brake pads and reach adjustable levers. In addition, hydraulic discs are generally less susceptible to degradation over time, further reducing the maintenance costs of this bike.
Cannondale Wheels and Puncture-Resistant Tires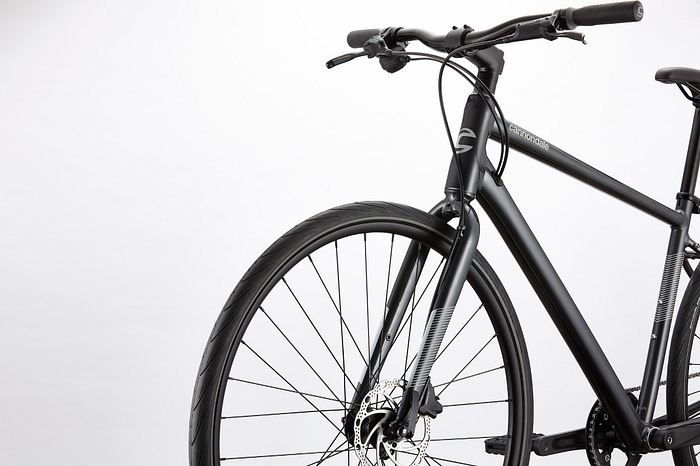 The Cannondale double-wall rim and stainless steel spokes are identical across the Quick series and adequate for this price range. However, some users report broken spokes after a few months of riding.
This bike has fast Schwalbe Spicer 35mm tires, the same as those on the Cannondale Quick 3. These tires feature K-Guard puncture protection and a reflective strip to boost durability and visibility in urban environments.
Additionally, the Quick 4 has additional tire clearance for riders interested in fitting gravel bike tires and tackling some light off-road terrain.
Extra Features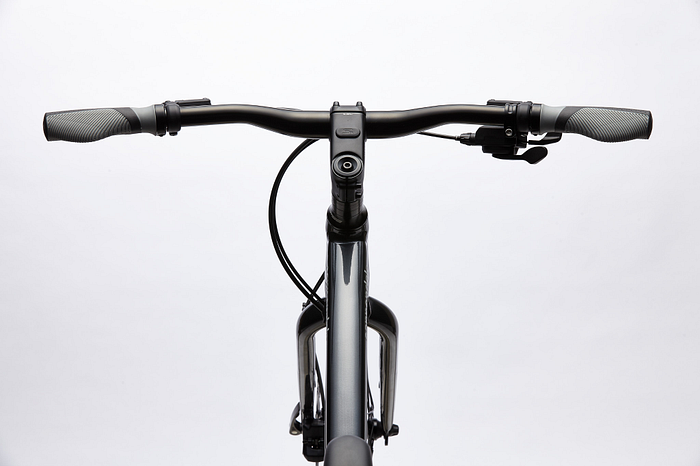 The extra features included on this bike significantly add to its appeal, considering the slightly underwhelming drivetrain and steel fork.
The most unique of these extras is the wheel sensor Cannondale developed alongside Garmin. This device accurately tracks ride speed, route and distance information, ride time, and estimated calories burned. In addition, the sensor pairs with the brand's smartphone application through which it sends maintenance reminders.
Another valuable feature of this Quick series is the Intellimount stem design. This stem allows you to quickly attach any SP-Connect compatible phone case for GPS navigation or ride tracking. Finally, the 360-degree reflective frame and components add a layer of visibility and safety to your rides.
Other Cannondale Quick 4 Models
The Quick 4 is available in an off-road-ready design, the Cannondale Quick CX 4. Both models have men's and women's versions.
Quick 4 Women's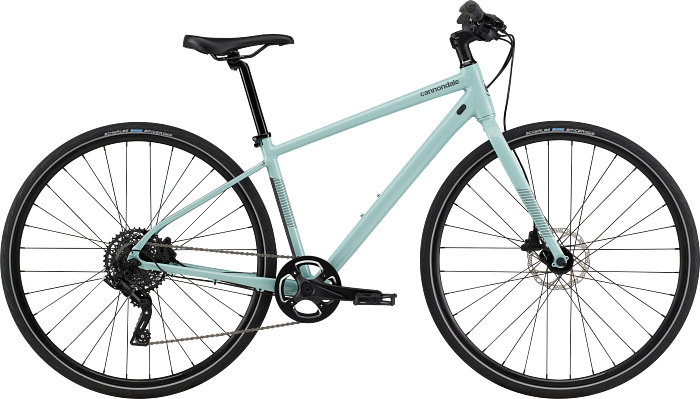 The Cannondale Quick 4 women's bike is the same as the men's version in terms of price, geometry, and components. The only difference is the XS sizing available and the brighter color options. The XL and XXL sizes are not available in the women's version.
Quick CX 4
The Cannondale Quick CX 4 is the cheaper, mountain bike-inspired version of the Quick 4. The addition of a 63mm travel Suntour fork, 40mm all-terrain tires, wider gearing, and slacker geometry make this bike perform and feel better on gravel, forest paths, and light trails.
The sacrifice for this comfort and off-road performance is an extra 5lbs in weight (25.5lbs vs. 31.8lbs). In addition, to save costs, Cannondale chose lower-end mechanical disc brakes and an inferior drivetrain.
The off-road-ready Quick CX 4 also comes in a women's version. Like the regular Quick 4, the only difference is the sizing and color finish.
Where Does Quick 4 Thrive?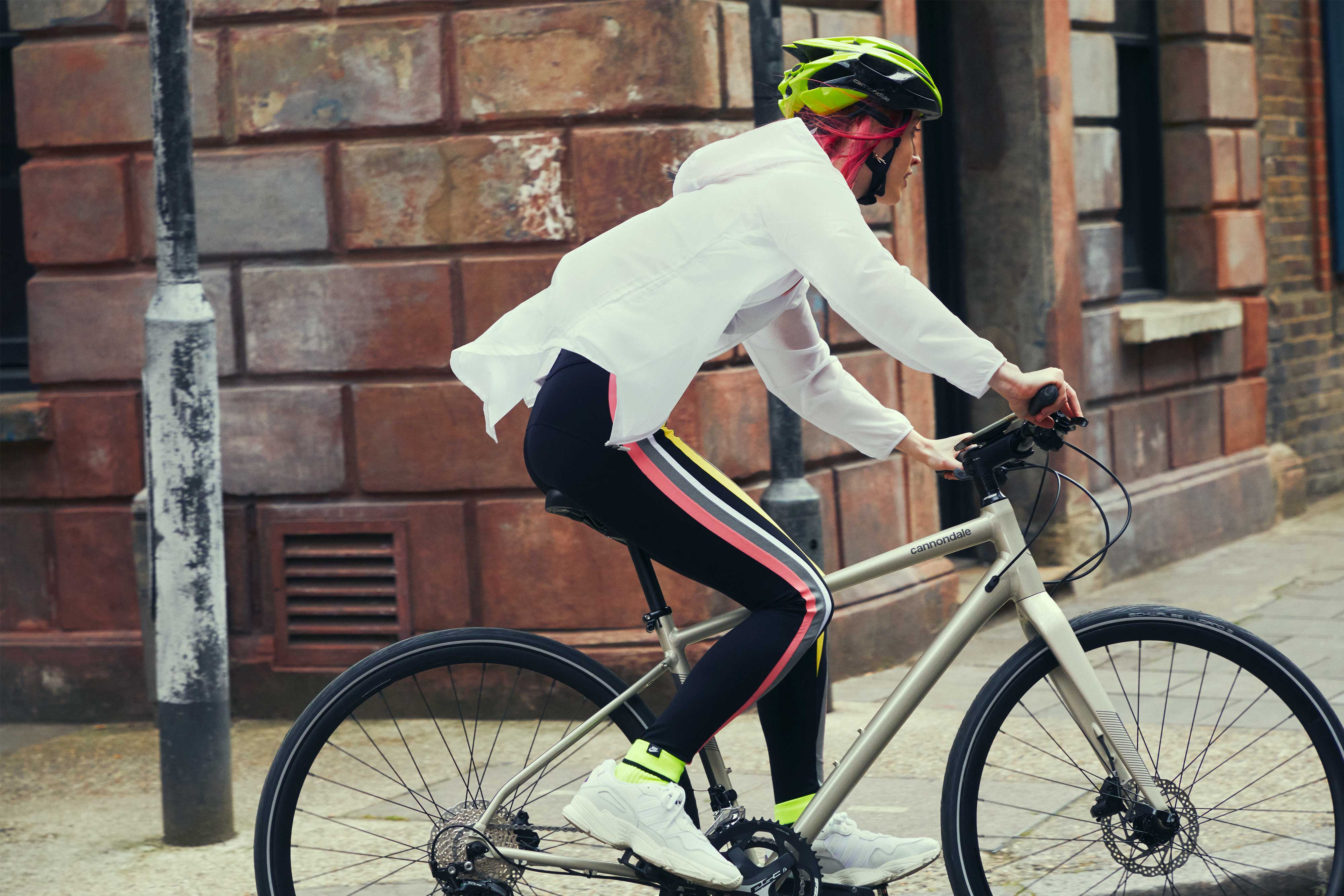 The Quick 4 is slightly limited in gearing choices, so steep ascents and descents won't be as smooth as the other models in the series.
Nonetheless, high-performance hydraulic disc brakes, rack and fender mounts, a lightweight and responsive frame, and aggressive geometry make this bike perfect for crushing long commutes in any weather conditions and for building and maintaining fitness in comfort.
Cannondale's line of Quick fitness bikes excels in tight urban environments where agility, visibility, and acceleration are crucial to navigating safely and efficiently.
Finally, with Cannondale's wheel sensor, you can monitor your performance and progress your training to keep improving, giving the Quick 4 a distinct advantage as a sub-$1,000 fitness bike.
Our Verdict: Should You Buy Cannondale Quick 4?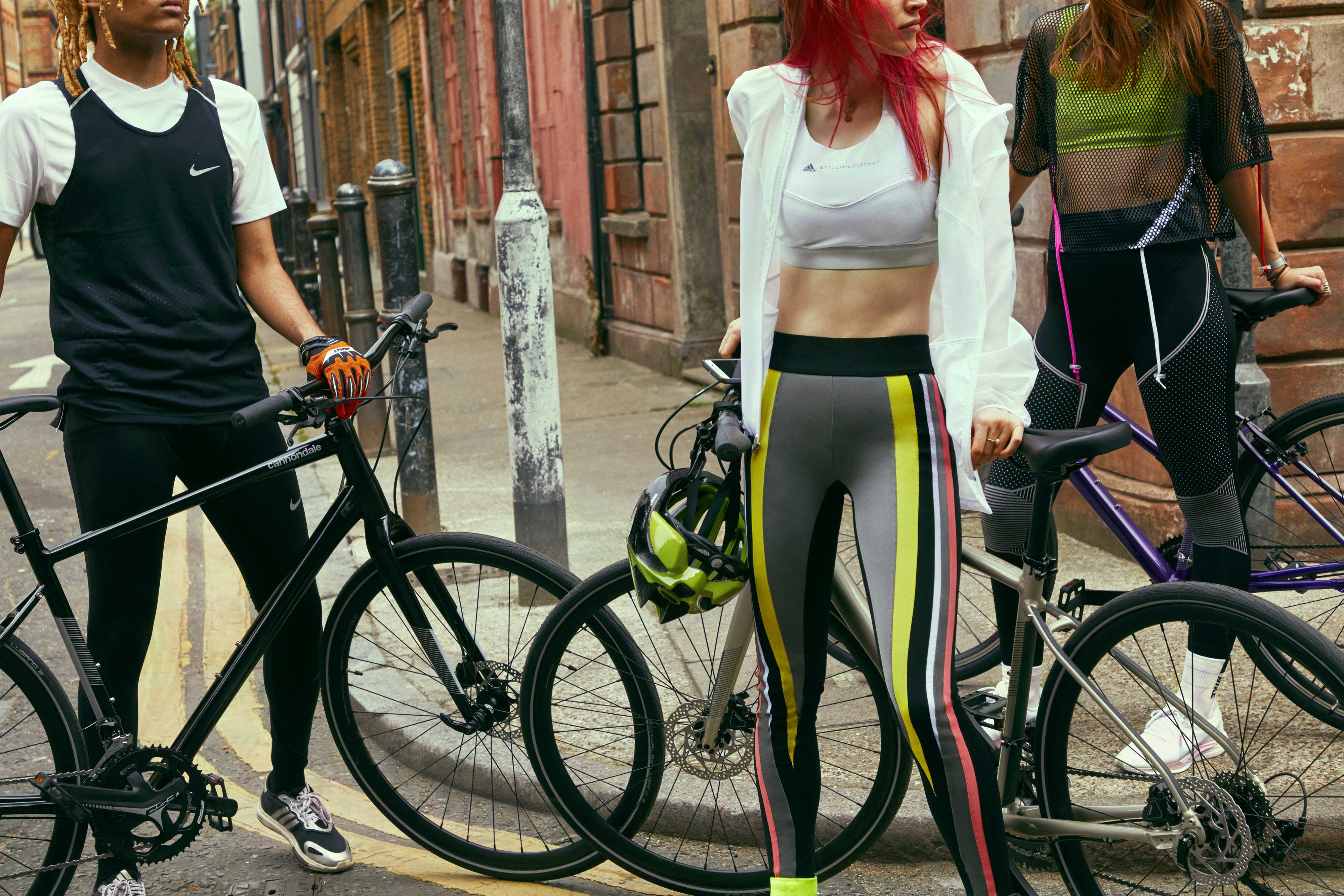 At $960, the Cannondale Quick 4 is a reliable fitness hybrid that performs as expected.
Again, the main draw to this bike is the high-quality SmartForm C3 frame, powerful hydraulic disc brakes, and nifty extra features like the wheel sensor. In addition, the unique geometry of this bike makes it especially fun, thanks to the fast yet stable ride feel.
When taken in isolation, the Quick 4 doesn't leave much to be desired. Unfortunately, this bike's spec is slightly lower than the equivalent fitness models from Trek and Giant when comparing the drivetrain and fork.
Nonetheless, with everything considered, the Quick 4 by Cannondale is a competitive option in its price range, and it's built to last. So, be sure to consider it when you're choosing your next hybrid bike!