Cannondale Bad Boy 1 Review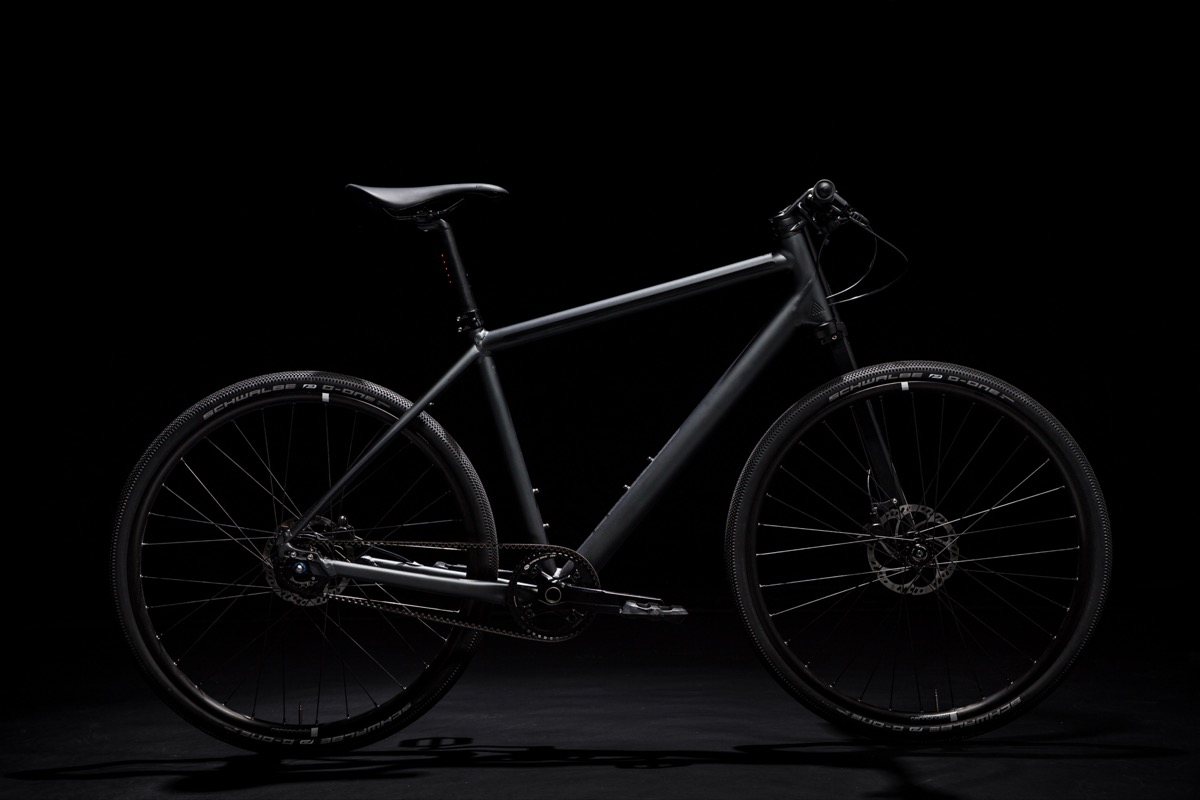 Designed as an all-around fun run bicycle, Bad Boy 1 started its life as a mountain-bike-turned-hybrid, a style still continued today. Its rigid frame provides great stability in both smooth urban environments and off-road situations.
Below, we'll highlight just exactly what you're getting into with this burly, blackout hybrid.
Cannondale Bad Boy 1 Quick Specs
Cannondale's Bad Boy 1 retails for just over $2,000, and the components really make us understand why:
Frame: SmartForm C1 Alloy
Fork: Lefty LightPipe Rigid
Tires: WTB Byway 650b x 40c
Crankset: Gates S150, Gates Belt Drive CDX sprocket 46t
Shifters: Shimano Alfine Rapidfire, 8-speed
Brakes: Shimano M396 hydraulic disc
Saddle: Fabric Scoop Radius Elite
Gears: 8 internal
MSRP: $2,100
What's Good About the Bad Boy 1?
As an intermediate city bicycle, the Bad Boy 1 has been loaded up with endurance in mind. Here's what makes this bike great both on and off the road.
Frame & Drivetrain
The SmartForm C1 alloy frame has a somewhat aggressive geometry for a hybrid-style bike and falls just around 24 lbs, which is pretty light for a hybrid-style bicycle. Because of this, it lends itself to speeding around city streets. Bad Boy 1 is quite rigid as well, which makes it very nimble and responsive.
An interesting (and smart) addition to the frame is a rubber "bumper strip" integrated into the top tube to avoid scratches between stops. The designers really went the extra mile in adopting this frame to urban environments.
Cannondale made the Gates Carbon Drive Belt stock on their Bad Boy 1, something we absolutely love. It provides an incredibly smooth pedaling experience and is super quiet. The internal hub has a fluid, smooth transition between gears, even when you're standing up on the hardest hills.
These setups are hugely popular for being simple to adjust, as well as avoiding the greasy mess that can often accompany external shifters.
Internal Gearing
Technically the derailleur on the Bad Boy 1 doesn't exist, as all switching is done internally. The Shimano Alfine does do a great job, providing 8 spaced-out gears that provide solid performance even on the sharpest of grades.
Tires & Brakes
Hybrid bikes are generally stocked with tires that are built for stability on all terrain types, and the Bad Boy 1 is no different. The WTB Byway 650×40 tires provide the best of both worlds' scenario, with a smoother road styled tread combined with a broad, mountain bike size. These tires are also puncture-resistant, with an interior kevlar lining.
In recent years, disk brakes have made their way onto many urban commuter bikes due to their amazing stopping power. The Cannondale Bad Boy 1 comes equipped with Shimano MT400 hydraulic disc brakes, which stop on a dime regardless of the weather conditions.
Comfortable Saddle
The Fabric Scoop Elite saddle is a great, award-winning design providing both comfort and stability. If ordered direct from Cannondale, these saddles are available in 3 distinct shapes.
Should You Buy It?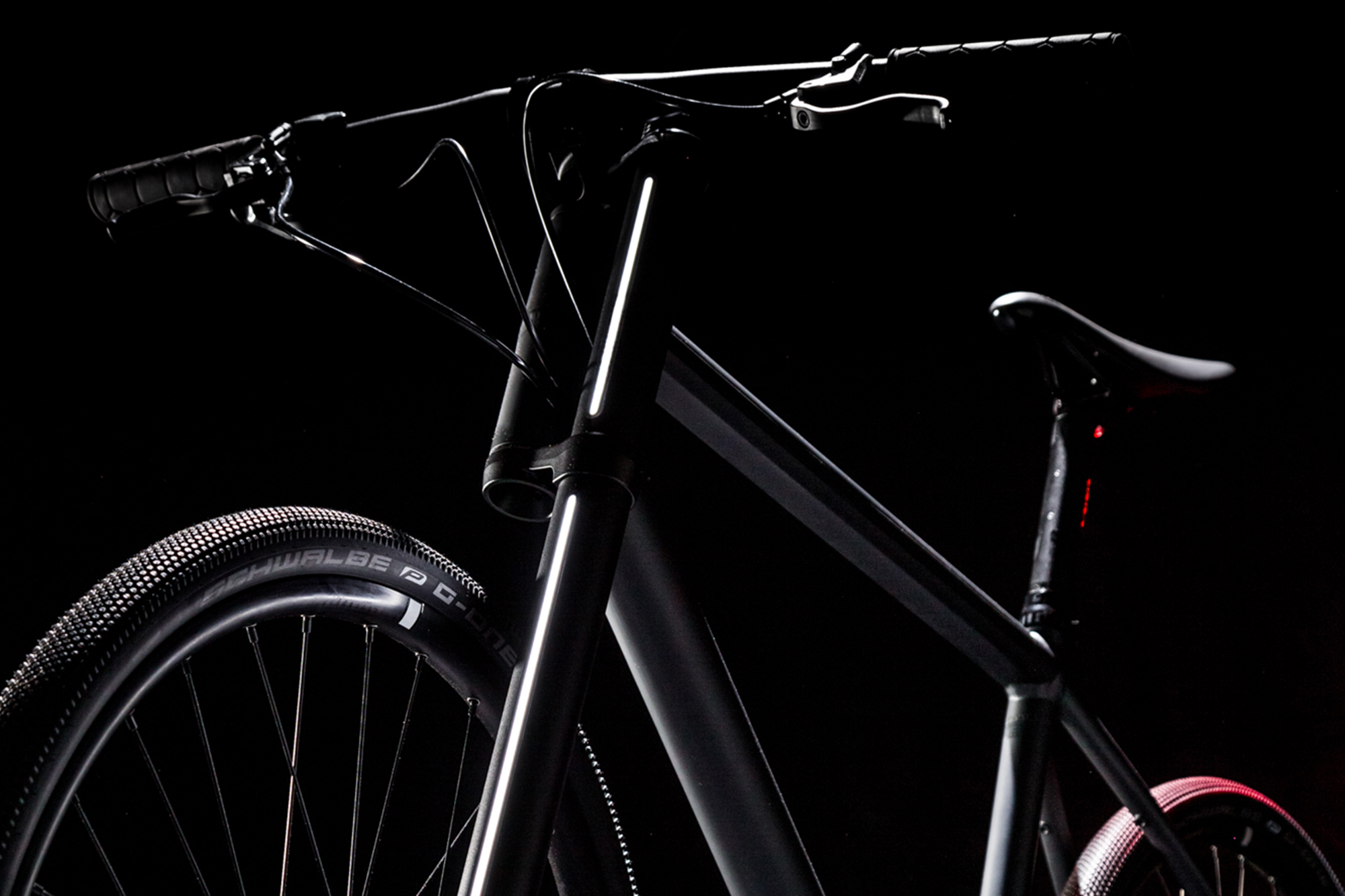 The Bad Boy 1 provides an awful lot of bang for your buck and is suited for a lot of different cycling disciplines.
While its price is a bit lofty for newcomers at $2,100, this is a stellar upgrade for individuals looking to upgrade from their current city cruiser. We're really impressed with some of the thoughtful design touches included with this bike.
The seat post has integrated, rechargeable rear lights that have 8 hours of life per charge. Cannondale took this idea a step further, however, and integrated a glow strip along the front Lefty fork as well.
Even with the slightly more aggressive geometry, the Bad Boy 1 provides a comfortable ride, with big, chunky tires absorbing potholes and bumps. The broad front handlebars do a great job of making riders feel stable and secure.
If you're looking for a bicycle that can fit a wide array of conditions, give the Bad Boy 1 a look. Its wide array of features make it an attractive mid-to-high level upgrade for serious cyclists everywhere. If you're a pro-level rider with lofty ambitions every season, best to look for something with more gears and less weight.
---
Other Bad Boy Models
Cannondale Bad Boy 1 – MSRP $2,100 (8-Speed Internal Gates Carbon belt drive)
Cannondale Bad Boy 2 – MSRP $1,600 (1×11-Speed Shimano 105 drivetrain)
Cannondale Bad Boy 3 – MSRP $950 (2×8 MicroShift drivetrain)
What they all share in common:
Hydraulic Disc Brakes
Cannondale's top-shelf aluminum frame coupled with a lefty rigid fork
650b (27.5″) wheels
Cannondale Bad Boy 1 Sizing
S – 5'1″ – 5'5″
M – 5'5″ – 5'9″
L – 5'9″ – 6'0″
XL – 6'0″ – 6'3″