Gazelle Ultimate C380 Electric Bike Review — Elegant, Modern and Zippy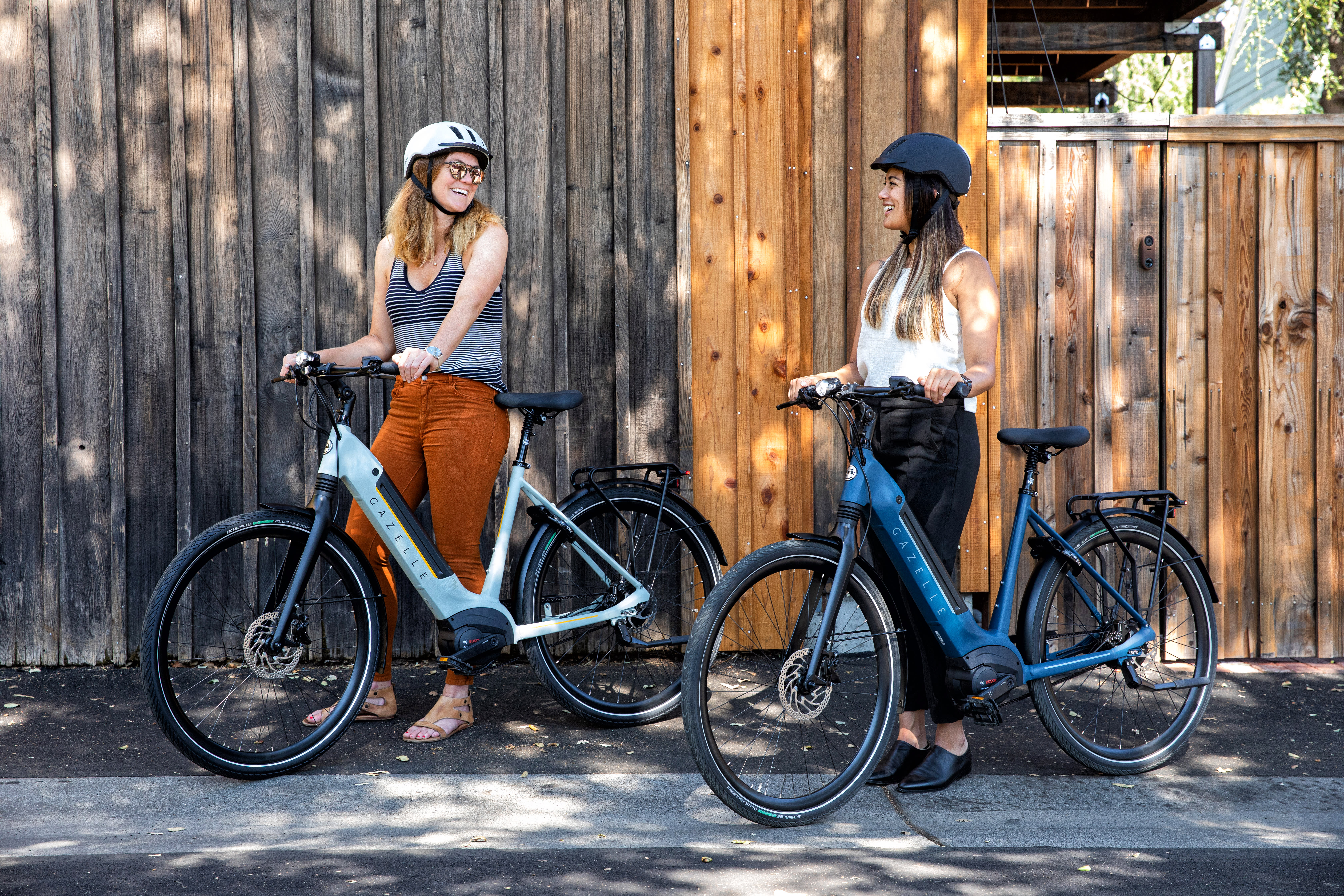 The Gazelle Ultimate C380 electric bike is a high-end urban choice. It combines a luxurious ride quality with unbeatable convenience and balanced and predictable performance.
The Dutch brand Gazelle is one of the oldest continuously-operating bike manufacturers and one of the first to manufacture electric bikes. Their expertise is evident in the incredible attention to detail devoted to the bicycles.
This Gazelle Ultimate C380 review will highlight the bike's main features, detail the componentry and ride quality, and finish with our opinion on who this bike is suitable for and if it's worth the money.
$4,249
The ultimate Dutch-style electric city bike, perfect for the urban rider who wants the best in comfort and reliable performance.
PROS
Excellent range
Smooth Bosch mid-drive motor
Very comfortable
Fully-equipped for urban riding
Stepless and low-maintenance Enviolo hub
CONS
Seatpost suspension isn't very smooth
Imprecise twist shifters
Gazelle Ultimate C380 Key Specs
Frame: Aluminum, low-step
Motor: 250W, 65Nm Bosch Performance Line
Max speed: 20mph, Class 1
Battery: 500Wh Bosch
Max range: 25-70 miles
Fork: 40mm travel
Seatpost: 40mm suspension
Tires: 28″ x 47mm Schwalbe Energizer Plus
Drivetrain: Enviolo Trekking, 380% gearing
Brakes: Hydraulic discs, four-piston
Weight: 54.6lbs
Rack capacity: 55lbs
In the Ultimate C380, you have one of the most comfortable, smoothest, and low-maintenance e-bikes on the market. This is because Gazelle carefully selected each component for high performance and durability. For example, the Gates Carbon belt drive and Enviolo hub are virtually maintenance-free and last much longer than a traditional drivetrain.
At over $4,000, the Gazelle Ultimate C380 HMB may seem expensive for what it is. However, a closer look at the exceptional design and the quality of the individual components shows that it's a competitive and justifiable price.
Gazelle Ultimate C380 Electric Bike Full Review
---
The Ultimate C380 and C380+ are Gazelle's two premium electric models. They showcase the best of the best in componentry and design. This section will detail the characteristics that make this bike stand out from its competition.
Gazelle Ultimate Design with Full Integration
---
The aluminum frame features seamlessly-integrated cabling and electronics. In addition, the low positioning of the battery ensures a stable and controlled ride quality.
The Gazelle Ultimate C380 low-step design makes mounting and dismounting effortless, ideal for riders with limited mobility.
Performance, power, comfort, and integration are the characteristics that define Gazelle's high-end 'Ultimate' family.
The components contributing to this bike's comfortable ride quality include the plush Selle Royal Loire gel saddle, ergonomic faux-leather grips, and adjustable angle stem with curved handlebars.
Finally, you have low-travel fork and seatpost suspension (each with 40mm) and matched seat and head tube angles for a relaxed, upright position.
Premium Bosch Performance Line E-Bike System
---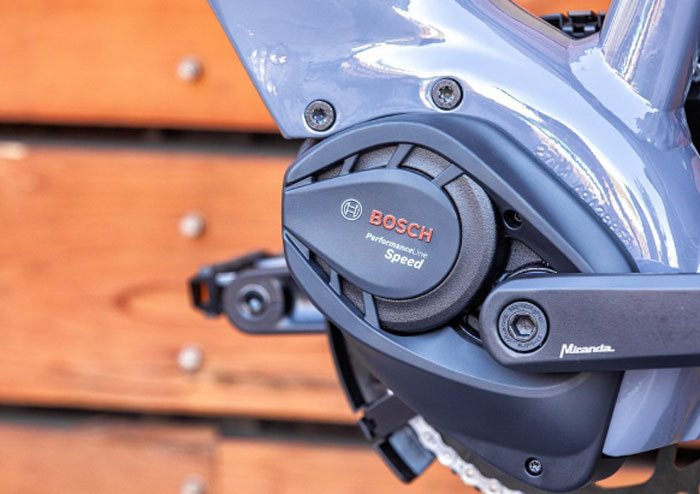 Bosch electronics are among the most highly-regarded electric bike motors you can buy. They're known for their buttery-smooth power transfer, coming from the high-end controller and multiple sensors that measure cadence and torque roughly 1000 times per second.
The Performance Line 65Nm motor offers up to 300% assistance. In addition, it has four assistance levels, a walk mode, and a max speed of 20mph (Class 1). Unfortunately, there is no throttle on this bike.
Bosch's most recent upgrade to this system introduced their new 'quiet transmission concept,' significantly reducing noise output for an almost silent operation.
Gazelle chose Bosch's second largest 500Wh Power Pack to accompany this motor. This battery provides a maximum range of 70 miles on Eco mode and 25 miles on Turbo.
Enviolo Trekking 380% Hub and Four-Piston Hydraulic Disc Brakes
---
The groupset on the Ultimate C380 is the main highlight. A Gates Carbon belt drive combines with a stepless Enviolo Trekking hub.
The Enviolo hub has a 380% gear range, equivalent to an 11-42t cassette, which is great for climbing hills. Being 'stepless' means there is no transition between gearing, so you can switch fluidly from the highest to the lowest gear to hold a smoother cadence. In addition, you don't need to pedal to change gears.
One of the only downsides of regular bikes is the need to perform regular maintenance to keep them running smoothly ...
This hub pairs excellently with mid-drive electric bikes because, with a mid-drive motor, you must change between gears to increase or decrease the motor's power output, making power management smoother.
Another unique advantage of the belt drive and internal gearing combination is the durability and low-maintenance requirements. The gearing isn't affected by the elements or debris, and the carbon belt is much less susceptible to degradation, making for a long-lasting, hassle-free owner experience. Additionally, you don't need to use grease on belt drives, and they run silently.
Finally, the brakes deserve a special mention. Although the rotors aren't anything special (180mm front and 160mm rear), Gazelle chose powerful four-piston hydraulic calipers. These provide tons of stopping power for a Class 1 electric bike.
Schwalbe Puncture-Resistant Tires and Fast-Rolling 28″ Wheels
---
The Gazelle Ultimate C380 electric bike comes with Schwalbe Energizer Plus 47mm e-bike tires and durable high-spoke 28″ wheels (equivalent to 700c).
These low-tread tires balance fast rolling speeds with durability, shock absorption, and all-weather traction. They are wide enough to tackle light off-road terrains like gravel or fire roads and feature Schwalbe's G-Guard puncture protection.
Gazelle uses the Netherlands' 28″ wheel size, which is the same as 29″ or 700c in the United States. This large-diameter wheel ensures you can easily maintain momentum to increase the max range of your battery.
Fully Equipped Setup for Urban Riding
---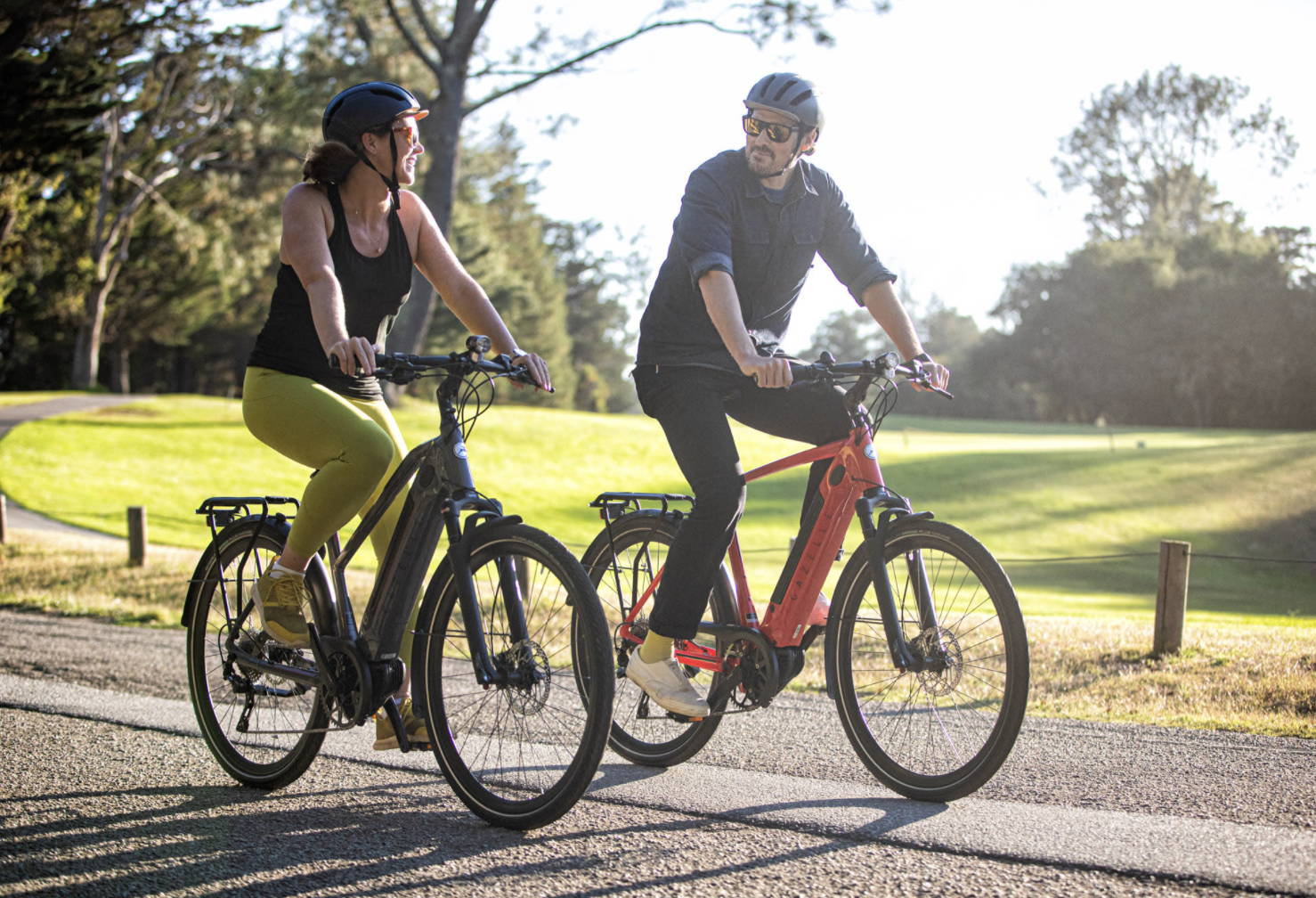 The Gazelle Ultimate C380 accessories include a stylishly integrated rear rack, sturdy aluminum alloy fenders, LED lights, and a kickstand.
The rack on this bike is especially impressive. It has a large 55lb capacity, an integrated bungee chord, and a clever shape that helps to block the pannier bags from touching the wheel.
Gazelle chose a bright 50-lux headlight that you can control through the computer, allowing you to switch it off if it's not needed (you cannot turn off the taillight).
Where Could the Gazelle Ultimate C380 Improve?
---
There are two minor issues commonly experienced with this bike. Firstly, the seatpost suspension is unnecessary given that the bike is sufficiently comfortable without it. The component itself also isn't very smooth and might be worth replacing.
Secondly, the twist shifters are a little disappointing for a high-end bike. They offer imprecise shifting and don't indicate clearly how high or low the gear you choose is.
Finally, as mentioned, the price is high. However, we think the design and componentry justify this price well.
Gazelle Ultimate C380+ Electric Bike
---
If you have a little extra budget to play around with and want something more powerful and capable, consider the Gazelle Ultimate C380 Plus. It costs an additional $500 ($4,749) and is suitable for riders who need more power from their bike but aren't as concerned about the max range.
What's Different About the Gazelle Ultimate C380+?
---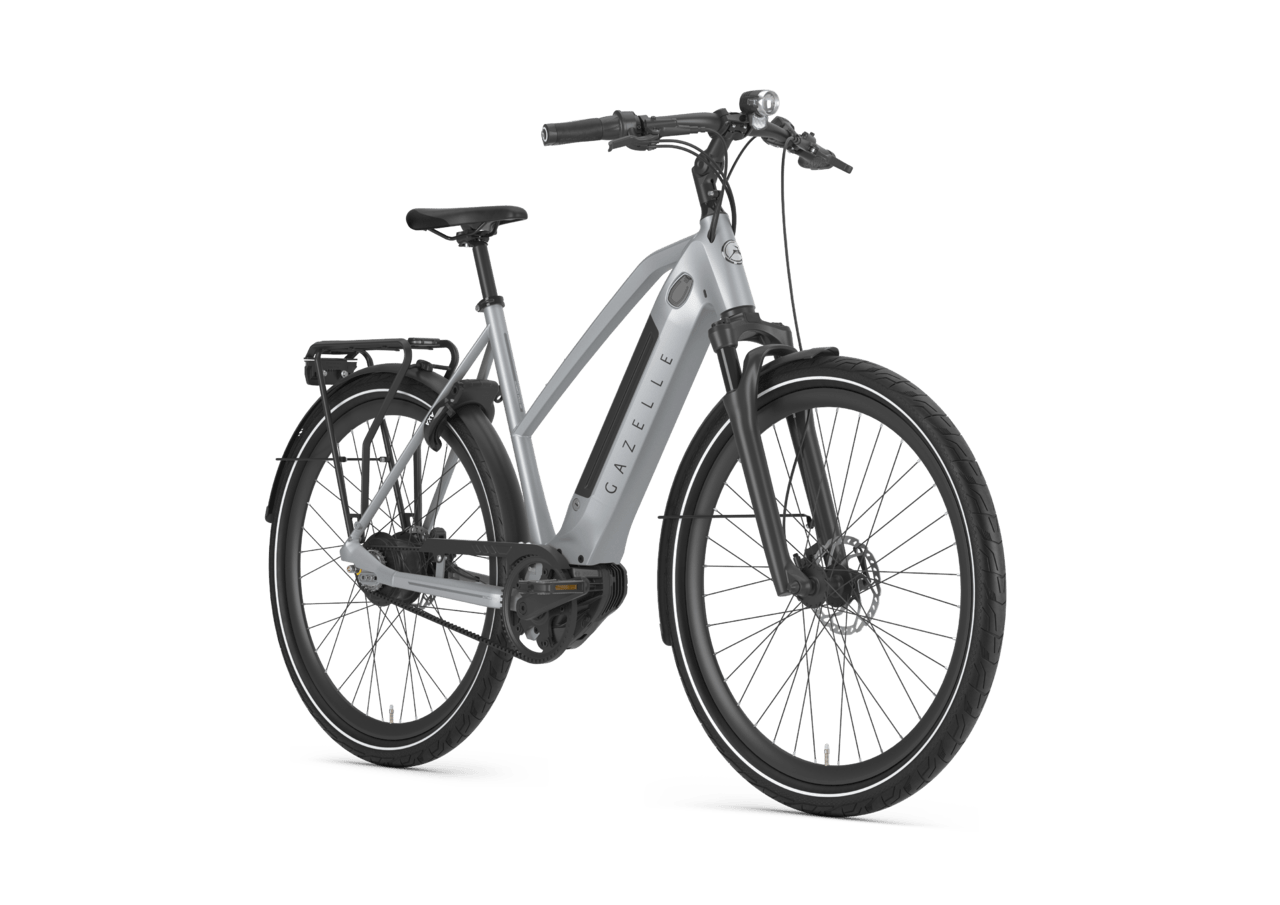 There are a total of six differences between the C380 and C380+. Most importantly, Gazelle chose a bigger Bosch Performance Line Speed motor, with 85Nm of torque and max assistance of 340%. This upgrade makes the C380+ a 28mph Class 3 e-bike.
Despite the larger motor, Gazelle stuck with the 500Wh battery, so the range is 20 to 55 miles. The frame on this model is also different, with a high-step and mid-step available instead of the C380's low-step one.
Finally, the Gazelle Ultimate C380+ has an 80mm fork (extra 40mm). All of these changes bring the weight up one pound to 55.6lbs.
Gazelle Ultimate C8 vs. C380
The Gazelle Ultimate C8 is the most affordable of the Ultimate family. There are only three noteworthy differences between the two models.
The C8 has a smaller Bosch Active Line 50Nm motor, an 8-speed Shimano Nexus hub instead of the stepless Enviolo Trekking one and weaker two-piston hydraulic disc brakes. Otherwise, the bikes are identical except for the paint finishes.
Who Should Buy the Gazelle Ultimate C380?
---
The Gazelle Ultimate C380 is easily one of the best electric city bikes on the market. It's perfect for riders who need a low-maintenance, comfortable, and fully-equipped urban companion.
Commuters and busy parents will find this bike particularly convenient and enjoyable to ride and own. It is easy to use, requires little to no upkeep, is clean, and can fit plenty of cargo on the rear rack.
In addition, the Performance Line system provides a super smooth ride feel, isn't overly powerful, and doesn't require charging very often.
Unfortunately, this model's price will limit the number of riders who can access it, but if you've got the budget, you will not be disappointed by the Gazelle Ultimate C380 electric bike.
People Also Ask
---
Is a Gazelle bike worth it?
Yes, a Gazelle bike is worth it. Gazelle is a producer of some of the highest quality electric city bikes. They have models to suit various budgets and preferences. Their bikes are competitively-priced for the level of components and excellent design, ranging from $2,399 to $4,749.
Where are Gazelle electric bikes made?
Gazelle electric bikes are made at the company's manufacturing facility in Dieren, the Netherlands. This state-of-the-art facility can produce up to 250,000 bicycles a year and gives Gazelle full autonomy over every stage of product design, manufacturing, assembly, and testing.
Do Gazelle eBikes have throttles?
No, Gazelle eBikes don't have throttles. In Europe, where their bicycles are made, it's illegal to have an electric bike with a throttle. Any throttle-operated vehicle is subject to licensing, so manufacturers don't use them. In most states within the US, 28mph e-bikes with throttles aren't subject to additional restrictions.
What class is a Gazelle eBike?
A Gazelle eBike is Class 1 or Class 3. Six of their nine models are Class 1, with a 20mph max speed. The other three 'plus' models are Class 3 with a top speed of 28mph. There are no Class 2 throttle-operated options.
What is the lightest Gazelle bike?
The lightest Gazelle bike is the Medeo T9 City, weighing just 47.2lbs. In contrast, the Gazelle Ultimate C380 weight is 54.6lbs, a 7.4lb difference. All their electric bikes are fully equipped with accessories and heavy components like fork suspension; these extras add weight.
Verdict: Is the Gazelle Ultimate C380 Worth the Money?
---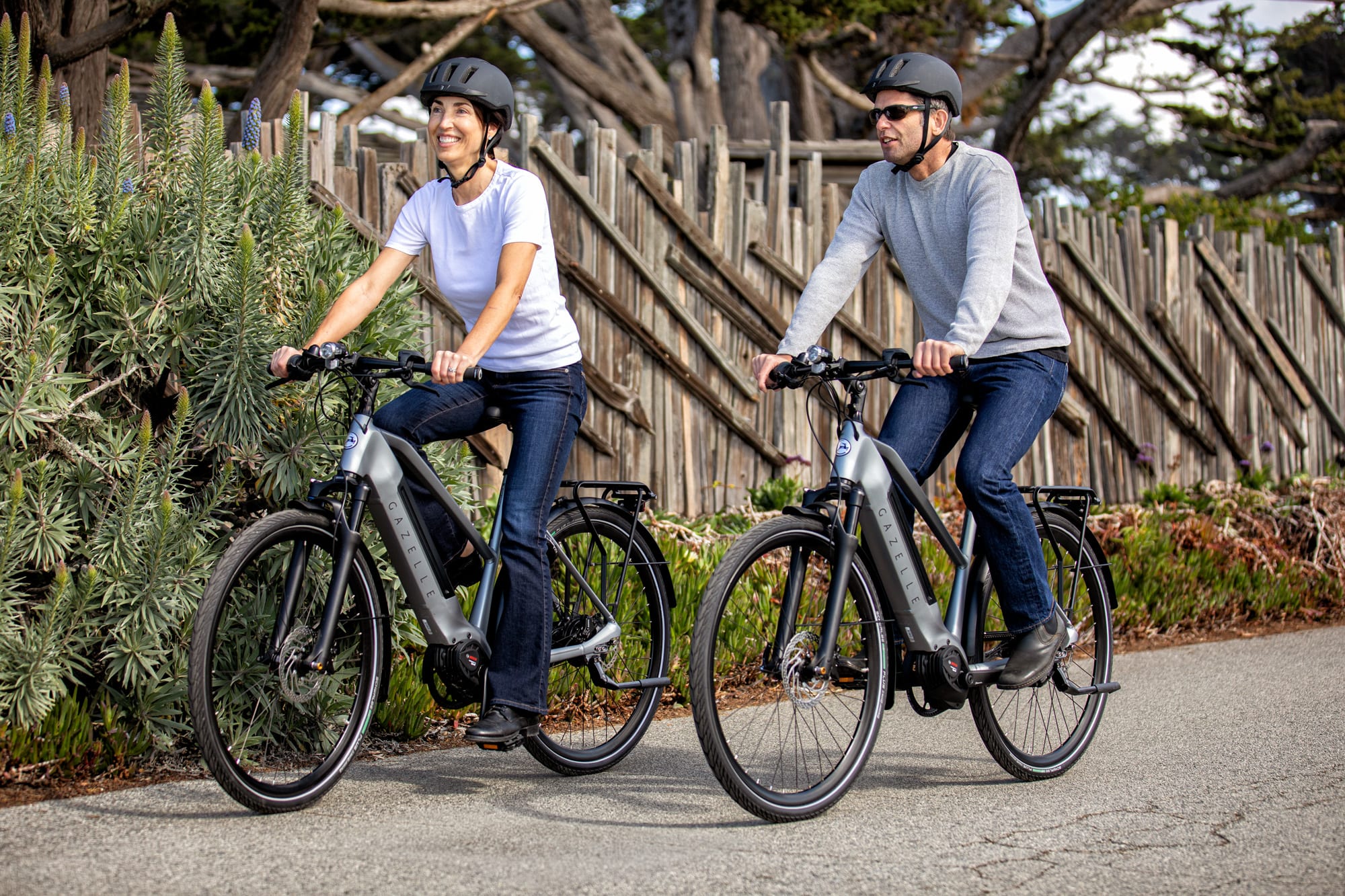 In our opinion, the Gazelle Ultimate is worth the money for an urban cyclist with a big budget who values comfort and convenience over all else. Most of the components are from leading manufacturers, such as Bosch, Enviolo, Shimano, Gates, and Schwalbe.
Gazelle's more than a century of experience in bike design is evident with the C380. Each aspect is tailored for a more user-friendly, hassle-free rider experience. If you're looking for the Ultimate urban e-bike, then make sure to add the Gazelle Ultimate C380 electric bike to your shortlist.