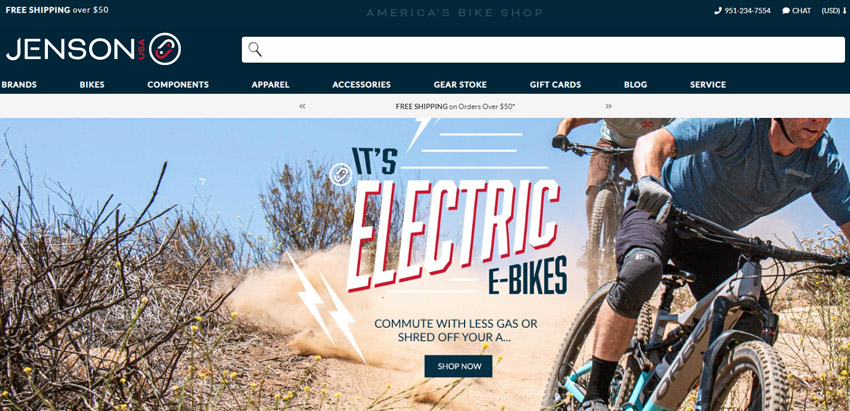 Jenson USA is one of the oldest and most respected online cycling retailers.
They have been around for more than 25 years, as the company was established back in 1994. For all of those years, Jenson USA's main focus was on selling bicycles and anything else related to cycling.
Cyclists love Jenson USA because of reliability, safety, and the crazy huge selection of products available for sale. They partner with all the biggest names in the cycling industry, as well as the newcomers, so no matter what type of cyclist you are, you should find the gear that suits you.
On their website, Jenson USA lists their core values, which will give you a better idea of who they are and what they stand for:
Customers are everything. Show them love.
Set the pace.
Be honest and open.
Together we can do anything.
Be a sustainable business.
Demonstrate leadership through serving others.
Now, let's take a look at what you can buy if you visit Jenson USA and why you should actually do that.
Selection Of Bikes On Jenson USA
Jenson USA has every type of bike you might need. However, their main focus is on mountain bikes. So if you're looking for a mean machine that can grind the trails, you're likely to find it here. However, they also have plenty of cyclocross & gravel bikes, as well as road bikes.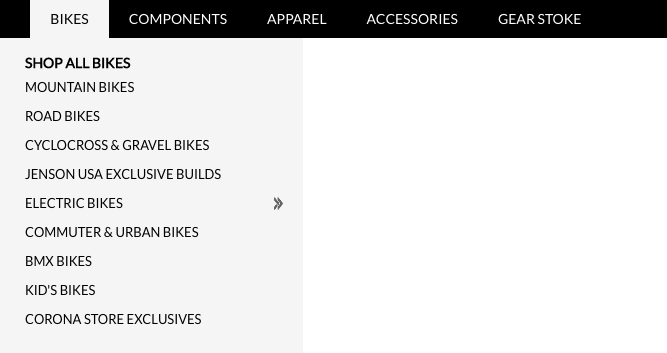 Other than those three main categories, you can also shop for electric bikes, commuter & urban bikes, BMX bikes, and even kids' bikes.
Mountain Bikes
Road Bikes
Cyclocross / Gravel Bikes
Electric Bikes
Commuter Bikes
Kids' Bikes
The majority of the models available in this store fall in the mid-range and high-end categories. However, there are also some affordable entry-level bikes that cost less or around $500. So, even if you're just beginning your cycling journey, you'll find what you need here.
Jenson USA also has a handy Bike Finder Tool that you can use to find the perfect bike for your riding style, riding terrain, and height.
The Selection in Numbers
At the moment of writing this review, there were 307 bikes for sale in total. Of those 307, 198 were in the "Mountain Bikes" category.
The second most populous category was "Cyclocross & Gravel" with 61 models for sale. That does not surprise us since gravel bikes are extremely popular right now.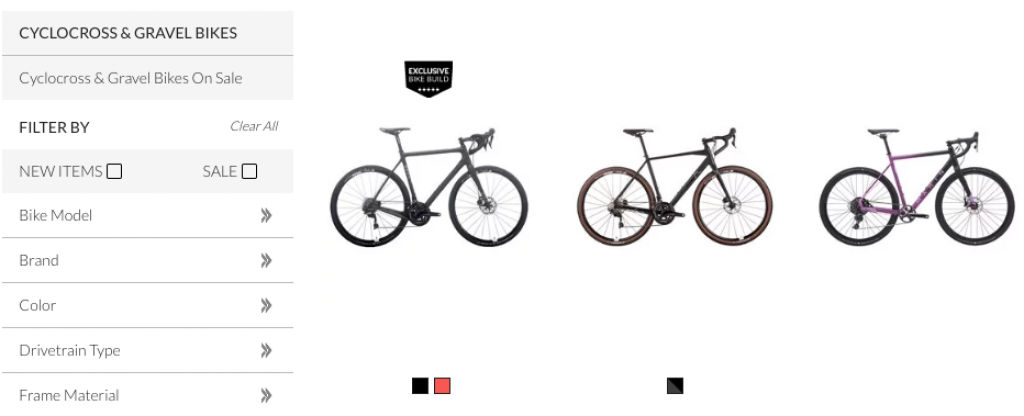 The third-largest category was "Road Bikes" with 33 bikes for sale. There are both very cheap and very expensive models here, made of either aluminum or carbon, so check how deep your pocket is before you buy.
As you can see, Jenson USA is mostly oriented towards off-road riding. Mountain bikes take the lead and the selection is truly spectacular. You can find all the best brands in the industry, and bikes which sport the latest technological achievements.
Electric Mountain Bikes
The electric bikes at Jenson USA are worth mentioning as well. They have been gaining a lot of traction in recent years as the stigma in the cycling community is slowly lifting. More and more people are buying them to commute more easily or to ride further and explore more on their hobby rides.
The electric bikes at this store are split into two categories: Electric Mountain Bikes and Road Mountain Bikes.
The majority of these are electric road bikes, so if that's what you're looking for, you'll be happy with the selection. The brands in this section include Orbea, Benno, and Devinci. The prices are slightly high, but not too high considering that electric bikes are always more expensive than the rest.
Apart from mountain and road electric bikes, there are also three Benno utility electric bikes, which are great for anyone who wants a bike that will be a real workhorse.
Shop Electric Bikes on Jenson USA
Exclusive Builds
How many times has it happened to you to find a great bike from your favorite brand with a fantastic frame, but with components that are a little off? If you're anything like us, you must have been in this situation countless times.
If you do not want to be in these frustrating situations anymore, you should check out Jenson USA's Exclusive Builds. These are unique bikes crafted by in-house engineers, which cannot be found anywhere else.
Even though the bikes are exclusive, the prices aren't. You can get a unique model for as little as $1,500 or as high as $5,500. It's up to you.
Their engineers work hard to analyze the cycling market and see what already exists and what can be improved. When building their bikes, the focus on the four main criteria:
Taking frames from reliable brands.
Meeting the latest material, geometry, and component standards.
Putting the focus on performance and durability.
Getting the most bang for the buck.
However, if your desires of the perfect bike exceed Jenson USA's imagination, you can simply tell them what you need. If you cannot find the perfect bike for your needs, send them an email or call them and tell them what you want. If your wishes make sense, they'll swap out parts that need to be changed and get your bike ready to rumble in no time.
Brands Jenson USA Sells
As we have mentioned above, Jenson USA partners with some of the best bike manufacturers in the world. That way, they always provide their customers with the latest technological achievements the cycling industry has come up with.
There are also some lesser-known brands on their list of partnerships, but they make quality builds nonetheless. Their bikes are cheaper than the rest, but not more cheaply made.
Some of the names that you can see on the website include:
There are many others as well, but the list is just too long to include all of them. By partnering with so many brands, Jenson USA offers diversity that can be compared to just a few other cycling-oriented shops out there.
You can get bikes made of different materials, with different geometries, various types of components, and intended for a variety of uses. That's one of the main things that make the Jenson USA huge—there's something for every rider on the roads out there.
Jenson USA Supports
In addition to selling you bikes and bike gear, Jenson USA also supports the cycling community by partnering with organizations that increase diversity and inclusion in cycling, such as:
Customer Service
Today, in an era when communicating is easier than ever, it's impossible to make a great brand without providing spotless customer service. Customer service that's available when you need it and delivers what's expected from it is one of the things that have allowed Jenson USA to grow over the years.
Their customer service team works 7 days a week, from 8 AM to 5 PM, PST. Therefore, no matter if you need them on a weekday or during the weekend, they'll pick up the phone.
There are numerous ways to contact them, including live chat and phone number (951-234-7554).
If these methods are not enough for you or they're not suitable for your needs, you can also use the contact form you can find on the Help Desk page.
You can use this form if you want to cancel or change your order.
Once you place an order online, Jenson USA does not guarantee that its contents can be changed, but the faster you act the higher the chance that they'll be able to meet you halfway.
Jenson USA's old customers have lots of good things to say about the customer support team, so they seem helpful and reliable.
Stores
If you decide to buy anything from Jenson USA, you can either do it online on their official website, or you can visit one of their two brick and mortar stores. If you live in Southern California, you're in luck, because that's exactly where the two stores operate.
You can either visit the shops and buy there, or you can order online and choose to ship your product to the shop and pick it up yourself. That way, you will get free delivery, no matter the price or the size of your goods.
The first location is the Corona Retail Store located at:
2410 Wardlow Rd. #109
Corona, CA 92880
(951) 736-0700
At this location, you can buy completely assembled bikes from brands such as Giant, Yeti, Ibis, Orbea, Niner, Santa Cruz, and more. They also offer tune-ups, installs of components, and other things.
The second location is the Riverside shop located at:
1615 Eastridge Ave
Riverside, CA 92507
(909) 947-9036
In this shop, you'll also be able to purchase some of the thousands of items, including bikes, gear, apparel, parts, and so on. If you live in or near Riverside, it's definitely worth the visit!
Gear Advisors
Jenson USA was established by cycling enthusiasts and experts who love everything related to bicycles. They like riding bikes and talking about bikes and give you a chance to take advantage of it.
How many times have you found yourself baffled by the incredible selection of bikes, parts, gear, and apparel on the market? It's hard to choose sometimes and thinking too much can give you a headache.
Instead, you can contact your fellow cyclists at Jenson USA and ask them any questions you have about cycling. No matter if you need technical help, are worried about compatibility issues, or you want to build a bike of your dreams and need some advice, you can feel free to give them a call or send them an email.
These are the contact details that you can use to touch base with them:
This is a pretty good service to use no matter if you are a beginner or a seasoned cyclist. You should get in touch with them especially if you are worried about which type of bike to get or which frame size to choose, they'll help you out in no time.
F.A.Q
These are the questions we've received from you, our dear readers.
Jenson USA is one of the biggest and oldest cycling-related online and land-based shops out there. If they are not legit, then no other shop is legit. You can safely purchase anything from them and be certain that your expectations will be met or exceeded.
Where is Jenson USA Located?
Jenson USA has both an online shop and two land-based shops. The two land-based shops are located in Southern California. You can find the first one in Corona and the second one in Riverside.
Where does Jenson USA ship from?
Jenson USA ships its products from its Southern California warehouse and its Tennesse warehouse.
The company is owned by Michael Cachat.
How does the Jenson USA works?
Jenson USA operates online and at two brick-and-mortar locations. It ships from products from its warehouses located in Southern California and Tennesse.
Where is Jenson USA located?
Jenson USA is located in southern California, USA.
Jenson USA vs Competitive Cyclist
Both Jenson USA and Competitive Cyclist are 100% legit retailers. Therefore, it is hard to choose one over the other. One advantage that Jenson USA has is that it operates two land-based stores, whereas Competitive Cyclist operates just one, in Utah. However, you won't be wrong with whichever shop you choose.
What are the Jenson USA Promo codes?
Jenson USA frequently offers lots of coupons and promo codes that you can use at checkout to get discounts, free shipping, or other benefits. You can find these promo codes on their website.
Shopping Process
In this section, we will take you through the entire shopping process when buying something from Jenson USA. It's pretty simple and not very different from any other online shopping you have done before, but there are some options that you should be aware of.
First of all, when you choose what you want to buy, you can add it to the cart. After that, you can choose to view your cart and you will be taken to a different page where you can enter a promo code if you have one.
This is also where you can choose the shipping options. As you can see from the screenshot above, you can either choose Standard Shipping, which takes 3-5 business days and is free for purchases over $50 within the continental USA that are not for oversized items.
You can also choose Free In-Store Pickup at one of the two locations in Corona and Riverside. This way, you will not have to pay anything for shipping.
After that, all you need to do is continue to checkout, confirm all of your personal details, and confirm your purchase. That's pretty much it. You can expect your goods to arrive quickly.
SALE Section
If you want to buy great cycling-related products at an even better price, you should check out the "Sale" section on Jenson USA. At any time, you can find bikes, components, apparel, helmets, forks, tires, and many other products at very generous discounts.
At the moment of writing this review, there were close to 3,500 items on sale, some of which were even 100% discounted. You heard it right—Jenson USA is giving stuff away!
If you don't trust us, take a look with your own eyes:
Of course, more valuable gear and bikes usually do not come at 100% discounts. However, depending on how lucky and how patient you are, you can sometimes strike very good deals and save thousands of dollars on your purchases. Therefore, definitely check out the SALES section!
Our Verdict

After analyzing the website, the shop, and all of the available features, it's time to give our final verdict about Jenson USA. The truth is, we really like it. We've been using their services ourselves before and never had any issues, they have always over-delivered.
We like the long list of brands they partner with, as well as the large diversity of bikes they have for sale.
Jenson USA is the right place to shop especially if you're looking for mountain bikes, but they also have a decent selection of road bikes, cyclocross and gravel models, electric bikes, as well as many other types.
If you live in California, you have a home-field advantage because you can shop or pick up items at one of their two stores and avoid any potential shipping fees.
All in all, we recommend Jenson USA, as do thousands of satisfied customers in numerous online reviews and on cycling forums.