Rungu is a bike brand with a singular focus to deliver the best e-bike/e-ATV on the market. Rungu focus on one product only, the Dualie electric fat tire hunting bike, to fulfill this goal.
The company itself is part of the Standard Bearer Machines company, which manufactures its products in California using imported components.
Its stringent quality control procedures exemplify Rungu's commitment to quality. This process includes three tests during assembly, a 40-step final inspection, and a test ride by a technician before being cleared for sale.
The company backs this up by providing each Rungu bike with a 2-year warranty and performance guarantee.
What is the meaning of the word Rungu?
"Rungu" is a Swahili word originating from the tribal cultures of East Africa.
The word represents a wooden baton or club that they use for throwing. The term is most commonly associated with the warrior Maasai tribe and their Morans (male warriors), who used these clubs for warfare and hunting.
About Rungu Dualie
---
The ambitions for this bike were enormous from the outset, and Rungu has been able to follow through by developing an e-bike that can take on any terrain with relative ease.
Dualie evolved from the previous Rungu Juggernaut (Non-Electric 3-wheel bike), which they initially built to haul gear through across the beach to the ocean where 4x4s and quads aren't allowed, and standard e-bikes couldn't go.
Where it thrives – Rungu's Dualie three-wheel electric bicycle can ride over soft surfaces like sand, deep snow, thick mud, and over rocks or logs thanks to an innovative design of two front wheels and stable geometry.
Stability – Due to this design's extra ability, it was necessary to fit the bike with high-power electronics, including dual battery capacity, which allows you to pull a full cargo load over any terrain.
Maneuverability – In addition to off-road performance, a bike with two front wheels like the Dualie can ride perfectly well on the road, providing excellent maneuverability and turning ability compared to a quad or ATV.
Is the Rungu Dualie a trike?
Yes. Any three-wheeled transport is a trike, regardless of whether the two wheels are on the front or the back. However, the most common setup for a trike is to have two wheels on the back.
Benefits of a 3 Wheel Bike
---
Having two wheels upfront has a few critical benefits for riding.
Firstly, the chance of a wipeout when cornering reduces hugely because of the extra traction from two tires on the road, and the 75/25 weight distribution helps keep more pressure on the front wheels, so traction gets an even more significant boost.
Reduced wipeout
More weight = more traction on the front
More surface = more grip
All of this extra traction gives the front 2-wheel bike the ability to ride on surfaces previously un-touchable like soft sand, mud, and snow (up to 9-inches thick).
Another key benefit is that you can mount and dismount the bike wherever you want without using a kickstand. This feature is beneficial for dismounting on the beach, where a kickstand would usually sink.
Rungu Dualie Review
---
Prices starting from $4,599 to $7,759
BUILT IN THE USA – Hand-made in Santa Ana, California – Takes 1-2 weeks to ship
40-point quality inspection before packaging
Patented double-wheel design (Rungu® Dualie™)
3 brakes = best weight-to-break ratio
Ascend up to 50% grades while seated
The Dualie Rungu 3 wheel bike sets the standard for off-road e-bikes with unbeatable traction and stability that allows you to go where other bikes cannot.
There are a few vital characteristics of this bike that make it exceptionally well equipped to go off-road confidently and comfortably.
As mentioned above, the two front wheels and 75/25 weight distribution increase traction and soft surface performance significantly. In addition, the Dualie uses FreeMove suspension, which allows each wheel's suspension to travel up to three inches independent of the other, making for an incredibly smooth ride on all terrain.
The weight distribution and the forward center of gravity on this bike help you to climb steeper hills without getting out of the saddle, where you would usually lose traction on a regular bike. Additionally, the extra-long wheelbase increases stability and performance while climbing and descending.
Other notable characteristics include the super-comfy step-through frame design, which makes it easier to mount and dismount the Dualie, along with the stand-alone ability, eliminating the need for a kickstand.
Because this is a heavy e-bike built for extreme use, Rungu designed it with a large payload capacity of 332 to 351lbs. The Dualie also has a premium 1120W mid-drive motor and large batteries across the range and dual battery capacity in the premium models.
Rungu Dualie Key Specs
---
Made of – lightweight aircraft aluminum, Corrosion-resistant
Can be used as Class 1 / Class 2 / or Off-Road only
Weight Capacity:
330 -350lb on the bike
300lb – towing weight
Dual Hydraulic Disc Brakes
Mid-drive Specific Chain – KMC
Fully charged in 2.5hours
This Rungu electric bike is the perfect companion for riders with extreme needs from their bike. In addition, hunters, anglers, Overlanders, and adventure seekers will appreciate the doors that this bike opens.
Using the Dualie, you can reach previously out of reach areas and get yourself out of sticky situations, even with a fully loaded bike in challenging terrain.
Powerful components and innovative geometry ensure a comfortable, controlled, and versatile ride quality.
Different Rungu Dualie Models Available
---
Standard
The Standard Dualie is the basic model and the lightest, coming without a front mudguard or cargo rack. Additionally, it has slightly narrower, lower-quality Vee Rubber Snowshoe XL 4.7″ tires. Because of the weight savings, this model has a somewhat more extended range than the other two single-battery Dualies.
Steep
The Steep has the same build as the Standard except for an additional cargo rack and front mud flaps. These extra components add roughly 8lbs in weight, slightly reducing the max range and payload capacity.
Rugged
The Rugged Dualie takes it up a notch with the best climbing ability of the bunch and wider 4.8″ Maxxis Minion tires. In addition, this model comes with Rungu anti-pinch tire liners and extra components and accessories, including a skid plate, waterproof saddlebags, tool kit, and first aid kit. Unfortunately, all of this extra gear adds an extra 9lbs compared to the Steep.
XR Steep
The XR Steep is similar to the regular Steep but with a second 15Ah battery for twice the range. This model also has Maxxis Minion tires with anti-pinch liners instead of Vee Rubber. This bike weighs 17lbs heavier than the Steep at 111.5lbs.
XR Rubicon Trail Edition
The Rubicon is the peak of what the Dualie is capable of doing. It comes with everything seen on the Rugged model except a secondary battery to deliver almost 2x the range and all the extra gear.
Optional Rungu Dualie Accessories
---
Here are some of the accessories to make your Dualie even more versatile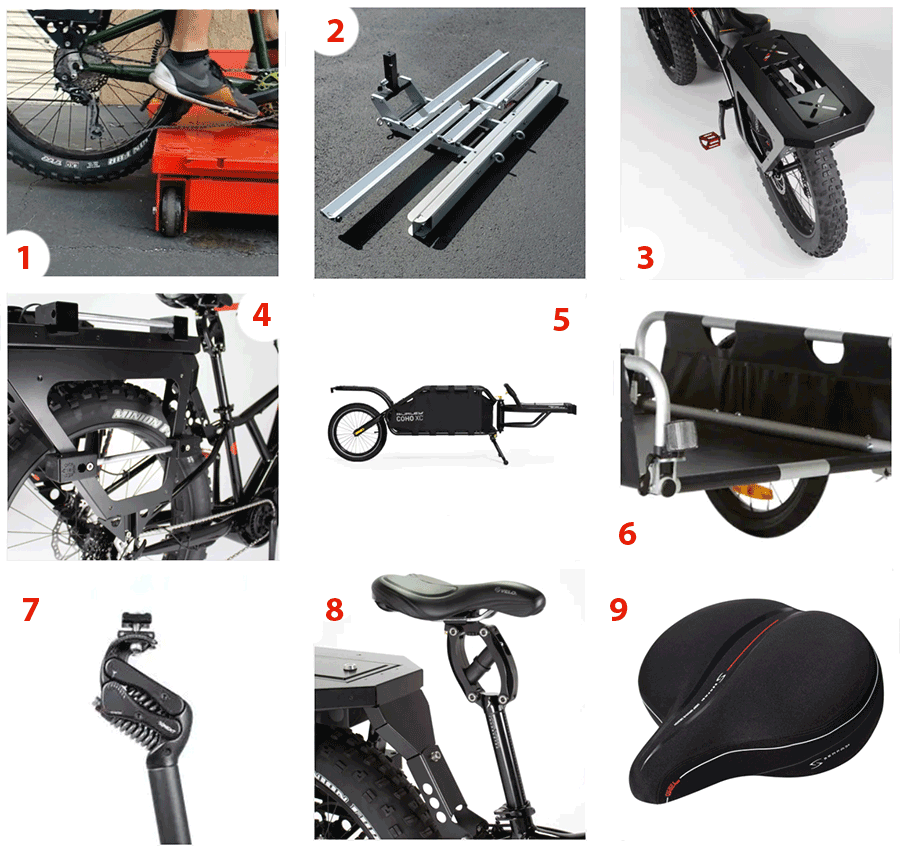 Rungu APF Liner ($69)
1UP Bike Rack for Rungu (from $799)
Rungu Cargo Rack (from $439)
Cargo Rack Pannier Mount (from $39)
Burley Coho CX single wheel trailer (from $549)
Burley Flatbed Cargo Trailer (from $269)
Suspension seat post (from $190)
Comfort kit ($269)
CRS 1 full-suspension seat ($119)
Rungu has an excellent range of custom accessories to help you get the most from your Dualie. Many of the accessories allow you to transport more cargo, including the rack, panniers, and trailers.
In addition, you can boost comfort or durability by adding a suspension seat post and ergonomic padded saddle or by adding tire liners to the cheaper models that don't have them included.
Rungu Dualie Size Recommendations
---
Standard frame & seat accommodates riders 5′ to 6'6″
Suspension seat post raise the minimum seat height by 3″ to 5'3″ (8cm)
Serfas SR1 seat upgrade increases the minimum seat height another 3″
The lowest minimum height with Suspension seat post AND Serfas SR1 seat is 5'6″
Previous Model – Juggernaut
---
The Juggernaut is not an eBike. It was Rungu's original model bike before they made a move to electric bicycles.
The Rungu Juggernaut bike was almost identical in the primary design characteristics such as the geometry, center of gravity, and two front wheels, except without any battery or motor.
Facts – Meaning of Juggernaut
According to Wikipedia, Juggernaut is either a 'huge, powerful, and overwhelming force' or 'a large, heavy vehicle, especially an articulated lorry' in British.
Where to Buy Rungu Dualie?
---
EBikeGeneration.com – USA
Hunting Giant – USA
Soul Planet Cycles – Costa Rica