QuietKat Jeep Ebike Review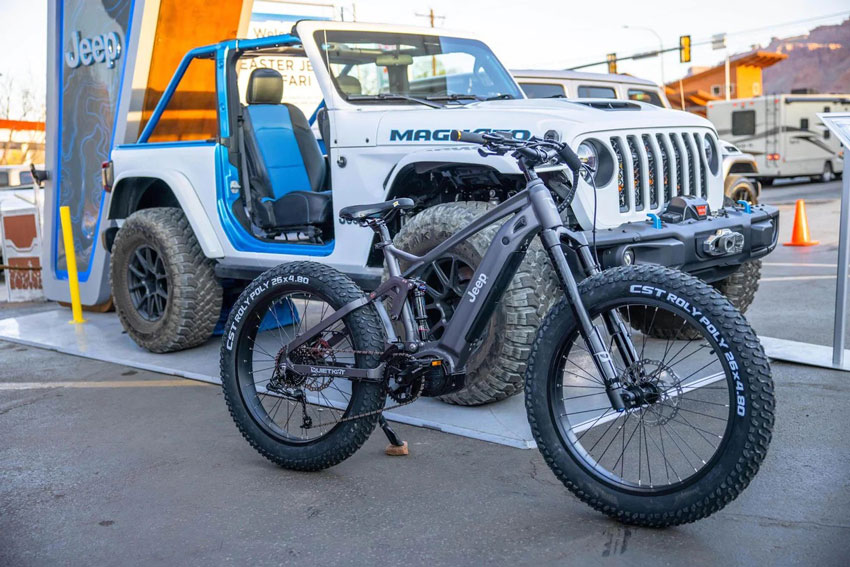 The QuietKat Jeep eBike is an ultra-capable fat tire beast that can take anywhere you want.
In partnership with the renowned off-road vehicle brand Jeep, QuietKat has created an electric bike with the same unrivaled versatility and ability.
This unique bike blends top-level engineering and design with premium components from leading manufacturers. This creates an exceptional ride experience, matched with an eye-watering price.
QuietKat's flagship Jeep bike makes hunting, angling, camping, and exploring easy, serving the brand's goal of being the '#1 hunt, fish, and Overland e-bike brand'.
This Jeep eBike review will provide a detailed analysis of the product, the ride feel, its main features and components, and our verdict on whether or not to choose it as your next electric bicycle.
An hunting e-MTB capable of tackling any terrain you throw at it, perfect for the most adventurous riders out there.
PROS
Ultra mid-drive motor wit two power choices
4-piston hydraulic disc brakes
Stable geometry and suspension
Excellent accessory compatibility
CONS
No dropper post
Poor range
No lights included
What Kind of Bike is the QuietKat Jeep?
The QuietKat Jeep eBike is undoubtedly one of the most capable and exciting products out there. The massive motor, enduro-style geometry, high travel suspension, and super fat tires combine to ensure the Jeep can handle whatever the trail throws your way.
Of course, QuietKat is one of the USA's most popular hunting e-bike brands, so the Jeep must be versatile and powerful enough to facilitate hunting, fishing, camping, and Overlanding trips. To achieve this, you have a high 300lb payload capacity, compatibility with various cargo-carrying accessories, and more than enough power to pull it all.
Another impressive aspect of this bike is that it handles like a premium eMTB. Swap out the 26″ x 4.8″ wheelset for a 29″x 3″ setup, and you have a pure-bred enduro machine that can thunder down technical singletrack.
The QuietKat Jeep pioneers a new class of electric bicycles, pushing the boundaries of what is possible on two wheels.
QuietKat Jeep eBike Quick Specs:
Frame: Aluminum frame
Motor: 750W (Class 1 or 2) or 1000W Ultra mid-drive (Unclassified)
Battery: 696Wh battery, Panasonic cells
Average range: 30 miles (58-mile max)
Fork: 150mm QK inverted suspension
Rear Shock: 150mm RockShox Monarch RL
Tires: 26″ x 4.8″ CST Roly Poly
Drivetrain: 9-speed SRAM X5
Brakes: Tektro 4-piston hydraulic discs, 203mm rotors
Weight: 70lbs
Max capacity: 300lbs
QuietKat Jeep eBike Review
The Jeep eBike is more than just the sum of its parts. While the spec isn't mind-blowing for the bike's price, the performance and capability provide an exciting ride experience that will allow you to take the road less traveled.
Impressively, QuietKat has cut 9lbs from the weight of the original release of the Jeep, making for an even more enjoyable ride. This section will describe the individual features that give this bike its unique abilities.
Frame and Geometry
The QuietKat Jeep starts with a versatile aluminum frame that you can modify to transform the ride experience.
Firstly, you get tire clearance for super size fat tires on 26″ wheels or 3″ plus-sized tires on 29er wheels. The small-diameter wheel/fat tire combination is best for varied ride conditions and mixed terrain, as the wider tires ensure you can ride over almost any obstacle. In contrast, the 29er setup turns the Jeep into a pure enduro mountain bike.
The frame's geometry is extra-long and slack. For example, it has a 74.7-degree seat angle and a 66.5-degree head angle to enhance stability and balance on fast downhill terrain. In addition, the lengthy 488.2mm chainstays make the bike super stable but a little harder to maneuver on tight, technical sections.
Like all QuietKat bikes, the Jeep has several mounts for accessories, distinguishing this bike from other high-performance mountain bikes. Additionally, you can pair the Jeep with cargo trailers and QuietKat's proprietary Quick Konnect pannier bag system.
The new Jeep frame is available in three sizes and has a lifetime warranty for manufacturer defects. Unfortunately, the frame is aluminum instead of carbon fiber, which isn't ideal for an e-bike costing over $7,000. On the plus size, it can take a lot more abuse, which is what this bike was intended for in the first place.
Bafang Ultra-Drive 750/1000W Motor and 696Wh Battery
The Jeep's electronics provide plenty of power but lack the battery power to back it up. If it falls within your budget, we think purchasing a spare battery for the Jeep is worthwhile so that you can take on longer and more demanding trips.
The ultra mid-drive motor comes in a 750W or 1000W version and has 160Nm of torque for smashing long, steep climbs with a loaded bike. Both models offer more than enough power for the average rider. However, the smaller motor stops assisting at 20mph (Class 2), while the 1000W version doesn't have a max-assisted speed.
Mid-drive e-bike motors are the go-to choice for premium electric bikes. They are the most powerful, efficient, ...
The Jeep e-bike runs using the throttle or one of five levels of pedal assistance. You must change gear to switch between the PAS levels with a mid-drive motor.
The battery on this bike is fully-integrated with a modest 696Wh, providing a maximum 58-mile range in ideal conditions. However, the average distance is 20 to 30 miles per charge, and it takes roughly four to six hours to charge.
Dual Suspension and Four-Bar Linkage
QuietKat chose a 150mm travel suspension pairing for the Jeep. The components include a reliable RockShox Monarch RL air shock paired with a bespoke QK inverted air fork with a four-bar linkage platform.
The QK fork copies the design of a dirt bike rather than a traditional MTB fork. This design is favorable for heavy electric bikes such as the Jeep as it is stiffer and more stable under intense load, ensuring you maintain traction and control wherever you go.
Additionally, you have QuietKat's proprietary Fire-Link suspension platform that enhances traction and bottom-out resistance while increasing efficiency. Overall, this bike's suspension setup can handle any terrain you encounter. The one criticism is that there is no dropper post (which you can buy from the online store).
SRAM Drivetrain and Tektro Hydraulic Disc Brakes
The Jeep's groupset features Tektro hydraulic discs and a SRAM X5 9-speed drivetrain with an 11-42t cassette and trigger shifters.
The SRAM X5 is a MTB-specific setup designed to take a beating on trails. This reliable drivetrain will hold up over time which is essential for a mid-drive e-bike as the drivetrain is under more stress.
We would have liked to see a slightly larger cog on the cassette to maximize efficiency on super steep gradients. Nonetheless, the 11-42t combination provides a decent range for most climbs.
QuietKat chose the industry's most powerful brakes to ensure safe riding on a heavy, potent e-bike like the Jeep. Tektro's 4-Piston Dorado hydraulic discs with 203mm rotors are typical of heavier downhill mountain bikes. They're strong enough to keep you safe when traveling at high speeds. In addition, the large rotors regulate heat well when the brakes are under a lot of stress.
Super Fat Tires and 26″ Wheels
The CST Roly Poly 4.8″ fat tires are some of the widest on the market. These tires are made for heavy-duty riding on all terrains, perfect for a bike like the Jeep.
The tread has center knobs that minimize rolling resistance and deep side knobs that hold traction on loose surfaces and while ripping around corners at speed. In addition, high-volume tires like the Roly Polys run low PSI levels. Low PSI absorbs trail chatter to deliver a more comfortable ride.
The 26″ stock wheels are the perfect match for fat tires to balance the stability and traction with maneuverability and acceleration. The rims also have a high spoke count to maximize durability. Consider the 29″ wheels if you want a modern MTB feel.
QuietKat Jeep Rubicon: Upgraded Model
The Rubicon adds a third option to the series of Jeep eBikes. It takes the original model to the next level with extra range, fine-tuned suspension, and more aggressive, snappy geometry.
Most notably, the Rubicon is only available with a 1000W motor and has a larger 1008Wh battery (309Wh extra) to deliver a max range of 63 miles.
The Rubicon also has a slacker head angle to enhance capability on MTB trails and shorter chainstays to improve agility in the corners.
Aside from these upgrades, the bike has the equivalent spec and design characteristics as the original. You can purchase the Rubicon for an extra $799 ($8,299) compared to the standard 1000W Jeep eBike.
QuietKat Jeep eBike Ride Feel
As we've seen throughout the review, the Jeep eBike specs deliver a powerful and capable ride feel. After becoming accustomed to the raw power of the Jeep, riders can expect to feel confident and in control wherever the trail goes.
The super fat tires, stiff inverted fork suspension, slack geometry, and long base allow you to ride comfortably where other bikes cannot. Specifically, the Jeep excels on soft terrains like mud and snow and in the rugged backcountry with poorly developed trails.
This bike can require some practice from riders using a mid-drive motor for the first time because the motor is connected directly to the drivetrain. Hence, it's essential to be aware of your gear choice and cadence to maximize the battery's efficiency and avoid putting extra stress on the motor.
In summary, the Jeep is a uniquely exciting and versatile electric mountain bike with everything you need for taking on hunting, camping, and extreme-terrain adventures.
People Also Ask
How fast can Jeep eBike go?
The Jeep eBike can go up to 20mph for the 750W-motor, Class 2 version using either pedal assistance or throttle-only; at that point, the motor cuts out. The unclassified 1000W QuietKat Jeep can reach over 30mph but doesn't have a specified speed limit where the motor cuts off.
Does Jeep make an electric bike?
No, Jeep does not make an electric bike. The brand QuietKat designed the Jeep electric bike in partnership with the famous off-road vehicle brand, taking inspiration from the incredible capability of Jeep SUVs and applying it to the e-bike industry.
Who makes the Jeep bike?
QuietKat makes the Jeep bike. QuietKat is an e-bike brand based out of Eagle, Colorado. They specialize in designing highly versatile and capable hunting e-bikes with electronics that allow them to haul massive payloads. This ability makes QuietKat bikes the perfect companions for hunting, fishing, and camping trips.
Where is QuietKat made?
QuietKat bikes are made in Asia. Once manufactured, the bicycles are shipped to the company headquarters, where they finish the assembly and testing. After that, QuietKat distributes the e-bikes to suppliers and customers. Partnering with factories in China and Taiwan is common for e-bike brands.
What motor does QuietKat Jeep use?
The QuietKat Jeep uses either a 750W or, for $200 more, a 1000W motor. Customers can choose their preferred motor at checkout. The smaller motor is road legal and considered a Class 2 e-bike with a 20mph max speed. The larger one is unclassified.
Are QuietKat bikes waterproof?
No, QuietKat bikes are not waterproof. The electronic components are water-resistant and capable of riding in wet weather for sustained periods. However, you shouldn't ride QuietKat bikes through water if the water is going to submerge any of the electronic parts.
Our Verdict: Should You Buy the Jeep eBike by QuietKat?
Overall, we're very impressed by the Jeep. Although there are a couple of improvements to make, such as a higher capacity battery and a better drivetrain, the incredible capability of this bike is undeniable.
QuietKat has produced the ultimate off-road machine, designed for riders with high demands from their bike. The Jeep can swallow steep climbs and charge down technical descents, help you cross the harshest backcountry terrain, or haul heavy cargo for hunting or camping trips.
Given the high price, this bike won't be accessible for all riders, but thankfully QuietKat has a range of all-terrain hunting bikes to meet various budgets. However, if the Jeep eBike is within your means, we recommend considering it for your next all-terrain bicycle.