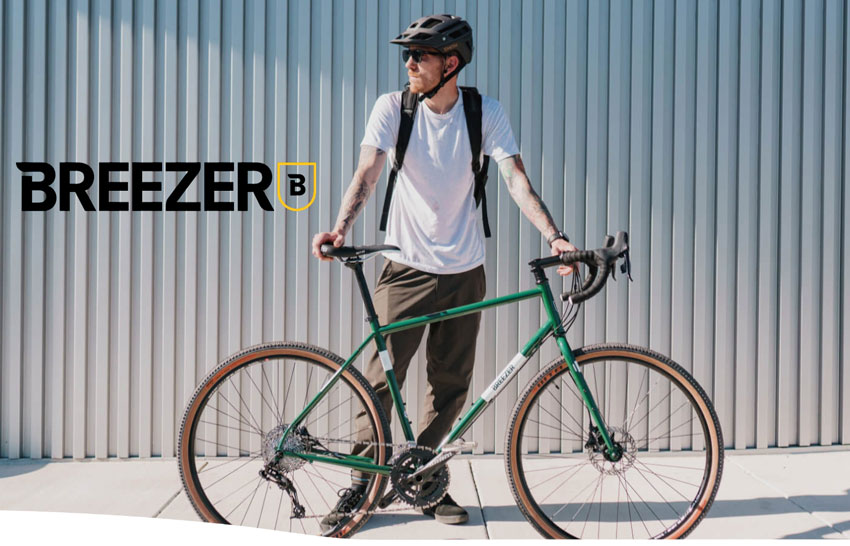 Breezer Bikes is one of the longest-operating bicycle manufacturers in the US and the first pure mountain bike brand.
Although they aren't one of the most well-known US bike brands today, their dedication to innovation throughout the late 1900s helped drive forward the bike industry (particularly the off-road category) and paved the way for modern manufacturers.
This Breezer Bikes review will provide a detailed overview of the brand, its technology, and the types of bikes on offer.
About Breezer Bikes
---
In the mid-to-late 1970s, Northern California resident Joe Breeze merged his passion for cycling with a knack for design and fabrication to create the first purpose-built mountain bike, 'The Breezer,' from the ground up.
Breezer took inspiration from the best klunker bikes of the time that began the off-road movement by modifying old Schwinn bikes to be capable on mountain trails.
Throughout the '80s and '90s, Joe continued designing innovative mountain bikes.
He was a crucial player in the foundation of the National Off-Road Bicycle Association (NORBA) and, along with the team at Breezer, created the world's first dropper post, Breeze-In dropouts, and new D-shaped steel and aluminum tubing. All the while, the company was releasing more off-road models, such as the Sweet Spot full-suspension MTB.
In the '00s, Breezer Bikes began to focus on the bikes-for-transportation category, devoting the brand to the 'Transportation for a Healthy Planet' movement and releasing a whole lineup of models equipped for shopping in town, commuting, and combining with public transit.
Today, Breezer Bikes' range of 13 bikes includes four electric, four adventure/mountain, and five transportation models sold in the US and Europe.
Breezer Technology
---
From its inception until the early '00s, Breezer Bikes was at the forefront of innovation in the bicycle industry. As mentioned, they are responsible for inventions such as dropper posts, hollow mountain bike cranks, and 3D dropouts.
This section will discuss some of the current tech used in the design of Breezer bikes.
Apex Force Transfer Braking
Apex Force Transfer (AFT) switches the mounting point of the rear disc brake caliper to the chainstay and seat stay instead of just the chainstay. This design reduces weight, increases frame clearance for accessories, and protects the rear brake caliper.
Breeze Compact Geometry
Compact frame geometry reversed traditional frame design by using the smallest frame possible with longer components like seat posts and stems instead of long tubing with shorter componentry.
Finding the correct size bike is tricky because of the massive variation in how manufacturers measure and list ...
Joe Breeze created this style in 1993 to save weight and increase frame stiffness without negatively impacting how the bike handles.
The compact geometry also resulted in extra stand-over clearance and more adjustability.
D'Fusion Tubing and Breeze-In Dropouts
D'Fusion tubing was an innovation in hydroforming that molded the end of the frame tubes into a D-shape to be stronger and lighter at the joints. This design had a secondary benefit of improving ride characteristics.
Another frame innovation by Breezer Bikes was the 'Breeze-In' dropouts that replaced traditional cast dropouts. This hooded shape is stronger, lighter, and stiffer than the conventional shape, improving ride quality. In addition, they allow the tubing to extend closer to the rear axle, making wheel changes easier and shifting better.
JFE and Breezer Steel & Multi-Mount Capabilities
JFE steel is untreated steel purchased from Japan and custom hydroformed to create the D'Fusion profile and give complete control over the thickness and shape of the tubes, which isn't possible with pre-treated tubing. This control allows Breezer to optimize its frame strength-to-weight ratio and ride characteristics.
Breezer's 4130 Chromoly steel is the material Joe Breeze used when he started in the '70s.
Chromoly is regarded as one of the best steel alloys you can buy in terms of strength-to-weight, five times the tensile strength of 6061 aluminum. In addition, it has excellent shock-absorbing characteristics, is easy to repair, and is highly durable.
Most Breezer bikes also offer multi-mount capabilities which makes them an excellent choice for bikepacking adventures.
Breezer Bikes Lineup Overview
---
As of 2023, Breezer has a limited lineup of 13 bikes. These include four Breezer e-bikes, five transportation models, and four adventure bikes.
Since their move to a transportation-focused business model, Breezer has slowly reduced its mountain bike range and now only has one rigid mountain bike remaining among an extensive selection of city and gravel bikes.
Breezer E-Bikes
Breezer has a range of four fully-equipped aluminum electric city bikes currently available. They aim to make e-bikes with everything needed to replace your car and make urban transportation quick and convenient.
Breezer e-bikes are entry to mid-level in terms of spec and pricing. The most affordable model is the Greenway+, a low-step bike with a Shimano STEPS E5000 motor, a 418Wh battery, a 63mm Suntour fork, 700c x 47mm tires, and an 8-speed Nexus hub.
The next model is the Powertrip+. It has a Bosch Active Plus 3rd Gen motor with a 500Wh powerpack. The Powertrip+ also has 700c x 42mm tires, a 9-speed Shimano Altus/Alivio drivetrain, and a 63mm Suntour fork.
The Powertrip EVO+ takes a big jump with a fully integrated Powertube 625Wh battery and a Bosch Performance CX 4th Gen motor. In addition, it upgrades to a 75mm Suntour air fork, Shimano XT 12-speed gearing, 700c x 55mm tires, and brighter lights.
Finally, the Powerwolf EVO+ is the premium Breezer e-bike. This model has the same fully-integrated Bosch electronics as the Powertrip EVO+, versatile 27.5 x 2.4″ tires, a 100mm travel Suntour Mobie fork, and more robust WTB i27 TCS rims. This build kit makes the Powerwolf the most off-road capable Breezer e-bike.
Powerwolf EVO
Powertrip EVO
Powertrip
Greenway
Breezer Transportation Bikes
Breezer has five affordable transportation models, starting with the budget Breezer Downtown 7+ city bike. This fully-equipped bicycle has unique features like dynamo-powered lighting and 7-speed Shimano Nexus internal gearing. Additionally, you have fast-rolling 700c x 35mm tires, a Chromoly steel frame, and comfort-optimized touchpoints.
The Midtown 1.5 is the next in the lineup. This aluminum hybrid has a 2×9-speed Shimano Altus drivetrain, comfortable 27.5 x 2.4″ tires, mechanical disc brakes, and mounts for a rack and fenders.
The Liberty R1.3+ returns to a fully-equipped setup on a lighter D'Fusion aluminum frame. It features dynamo-powered lighting, a Shimano Deore/Altus 3×10 drivetrain, 700c x 42mm puncture-resistant tires, hydraulic disc brakes, and tubeless-ready wheels.
The Beltway 11+ is the brand's best commuter bike. You have a premium Gates Carbon CDX belt drive with Shimano Alfine 11-speed gearing, 700c x 40mm Schwalbe tires, and hydraulic disc brakes with Breezer's Apex disc mount.
Finally, the Breezer Squall bike straddles the line between a transportation and adventure bike. This unique gravel-style design uses a foldable aluminum frame and carbon fork loaded with mounts, 650b wheels wrapped in 47mm gravel tires, and 2×11-speed GRX810 gearing. The Squall also has a proprietary travel case that doubles as a trailer.
Downtown
Beltway
Liberty
Midtown
Squall
Breezer Adventure Bikes
Breezer's adventure bikes include the models that most resemble Joe Breeze's original mountain bike style.
The Breezer Thunder is the only mountain bike on the lineup in 2023. This rigid MTB has a Chromoly steel frame, 12-speed Shimano Deore gearing, 29 x 2.4″ tires, hydraulic discs, and a KS RAGE-i dropper seatpost.
The Doppler Team+ Breezer gravel bike comes loaded with mounts, dynamo-powered lights, and full fenders on a Chromoly steel frameset. In addition, it has road-style Shimano 105 2×10-speed gearing, 650b x 47mm tires, and TRP hydraulic disc brakes.
The Radar X Pro men's Breezer bike is another step above the Doppler with gravel-specific GRX600 1×11-speed gearing, wide Goodyear Peak Ultimate 700c x 57mm tires, and plenty of mounts on the Chromoly steel frame.
Finally, the all-road Breezer Inversion Team tops the list with its D'Fusion Chromoly steel frame, carbon fork, and carbon seatpost. Shimano 105/GRX810 2×11-speed gearing, fast 700c x 34mm tubeless-ready WTB tires, and 650b wheel compatibility.
Thunder
Inversion
Doppler
Radar
FAQs
---
Where are Breezer bikes manufactured?
Breezer Bikes are manufactured in Asia, but the company doesn't identify the exact location. When Joe Breeze started, he manufactured the bikes in the US. However, the cost of manufacturing a bicycle in the USA today would be too high to be competitive.
Who owns Breezer bikes?
Advanced Sports Inc. (ASI) owns Breezer Bikes. ASI purchased the company from Joe Breeze in 2008 in order to help them expand in the US and internationally. Advanced Sports Inc. also owns the popular bike brand Fuji. The company is based in Philadelphia.
Are Breezer bikes good?
Yes, Breezer Bikes are good. Although Breezer Bikes are not a well-known brand, its products are good quality and reliable. In addition, they typically fall into the entry-level or mid-range pricing, with most of their models costing less than $2,000. However, their bikes aren't considered high-performance.
Where to buy Breezer bikes?
You can buy Breezer bikes on their online store or from popular online retailers such as Jenson USA. In addition, many bike shops throughout the United States stock Breezer Bikes. Consult the map on their website's "Where to Buy" section to find the closest one to you.
Are Breezer mountain bikes any good?
Yes, Breezer mountain bikes are good. They use reliable components from manufacturers like Shimano, WTB, Goodyear, and Suntour. However, as of 2023, Breezer only sells gravel-style adventure bikes and one rigid-fork mountain bike. They don't have any hardtails or full-suspension models in their new range.
Final Thoughts: Should You Buy a Breezer Bike?
---
In our opinion, Breezer bikes offer plenty of value for money in the entry/mid-level range of urban, gravel, and e-city options. These bikes are competitively-priced due to the lower brand name value.
The brand's dedication to innovation throughout the years continues to shine through in its new models. Their custom-formed aluminum and steel frames have solid ride characteristics and durability. In addition, the components are primarily from recognized manufacturers like Shimano, WTB, Schwalbe, Bosch, Gates, and Selle Royal.
The one area where Breezer seems to cut costs is in the lesser-known brake and cranksets choices. The company also saves money using primarily steel builds, which is the cheapest frame material. As a result, Breezer bikes are typically a little heavier than the competition.
Consider a Breezer bike if you're looking for a reliable and versatile urban, adventure/gravel, or e-city bike.