Best Cycling Gloves in 2023: A Buyer's Guide & Top Models Reviewed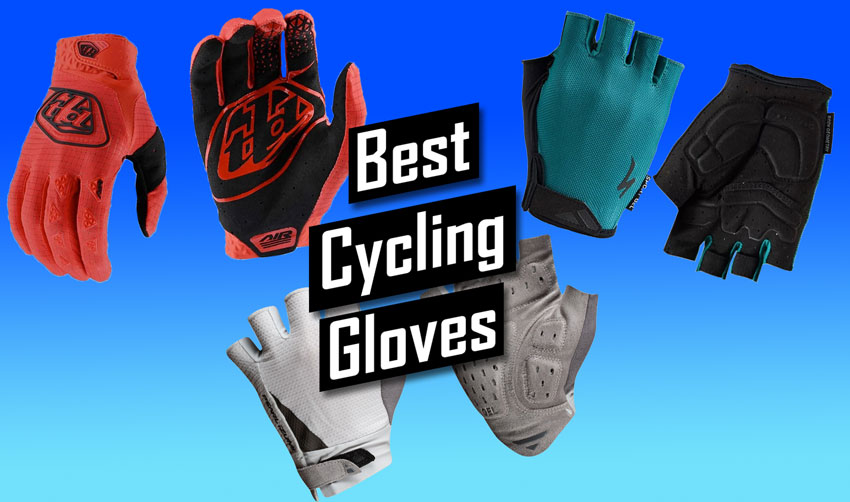 Cycling gloves are a valuable piece of cycling kit that you can wear year-round to enhance ride quality.
Bike gloves vary greatly depending on season and intended use. For example, the best winter cycling gloves keep your hands warm and have additional waterproofing or windproofing with a full-finger design. In contrast, summer bike gloves are typically fingerless and should be lightweight, breathable, and wick away sweat on hot days.
Regardless of the season, the best cycling gloves protect your hands from cuts if you crash, allow you to grip the handlebars safely if they're wet from sweat or it's raining, and cushion your hands during long rides.
This article will provide you with some of our top picks for cycling gloves in 2023 and finish with a short guide that'll help you choose the perfect pair.
Best Cycling Gloves
---
PEARL iZUMi Elite Gel Cycling Gloves – Men's
Price: $38
3D contoured gel padding
Four-way stretching soft suede material
Reflective elements
The Pearl iZUMi Elite Gel cycling gloves are a solid choice from a premium manufacturer. This is a fingerless model with good ventilation, so it's perfect for warm summer rides when you need to keep your hands cool and dry.
The main features of these bike gloves for men are the soft Ax Suede material, 3D contoured gel padding for cushion and vibration dampening, and four-way stretch for a snug fit. Additionally, the use of fewer seams helps eliminate chafing, and reflective elements improve visibility.
Finally, the common complaint from users is these best cycling gloves run smaller than the listed size, and the padding is lighter than expected. Nonetheless, feel free to choose these Pearl iZUMi gloves if you want a durable, comfortable glove with a classic look.
---
Specialized BG Sport Gel SF Gloves
Price: $25

Lightweight, breathable feel

Padding reduces pressure on the ulnar nerve

Pull tabs between fingers for easy removal
The Specialized Body Geometry Sport Gel SF bicycle gloves are an affordable, lightweight set, perfect for warm-weather rides.
These best cycling gloves are made with a breathable mesh fabric and Microwipe thumb that help keep your hands cool and allow you to wipe away sweat during intense efforts.
The Sport Gel SF gloves utilize Specialized's Body Geometry design that strategically positions the foam pads across the palm to reduce pressure on the Ulnar nerve area, reducing the likelihood of pain or numbness. The one issue with the gloves is they wear down relatively quickly, resulting in compressed pads.
Don't miss out on these Specialized Body Geometry gloves if you want customized padding to reduce hand numbness and pain at an affordable price.
---
Yeti Cycles Enduro Gloves – Women's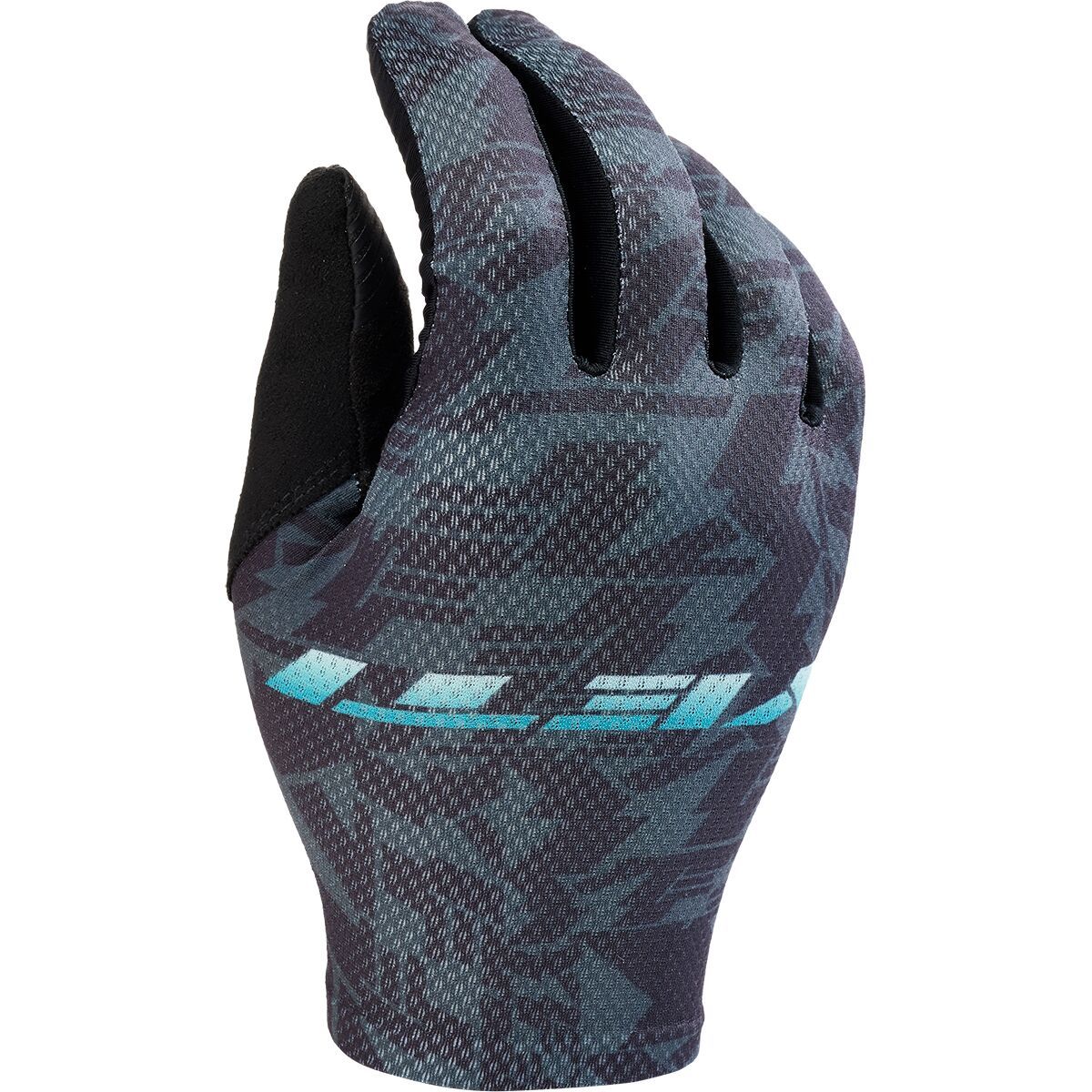 Price: $30
Touchscreen compatibility
Nose wipe
Tailored feel
The Yeti Enduro are some of the best mountain bike gloves for women. These full-length gloves are lightweight and breathable, perfect for riders who typically don't like wearing them.
The back fabric is a stretchy, ventilated mesh paired with a durable Ax Suede synthetic leather palm. This shell includes touchscreen-compatible fingertips and a suede thumb back for wiping away sweat.
The slip-on fit gives the Enduro gloves a streamlined look, and finally, you can choose between a range of bright colors to suit your style.
Consider Yeti's Enduro women's gloves if you want a lightweight and colorful accessory to add to your rides, not take away from it.
---
Giro Jag Men's Road Cycling Gloves
Price: Check on Amazon
Cheap
Natural feeling fit
Moisture-wicking lycra material
The Giro Jag cycle gloves are another affordable set by a well-respected cycling brand.
Giro designed them with proprietary Super Fit Technology that balances comfort and performance by tailoring the individual zones to match hand size. In addition, these gloves offer excellent grip and bar feel.
The three-piece palm articulates perfectly, allowing free and natural movement of the hands, and you have light EVA padding to add a touch of comfort.
The material used is moisture-wicking lycra which stretches for a versatile fit and features a microfiber patch on the thumb to wipe away sweat. The most common issue reported by users is the gloves can be pretty slippy when they get wet.
In summary, these are one of the best cycling gloves with a natural feel and an entry-level price point.
---
Dakine Cover Bike Gloves
Price: $27
Vibration-reducing gel padding
Grippy
Pull tabs for easy removal
The Dakine Cover cycling gloves are an entry-level option from a lesser-known sports clothing and accessories brand.
The Covert offer excellent comfort with a synthetic suede palm material that enhances grip and bar feel. The back fabric is a stretchy mesh that's breathable, lightweight, and allows you to pull the gloves on quickly with a snug fit. Finally, the silicone forefinger and thumb help with grip and allow you to use a touchscreen.
Don't look past Dakine's Covert bike gloves if you want one of the best value options with a stylish camo look.
---
Troy Lee Designs Air Glove
Price: $32
Compression-molded cuff
Lightweight with an excellent bar feel
Microfiber thumb wipe
The Troy Lee Design Air Gloves are, as the name suggests, a lightweight and minimalist pair designed to maximize feedback on the trails while protecting your hands from damage.
One highlight of these gloves is the compression-molded cuff that hugs your wrist to keep out dirt and debris and keep the gloves in position.
The back is made with breathable mesh to ensure high airflow and the palms use a single layer of synthetic leather to provide a natural bar feel. Finally, Troy Lee added silicone to the index and forefinger for extra grip at the levers. Unfortunately, some reviewers question the durability of these gloves.
Nevertheless, choose these Troy Lee Designs bike gloves if you want to add the iconic logo to your mountain biking kit without breaking the bank.
---
POC Agile Short Glove – Men's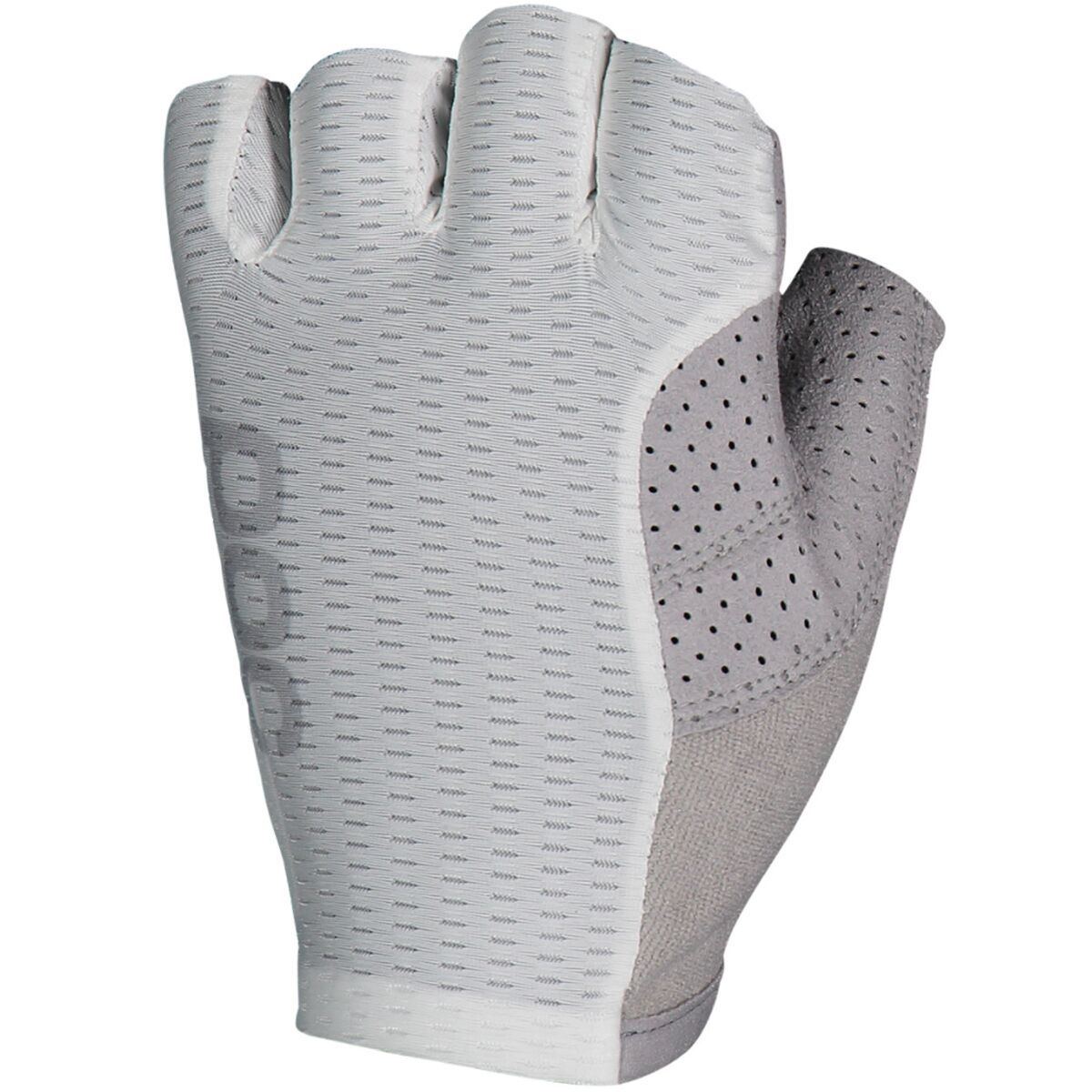 Price: $40
Excellent feedback
Lightweight and breathable
Pull tabs and nose wipe surface
The POC Agile short men's cycling gloves are a minimalist pair designed to maximize breathability and bar feel.
Thanks to the breathable mesh back and thin, ventilated palm material, these gloves regulate temperate well. As a result, riders can avoid excessively sweaty palms that negatively impact grip and comfort.
Other features that make these one of the best cycling gloves include the pull tabs for easy removal, the terrycloth nose wipe on the thumb, and the silicone print that enhances grip.
These POC bike gloves are the perfect choice for road or mountain bike riders who want high-performance with a minimalist construction.
---
Supacaz SupaG Short Gloves
Price: Check on Amazon
Perforated palm for extra breathability
Excellent grip
Lightweight design
The Supacaz SupaG glove is an expensive option with a minimalist design like the POC Agile gloves described above. These gloves perform well in all weather conditions, offering good grip and comfort when wet or dry.
The Clarino palm is perforated to provide extra breathability, and the back is a ProForm material that is relatively stretchy but stiff and tight at the beginning until you break them in. Unfortunately, the one missing feature of these gloves is an absorbent wiping surface.
We think these gloves are slightly overpriced, but they're a solid, lightweight, non-padded choice if you can find them at a discount. Plus, they look amazing, too!
---
Outdoor Research ActiveIce Sun Gloves
---
Castelli Arenberg Gel 2 Gloves
Price: $50
Proprietary vibration dampening technology
Adjustable closure
Excellent grip
The Castelli Arenberg Gel 2 gloves for biking are a high-end set from a premium manufacturer. They're designed to handle the most extreme stretch of cobblestones in the world of pro cycling, the Arenberg forest.
The gloves have proprietary Castelli Damping System (CDS) gel padding to absorb fatiguing vibrations and keep your hands and wrists fresh. Additionally, the back fabric is a breathable micro-mesh that pairs with a silicone grip on the palm to boost grip.
Other features these best cycling gloves boast include a microsuede nose wipe and adjustable wrist closure for a tailored fit. However, the main issue noted by users is the sizes run small.
Consider the Arenberg Gel 2 gloves if you need premium shock-absorbing padding for riding on bumpy roads or cobblestones.
---
PEARL iZUMi AmFIB Lite
Price: $55
PrimaLoft® Gold insulation
Ax Suede Laredo synthetic leather palms
AmFIB soft shell
The AmFIB biking gloves are great all-rounder winter bike gloves with extra protection. These are a glove without padding, but designed weatherproof and made insulate your hands on cold winter days.
The fingertips function with touchscreen devices, and the rest of the palm provides a high level of grip and handlebar feedback. Finally, the AmFIB Lite gloves are snug fitting with a velcro cuff that stops dirt and debris from entering the glove.
These Pearl iZUMi gloves are a premium choice for riders who need a minimalist hand covering that doesn't impact handlebar feedback but provides warmth and protection from the elements.
---
Best Cycling Gloves Buyer's Guide
---
What to Look for in Best Cycling Gloves?
Choosing the best bike gloves depends on a rider's preferences, budget, season, and cycling discipline.
Broadly speaking, the best cycling gloves are comfortable, fit well, and are easy to wash. In addition, you want a durable glove that will retain its grip, hold its shape, and keep functioning as if it were new.
Of course, nobody wants to pay a lot for a set of gloves, considering the price of a new bike and other cycling essentials like a helmet and bike lights, so they should also be reasonably priced.
Finally, you want to look for bike gloves with many positive user reviews that speak to the real-life quality and performance.
Materials
In warm weather, lightweight, breathable fabrics are ideal. Those that wick sweat can help you regulate your body temperature. Most manufacturers use synthetic leather for the palms (this can be perforated for added breathability).
In contrast, you typically want insulating materials that wick moisture to keep you dry and warm during cold winter rides. In addition, waterproof and windproof materials are great for protecting you from the elements but often trap your sweat.
Off-road riders may prefer more durable materials to protect against cuts or abrasions when mountain or gravel biking.
Padding
Gel or foam padding in the palm of cycling gloves can provide relief from pressure and absorb road/trail vibrations. This padding boosts comfort, reduces fatigue, and can reduce the likelihood of pain and numbness caused by compressing the ulnar nerve in the palm.
Nonetheless, many riders don't like the reduction in handlebar feedback that padding causes, so choosing between a padded or minimalist glove is a highly personal choice.
Bike Gloves Sizing Guide
Before looking for gloves, measure your size by wrapping a measuring tape around the widest part of your hand (excluding your thumb) and noting the measurement in inches; this is your standard glove size. However, some manufacturers may measure another way—such as measuring the length of your hand from the tip of your middle finger to the crease in your wrist.
When choosing a set of bike gloves, there are a few factors you want to consider relating to fit. For example, loose gloves will negatively impact your grip and possibly cause chafing. In contrast, you may restrict blood flow and cause numbness or pain if they're too tight. Here are some extra tips for when you're trying on new gloves:
They should be snug enough that the gloves don't scrunch up
You should be able to make a fist comfortably without over-stretching the material
The webbing between the fingers shouldn't pull tight when you stretch your hand
Closure Styles
The closure of a glove can significantly impact the fitting and how easy a glove is to use. For example, some gloves use a Velcro-style closing strap so you can adjust it to fit your hands. Otherwise, the cuff is usually molded for a size-specific fit.
Some riders feel that Velcro straps aren't necessary and add extra complexity, while others appreciate their versatility. Regardless of the closure style you choose, ensure that the glove is snug around your wrist and doesn't bunch up when the glove is on. Additionally, if it is too tight, this can restrict blood flow and cause discomfort.
Fingers or Fingerless?
In general, fingerless gloves are used in the summer to provide protection and grip with maximum breathability and dexterity in warm weather. Nonetheless, there are very lightweight and breathable full-finger gloves that off-road riders can use in the summer.
In contrast, standard full-finger gloves are ideal for winter or cold weather riding, providing warmth, waterproofing/windproofing, and more protection in a crash.
Budget
Bike gloves can cost anywhere from $10 for a cheap off-brand fingerless pair to as high as $200 for full-finger winter gloves loaded with features and high-end technology.
Our list above shows that you can find many well-reviewed pairs from respected manufacturers for $20 to $50. We recommend deciding on the features you want and maximizing your budget to find a comfortable and durable pair that meets your needs.
Are Bike Gloves Necessary for Cycling?
No, bike gloves aren't necessary for cycling. Many cyclists prefer the dexterity and feedback of riding gloveless and choose not to wear them. However, they are a helpful accessory that can improve the quality of your rides and protect your hands in the event of a crash.
Therefore, we highly recommend investing in a solid pair and wearing them on every ride. Watch the video above by Phil Gaimon, a former pro cyclist, if you're still not convinced!
People Also Ask
---
Should I wear gloves while cycling?
Your preferences should determine if you should wear gloves while cycling. Some riders enjoy the free feeling of riding without them, while others appreciate the extra grip and protection offered by the best cycling gloves. We recommend wearing bike gloves if they don't negatively affect your ride experience.
Why do pro cyclists not wear gloves?
Some pro cyclists choose not to wear gloves as they don't like the reduction in feedback from the handlebars. In addition, other riders find it uncomfortable to wear gloves. However, the extra grip and crash protection are worthwhile for other professionals.
Should cycling gloves be padded?
Some cycling gloves should be padded to provide an option to cyclists who require extra comfort and protection from vibrations. Additionally, this padding can reduce the pain and numbness in the hands that occur for some riders after many hours of riding.
Why do cyclists wear gloves?
The main reasons cyclists wear gloves are to provide protection, keep hands warm or dry in poor weather conditions, and ensure adequate grip when their hands are sweaty or if it's raining. In addition, riders choose padded gloves to boost comfort.
Do cycling gloves help with numbness?
Yes, cycling gloves help with numbness if caused by pressure on the nerves in the palm of your hand. Many manufacturers have padded cycling gloves to offer a solution to this issue. This padding absorbs shocks and relieves pressure from the hands by carefully positioning gel or foam.
Why do I get pins and needles in my hands when cycling?
You can get pins and needles in your hands when cycling by compressing the ulnar nerve that runs along the pinky side of your palm. The numbness and tingling experienced are symptoms of ulnar neuropathy which can occur for several reasons.
Do gloves help when cycling?
Yes, gloves help when cycling. They protect the hands in case of a fall, maintain grip when your hands become sweaty, and offer padding to relieve pressure on the hands. Additionally, they can prevent blisters and sores from hours spent riding.
How do I find my glove size?
Find your glove size by running a tape measure around the widest part of your hand (excluding your thumb). The number in inches corresponds to your glove size. Alternatively, some brands use a measurement from your wrist line to the tip of your middle finger.