Editor choice
Diamondback Atroz 1 Review
The Diamondback Atroz 1 is a great, entry-level trail rider with a lot of features packed into its low price. Most individuals just looking to get into this sport are always on the lookout for a great combination of speed, rigidity, and a heck of a lot of traction, which is where the Diamondback Atroz 1 really shines.
RATING: Best Affordable FS Bike
BEST FOR Trail Beginners
FEATURES: Front and rear suspension (120 mm), Shimano components, mechanical disc brakes, 2.35″ wide tires
---
Full Specs
The Atroz series of bicycles comes stock with some pretty solid components right off of the shelf. Who says you need to break the bank in order to get a full suspension bicycle? The retail cost of the Atroz 1 lets you dip your toes into cross-country trail riding without emptying your checking account.
Frame –Atroz 6061 T-6 Aluminum 27.5 Trail w/ 4″ travel, Optimized Single Pivot, Machine Formed Top Tube, Butted / Formed Down Tube, Sealed Cartridge Bearing Pivot, Seat Tube Routed for Internal Dropper Post, Aggressive Geometry, Replaceable Hanger
Fork: SR Suntour XCM 120mm Travel, 30mm Stanchions, w/ Preload Adjust
Rear Shock: Kindshock, Coil Shock, 184x44mm
Tires: Vee Rubber – Trax 27.5×2.35
Rims: DDM-2, 32h, 27.5 Doublewall
Crankset: SR Suntour XCC, 42/32/22T
Front Derailleur: Shimano Alivio M410, E-Type
Rear Derailleur: Shimano Acera M360, 8 Speed
Shifters: Shimano Acera SL-M310, 3×8 Speed
Cassette: Shimano HG-31, 8 Speed, 11-32T
Brakes: Tektro Aries Mechanical Disc, w/180mm Front and 160mm Rear Rotors
Saddle: DB Sync'r Saddle
Pedals: DB4L Alloy Platform
Number of gears: 24
Weight: Not disclosed
---
Sizes & Buying Options
S/16″ – 5'4″ – 5'7″
M/18″ – 5'7″ – 5'10"
L/20″ –  5'10" – 6'1″
Diamondback – MSRP $800
---
Pros / Cons
What we like about Atroz 1:
6061 T-6 aluminum frame
Wide gear ratios
Full suspension
Extra-wide tires
Points of Improvement for Atroz 1:
Low-end disk brakes
Fickle, mid-range shifters

See The Atroz Series On Diamondback.com

---
Full Review
The Diamondback Atroz 1 is a great entry-level trail rider with a lot of features packed into its low price point. Most individuals just looking to get into this sport are always on the lookout for a great combination of speed, rigidity, and a heck of a lot of traction, which is where the Diamondback Atroz 1 really shines.
Today, we get into just why Atroz 1 is one of the better cross-country bicycles for the money.
What's Good About Diamondback Atroz 1?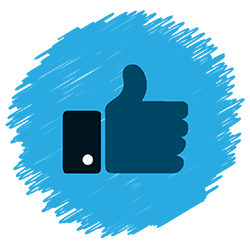 A lot of entry-level cross-country bikes really cut short on components, sacrificing features such as shock compression depth, wide gear ratios, and proper tires.
Diamondback heard these customer complaints and designed the Atroz 1 with the build quality and user opinion as to their focal points.
Even at this base level, their bikes are loaded with pro-quality functionality.
Gearing
The Atroz 1 has a minimum combined ratio of 32-24, which means climbing steep grades will be a breeze.
With a max gear ratio, you're also able to get plenty of speed on flat ground, which makes this a decent choice for a city cruiser.
A total of 24 wide-range gears will ensure that you always have a gear to choose from to maintain a high pedaling cadence.
Frame & Saddle
Diamondback went over all limits and built this frame with full suspension. The 6061 T-6 aluminum frame is compatible with 27.5" tires and has 4″ of travel.
It's got a single pivot, a machine-formed top tube which means this bike has been optimized for stability & life on the back trails.
The aggressive geometry on Atroz 1 means that it's always going to feel a little more at home riding full speed down rough terrain than it would through flat, urban spots.
The DB Sync'r is another nod to this bike's cross-country origins. It's incredibly comfortable and can keep you happy even when being used for longer rides on flat terrain.
Reliable Drivetrain & Derailleurs
The drivetrain on this bike is pretty decent and reliable! The crankset comes with 42T, 32T, and 22T chainrings. This tends to be a wider range compared to most other bicycles at this price point and adds immensely to the value you get for the money. The Shimano HG-31 cassette has 8 speeds, ranging from 11T to 32T which means you're getting a full range of 24 gears.
While built with trail riding in mind, the wide array of gear ratios means that this bike can handle a lot of different terrain types with relative ease.
Shimano Acera groupset is known for its reliability when regularly serviced. While they aren't the company's best offering in 2019, plenty of other bike models come stock with much cheaper derailleurs than what the Atroz 1 offers. Again, with these shifters, regular maintenance is key.
Tires & Brakes
The VEE Rubber – Trax tires included on the Atroz 1 are specifically designed for cross-country riding with maximum traction and with tight turns in mind.
The reviews on these tires are phenomenal, especially considering their beastly width of 2.35 inches.
The Tektro Aries mechanical disc brakes included with the Atroz 1 are maybe one of the less exciting parts of this trail machine.
While not the bottom of the barrel, so to speak, the Aries series brakes tend to be outclassed by several other contemporary disc brakes around the same price point. Certainly, something to upgrade if you decide that this bike's for you.
---
Other Atroz Models
Diamondback primarily produces its frames in-house, and they have always traditionally had a keen eye for quality.
While Atroz 1 features some components that aren't the best, these bikes still always tend to ship well crafted & assembled. If Atroz 1 just doesn't do it for you, Atroz 2 and 3 offer some nice component upgrades.
Atroz 2
Quick specs:
Rear suspension – SR Suntour Raidon-R, Air Shock w/ Rebound Adjust, 184x44mm
Chainring – Alloy Arm w/ 30T Steel "Narrow Wide" single ring
Front derailleur – Full ISCG-05 Chain Guide w/ Roller
Rear derailleur – Shimano Acera M3000 Shadow, 9 Speed
Tires – VEE Rubber, Flow Snap, 27.5×2.35
Atroz 3

Quick specs:
Rear suspension – Rock Shox Monarch R, Air Shock w/ Rebound Adjust, 184x44mm
Fork – Rockshox Recon RL, Solo Air, 130mm Travel
Chainring – Raceface Æffect Cinch w/ Steel 30T "Narrow Wide"
Rear derailleur – SRAM NX X-Horizon, 11 Speed
Shifter – SRAM NX 11 Speed X-Actuation Trigger
Tires – VEE Rubber, Flow Snap, 27.5×2.35
---
Considerations
Diamondback certainly listened to their recent customer outcry when they designed the Atroz series of bikes. While this review only covers the Atroz 1 in-depth, we urge you to check out their additional models as all 3 of these bicycles are great machines for the cost.
For individuals new to trail riding, Atroz 1 comes loaded with many of the same features found on professional cross-country bikes, things like deep front-end suspension and wider gear ratios.
Diamondback has really stepped it up the last 7 to 10 years, improving weld quality, as well as the composition of their frames.
Somehow, they kept this bike quite lightweight, even with the shocks and loaded drivetrain. These bikes are specialized, so keep in mind that they may not be the best first choice for a city commuter.
The high-grade aluminum means that you'll never have issues with rust, and all Atroz frames come with a 5-year limited warranty. This means that if you're one of the unlucky few to find a frame with a flaw, Diamondback…has your back.
However, if you're on your bike almost every day regardless of the time of year, it may be wise to look into something a little higher end. Otherwise, you may find that you're replacing components a lot sooner than expected.
Get The Atroz From Diamondback.com
---
Related content