Best Road Bikes For Women
More women are strapping on helmets and hitting the bike trails more than any time in history. Women are the largest growing demographic in cycling therefore the cycling industry is focusing on specifically designed bikes for women.
If a woman cyclist wants to become Marianne Vos or Chloe Dygert Owns, there is a bike for her. Even if a woman wants to be a bike packer, gravel grinder or cyclist commuter work, there is a bike to suit her needs!
There were many brands to pick from, so we researched several types for each category of riding. We then compared the different models side by side online and decided that these eight women's bikes would be the crème de la crème for women's bikes. In making our decision we looked at design, price, comfort and suitability for the intended purpose of the bike.
"Comfortable bike for commuters and beginners"
MSRP: $1,099
The Co-op Cycles ADV 2.1 is a great beginner's bike for men and women.  Sleek and finished in pirate black with orange highlights this beauty is designed for those who are in love with gravel and adventure. 
The 6061 double-butted aluminum frame is geometrically designed to be more upright for stability when descending and coasting at slower speeds. Twelve-degree handlebar flare offers more stability and control.  There is also a carbon fork that soaks up the road chatter and makes the bike more comfortable to ride no matter what the road surface.
Mechanical disc brakes for consistent braking in all conditions are featured on this lightweight but efficient beginner's bike which makes it great on and off the road. A quick look at the frame will show that it has clearance for wide tires which means this capable all-terrain bike can do some serious gravel grinding in the mountains.
A rider can lower the tire pressure to get more grip in bad weather and absorb most bumps on the road. A cyclist can also put some knobby tires on the bike for even more off-road performance.
Outfitted with Claris which is the best value for the money groupset offered by Shimano in the entry-level range; this bike is not your granny's Sunday afternoon cycle. Built with a 50/34T in the front and an 11-32T cassette in the back, a rider can easily spin up the hills.  Owners of this bike will get great performance at a nice price point. There is, however, a little weight penalty.
Co-op Cycles ADV 2.1 is much heavier and robust for gravel grinding, weighing in a little over 22 pounds for a medium-sized frame.  This bike is great for most adventure cyclists except for the extreme mountain goat climbers.
There is no question that ADV 2.1 can get the job done even for beginner cyclists.
Diamondback Arden 4 Carbon
"Great performance upgrade bike for her!"
MSRP: $1,900
The Arden 4 Carbon is a great bike upgrade for the female cyclist.  Most cyclist who purchase this bike are true cycling addicts who are looking to upgrade their alloy bike to carbon.  The buyer of this bike is looking for the lightness, stiffness, comfort, plus the liveliness of a carbon frame.
There is no question that the Diamondback Arden 4 Carbon bike is a great bike for the discerning cyclist looking to upgrade.  The Arden 4 Carbon frame is also Di2 ready if she wants to upgrade her bike. Engineered with an endurance geometry so she can enjoy a more upright position; this bike is just about tailor made for the serious cyclist
The Arden 4 Carbon comes with mechanical disc brakes to provide consistent braking in all weather conditions.  The Arden is fitted with Shimano Tiagra 10 speed to keep the price point low. Taller than most women's bike the gearing means that the rider has a 50- 34T in the front with an 11-32T in the back.
The 50T chainrings allow for faster riding in a flat paceline while the 34T-32T allows the cyclist to spin up almost any grade. Fitted with wide 28 mm tires that soak up road chatter and bumps make this bike a speed machine   that can assure a rider a in the front   fast, nearly bump-free, comfortable ride.
Internal cable routing in the Arden 4 Carbon for a bike with smooth lines and aerodynamics.  The frame is turquoise green for striking visibility and aesthetics. Sizing from 48 cm to 56 cm this beauty will accommodate most female riders.
Cannondale Topstone AL 105
"A great comfortable commuter, gravel grinder, and go anywhere bike!"
MSRP: $1,750
With space for 42 mm tires and hydraulic disc brakes with 160 mm rotors front and back ensure you are ready for the paved and unpaved roads, the Cannondale Topstone Al 105 is an amazing versatile bike.  The 160 mm rotors provide greater stopping power for inexperienced riders.
These rotors are especially useful when one is descending fully packed with camping gear in the French Alps!!
The Cannondale Topstone Al 105 is a true all and out gravel grinder ready for the 200 Mile gravel bike race, Dirty Kanza. Constructed with Shimano 105 11 speed with 46T-30T in the front and 11T-34T in the back allows a rider to easily spin up any hill.
Made from Cannondale's Smart C2 alloy, this bike has a carbon front fork.  The Cannondale has a tapered head needed for the best control descending a steep grade. The frame has mounts for 3 water bottles and mounts for storage.  You can ride this bike fully loaded for your bike packing adventure.
The bike's design is upright enough to relieve strain on the lower back but low enough to keep a sporty feel on the descends.  A flared out 16 degree drop bar helps to provide for stable handling in slow rocky conditions.
Whether a cyclist is cruising the trails to work, bike packer cycling across the country, or racing the Dirty Kanza the Cannondale Topstone Al 105 is for a fun loving, adventurous cyclist.
Cannondale Caad13 Disc 10
"Great commuter for the weekend and speed demon for the weekend warriors."
MSRP: $2,100
The 2020 Cannondale CAAD 13 105 Disc 10 is the top of the line for alloy frames for women's bikes.  Cannondale has always been known for its traditionally shaped frames however, this feature changed for the 2020 Cannondale CAAD (Cannondale Advanced Aluminum Design).
Cannondale has swapped the traditional round shaped tubes for truncated aerodynamic tubes that decrease aerodynamic drag by 30%. The CAAD sports dropped seat stays to increase vertical compliance and improve aerodynamics.
The CAAD 13 is made from Cannondale's lightest, stiffest, and most complaint Alloy called SmartForm C1 Premium alloy. The frame also has internal cable routing for improved aerodynamics. Since the frame is also Di2 ready a cyclist can easily upgrade to available electronic shifting.
The bottom line is that this bike is built for the women racers who want to climb mountains to get PR records.  Weighing in at a little over 19 lbs., this bike is great for mountain climbers and crit riders.  The lady who owns this speed machine can upgrade the wheels and tires to get this bike easily under the UCI weight limit.
When a cyclist is flying down the mountain at high speed, she can rest assured knowing that the 105 hydraulic disc brake rotors will bring her to a quick and complete stop.
Outfitted with hydraulically actuated disc brakes, a rider maintains the same braking power and consistency in all road conditions. Since the fluid is pushing the brakes, a mountain speed racer can utilize one finger braking and still maintain control while descending at high speeds.
The bike frame has room for 30 mm tires and mounts for fenders to keep the rider's backside dry.  Constructed with wider tires this bike is deemed far more versatile than other models. The width of the tires affords the rider the flexibility to ride on the road and on light trails.  The tire pressure can also be decreased to increase grip and comfort.
This bike is made to go fast and race.  This bike would be well suited is for the next Chloe Dygert Owens or Annemiek van Vleuten. This speed machine is just right for future world champion riders!  The buyer of this bike wants a bike that is strong enough to do light trails, commute to work but still be able to go for a hammerhead rides on weekends with the local crit riders.
"Great beginner bike for commuting and light riding"
MSRP: $800
The Diamondback Haanjenn 2 is a great bike for the commuter and occasional rider.  The all-aluminum frame is strong and robust for gravel riding, commuting, and weekend riding.
Marketed as a low-priced beginner bike, this bike is great buy for women who are looking to commute to work and occasionally ride on the weekends it has is a great price point for a mechanical disc brake bike.  Disc brakes maintain consist braking during all conditions.
The frame can fit up to 40 mm tires for greater comfort and control.  Equipped with relaxed geometry and a taller head tube the design permits the rider to maintain a more upright position on the bike.  In comparison to other bikes, the Diamondback Haanjenn 2 is perfect for sightseeing and leisure riding.
Maintenance on this "easy rider" is a piece of cake because the bike's cables route externally for ease of access.
Fitted with a Claris 8 speed group set with a 46T, 34T in the front and an 11-32T in the back makes this bike more versatile than it appears at first glance.  The low gears allow a commuting cyclist to ride up the hills with her laptop bag and other work gear mounted to the frame.
The bike's frame comes in sizes for women "5'1 to 5'11". The Diamondback Haanjenn 2 is a no frills get the job done bike!!
"Bike to race and go to grand fondos on"
MSRP: $1,000
With a lower than expected price tag of only $1,000 the Giant Contend 3 delivers a lot of bike for the price.  The Giant Contend 3 provides a cyclist with speed and great handling.  Sporting a lightweight alloy frame with a carbon fork; this bike was made to move fast.
The steer tube has Giant's original Overdrive system which features oversized headset bearings (1 1/4" lower and 1 1/8" upper) and a tapered headtube to deliver great handling.  I ever there was a bike that was built to lean in corners in crits and carve a descend on a mountain pass; the Giant Contend was certainly the one!!
A frame can make or break a bike but, the Giant Contend 3 frame can accommodate up to 38 mm tubeless and clincher tires. The tubeless tires add to the comfort and safety of the rider.
Tubeless technology has recently transferred to the road industry from mountain bike industry.  Tubeless technology, as the name implies means that there are no tubes; the tire is held on with a strong rim and sealant.  If an object punctures the tire, the sealant will fill the hole.
This unique feature gives the rider added flat protection and comfort.  Tubeless tires can be ridden on lower tire pressure without getting a pinch flat. The ability to ride on tires with lower pressure adds even more comfort and stability in different and sometimes challenging terrains.
Outfitted with Shimano Sora taller gearing for racing 50/34T in the front with an 11/34T in the back, this bike is just the ticket for racing. It also has internal cable routing for clean lines and aerodynamics. There is an aerodynamic "Giant D- Fuse" shaped 27 mm seat post that is designed to absorb the harshness that comes with most aluminum frames.
This seat point is a plus for women riders who love speed but don't want the soreness that accompanies racing aluminum frame bikes. The Giant Contend 3 comes in sizes ranging from 20 inches to 23 inches and can accommodate most riders.
"Entry budget bike at a great price."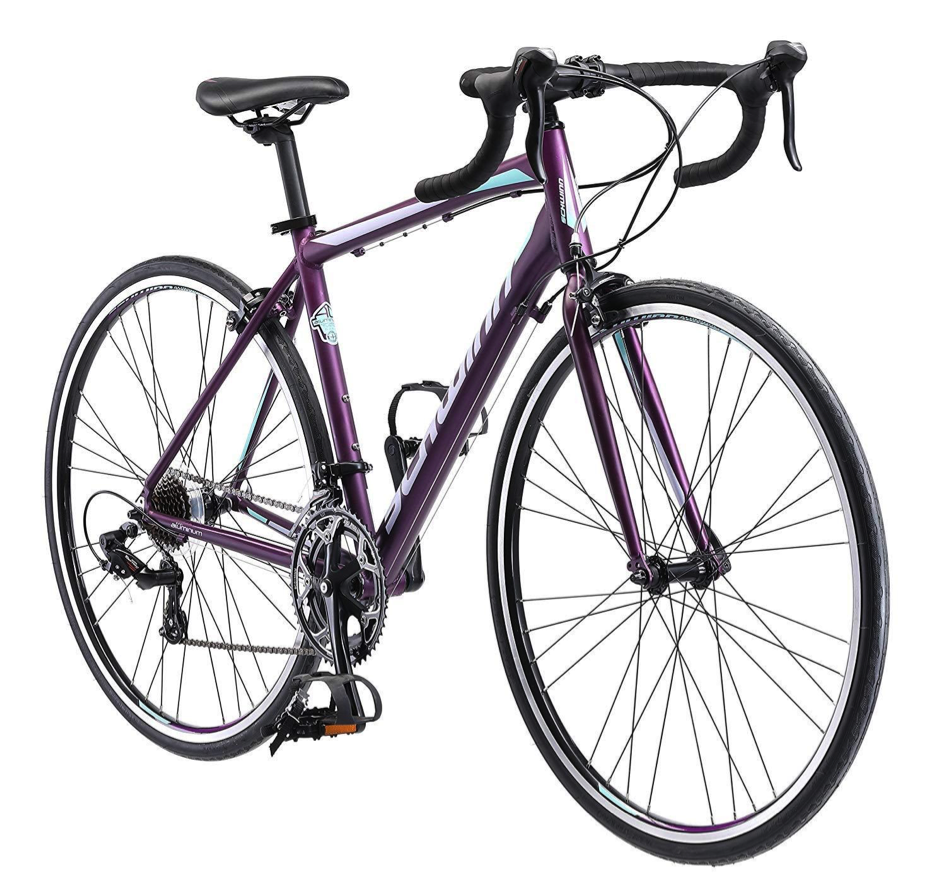 The Schwinn Volare 1400 is the perfect entry budget bike especially for your girls who will soon outgrow their first" non- flat bar "bike.  The Volare alloy frame has a steel fork that comes in two sizes 48 CM and 53 CM. Although it is a budget bike it comes with a Shimano Tourney group set.  
The Schwinn is comfortable, robust and well suited for short commutes.  For kids and riders that are just interested in a pure commuter bike; this is the perfect bike. If a cyclist is not interested in high performance; then this bike fits the bill every time.  The Volare is a great upgrade from a flat bar bike.  
Since the bike has a drop bar handlebar, the rider has three different positions for her hands.  Cyclists have a choice of the hoods, drops, and tops. The described features allow the cyclist to be able to ride further than with a flat bar bike.  Painted power all purple including frame and fork; this bike screams "Girl Power"!! which will attract the younger female riders.
The last bicycle we reviewed was the Specialized Allez. With a name like Allez which is French for to go we were certainly looking for a machine that could really step it up and go!! We were not disappointed! Although it can be used for commuting this bike has the power and performance needed to kick into high gear for racing!!
"Lightweight, stiff performance driven bike with eyelets mounts for racks for commuters."
MSRP: $899
The Specialized Allez is the perfect bike for commuting as well as for racing.  The newer model Allez went on a diet compared to the last Allez losing over 450 grams on the frame and fork due to the E5 Alloy.  Climbing, even climbing up the steps to your office is not a problem for the Allez. It is equipped with dropped seat stays for comfort and aerodynamics.
The Allez carbon fork is directly from the Specialized Tarmac frame.  The bike also shares similar geometry with the Tarmac. Make no mistake Allez is a race bike and is not suited for gravel.  If you love criterium racing, the Allez is certainly your go to cycling best friend.
Made for speed on the streets this bike will out corner other slower bikes.  However, if a cyclist wants a bike with a more upright position she would do well to look elsewhere. The bike is also fitted with an 8 speed Shimano Claris group set to make the price point.  Specialized Allez bikes come in sizes between 49 cm to 61 cm to fit all riders.
Are There Main Differences Between Men's And Women's Bikes?
Women's bikes are very similar to men's bikes.  In years past, bike companies would just "pink up" a men's bike and sell them as women's bikes.  Today, the biking industry is more fully addressing the needs of women cyclists. Although the bikes have similar geometry, there are small differences in women and men's bodies as well as the difference in the way women and men ride.  
Since women have wider sit bones and narrower shoulders on average, women's bikes have wider saddles and narrower handlebars. Women's saddles are also shorter than men's saddles. Some high-end saddles for women have different cut outs for the saddle to relieve the pressure on the sensitive areas affected by the bike design. 
Except for professional cyclists that have a super aerodynamic slammed stem position, most cyclists both male and female prefer a shorter reach and a more upright position.  The geometry for most women's bikes is more endurance oriented. The chain stays are longer for more stable handling and the headtubes are taller for a more upright position.
Moreover, women generally have shorter arms and smaller hands, therefore the stem is shorter on women's bikes.  This allows for them to reach the brake hoods and the drops easier.
Women's legs are shorter and the standard crank arms are shorter for women's bikes with easier gearing with front chainrings of 48T, 32T with an 11-32T cassette. This type of gearing allows casual riders to spin up the hills without too much effort.  
Related: Best Road Bikes
Women's bikes also have a sloping geometry with a lower top tube. The lower top tube allows for a lower standover height which makes it easier for shorter women to get their leg over the bike when mounting the bike and gives her the ability to hope off during an emergency.   Women's bikes also are sized smaller many brands carry bikes down to a 44 cm.
After all this technical jargon you may still be asking yourself which bike is right for me?  The two biggest factors in deciding which bike is right for a specific rider is what type of riding will the cyclist do? (commuting, racing, gravel grinding, cyclocross or bike backpack touring) and what the bike's price point will be.
First let's take a look at the price range for women's bikes.
Right price range
$400 – $1,000 – Bikes in this price range are usually for beginners, entry-level cyclist and bare minimum for short range commuting 5 to 10 miles. These bikes usually have a steel frame with lower end components such as Claris which is the lowest end.
The gearing is going to be lighter with capacity for a 32T to easily spin up the hills and 8 speeds. These are the qualifications needed for a great beginner road bike.
$1,000 – $1,500 – Bikes in this price range are generally purchased by more committed cyclists.  These bikes will have 105 which is 3rd on the Shimano Hierarchy.  These higher-priced wheels almost always feature disc mechanical disc brakes for great stopping in all conditions.
The 105 is a complete trickle down from the top of the range groupset Dura Ace and will last longer with proper maintenance. Some Carbon bikes are in this range and they can be used for racing.  These higher ticket bikes are good for touring long distances up to 100 miles. Bikes in this range are light and stiff which is good for competitive riding.
Most importantly to note is that bikes in the price range have excellent performance but the price tag will not send a buyer into sticker shock nor send her to the poor house.
$1,500 – $3,000 – Bikes in this price range are for the "Serious cyclists".  When a rider buys a bike in this price range, she will get a carbon bike.  These high price cycles are lighter, stiffer and more comfortable.  In this class of bike a buyer will receive Ultegra components which are very racy.
The cyclist will also be delighted to receive hydraulic disc brakes for the best braking and modulation in all weather conditions.  The purchaser of this class of bike is almost always an experienced cyclist that is ready to race in for grand fondues. She more than likely may be a Strava addict.
Buyers who purchase bikes in this level have a very strong desire to win her local criterium or "crit" race, get the best times on a mountain or bike across Europe.  This is a great bike for a junior racer and nice upgrade from 105.  
$3,000 + Competitive.  If one looks closely at the type of buyer for this price range, it will become obvious that the woman who owns one of these bikes wants to be the next world tour cyclist.  The cyclist is getting a bike with Dura Ace, carbon wheels and the lightest and best that money can buy.
Bikes in this range are not produced for a Sunday afternoon jaunt to grandma's house, these bikes were made for racing and heavy riding. Heavy riding means that the cyclist is riding her bike 150 to 500 miles a week or more. A cyclist who spends that much time on her bike certainly wants the best bike that money can buy.
Bikes in this price range provide her with what she requires in terms of performance, speed and safety. This higher ticket bike is purchased as an upgrade from the 105 or Ultregra. Simply out if a buyer spends this much money she usually does so because she wants to win her races.
See More: Best Road Bikes
No matter what your level of cycling is, there is a bike for you.  If a cyclist wants to race, gravel grind or just get to work bikes are the present and future mode of transportation.  Cycling is a healthy sport cardiovascular sport and very addictive. Once a rider starts to enjoy the pleasure of racing in the wind on a high-performance machine it is almost impossible to settle for anything less. Enjoy your new adventure and tell others so they can share the joy of cycling too.