Best Mountain Bike Gloves in 2023—Full-Finger Gloves for All Disciplines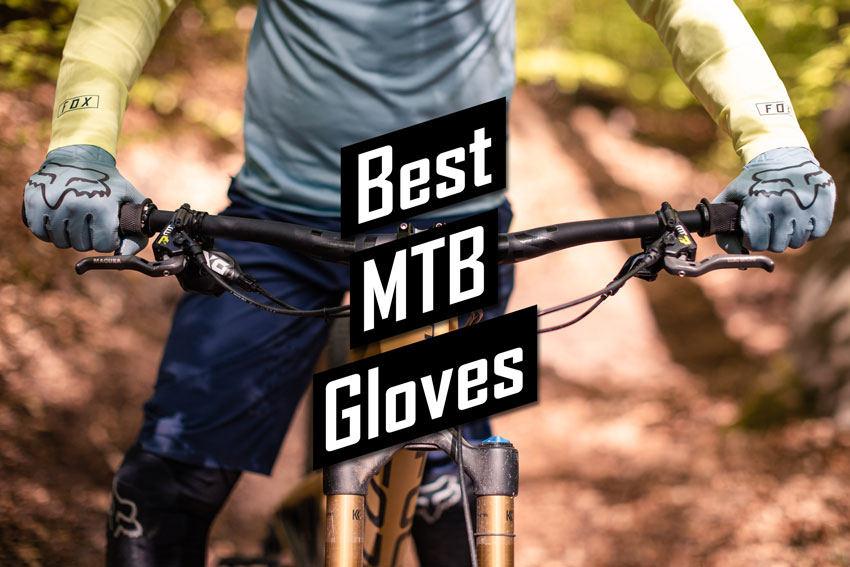 Mountain bike gloves are an essential piece of kit for off-road riders who want to protect their hands and improve handlebar grip.
Although gloves vary in design, quality, and functionality, they all provide protection when you slide out and stop your hands from slipping when they are sweaty or wet.
The best mountain bike gloves are those that fit well, perform as described, and are comfortable and durable. Additionally, riders can look for variations like weather-specific materials, lightweight or protective gloves, and extra features and technology.
This article will review a range of best men's and women's mountain bike gloves for 2023 and finish by providing a quick guide on choosing the perfect pair.
---
Best Mountain Bike Gloves
---
Fox Ranger Gel Bike Gloves – Men's
Reasons to buy:
Good warm weather performance
Affordable
Comfortable
Adjustable Velcro closure
Reasons to avoid:
Small-fitting
Poor seam quality
The Fox Ranger Gel mountain bike gloves are the padded version of Fox's Ranger, offering solid performance at a reasonable price.
The Ranger gloves have four-way stretch nylon and a synthetic leather palm. This palm uses a proprietary TruGel protective padding and a silicone print for extra grip and touchscreen compatibility.
The closure system features a Velcro strap on a molded cuff, making it easy to get the perfect fit. However, some riders may not like the potential abrasiveness of the Velcro strap.
These Fox mountain bike gloves are ideal for use on mild summer days and during the spring and fall. They have decent breathability and are lightweight to help with thermoregulation.
In summary, the Fox Ranger Gel gloves are the best MTB gloves worth considering if you need a lightweight, padded glove at a mid-range price.
---
100% Ridecamp Women's Mountain Bike Gloves
Reasons to buy:
Cheap
Durable
Great bar feedback
Grippy
Reasons to avoid:
Sizes run small
Not very breathable
The 100% Ridecamp women's mountain bike gloves are a cheap, minimalist choice from an up-and-coming brand.
These bike gloves are ideal for riders who want a natural feel with full feedback from the handlebars. The single-layer material does little to stop vibrations but protects the skin from blisters or abrasions.
This lightweight design also means excellent breathability, and the silicone palm provides excellent grip when your hands are sweaty. Therefore, these are one of the best MTB gloves for summer rides.
One standout feature of these Ridecamp gloves is the airprene cuff that stops debris from entering the glove and gives a tailored feel.
A commonly reported issue with the Ridecamp gloves is that they run pretty small, so it's better to buy a larger size than usual. Thankfully, they're available in Small to XXL.
Consider these 100% mountain biking gloves if you have a tight budget and want a free feeling glove for basic protection.
---
REI Co-op Flash Men's Mountain Bike Gloves
Reasons to buy:
Excellent grip when wet or sweaty
Full handlebar feedback
Cheap
Long-lasting design
Reasons to avoid:
Small opening
Poor touchscreen compatibility
The non-padded REI Co-op Flash are the best mountain bike gloves for the price to quality. They're the cheapest option from Co-op's range, but they easily compete with more expensive products.
These witer-weather gloves cost just $40 but ensure you have perfect grip when they're wet with snow on cold winter days. They also dry quickly, thanks to the lightweight fabric.
The cuff is a lycra material that stretches to slip on quickly. However, some users report difficulty trying to put the gloves on as the opening is small.
Aside from the opening, these gloves have a premium-feel fitting contoured to ensure unobstructed hand movement.
These REI Co-op gloves are a solid choice for riders who want a cheap minimalist glove that performs and fits well with the durability to match.
---
Troy Lee Designs Air MTB Gloves
Reasons to buy:
Comfortable fit
Great grip
Breathable
Lots of color options
Reasons to avoid:
Not very durable
No touchscreen compatibility
The Troy Lee Design Air Gloves are a minimalist choice from the coveted MTB brand.
The 'Air' name fits perfectly as these gloves are light, breathable, and provide just enough material to protect the hands from scratches and abrasions without dampening handlebar feedback.
The standout feature is the fitting, which is natural and snug, allowing you to forget you're wearing them. In addition, the compression-molded cuff hugs your wrist to keep debris out and hold the gloves in position, with a Velcro strap for further adjustments.
The back is a breathable mesh paired with a synthetic leather palm that is grippy when wet, thanks to the silicon printing. Unfortunately, users commonly report that the Air Gloves aren't very durable.
Pick the Air gloves by Troy Lee Designs if you want the best MTB gloves for light use without a huge price tag.
---
DAKINE Covert Men's Bike Gloves
Reasons to buy:
Good hand protection
Comfortable fit
Durable
Full handlebar feeback
Reasons to avoid:
Not great for hot weather
Poor touchscreen function
The DAKINE Covert is one of the best mountain bike glove choices for comfort and moisture control.
The Covert gloves have a sweat-wicking mesh design that keeps your hands cool and relatively dry on hot weather rides. Additionally, they have a Polygeine technology that manages odors to keep them smelling clean for longer.
The synthetic suede palm is lightweight but offers decent protection in the event of a fall, although it won't last through multiple falls as it is too thin. You also have a nose wipe on the back of the thumb.
Thanks to the silicone printed finger and thumb, the material also ensures a solid grip when the gloves are wet. Unfortunately, however, the touchscreen compatibility doesn't function well.
In summary, these are well-priced lightweight gloves that fit comfortably, have a solid user rating, and have plenty of size options.
---
Fly Racing Media Gloves
Reasons to buy:
Lightweight
Comfortable and natural feeling
Affordable price
Various color/size options
Reasons to avoid:
Poor breathability
Hard to slip on for some riders
The Fly Racing Media mountain bike gloves are another non-padded option designed to protect your hands in case of a fall and enhance your grip when wet.
The palm material is a perforated Clarino synthetic leather that ensures good grip when wet and dry. The palm also has silicone printing for extra grip and smartphone compatibility.
A spandex mesh is used for the back and finger sidewalls, ensuring full range of motion and excellent breathability. Finally, the slip-on design is supposed to make it quick and easy to put the Media gloves on but doesn't work for all users.
Choose the Fly Racing Media if you want reasonably-priced best MTB gloves with a natural and comfortable fit and a simple design.
---
Giro Pivot Men's MTB Gloves
Reasons to buy:
Comfortable fit
Absorbent thumb fabric
Excellent grip
Light shock absorption
The Giro Pivot men's mountain bike gloves are a popular design of a mid-range model by Giro.
The material is thick enough to be durable and protective, yet Giro's SuperFit construction ensures a perfect range of motion thanks to an articulating three-section palm.
The material chosen by Giro is an OutDry waterproof membrane. This fabric will keep your hands dry and warm in wet winter conditions. Additionally, the back fabric has a four-way stretch design. Unfortunately, the touchscreen fingertips don't always work well when wet.
The gloves are finished with padding on the palm to provide light shock absorption, and there is a thumb wipe for cleaning your cycling sunglasses on sweaty summer rides.
Consider the Giro Pivot gloves if you want premium fit, feel, and performance at a moderate price.
---
PEARL iZUMi Elite Gel Full-Finger Women's Cycling Gloves
Reasons to buy:
Comfortable fit and feel
Vibration-reducing padding
Good bar feel for a padded glove
Grippy
Reasons to avoid:
Slightly small fitting
Expensive
The Pearl iZUMi Elite Gel women's mountain bike gloves are an expensive choice from a premium cycling brand.
The four-way stretch Ax Suede material ensures full range of motion, so you're not inhibited while you ride. In addition, these gloves are super comfortable when you find the correct fit, which runs slightly smaller than average.
One highlight of the Elite Gel is the NeWomen's size-specific gel pads that enhance comfort without adding unwanted bulk. Other notable features include the touchscreen compatible thumb and forefinger and the reflective elements for improved low-light visibility, making these the perfect gloves for nighttime rides.
Are these the best MTB gloves? Well, all things considered, they are slightly overpriced for what they offer, but they could be a good choice if you want a little extra comfort from the Elite Gel padding.
---
Troy Lee designs Gambit Gloves
Reasons to buy:
Highly-protective
Stylish
Long-lasting
Vibration dampening
Reasons to avoid:
Poor quality velcro closure
Pricey
Thanks to their premium grip and protection, the Troy Lee Designs Gambit are some of the best downhill mountain bike gloves.
These gloves use TLD's D30 knuckle protector that protects your hands from abrasions yet is flexible and soft-feeling. The impressive thing about this material is it hardens immediately upon impact to enhance protection.
These gloves also have solid breathability despite the tough protective material, helping keep your hands cool in hot weather. Other features include the silicon printing that improves grip and provides touchscreen compatibility and the compression-molded cuff for a snug fit that blocks debris from entering the glove.
The main downside to the Gambit gloves is the Velcro closure which, according to reviewers, is the first part of the gloves to deteriorate.
Consider these Troy Lee Designs gloves to boost your trail cred with a stylish, high-performance product.
---
POC Resistance Enduro Adjustable Men's Gloves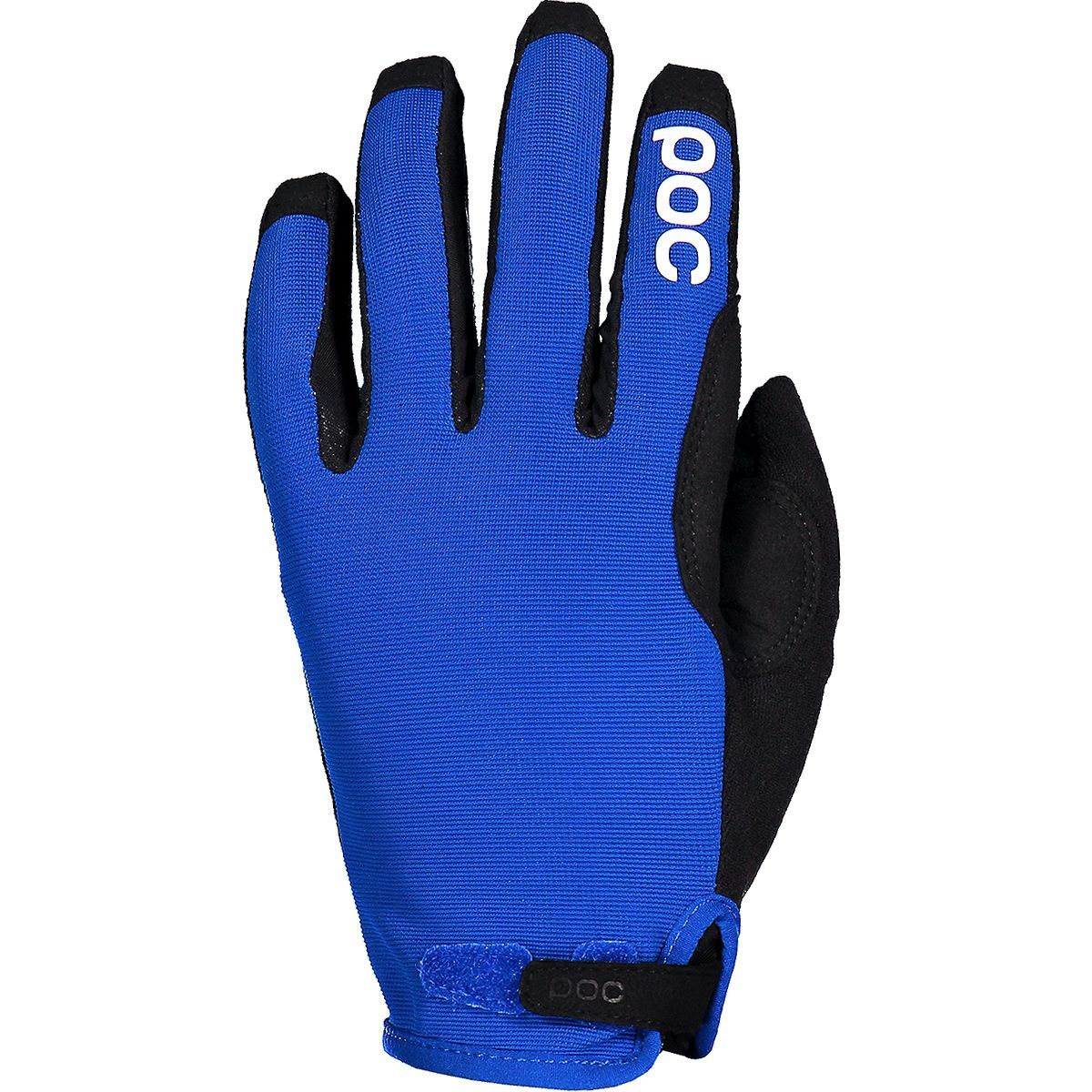 Reasons to buy:
Adjustable closure
Lightweight and breathable
Durable
Tough, protective material
Reasons to avoid:
Poor touchscreen compatibility
Expensive
The POC Resistance Enduro Adjustable mountain biking gloves are the most expensive on our list, designed to be simple but effective on the trail.
The Resistance Enduro gloves use a breathable yet tough back fabric paired with a supple, ventilated palm that features skid pads and silicone printing for extra grip in wet or sweaty conditions.
The padding used is minimal and doesn't dampen handlebar feedback. These POC gloves do have touchscreen compatibility. However, many reviews mention that it doesn't function well.
Other noteworthy features include the adjustable Velcro closure for a customized fit and pull tabs for easier removal.
In summary, these are some of the best MTB gloves made for solid performance and durability. Choose them if you've got a big budget and you want simplicity and longevity.
---
ROCKBROS Mountain Bike Gloves
Reasons to buy:
Highly-protective shell
Shock-absorbent
Comfortable fit
Affordable price
The Rockbros Mountain Bike Gloves are an extremely protective set designed to provide maximum resistance against abrasions, vibrations and protection in a fall.
These gloves use 6mm gel padding that dampens trail vibrations and helps reduce the chance of numbness and pain in the hands. The only trade-off of this style is a lack of handlebar feedback.
The back of the Rockbros MTB gloves is a durable rubber material held together with stretchy, breathable lycra. The palm material is also lightweight and surprisingly breathable despite the heavy-duty design.
These gloves also have a thumb wipe, touchscreen compatibility, and a lifetime warranty and satisfaction guarantee.
We recommend the Rockbros mountain bike gloves if you want unbeatable protection and shock absorption at an excellent price.
---
Pearl iZUMi Cyclone Gel Cycling Gloves
Reasons to buy:
Wind and water protection
Four-way stretch
Wrists overlap with jacket
Excellent grip/comfort
Reasons to avoid:
Not suitable for riding below 40 degrees
The Pearl iZUMi cold-weather MTB gloves are a mid-range pair with a comfortable and weather-resistant design.
The palm of the gloves is Ax Suede synthetic leather that has durable silicone padding for maximal grip but minimal vibration dampening. Additionally, the material is water and wind resistant to keep your hands warm and dry.
These Pearl iZUMi gloves use a hook and loop closure backed and four-way stretch for a customized fit. Other features of the Cyclone Gel mountain bike gloves are the microfiber sweat wipe and reflective elements.
Consider the Cyclone Gel if you want one of the best-value MTB gloves with a tailored fit and weather-resistant shell.
---
Specialized Trail Shield Gloves
Reasons to buy:
Protective of the rear hand
Grippy when wet
Durable
Reasons to avoid:
Poor quality velcro closure
The Specialized Trail Shield Gloves are another mid-range set with a protective backing and one of the most comfortable fits you'll find.
Specialized uses a stretchy nylon fabric and an Ax Suede palm padded palm to accomplish this comfort. The fingers have silicone printing that stays grippy when wet. In addition, Specialized added some foam inserts into the rear of the hand to maximize protection on narrow trails.
Other noteworthy features include the sweat wipe and touchscreen-compatible fingertips. However, one issue with these gloves is the poor quality velcro wrist closure which comes undone easily.
Add the Trail Shield mountain bike gloves to your shortlist if you want a protective glove with a stylish design at a reasonable price.
---
Pearl Izumi Summit Women's Gloves
Reasons to buy:
Highly protective
Keep hands cool
Adjustable closure
Grippy when wet
The Pearl Izumi Summit women's mountain bike gloves are a reinforced pair that will keep your hands out of trouble when you're ripping through tight trails.
The back of the Summit gloves has Neoprene that protects sensitive areas of the hand from cuts. Despite the reinforced design, these gloves have impressive breathability and moisture-wicking capability. In addition, Synthetic leather palms help reduce palm moisture.
The Summit gloves also have extra grip and touchscreen compatibility from the silicone fingertips. Finally, these gloves have a minimalist Ax Suede palm that protects you in the event of a crash but doesn't reduce tactile feedback.
The Summit gloves by Pearl Izumi are another solid lightweight choice for female mountain bikers.
---
DAKINE Cross-X Men's Bike Gloves
Reasons to buy:
Solid protection
LIghtweight
Odor controlling material
Moisture-wicking
Reasons to avoid:
Poor durability
Stuffy in hot weather
The DAKINE Cross-X mountain bike gloves are a mid-range pair with lightweight padding and knuckle protection.
The Ax Suede synthetic leather palms are padded with 3mm of foam to help reduce some unwanted vibrations to sensitive areas on the hand.
Likewise, the back is reinforced with rubber knuckle protection, and the silicone palm helps to ensure a high level of grip when wet.
Other noteworthy features include a nose wipe, touchscreen compatibility, and odor control technology. Unfortunately, many users report the poor durability of these gloves, especially given the price.
---
What to Look for in the Best Mountain Bike Gloves
---
It helps to know what you want and need and what's out there before you start searching for the best mountain bike gloves as characteristics like fit, materials, and protection vary hugely between products.
We recommend using reviews like the ones in this article to make a shortlist of products from trusted cycling brands with high ratings that fit your needs and budget.
Now, let's look at the different characteristics and features of the best mountain bike gloves, so you're prepared when you begin your search.
Fit
Fit is the most important factor when choosing new mountain biking gloves. A glove that's too tight will restrict blood flow and limit your range of motion; a loose glove can cause chafing and negatively impact handlebar control by sliding around.
The gloves are too big if the material scrunches up; they're too small if the material pulls tight when you stretch your hand; they're just right if you can make a fist without over-stretching the glove.
Finding the perfect fit isn't always straightforward because our hands and fingers differ hugely in length and width. Our review above highlights if a product doesn't run true to size. However, you'll have a better chance of finding your size with the following two measurements.
Wrap a soft tape measure around the widest part of your hand (excluding your thumb).
Measure your hand's length from the tip of your middle finger to your wrist crease.
Once you have the correct measures, compare them to the manufacturer's size charts to get the perfect size and fit.
Comfort
A poorly fit glove won't be comfortable, but other factors like materials and breathability or insulation also play a role. However, comfort is pretty subjective, so it's harder to quantify.
The best way to determine if a glove is comfortable is to try it on, see if it fits well, articulates when you move your fingers, and doesn't have large inner seams. Gloves with lots of seams can cause chafing and blisters over time.
Soft materials are favorable, as rough ones will be abrasive and uncomfortable. Additionally, the best winter mountain bike gloves will keep your hands warm and dry, while the best mountain bike gloves for hot weather will wick sweat and breathe to help you regulate temperature.
Materials
The materials used to make a glove will significantly impact comfort, temperature regulation, moisture control, and durability. However, poor manufacturing and design can turn good materials into bad gloves.
The best mountain bike glove for summer use will be lightweight and breathable, with the ability to wick sweat, so your hands stay relatively cool and dry. Perforating also helps with breathability by improving airflow.
In contrast, cool weather mountain bike gloves should have insulation to keep your hands warm, and some will be waterproof or windproof for riders who require those features.
Palms are typically made with synthetic leather as it is comfortable, easy to manufacture, and durable. The back fabric varies greatly, but it's best to look for stretchy fabrics that use a percentage of lycra or elastane for better fit and comfort.
Protection
The level of protection riders want in their gloves is highly-individual. Some prefer a minimalist glove that protects the hands if you slide out or have a light fall. Others want a glove with gel or foam padding on the palm and rubber armor on the back to block strikes from branches and bushes on tight trails. The locations where you ride can also influence this. For example, smoother trails make padding less useful.
Durability
Mountain biking puts a lot of demands on your equipment, so finding a durable pair of gloves helps save you time and money. We believe it's better to buy right the first time than to buy several times.
We took care to highlight the durability of the products in the reviews above, so you know which products are recognized for lasting a long time.
When choosing a new pair of mountain biking gloves, read user reviews to determine if they hold up over time and can take a beating. For example, some gloves will fall apart after one fall, while others will last through several.
Other durability factors include the seam and closure quality. Poorly constructed seams and velcro straps can fray and come loose after just a few uses.
Extra Features
The best mountain bike gloves have extra features that provide minor improvements to ride quality but aren't essential to make a good glove.
Touchscreen compatibility on the fingertips is non-negotiable for many riders. However, this feature is often ineffective, so when choosing, look out for this in user reviews.
Thumb wipes are found on most gloves. This material helps you wipe away sweat from your lenses or eyes or moisture from your nose (not both, that's gross).
Velcro closure is a contentious feature that divides riders. However, it provides quick and easy wrist adjustment, making it easier to take the gloves on and off.
---
People Also Ask
---
What gloves should I wear for mountain biking?
The gloves you should wear for mountain biking are full-finger gloves. Full finger gloves vary greatly, some with lots of armor and padding, and other minimalist gloves offer basic protection with a lightweight and natural feel. Test both to see which style you prefer.
Are mountain bike gloves necessary?
Mountain bike gloves are not completely necessary, but almost all mountain bikers wear them to protect their hands in crashes or from abrasions when riding on tight trails. Additionally, they ensure full grip when your hands are sweaty or if it's raining.
Are fingerless gloves better for mountain biking?
No, fingerless gloves are not better for mountain biking. Minor falls and hand strikes are relatively common in mountain biking, so full-finger gloves are important to provide as much protection as possible on the trail. Fingerless gloves leave your hands more exposed.
How long do MTB gloves last?
How long MTB gloves last will depend on the quality of the product, how often you ride, and if you fall or get hit on the hand while wearing them. High-quality gloves could last for multiple years if you don't crash, while others may only last one season.
How do you measure a mountain bike glove?
The most common way to measure a mountain bike glove is to wrap a soft tape measure around the widest part of your hand (excluding your thumb). In addition, you can measure from the tip of your middle finger to your wrist crease.
Why do mountain bikers wear full finger gloves?
Mountain bikers typically wear full finger gloves because they provide superior protection for riding off-road, and they offer excellent grip in varied weather conditions and while wet from sweat. Fingerless gloves are better than none, but they leave your hands exposed.
How do I choose a mountain bike glove?
The most important consideration for choosing a mountain biking glove is fit and comfort. An uncomfortable or poor-fitting glove will negatively impact your ride. Secondarily, you want weather-appropriate materials, durability, and protection. Finally, some riders require padding and armor for additional safety.
How tight should MTB gloves fit?
MTB gloves should have a snug fit, but they shouldn't feel tight, just enough that they don't slide around on your hands and no more. Additionally, you must be able to spread your fingers without the material pulling taut and close your fist without excessive bunching.