GPS Tracker For Bike – Your Peace in Mind (5 Best Buys)

With a GPS Bicycle Tracker, cyclists can now find and follow a stolen bike with this extra layer of security for their most valued possession.
There are an estimated 2 million bikes stolen each year in the USA. Because of modern lock breaking techniques, using a high-quality lock and good locking technique is not enough to guarantee your bike is safe. GPS trackers paired with their companion apps both prevent theft and help with the recovery of stolen bicycles.
Using a GPS tracker for bikes, you can remotely monitor the location of your bicycle at all times. In the event of a robbery, owners can call their local authorities to assist with recovering the stolen bike using the pinpointed GPS location through the cycling app. Some bicycle trackers even notify users if their bike is being tampered with before it moves location.
Best GPS Trackers for Bikes

---
Below we have put together a list of the best bike trackers available on the market by researching the best-rated and most searched bike security devices and GPSs for theft. These devices vary in functionality and style, but they each offer a way to track your bike location by transmitting GPS signals.
1

. Spot Trace

Satellite-based tracker with text and email notifications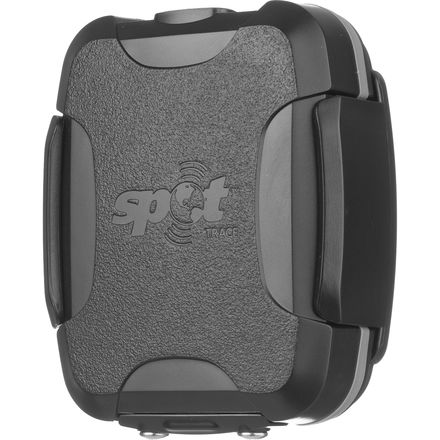 MSRP: $129
The Spot Trace bike tracker device is an excellent tool for tracking any of your valuables, especially your bike.
Tracking
The device works using satellite technology to track your bike to show you an exact location even in extremely remote areas. In addition, it will send you notifications via email or text when the device moves. Spot's mobile application also allows you to follow it almost in real-time.
Compatibility
The 3oz unit will mount to almost anything with a separate mounting piece that the tracker slots onto. Additionally, the device is fully waterproof so you can leave it out in the elements.
Protection & Battery
The battery has no specific time that it lasts as it runs on 4xAAA batteries and is only activated as you require.
Payment & Connection
The Spot Trace has two choices of payment plan, $9.95/month or $12.50/month.
---
A totally new way to protect and locate your bike

MSRP: Check on Amazon
Invoxia's Cellular GPS Tracker is a discreet anti-theft GPS bike tracker with the most up-to-date technology available.
To keep your bike safe, this tracker comes with highly-accurate GPS, locating the device within just a few feet. If somebody tries to steal or move your bike, the device will let you know through periodic location updates to your phone so you can follow its movement.
Battery
Despite its small and discreet design, you can rely on this device's battery as it lasts months on one charge.
Compatibility
Invoxia has developed an easy-to-use application available that you can use to track your device.
Costs
This tracker uses a simple sim card that comes with the product and can be renewed for just $2.49 per month.
---
3

. LandAirSea – Cellular and Satellite Tracker
MSRP: Check on Amazon
LandAirSea's tracker is an ultra-discreet device with lots of interesting features. It is both easy to use and customizable. It comes with the biggest battery capacity on the market, lasting over 6 months on one charge in low power mode, so you don't have to change it regularly.
Accuracy
To track and locate a stolen bike, all you need to do is access the position from the integration with Google Maps on your computer or the SilverCloud app on your smartphone or tablet. This will allow you to follow the device in real-time.
Features
There are two unique features of this bicycle GPS tracker. The first is that it uses Satellite and GSM (cellular), and the second is its super convenient magnetic mount.
---
4

. TKSTAR GPS Tracker – TK906
The TKSTAR GPS bike tracker is a budget bicycle tracker that disguises itself conveniently as a functioning backlight.
The tracker works using a GSM network and GPS satellites so you can locate and monitor your bike by SMS, APP, and internet website. The tracker requires a 2G/GSM SIM card which has a monthly subscription plan for data of at least 30MB.
To locate the device, you must call the SIM card's cell number in the tracker or send a message "G123456#" and you will receive a Google Maps link to its current position.
The device also has an over-speed alarm, shake sensor alarm, and low battery alarm. When any of these alarms is activated it will send an alert to the owner's cell number.
You can also set the tracker to alert you via text or email when leaves a specified area, geofencing. To set up the device, you must add an admin and an SOS number for emergencies, which can be activated by holding the SOS button for 3 seconds.
Although the device has good functionality, users note issues with the application used for real-time tracking. That being said, this device definitely offers good value for money when compared to its pricey competitors.
---
5

. Specialized – ANGi Crash Sensor
The Specialized ANGi is a GPS bike tracker that aids in the event of a crash. This tracker isn't designed for bike security but instead for rider safety.
The device weighs just 10g with the battery and attaches to almost any helmet. With one coin battery, you can expect up to six months of juice.
In the event of a crash, the ANGi alerts the Specialized Ride App to begin a countdown. If you don't stop the countdown in the allotted time, your emergency contacts will be alerted.
The device works by sending your last known GPS coordinates and a help message. Other helpful features of this product are start-ride notifications and ride time alerts.
GPS Bike Tracker Buying Guide
---
Why Get a GPS Bike Tracker?
Anti-theft GPS trackers are the perfect security tool for any cyclist who wants peace of mind when they lock up their bike anywhere.
These GPS trackers can also be used to help recover stolen bicycles in the event of a home break-in. They are especially useful for any cyclists living in urban areas where bike theft and general crime rates are higher.
How Much is a Bike Tracker in 2023?
The prices of bike trackers vary roughly between $25-$150.
The cheaper models have minimal functionality, are not discreet, are less reliable, and heavy.
High-end models, on the other hand, are lightweight, durable, have dedicated companion apps, long battery life, and are usually undetectable on your bicycle. Generally disguised in the handlebars or as a light.
How Do Bike Trackers Work?
In general, bike tracking devices work by sending out a GPS signal that can be followed through an application or website. They are usually hidden discretely on your bike, so thieves cannot identify the device. This allows you to track and find where the thief has taken it so that it is not lost forever.
Premium trackers also warn owners via mobile push notifications if any tampering has occurred, so you can prevent the theft in the first place. Some models also require a sim card or subscription to allow tracking.
How to Find a Stolen Bike?
It can be difficult to locate a bike once it has been stolen. Using a discreet GPS bike tracker can help with this problem. You will be able to find your bicycle wherever it is, so long as the thief hasn't identified the tracker.
Another important way of helping find your stolen bicycle is to register the unique serial code with an online registry system in your country. Police and those shopping for used bikes (on Craigslist for example) can use this code to identify if the bike is stolen.
Alternative Bicycle Tracking Devices
Bicycle security is a fast-growing industry. Advancements in technology lead to the frequent creation of new and innovative devices which are available even to the average bike owner.
Along with GPS tracking systems for bikes, smart bike locks and bike sensor locks (used among bike deliveries) are now widely available. The main features of these technologies include sensors, GPS transmitters, alarm systems, and Bluetooth bike lock and unlock.
Conclusion
Bicycle theft is largely preventable if you take the right precautions. Bike anti-theft GPS devices are an extremely effective method of keeping your bike safe. Using one of these devices does not replace the need to have good bicycle security habits, a high-quality lock, and common sense when keeping your bike safe.
If you considering a GPS transmitter for bikes, the ones we discuss in this article include all of the features needed plus many more. Before you make your purchase, identify the features that you personally want, paying attention to recurring costs, and battery so that your device is keeping your bike as safe as possible at all times.