Best Bikes for Big Guys (and Girls): 9 Bikes for Heavy & Overweight People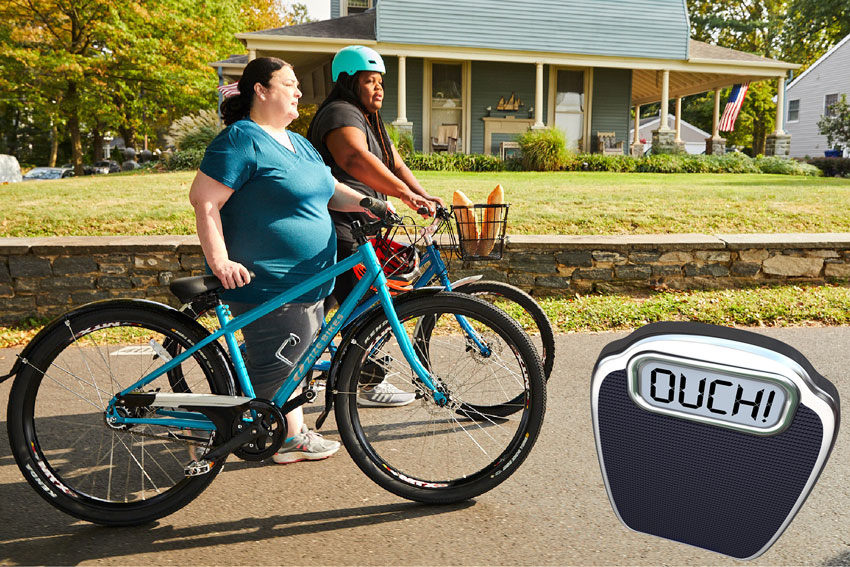 Bikes for heavy people aren't as common as they should be, making it unnecessarily difficult for those people to access cycling.
As most manufacturers cater to a limited height and weight range, it's helpful to know which brands and models can handle more weight.
For this article, we found and reviewed a range of nine of the best bikes for heavy riders across various disciplines, including traditional and electric. Then, to finish, we put together a short guide on the features to look for in this type of bike.
If you're looking to get more exercise, lose excess weight, and become fit and healthy through cycling, you'll find everything you need here!
---
1. Zize Bikes Yonder
MSRP: $2,800
Weight Limit: 550lb
Frame Material: Steel
Tire Size: 26 x 3″
Reasons to buy:
Designed specifically for bigger riders
Highest payload capacity
Highest height range
Double clamp seatpost
Zize Bikes is a brand created to cater to an untapped market of riders by designing bikes for big guys. Their bikes can support payloads of 550lbs and riders up to seven feet tall.
The Yonder is Zize Bikes' off-road option, a rigid mountain bike built to tackle light trails and gravel rides or work as a comfortable commuter bike. The Yonder has a vibration-reducing saddle, upright geometry, and an adjustable stem to maximize comfort.
This bike also has a heavy-duty TIG-welded Chromoly steel frame with a wider bottom bracket to increase the Q-factor and make pedaling more natural for bigger riders.
3″ Compass tires provide off-road traction and durability. They come on 26″ double-wide alloy rims and hubs with 36 spokes. The groupset includes a Shimano Deore drivetrain with an 11-36t cassette and Clark M2F hydraulic disc brakes.
Choose the Zize Bikes Yonder if you want a purpose-built mountain bike for heavy people with proven durability.
---
2. Benno Boost E 10D
MSRP: $5,499
Weight Limit: 440 lb
Frame Material: Aluminum
Tire Size: 24 x 2.6″
Reasons to buy:
Excellent range
Custom heavy-duty tires
Dual battery capacity
130lb-capacity rear rack
The Benno Boost E 10D is a utility e-bike for big guys with premium electronics and a high payload capacity.
Electric bikes are an excellent tool for heavy riders to help tackle longer, more difficult rides than they could do unassisted. The Boost E 10D has a 250W, 85Nm Bosch Performance Speed motor paired with a 500Wh Powerpack battery with the capacity for a second battery.
The small motors provide just another power to get around town without breaking a sweat, and the large cargo bays ...
When used with the Shimano Deore 10-speed gearing, the battery can achieve ranges up to 75 miles. The top speed of the Boost is 28mph, making it a Class 3 e-bike.
This bike's 440lb payload capacity is possible thanks to the strong aluminum frame, stiff 24″ wheels, and 2.6″ custom tires. Other notable components include Shimano Deore hydraulic disc brakes, Supernova Mini integrated lights, fenders, a rear rack, and a kickstand.
Overall, this is the best cargo electric bike for big guys that we've seen, perfect for riders who want to carry gear on their daily commute.
---
3. Zize Bikes 29er Max 2.0
MSRP: $2,500
Weight Limit: 450lb
Frame Material: Steel
Tire Size: 29 x 2.1″
Reasons to buy:
Low-maintenance internal gearing
Suitable for riders up to 450lbs and 7′ tall
Comfortable
The Zize Bikes 29er Max 2.0 is one of the best bikes for 300lbs plus riders. It's got a massive 450lb payload capacity and can fit riders up to seven feet tall.
The Chromoly steel frame provides a durable base for this type of bike. This frame pairs with high-strength cranks, 36-spoke 29″ wheels, and a double-clamped seatpost, capable of supporting the heaviest riders.
Comfort comes from the plush 2.1″ Kenda tires, upright geometry, adjustable stem, shock-absorbent saddle, and wide handlebars.
The drivetrain on the 29er Max 2.0 is a Shimano 8-speed internally geared hub with a Chuan Wei crankset. This system is low-maintenance, extra durable, and doesn't require pedaling to shift, making for an effortless user experience.
The brakes used are also off-brand Alhonga mechanical discs which are underpowered for a $2,500 bike for big guys.
Consider the 29er Max 2.0 if you're a heavy or tall rider that wants a fast-rolling hybrid bike with plenty of comfort and versatility.
---
4. Ride1UP Prodigy
MSRP: $2,295 – $2,395
Weight Limit: 300lb
Frame Material: Aluminum
Tire Size: 27.5 x 2″ (XR/ST) or 2.4″ (XC)
Reasons to buy:
High range
Three model choices
Powerful motor
Affordable
Reasons to avoid:
Poor gear range
Limited rider height
The Ride1UP Prodigy is one of the best bikes for big guys up to 300lbs and 6'3″. It has powerful electronics, comfortable geometry and touchpoints, and durable components.
Firstly, the Prodigy comes in three designs, two urban and one off-road model. Each has a sturdy aluminum frame with high-spoke 27.5″ wheels.
The motor is a German-made Brose TF Sprinter mid-drive with a 504Wh battery. This system provides up to 380% assistance, 90Nm of torque, and a max range of 50 miles.
For gearing, you have a Shimano Alivio 9-speed drivetrain with a limited 11-34t cassette. This cassette isn't much of an issue for the urban models but is small for the off-roader. The brakes are Tektro hydraulic discs with 180mm rotors that provide decent stopping power.
Ride1UP chose different tires for the urban and off-road versions. The 2″ Maxxis Re-Fuse tires are fast-rolling and grippy for city riding, while the wider 2.4″ Maxxis Forekasters ensure traction and durability on trails. Additionally, the XC model has MTB-style handlebars and a 120mm travel fork.
Add the Prodigy e-bike to your shortlist if you're a bigger rider, but you're still under 300lbs and 6'3″.
---
5. Zize Bikes A New Leaf XG
MSRP: $2,799
Weight Limit: 550 lb
Frame Material: Steel
Tire Size: 26 x 2.1″
Reasons to buy:
Huge height and weight limit
Comfort-optimized
Highly durable
Zize Bikes is a brand that makes bikes for big and tall guys. The A New Leaf XG is the brand's flagship high-capacity model.
This bike is versatile and comfortable, perfect for mixed-terrain riding, commuting, or running errands. The comfort comes from plush tires, relaxed geometry, and a shock-absorbing saddle. In addition, Zize Bikes pre-installed fenders and added mounts for a pannier rack.
The frameset is TIG-welded Chromoly steel that has incredible tensile strength. In addition, Zize Bikes chose small-diameter 26″ wheels with 36 spokes for the extra rigidity and strength. These wheels are wrapped in 2.1″ Compass tires with plenty of tread depth for riding in wet weather or for gravel biking.
The drivetrain comprises a Shimano Altus derailleur, RapidFire shifters, a Prowheel crankset, and a Sunshine MTB cassette. Clark M2F hydraulic disc brakes round out the groupset. Unfortunately, this primarily off-brand setup is disappointing considering the bike's price.
Still, choose the A New Leaf XG if you're looking for a versatile city hybrid, a suitable bike for a 500lb man.
---
6. Co-op Cycles DRT 4.1
MSRP: $1,499
Weight Limit: 300lb
Frame Material: Aluminum
Tire Size: 26 x 4.8″
Reasons to buy:
Comfortable and versatile fat tires
SRAM X1 Eagle crankset
Powerful hydraulic disc brakes
REI's reliable and affordable Co-op Cycles' DRT 4.1 is a fat tire bike for big guys.
Massive 4.8″ Innova super fat tires provide a stable and comfortable base. They can also ride on soft surfaces like snow, sand, and mud and maintain excellent traction in wet weather.
The frameset is 6061 aluminum with mounts for a rack and accessories, internal cable routing, chainstay protection, and thru-axles. In addition, you have stiff 32-spoke 26″ wheels that provide plenty of support for heavier riders.
For gearing, you have a SRAM SX Eagle drivetrain with an 11-50t crankset and a higher-end X1 1000 Eagle DUB crankset. This SRAM drivetrain pairs with reliable Shimano Acera hydraulic discs.
Don't miss out on the DRT 4.1 if you want one of the best rigid mountain bikes for big guys that won't break the bank.
---
7. QuietKat Apex
MSRP: $5,499 – $5,799
Weight Limit: 325 lb
Frame Material: Aluminum
Tire Size: 26 x 4.5″
Reasons to buy:
High-power motor
Capable on extreme terrain

Heavy-duty build
The QuietKat Apex is a hunting e-bike with a large payload capacity and the capability to ride on extreme terrain.
This bike's comfortable, versatile, and powerful characteristics make it one of the best for overweight people.
When purchasing, you can choose between 750W or 1000W mid-drive motors. This motor pairs with a 768Wh battery and advanced LCD bike computer. With a SRAM X5 9-speed drivetrain, you can get up to 48 miles of range.
To ensure the Apex can perform off-road, QuietKat chose a high-travel 150mm air suspension fork, Kenda Juggernaut fat tires, and powerful Tektro hydraulic disc brakes.
Heavier riders can take comfort in a 325lb payload limit and a 100lb-capacity integrated rear rack for carrying cargo to and from remote areas on hunting, angling, or camping trips.
Consider the QuietKat Apex if you want an ultra-capable hunting e-bike with a powerful mid-drive motor.
---
8. Lectric XPremium
MSRP: $1,599
Weight Limit: 330 lb
Frame Material: Aluminum
Tire Size: 20 x 4″
Reasons to buy:
Huge 100-mile range
Folding frame
Fully-equipped for commuting
Reasons to avoid:
The saddle isn't comfortable
In general, folding bikes aren't very sturdy, so the Lectric XPremium offers a unique solution for heavy cyclists, making it the best bike for big guys that folds.
The XPremium has powerful electronics, including two 500Wh batteries and a 500W mid-drive motor with a max speed of 28mph. The mid-drive motor packs enough punch to help heavier riders over steep gradients. In addition, dual battery capacity provides max ranges of 100 miles.
The quick folding mechanism makes for easy transportation and storage. In addition, you have a fully-equipped setup, including a rack, fenders, and LED lights, making it ready for any urban riding on arrival. Other notable features include 4″ Chaoyang fat tires, an 80mm travel fork, and hydraulic disc brakes.
The 330lb payload capacity and 6'4″ max rider height make this bike an excellent choice for many overweight riders. Consider the XPremium if you want one of the best bikes for heavy people that folds and is ready for any job you need.
---
9. Marin Larkspur 1
MSRP: $919
Weight Limit: 300lb
Frame Material: Steel
Tire Size: 650b x 2.35″
Reasons to buy:
Off-road capable
Plenty of gears for climbing
Tektro hydraulic disc brakes
Cheap
Reasons to avoid:
Slightly limited weight capacity
The Marin Larkspur is the cheapest model on this list and a solid bike for heavy people, thanks to the robust steel design.
Marin designs excellent off-road bikes, and the Larkspur displays some of this expertise despite being an urban commuter. It comes with mixed-terrain 2.35″ Vee Tire GPVee puncture-resistant tires and an 11-51t MTB cassette.
A Series 2 Chromoly butted steel provides plenty of sturdiness for heavier riders. In addition, the low-step frame makes it easy to mount and dismount. Marin also included mounting points for a rack and fenders.
The Larkspur is surprisingly comfortable. The shock-absorbent characteristics of the steel frame and wide tires, upright geometry, and swept-back handlebars contribute to its enjoyable ride quality.
The groupset combines a MicroSHIFT Advent X 10-speed drivetrain and Tektro hydraulic disc brakes, both excellent inclusions for a sub-$1,000 bike.
Overall, this is a solid choice for any urban rider, and the 300lb payload capacity makes it a possibility for heavier riders too.
---
What to Look for in Best Bikes for Heavy People?
The best bikes for heavy people must be sturdy and durable enough to support the extra weight and provide a comfortable ride experience for bigger riders. This section covers the main features to look out for when searching for this type of bike.
Payload Capacity and Height Limit
The payload capacity and rider height range are the most important considerations when choosing between bikes for heavy riders. Your current weight and height must fall within the ranges specified by the manufacturer, or else the bike could be unsafe to ride.
For example, the highest-capacity options you can buy are those by Zize Bikes. You can filter the bikes on their website based on payload capacity and height. For example, two of the three Zize Bikes reviewed in this article can support 550lbs.
Many heavy riders are also too tall for standard bikes. In general, XL or XXL frames fit riders around 6'5″ or 6'7″ at a maximum (various Zize bikes fit riders up to seven feet tall).
Frame Material
Frame material is another important factor. High tensile strength steel is the best material for supporting the extra load of heavy riders. It also has the added benefit of being more comfortable thanks to the shock-absorbent characteristics of the material.
Down here you'll get a brief overview of some of the pros and cons of each bike frame material. Throughout time, ...
Alternatively, well-manufactured aluminum can be strong and durable. Double or triple butting the tubing helps reinforce the parts that experience more stress, such as the joints.
Wide Tires and Strong Wheels
High-volume tires help provide a comfortable and supportive base for overweight cyclists. Ideally, bikes for heavy people should have tires that are 2″ wide or more.
Strong wheels are another essential component. Bikes for heavy people should have oversized hubs with at least 32 spokes to prevent them from breaking regularly. Small-diameter rims are also typically more durable than large ones as the short spokes are stiffer and less susceptible to flexing.