Best Bicycle Pumps with Highest Ratings Online

A bicycle pump is one of the single most crucial extras for any cyclist out there, after a helmet obviously. Keeping tires inflated to recommended pressure is a crucial factor towards comfort and speed.
The recommended tire pressure range is written on the tire sidewall. While the range can vary quite a bit, less pressure is recommended for riding on uneven paths for better traction, and maximum pressure is best for either higher speeds or heavier loads on the bike.
How did we choose?
The bike pumps listed below are chosen regards the best rating and feedback on two of the best stores online.
Those stores offer a wide selection of both bicycles & accessories by well-known brands. The reason we didn't include many high-end bike pumps is that we picked only the best-selling models for the average cyclists.
---
Table of Contents
1. Floor Pumps
---
1

. The Best Bike Floor Pumps of 2023
---
A bike floor pump is generally a cornerstone of every cyclist's equipment. Down below you'll find a nice selection of bike pumps with a gauge that helps a ton on your everyday commutes.
Topeak – JoeBlow Sport III Bike
REI Score: 4.5/5 out of 77+ ratings
MSRP: $50
In essence, the Topeak bike tire pump is the top choice we could found as it simply has the most positive feedback on REI.
Why a yellow pump? Well, we all know that the garages can get messy, and the yellow color is easy to spot when you are in a rush to go and pedal out as soon as possible.
It also has a slightly higher, above-ground 3″ gauge which is great to get the pressure inflated directly where you want it to be.
Max Pressure: 160PSI
Valve Type(s): Presta, Schrader
---
Bontrager – Charger
Great value at under $50
MSRP: $40
This Bontrager bike pump holds an unbeatable value at the lower price range. You'll get a pump with a comfortable anti-slip handle and footpads, a large nozzle for both commonly used valves. We chose this pump as the Charger and the Bontrager Charger Dual Pump also represented by a good score one should be relying on when looking to get a good-quality floor pump. Simple, durable, and for both valves – what else could you ask for?
Max Pressure: 160PSI
Valve Type(s): Presta, Schrader
---
Specialized – Air Tool Sport Switchhitter II
42″ hose
MSRP: $40
Another nice glossy back bicycle pump, this time by Specialized. This particular model stands out for its extra-long air hose of 42″ which is actually quite convenient to use. You don't have to spin the wheel each time to get the valve to match up with a suitable place.
Other beneficial factors that speak for the pump are the full-steel construction, plastic foot stands, a wide handle and both main valve types accessibility
Max Pressure: 160PSI
Valve Type(s): Presta/Schrader
---
Lezyne – Alloy Floor Drive
For three valve types
MSRP: $85
The aluminum Lezyne floor pump has a whopping 220PSI of max pressure limiter which can be easily reached with the large handle. Made of precision CNC machined parts and equipped with Air Bleed System for easy air tuning, it truly is a great floor pump for all valve types.
Max Pressure: 220PSI
Valve Type(s): Presta, Dunlop, and Schrader valve
---
5

. Foundation – Airblast Tubeless

Best tubeless bike floor pump
You are looking at one of the higher-end bike pumps that is made of steel and lightweight aluminum. What sets this pump apart from the rest is obviously the massive max pressure capability that can withstand more than you need! It also has a small 2.5″ gauge on the top for best pressure readability.
Equipped with steel standing pads for easy cadence while pumping, and a twin switchblade lever to clamp on twin-valves. This is a pump best suited for those who prefer the quality product over anything else!
Max Pressure: 260PSI
Valve Type(s): Presta, Schrader
---
2

. Best Portable Bike Pumps
---
Whether you own a road, mountain, or a city bike, a portable bike pump is an essential accessory every cyclist should own. Although this type is not as fast and lacks the gauge, they do the job rather well on the side of the road.
Silca – Tattico Mini
MSRP: $55
Here's one of the most convenient bicycle air pumps for both commonly used valves. The extended air hose is really comfortable so you will not break the valve when inflating the tires in a rush.
Max PSI: 100psi
Valve Types: Presta, Schrader
---
Topeak – Pocket Rocket Mini Pump
One of the more known types at great value
MSRP: $25
This is the most classical bicycle tire pump for a frame. The Pocket Rocket has a pump-lock handle that allows the pump head to be securely locked in place while pumping. The only downside is most likely the cheap plastic construction. While it does its job well, experienced cyclists might want to look for with higher-quality parts.
Max Pressure: 110PSI
Valve Type: Presta, Schrader
---
8

. Lezyne – Pressure Drive CFG C02

A small and good-looking alloy frame pump
MSRP: $50
With a max pressure of 120PSi to inflate road bike tires, this small pump by Lezyne is actually great for most bike types out there. Equipped with rubber caps to prevent dust from entering the air chamber, the Pressure Drive model can be used on both main valve types.
Max Pressure: 120 PSI
Valve Type(s): Presta, Schrader
---
9

. Lezyne – Micro Floor Drive HVG

A portable hand pump with floor-pump capabilities
MSRP: $65
Here's a nice solution for anyone who'd like to use their frame bike pump as a floor pump. The large handle and hose works wonders when inflating tires on the road. Forget snapped valve heads when in a rush, you should definitely consider looking into this type out of pure convenience.
Best for: Mountain and Hybrid bikes, while road bike users might find the max pressure of 90PSI limiting.
Max Pressure: 90 PSI
Valve Type(s): Presta, Schrader
---
10

. OneUp Components – EDC

Best rating for a small hand pump

MSRP: $59

This Presta valve pump by OneUp costs pretty much the same as the floor pumps above, but that's all for a good reason. This is a high-quality bottle-mount/frame pump with an unbeatable score and reviews. Fully weatherproof seals and two sizes (70cc, 100cc) to choose from, the EDC is made of aluminum for durability and lighter possible weight.
Max Pressure: PSI
Valve Type(s): Presta only
---
How to choose a bike pump?
---
Floor vs Mini Bike Pumps
Can you use one for both occasions? Theoretically yes, but we'd highly advise you to get two separate pumps for each use out of pure convenience.
1. The floor pump is great for home use, whereas using a small portable pump for daily check-ups can be bit of a nuisance.
2. Portable mini-pump that is attached to the bike frame is a great tool to help you out in case of a puncture (Only when you have the tools to repair it) while it can help out you or your friends who have forgotten to check their tires before heading out.
If you are a regular cyclist, we'd recommend getting two pumps – one for home-use, and another attached to the frame.
How Much Pressure to Use in Bike Tires?
Tire Pressure Recommendations are written on the tire sidewall.
Road bike tire pressure range is between 80-130PSI
Mountain bike tire pressure range is around 20-60PSI
Hybrid bike tire pressure range is from 40 to 80PSI
Lower pressure: Better traction, more comfort
Higher pressure: Better speed
Presta Bike Pump
700c, 650b (27.5″), 29″
The Presta valve bike pump is one of the commonly used pumps as most newer hybrid-, road- and mountain bikes are equipped with those valves. This type of valve is known to hold more pressure over time.
Bicycle tire valve types are not the most interesting topic in the cycling world, and something most people pay ...
Schrader valve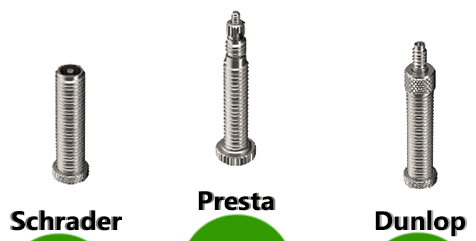 26″ tires and smaller
The Schrader valve is the same used on car tires, which can also be seen among cruiser bikes, and older bicycles alike.
*The good news is that most bike pumps have two types of nozzles, the most regular ones Schrader and Presta, while you can see Presta-only, and Presta-Dunlop pumps along the way.
Woods/Dunlop valve
Fits the auto/Schrader valve on a Presta pump.
Bike Types and Valves They Use
Road bike pump – Presta valve, rarely a Schrader valve available.
Mountain bike pump – Presta valve, rarely a Schrader valve option these days.
Hybrid bike pump – Presta and Schrader valve options.
Do You Need a Valve Adapter?
Some bike pumps come with an adapter, which can be used for Dunlop and Presta valve types. Most universal bicycle pumps these days have an option to use either different nozzles or after swapping out the nozzle-head which allows using the pump on both Presta and Schrader valves.
Can I use an electric bike tire inflator?
Electrical bike pumps are not that common for home-use, while there are a few good models available you can see down below.