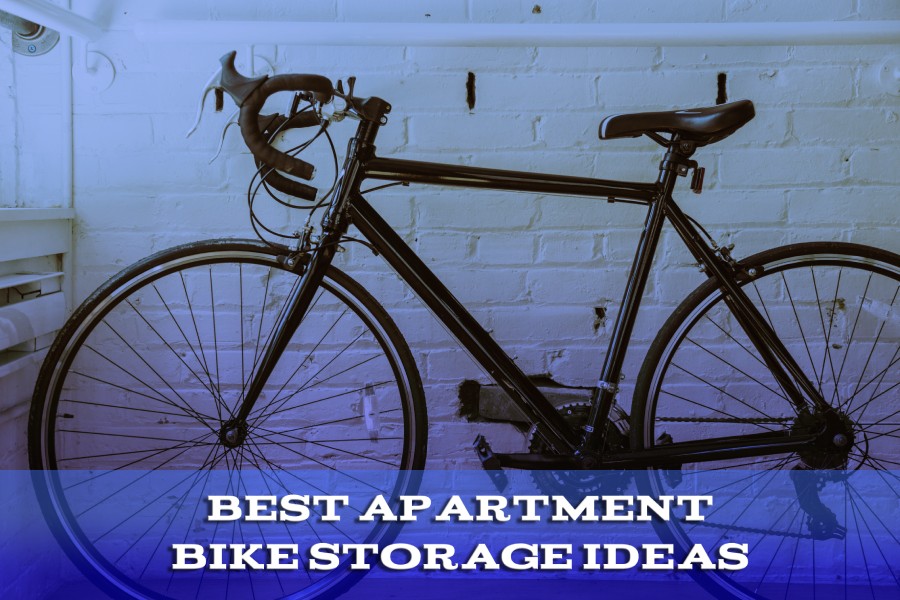 Most people don't have access to a garage or secure garden and must creatively utilize the space in their apartment with an indoor bike storage idea.
There are several solutions to choose from, all of which have advantages and disadvantages. Because the storage is inside the home, it's important that it saves space, is practical, visually appealing, and tidy.
This article will help you choose the perfect apartment bicycle storage ideas by asking a few short questions, followed by a description of each type and its pros and cons.
Things to Consider Before Choosing
Before learning about the actual home bike racks, determine your needs and preferences by asking yourself the following questions.
How much free space do I have? / What layout is the free space?
The quantity and layout of your free space are arguably the most significant factors for determining the best storage solution. For example, if you have a regular small apartment, a horizontal bicycle wall mount or supported stand may be the only one that fits.
For medium to large size homes with more free space, vertical bike storage allows you to store three or more bikes very efficiently. Other solutions, like ceiling racks, creatively utilize space but require high ceilings and aren't aesthetically appealing.
How many bikes do I want to store?
Each bike storage rack and stand has a capacity range that maximizes functionality and convenience in an apartment.
1 bike – wall hooks, pulley-operated bicycle hangers, bike furniture, vertical hooks
2 bikes – telescoping poles, wall stands, stacked hooks
3+ bikes – freestanding floor racks, horizontal bike storage, vertical bike stand, ceiling racks
Practicality vs. Aesthetics?
No matter which solution you choose, there will be a trade-off between practicality and aesthetics.
Aesthetic: A horizontal wooden bike rack may look great and show off your bike but is impractical
Practicality: A super-practical yet unappealing  vertical wall rack
A balanced approach: A horizontal indoor bike stand balances functionality and style
How often do I use the bike(s)?
If you use your bike daily, such as for transport or commuting, something convenient to access that allows easy mounting and unmounting of your bike(s) is essential. Examples include floor racks and vertical or horizontal racks.
For less-frequent use, like weekend and leisure cycling, convenience may not be as high a priority. Suitable choices in this situation are pulley-operated ceiling racks or some horizontal wall-mounted bike storage products.
How much money am I willing to spend?
You can choose from a wide range of products and prices for many of these categories.
Generally, bike furniture, ceiling storage, high capacity vertical storage, and handmade/aesthetic products are more pricey; individual wall hooks, floor racks, and freestanding racks are more affordable.
How much weight can the bike rack support?
40 to 50lbs is the typical weight limit for wall-mounted racks, supported stands, and freestanding racks.
Heavy bikes or typical electric bikes over 50lbs will require a solution that doesn't have a weight limit, such as a parking floor stand or vertical floor stand.
Am I willing to put screws in the wall?
For homeowners, drilling holes may not be an issue. However, renters are often unable to make permanent changes to the wall. In this case, choose a freestanding or supported floor stand that doesn't require drilling for installation.
Wall-Mounted Bike Storage Options
Vertical Wall Storage
Of the wall-mounted options, vertical storage utilizes space most efficiently for more than three bikes by storing bikes side by side in a row on individual cradles or a high-capacity rack.
Most models allow effortless mounting and unmounting and are minimalistic in design.
Generally, the bike's front wheel rests in the top cradle, supporting the weight. The bottom piece (if there is one) cradles the rear wheel, mainly to keep it from touching the wall.
Because these racks use a wheel cradle, wheel diameter and tire width may limit compatibility; others don't accommodate fenders.
This method can take up a lot of room as the bicycles protrude more from the wall, making vertical storage practical in spacious rooms. One helpful feature of some products is the ability to swivel, pushing bikes closer to the wall.
PROS
Best for 3+ bikes
Broad compatibility
Effortless loading/unloading
Can go anywhere in the apartment
Unobtrusive
CONS
2+ installation points
Inefficient for 1-2 bikes/small rooms
Take up a lot of space
Require drilling
May not fit small wheels
Can be expensive
Horizontal Wall Storage
Horizontal wall racks are an excellent choice for small apartments because they free up valuable floor space by using less-functional wall space.
Most commercial horizontal storage products consist of two hooks on a bracket that you drill to the wall.
These are pretty minimalist in design but not very aesthetic. Although, other products double as bookshelves or offer extra storage space and are more aesthetically pleasing.
Hooks are an affordable and compact storage method, and by stacking two sets of hooks, you can store two bikes, one over the other (the top bike will be harder to reach, though). Unfortunately, this limitation means they're not practical for more than two bikes.
PROS
Cheap
Widest choice of products
No floor space needed
Easy, minimal installation
Allows you to display a bike
Install anywhere with free wall space
CONS
Drilling necessary
The top bicycle is hard to reach
No heavy bikes
Requires lots of wall space
Max two bikes
Top tube compatibility issues
Floor Bike Racks
Floor bike racks come in four designs: freestanding, telescoping, parking-style racks, and bike bags.
Parking Rack / Floor Stand
Parking-style floor racks are typically built with steel and support the front wheel in a slot to keep the bike upright and in line, as you would outdoors.
Placing the wheel in a slot can limit compatibility with large wheels, kids' wheel diameters, wider tires, or disc brakes. Some stands are multifunctional, with shelving added over the bikes.
While these racks are great for keeping bikes organized while maintaining quick and easy access, they use space inefficiently, restricting their use to large apartments. Additionally, they aren't aesthetic, which lessens their appeal for apartment use.
PROS
Easiest and fastest access to bikes
Zero installation
Hold up to 6 bikes
Affordable
Some products have extra storage
CONS
Poor use of space
Can be unstable
Limited compatibility with some wheel sizes/tire widths
Not visually appealing
Telescoping Bike Racks
Telescoping racks are poles that push against the floor and ceiling to support the weight of the bikes. They do so by extending upwards to the ceiling with a twisting mechanism.
These poles generally hold two bikes horizontally, allowing you to maximize the wall space. The compact design works great in a small to medium size apartment.
The poles are neat-looking and straightforward, making them a good choice for the aesthetically-minded cyclist. In addition, they have a bike weight capacity of 40-50lbs per bike, restricting their utility for owners of heavy bikes.
PROS
Affordable
No drilling
Can move anywhere in the apartment
Compact and space-efficient
Easy to use
CONS
Ceiling height limitations
Top bike is more difficult to load
Limit of two bikes
Incompatible with some ceiling materials
Weight limit
Freestanding Bike Racks
Technically, a freestanding rack is any that doesn't require installation or additional support.
Freestanding racks are like coat racks for bikes and are great solutions for small or medium-sized apartments as they can go anywhere and are relatively compact.
Typically made with steel, freestanding racks have wide bases for balancing; they fit two or four bikes. Most products on the market look okay and are unobtrusive but are not very aesthetic, especially the four-bike versions.
PROS
Zero installation required
Inexpensive
Great compatibility
Easy to move
Choice of two or four bikes
CONS
Difficult to load the top bike(s)
Some products have limited top-tube compatibility
Weight capacity
The wide base takes up more space
Bike Storage Bags & Covers
Bike storage bags are typically used for transporting individual bikes on planes and public transport. However, they can double as storage for old or unused bikes in small apartments.
These bags use heavy-duty outer material with reinforced sections to keep the bike safe from damage in transit.
In addition to that, you can also get an affordable bike storage cover that acts as a sock for your bike, allowing you to keep it in your room without damaging or greasing your furniture.
PROS
Compact
Protective
Portable
CONS
Ineffective for most people
One-bike capacity
Ceiling Bike Storage
Ceiling bike racks are a clever way to utilize ceiling space that typically goes unused. There are two distinct styles:
Pulley-operated single bike hangars
Multi-bike racks
Pulley systems use two ropes with hooks to secure the handlebars and saddle. The ropes wind in, pulling the bike overhead with minimal effort.
Multi-bike ceiling racks can store up to six bikes. They use two independent hooks to hold the bikes upside down by the wheels. Unfortunately, this requires manually lifting the bikes, which isn't helpful for heavy bikes, kids, or shorter people.
Neither type is very aesthetic, and both require high ceilings to install the system with enough space for the bike to hang, meaning they are best for large apartments or houses with garages.
PROS
Very efficient use of space
Free up wall/floor space
Multi-bike racks are easy to access
Pulley-racks don't require lifting
CONS
Expensive
Laborious to set up
Drilling required
Need high ceilings
Pulleys are time-consuming to use
Pulleys limited to one bike
Indoor Bike Storage Furniture
Indoor bike storage furniture usually involves creatively modifying your existing furniture to double as bike storage.
These DIY ideas are excellent for single bikes and small apartments. In addition, they are very visually appealing. However, most cyclists can't or don't want to modify their furniture for this type of use.
There is also ready-made bike storage furniture that you can buy or build specifically for the purpose of storing your bikes. It looks great, but it often takes significant space and may cost a lot to purchase or make.
PROS
Efficient use of space
Stylish
Easy to access
Potentially free
CONS
Could ruin the furniture
Need DIY skills
Must own the furniture
Unsuitable for renters
Apartment Bike Storage Tips and Tricks
Storing your bike inside is pretty straightforward, but here are a few pieces of advice to help everything go smoothly and stay clean.
Reverse the direction of each bicycle to avoid handlebar contact and balance the load
Don't lean your derailleur(s) against anything
Place cardboard, plastic, or some other material on the wall if necessary, to avoid marks
Maintain a clean bike. A short cleaning every 2-4 weeks or a quick wash each time you ride in the mud keeps dirt and debris outside
Maintain proper air pressure in the tires at all times
Conclusion
Storing bikes indoors is essential for many cyclists, as outdoor storage can be unsafe or unavailable.
For those with limited room, efficiently utilizing the space available is vital. However, for larger apartments, aesthetics or convenience may take priority.
Choosing the perfect storage solution for your home can be daunting with so many options. Remember, the key things to define are:
Size and layout of the free space?
Practicality or aesthetics?
Frequency of use?
How many bikes do you have, and their weight?
Does it require drilling?
Budget?
Will kids use it?
With these seven points clarified and the pros and cons in mind, you can select the perfect apartment bike storage for your space. Then, whichever one you pick, follow good storage practices, and you'll be guaranteed to store and ride your bikes effortlessly.
Read Next