To help you overcome your space puzzle, we've put together this guide to the different storage ideas, where to use them, and the pros and cons of each to make choosing the perfect one easy.
Any cyclist with a tight living space knows bicycles take up a lot of room (folding bikes are popular for this reason).
To add to the problem, as you ride more, you may begin wanting (needing) bikes for different things like commuting, mountain biking, and road biking.
Bike Racks Storage & Transport Solutions:
Vehicle – Hitch / Boot / Roof / Spare Tire
Outdoor – Ground / Shed / Tent
Indoor – Floor / Wall / Ceiling / Free Standing
How to Choose
What to look for in bike storage:
The good news is, there are many different bike storage solutions, each of which will appeal to different riders and their specific situations. The most important things about any idea for storing bikes are:
Saves space
Easy and convenient to use
Secure
Doesn't damage your wall/ceiling/floor
Some nice-to-have bike storage features are affordability, a tidy/stylish look, and compatibility with various bikes.
How to decide which one is right for me?
With the above characteristics identified, consider your situation:
Number of bikes (most solutions are for 1-6)
Layout and size of the space you have (garage, apartment?)
The frequency you use the bike(s)
Security (if outside)
Do kids need to use it?
Budget
Although you can use some products anywhere in the home, we've categorized the bike storage ideas as either apartment, garage, or outdoor.
So first, let's look at indoor bike storage ideas.
Bike Storage in Apartments
Freestanding / Wall Stand / Vertical / Horizontal Hanging
Many cyclists don't have the luxury of a garage or secure outdoor area to store their bikes and require a creative apartment bike rack to get the most out of their space.
You can use four of the five indoor bike rack options in this article in an apartment, and which one you choose will depend on your situation, as described in the previous section.
For us, the best apartment bike storage is practical, nice to look at, minimally intrusive, and clean.
Freestanding & Supported Stands

Supported stands and freestanding racks are excellent for apartments. They require little to no interference with the walls (great for renters) and often maximize the space by stacking two bikes on top of each other. They are also affordable and widely available.
Freestanding Racks
These work like coat racks, by using a large base to support the weight. They can be placed anywhere in the home to hang two bikes, one over the other, without requiring anything to lean on.
PROS
No installation required
Moveable
Use in the garage or apartment
Compact
CONS
Max 2 bikes
Mostly for adults bikes
Challenging to lift bikes onto the higher rack
Not kid-friendly
Lower weight capacity
Supported Stands
These include pole bike racks and wall stands which function like freestanding racks, only using a wall or the floor and ceiling for support. They don't need much installation or any permanent changes to the walls and are relatively easy to move.
PROS
Limited installation
No drilling
Moveable
Can be used in the garage or apartment
Inexpensive
CONS
Max 2 bikes
Mostly for adults bikes
Tough to lift bikes onto the higher rack
Not kid-friendly
Poles are limited by ceiling height
Wide handlebars may touch the wall
Horizontal Racks
Bike storage hooks and other horizontal racks are excellent for apartments as they are compact, diverse, affordable, and most of the products require minimal installation.
Horizontal wall bike racks allow you to stack two bikes over each other to maximize vertical wall space in a small apartment. Additionally, you can use them in garages by stacking the same way or side by side along the wall.
Most of these products hold a single bike, making them ideal for people with just one bicycle in the house, especially if they want to show it off.
PROS
Wide variety to choose from
Great for small apartments
No floor space required
Minimal installation
Great for displaying a bike
Can be installed anywhere
CONS
Hard to lift a second bike
Drilling is required
May require brick or concrete walls
Lots of wall space
Wide handlebars may not fit
Ineffective for more than two bikes
Incompatible with some frame shapes
Vertical Racks
Vertical bike storage is one of the most efficient ways to utilize space when you need to store three or more bikes, as horizontal storage would take up too much wall space. However, there must be enough space outwards from the wall to mount and unmount the bikes, limiting their use for smaller apartments.
The best vertical wall racks are effortless to use and allow you to swivel the bikes and push them closer to the wall, minimizing the distance they protrude, as seen in the video below.
PROS
Most efficient use of space for 3+ bikes
Broad compatibility
Wide variety and price range available
Broad compatibility with wheel sizes
Easy to mount/unmount the bikes
Can go anywhere in the home
CONS
Multiple installation points
Lots of space is needed from the wall
Drilling required
Hard for kids to use
Bike Racks for Garage
Ceiling / Floor
The apartment racks described above also function as garage bike storage ideas. However, a couple of solutions work best in garages. These include ceiling racks (with or without a pulley system) and floor bike holders.
These products require lots of floor space or high ceilings, which are uncommon in most homes and typical in garages. Generally, ceiling racks are for any house with overhead space but limited floor or wall space.
Ceiling Racks for Bikes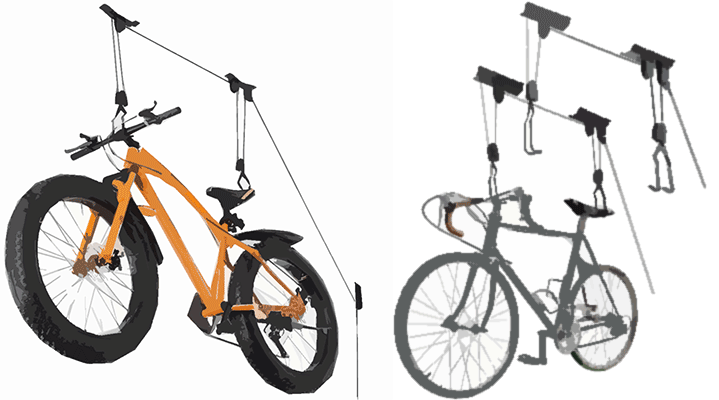 Ceiling bike hangers come in two different styles, with or without a pulley system. Although most ceiling systems are for single bikes, you can also find multiple-bike ceiling racks.
If you want to hang a bike from the ceiling without a pulley, the bicycle must be lightweight, and you must be tall enough to reach the hooks. These racks hold your bike upside down with individual hooks holding each wheel.
Ceiling bike storage with a pulley system usually hangs the bike by the handlebars and saddle. The pulleys allow you to effortlessly lift heavy bikes high overhead using the pulleys, a great solution for kids or adults with heavier bikes.
PROS
Best use of space
No wall or floor space needed
Works with almost any adults bike frame or wheel size
CONS
Expensive
Pulleys can be time-consuming to use
Requires high ceilings
Pulley systems usually only fit one bike
Difficult to install
Floor Racks
Bike storage stands or floor racks are an efficient way of organizing bicycles for easy access and tidiness. However, their appeal is limited because they require lots of floor space, which most storage solutions avoid.
They generally work by placing the front wheel into a slot that keeps the bike upright. This design results in various limitations discussed below.
As depicted above, freestanding bike racks for the floor come in various styles. Some are multifunctional racks for bikes and equipment, while others replicate outdoor bike racks seen around the city and in front of stores.
PROS
Easiest and quickest access to bikes
No installation required
Moveable
May include extra storage
Inexpensive
Can hold many bikes
CONS
Inefficient use of space
Incompatible with some kids' wheel sizes
May not fit fat tires or disc brakes
Cheap/light models can be unstable
OUTDOOR Bicycle Storage – Bike Sheds, Covers, & Tents
If you don't have enough space inside but have a secure area outside, consider an outdoor bike storage solution such as a bike shed, tent, or heavy-duty cover. Additionally, you can use floor racks outdoors for temporary storage, such as in a walled garden.
Your bike's security is the most important thing if you plan to leave it outside. However, if this isn't an issue and you're confident it won't be stolen, these ideas can help you maintain a clean and tidy bike-free home.
The issue with any outdoor storage is the collection of moisture and the exposure to temperature extremes in many areas. This exposure can increase the rate of wear of the bikes.
PROS
Free up indoor space
Bikes are already outside when you need to use them
No installation
Portable
CONS
Not very secure
Bikes are subject to varying levels of exposure
Sheds can be expensive
Sheds and tents are time-consuming to set up
Bike storage sheds – These are the most secure option and are difficult to break into, making them ideal for residential areas. They are available in metal or wood, each with pros and cons.
Tents and covers – Both tents and covers are very similar. They cover the bike(s) in a weatherproof shell, stopping direct exposure to the elements. They are not secure but have the advantage of being easy to move and collapsible.
Note, a tent or shed that stores bikes side by side is ideal if you use your bikes regularly but takes up more space. Otherwise, you can place the bikes one in front of the other with the most frequently used bike at the front.
Tips
Choosing the best bicycle storage solution for your bikes and home is crucial, but there are a few small things to do and avoid once you've chosen.
Most importantly, perform basic maintenance tasks regularly and keep a clean bike with a quick wash every few weeks. Completing these tasks helps your bike run smoothly and keeps dirt and debris out of the home.
Other storage considerations include:
Use good security practices and a strong bike lock if storing outside
Don't lean the derailleur side on anything
Avoid prolonged outdoor exposure and moisture (place absorbent material under the wheels if keeping bikes outside)
Maintain some air pressure in the tires year-round
Read Next