15 Best Garage Bike Racks to Organize Your Space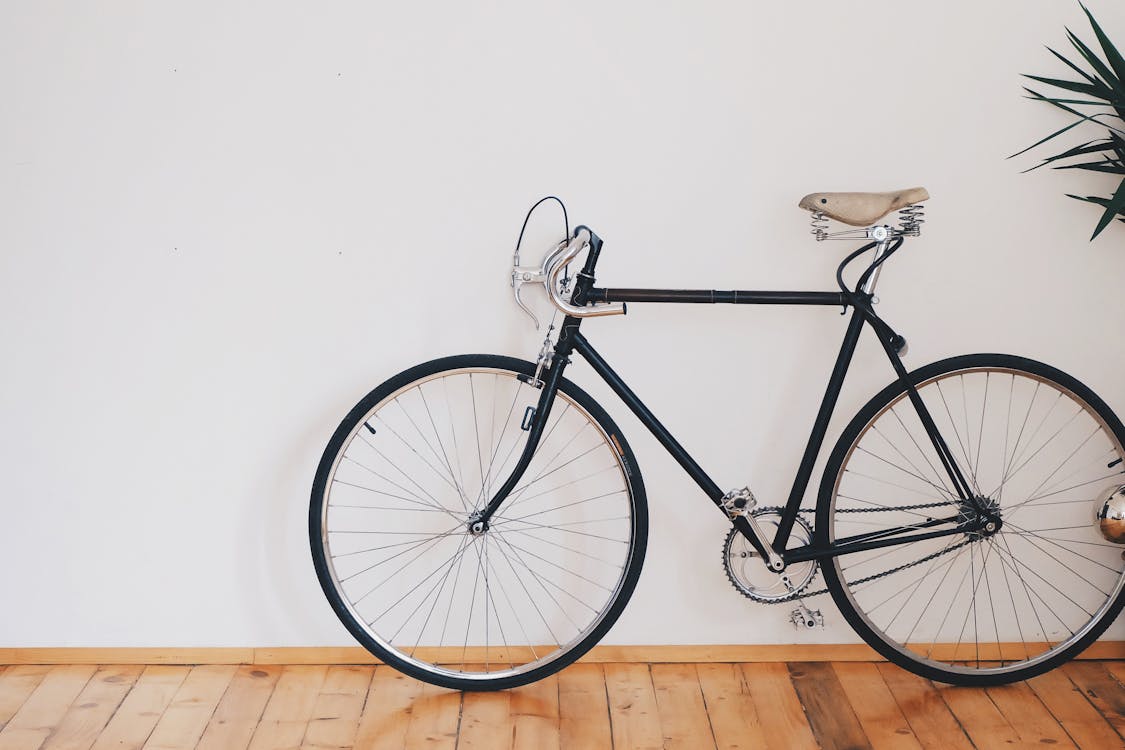 For city dwellers with limited storage options, a bicycle rack is a great way to clear the hallway and free up some floor space. There are several different options available, each with its own benefits or drawbacks depending on your requirements.
The different types of options include ceiling, wall, or floor racks for single or multiple bikes. Some need to be wall-mounted while others are freestanding for apartments that don't allow drilling.
The best way to store bikes in a garage is usually wall-mounted to keep them out of the way of cars. In apartments, free-standing bike racks help to keep bikes from falling over and vertical wall mounts save a lot of space.
Related: Comprehensive Garage Bike Storage Guide
---
1

. Delta Cycle – Jumbo Hooks

Double – Ceiling bike hooks / Single – Wall bike rack
This upside-down bicycle hanger might be the cheapest and best way to store a bicycle in the garage! For ten dollars, you'll get a pair of threaded hooks – either use one hook on a wall or a combination of two hooks for the ceiling. The combination of two hooks should hold up any bike weighing less than 30lbs once the bike hanging hooks are properly mounted through the ceiling.
Hang a bike from the ceiling!
It's cheap, easy to use, and quite versatile. The only downside to it is that the distance of hooks for one bike might vary for another if you are going to use both of the hooks for a ceiling so make sure to check the wheelbase before.
---
2

. WaterLuu – Heavy Duty Storage Hooks
Cheapest bike rack idea for garage ceiling
Another cheap and simple alternative to use as a hanging bike rack system in your garage. This type of hanging hooks for the garage is a perfect way to hang the bikes upon. Make sure to drill the holes in a concrete/wooden ceiling and use two plugs for the best fitment. Also, make sure to measure the distance between two bikes to get the best fitment idea.
Two hooks for the ceiling
One hook for the wall (Pictured)
Although those hooks might look that they'd bend through under heavy loads, Waterluu advertises those for heavy-duty use, suitable for bicycles. In addition – those hooks have a rubberized coating to prevent any scratches to the wheel.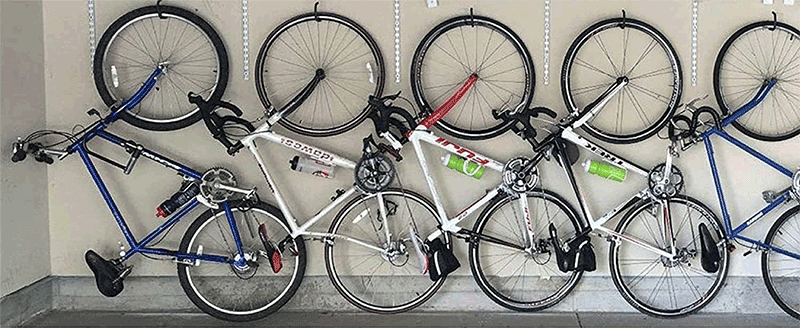 ---
3

. Portland Design Works – Hooptie Bike Hook
This wall-mounting, vertical hanging hook from Portland Design Works is an ideal rack for those living in small apartments.
There are two ways to store the bike with this rack:
Simply stand your bike up on the rear wheel, clip in the front wheel, and it's neatly stored out of the way.

Use the additional rear-wheel tray to hang the bike higher from the ground and save some more ground space
The curvy bike hook is built from hardened steel with a rubberized arm to protect against scratches and requires two holes for mounting. The small, discreet rack can hold a bike up to 33 lbs (15kg) with tires as thick as 2.5″.
Holds up to 35 lb
Up to 2.5″ wide
Rubberized hook arm
MSRP: $25 ($35 with a rear-wheel pad)
---
4

. Feedback – Sports Velo

REI Score: 4.7/5 out of 21+ reviews
The Sports Velo wall bike storage rack conveniently keeps your bike stacked against the wall horizontally and out of the way. It's a wall-mounted bicycle hanger that requires two holes for attaching and is height adjustable should you upgrade to a large bicycle.
It can fit one bike up to 70 lbs (32kg) and includes soft padding to protect against scratches. The cradle sticks out 13.5″ from the wall to accommodate bikes with longer handlebars than usual.
Max cradle distance: 13.5″
Max weight capacity: 70 lb
MSRP: $44
Buy on REI.com Buy on GovVelo.com
---
5

. Feedback Sports Rakk Bicycle Storage Stand

Best bike rack for garage floor

This adjustable indoor bike stand can easily fit any bike with a rear wheel from 20mm to 2.4″ and tires sizes from 20 to 29″. This makes it ideal for both racing bikes and MTBs but it won't fit small kids bikes. Because of the low profile, it may struggle to hold heavier bikes like e-bikes or fat bikes.

The spring-loaded arm grips the wheel tightly to keep it standing and folds down for easy storage when not in use. For more than one bike, the stand clips together with other Rakk stands to create a multi-bike rack.
Score: 4.75 / 5 out of 80+ ratings on REI
Weight: 5 lb
Fits 20 – 29″, up to 2.4″ wide wheel bikes
Click two or more racks together
MSRP: $52
Buy on REI.com Buy on GovVelo.com
---
6

. Thule – Wall Rack for Bicycles
The most compact bicycle wall hanger
This convenient and simple wall mount bike rack for a garage can hold almost any type of bike and folds away when not in use. It holds one bike comfortably or two tightly up to 88lbs (40kg) in total weight and screws onto the wall with four mount points.
When not in use, simply fold the hooks up and save some space. Ideal for spots with tight hallways, or for someone who prefers the combination of mastered visual and practical aspects of a product. Thule has been specializing in transportation storage solutions for over 70 years so when it comes to bike racks – you can easily trust your money on their brand.
Score: 4.6 / 5 out of 125 ratings
Weight: 4.6 lbs
Product code:

977101

Not compatible with Euroway cycle carriers.
---
7

. CyclingDeal – Bicycle Floor Type Parking Rack Stand
A bike rack for big families
For those cyclists with a bike for every situation, this 5-slot floor bike rack from CyclingDeal is the perfect solution. Slot in your road bike, MTB, gravel bike, hybrid, BMX, eBike, or whatever else you can fit. It takes 12″ to 29″ wheel sizes with tires up to 2.5″ thick.
The stand is quite long so you'll need a fair bit of wall space and enough room for the bikes, making it ideal for garage or outdoor use. It's a strong, steel, free-standing rack with no installation required.
Capacity: 5 bikes
Made of steel
18.5 x 14.6 x 4 in
Max tire width: 2.5″
---
8.

5-Bike Rack
This five bike wall rack allows holding 5 bikes and 3 helmets on the wall. When placing bikes on the rack, make sure to do them in the order shown in this picture. When installing this bike rack make sure to secure it on a stable wall.
Holds up to less than 4.4″
Max weight: 440lbs in total
To rely on this deal, this rack has reached an Amazon Choice status and holds a decent score of 4.2/5 out of 1,000+ ratings!
---
9

. Delta Cycle Michelangelo
Wall-lean system – no drilling needed 🏆
This free-standing horizontal bike rack can hold up to four bikes, with two on each side hanging above each other. It stands freely on a large base that remains balanced and stable, no matter how many bikes are racked.
Amazon score: 4.4/5 out of 5,600+ ratings!
Max weight of up to 80lbs
The industrial-grade steel arms use rubberized hooks to protect the bike frames and can hold all styles of bikes up to 80 lbs (36kg). Includes all parts and can be easily assembled at home with just a screwdriver.
---
10

. Delta Cycle Michelangelo Rugged 2-Bike Gravity Rack

A freestanding bike storage rack for a garage

This horizontal bike rack for garage use is designed to hold 2 bikes using gravity to remain stable. The innovative rack leans against the wall with two bikes hanging above each other on one side, with rubber bumpers on the feet and sides to protect the walls and floor.

The industrial-grade steel arms use rubberized hooks to protect the bike frames and can hold all styles of bikes up to 100 lbs (45kg). Includes all parts and can be easily assembled at home with just a screwdriver.
Max load: 100 lb
Rack weight: 18 lb
Rubber bumpers on top and against the wall
MSRP $145
---
11

. Racor – PLB-4R
Best hanging 4 bike rack for garage
The Racor PLB-4R is a freestanding, multi-bike stand that can take up to four bikes with a combined weight of 160lbs (72kg). The durable steel construction is vinyl coated to protect the bikes and can be easily assembled at home with basic tools.
The rack is adjustable to fit different sizes and shapes of bikes, including kids' and women's frames. However, the construction is a bit weak, so for heavier bikes, you may need to use glue or additional screws to ensure the rack remains stable.
---
12

. Topeak Dual-Touch Bike Stand

No drilling is needed. Score: 4.6/5
This standing bike rack from Topeak is easy to install by securing the pole between the floor and roof of any room or garage. It has an expandable sliding pole so it can fit in rooms with varying ceiling heights and a locking foot-stepper to secure it tightly to the floor.
Extends up to 10'6″
Weight: 11lb
The rack holds two bikes stacked above each other with rubberized, adjustable mounts to fit bikes up to 39.7 lbs (18kg) each. Although the design is intuitive, the stand can be dangerous if installed incorrectly. If you are uncertain, it's advisable to get some help when installing it. Finally, the rack can also support another 2-bike add-on for a total capacity of 159lbs.
MSRP $200
---
13

. Thule – Bike Stacker
The Thule Stacker is a free-standing garage bike hanger that stacks two bikes, one above the other. It has a strong base that balances the weight of the bikes without requiring any installation to the wall or floor.
Made of steel, freestanding, adjustable height
Size: 21 x 31 x 84 in
Product Code: 578101
The plastic holders are cushioned to protect the bike and supported by two steel arms that can move up or down independently to accommodate different size bikes.
---
14

. TOPEAK – Two Up Bike Stand
The Topeak Two Up is an ideal free-standing garage bike storage rack, with space to store two bikes one above the other. The design allows maximum space saving without the need to attach anything to the wall or floor.
The rack stands on a stable tripod with rubberized feet to balance securely on the ground, while holding two bikes on adjustable hooks with plastic coating to avoid scratches.
MSRP $260
---
15

. Feedback Sports Velo Hinge
Feedback Sports' Hinge rack is super affordable, convenient to use, and tidy. The hinge design makes allows you to position your bike in various ways and supports up to 50lbs. We'd strongly recommend looking into it whether you have one or more at your home – waiting to be organized in the best possible manner.
7.25 x 3.5 x 0.63″
Suitable with bikes with fenders
MSRP $32
Buy on REI.com Buy on GovVelo.com
---
Conclusion
Bicycle storage is the main concern for most cyclists. Due to their large volumetric size, finding storage space for our beloved bicycles can be tricky at times. A good bike rack offers a priceless alternative to organizing our hobbies in a practical manner. Whether you own a carbon road-, an aluminum mountain-, or a touring bike made of steel – all bicycles deserve good-quality horizontal time!
A great bike rack should have no metal to metal contact
The best way to store bikes at a garage is obviously using the proper bike rack. Depending on the number of bicycles needed to be stored, there are tons of ways to find one that suits your needs. Obviously, it is hard to point out one bike rack that would suit all your needs.
Hopefully, you found some ways and ideas to store bikes in the garage. If you didn't find a suitable solution for your space, hopefully at least you got some DIY ideas you haven't thought of before! Often difficult problems have simple solutions, which should also be the case with storing such bulky items as bicycles in your home.