Let's be honest, we're all guilty of cramming our bikes in the car trunk or storing them in the corner of our garage along with other stuff we'd promised ourselves to use more. We're writing this actionable bike racks guide to show you some better alternatives!
Whether you need to take your bike along on a trip or store it safely and securely over winter, a quality bike rack is the best possible solution.
Below, we'll introduce you to the basics of car, home, garage, and outdoor bicycle racks! Say goodbye to scratched paint and messy homes!
Bike Racks Guide: Car, Home, Garage, and Outdoor Options
---
Types of Car Bike Racks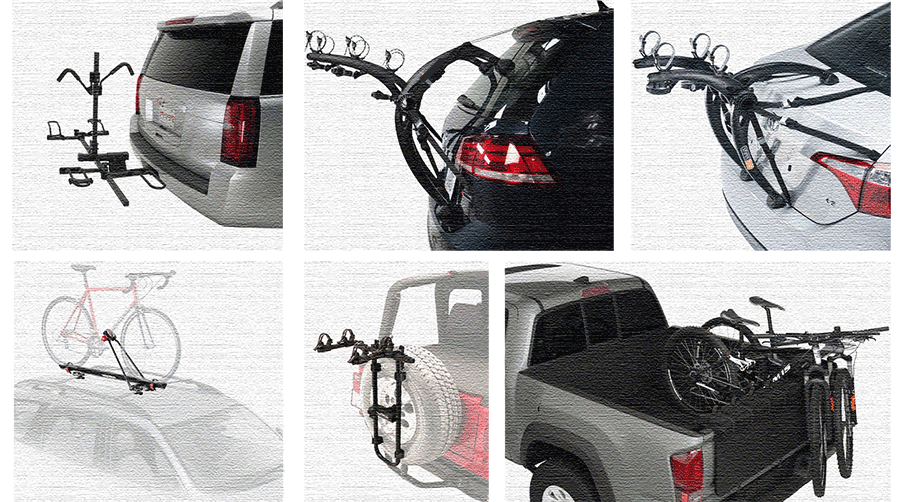 Hitch (Hanging & Platform) // Hatchback // Boot // Roof // Spare Tire // Truck Bed
A car or truck bike rack is the most effective and convenient way of safely transporting your bike from A to B.
These bicycle carriers are essential for cyclists who frequently travel with their bikes and those who want to drive to their favorite riding destinations.
You can choose from six styles and five different mounting options based mostly on your vehicle, bikes, and budget. Your personal circumstances will determine whether a rack is suitable as each of the six styles has different characteristics and compatibility, such as:
Total bike capacity

Weight

Frame or wheel size compatibility

Mounting point

Vehicle compatibility
Home & Apartment Bike Racks

Freestanding // Standing // Hanging
A home or apartment bike rack allows cyclists to efficiently utilize the space in their apartment and maintain a tidy living space. 
Using a rack, you can free up precious floor space and move your bike(s) up on a wall or stacked over each other on a stand if you have two. Various designs work well in either the home or a garage. These include:
Freestanding

Supported Stand

Horizontal Hanging

Vertical Hanging
The most important characteristics of apartment bike racks are that they utilize previously unused or less valuable space, aren't intrusive, look nice or are minimalist in design, and don't cause damage to the interior of the home.
Garage Rack Guide
Freestanding // Wall Stand // Vertical // Horizontal // Ceiling // Floor
Garage bicycle racks include all apartment and home styles and two additional styles, ceiling and floor, which are not typically used inside the home.
As many garages have extra floor space, unlike inside an apartment, a floor rack offers a highly convenient, simple, and affordable way to keep your bikes tidy. In addition, floor racks can often hold multiple bikes, an excellent tool for families. 
Ceiling racks are less common but great for taking advantage of otherwise useless space. They typically come in one of two designs, with or without a pulley.
Some valuable characteristics unique to garage bicycle racks are high capacity, sturdiness, and broad compatibility for bikes for kids and adults.
Outdoor Racks & Sheds
Tent // Floor & Ground // Rack Stand
 There are three typical outdoor storage solutions for bikes. Keeping your bikes outside the home has some unique advantages and disadvantages.
The advantages are saving space inside and your bike is already outside when you want to ride. The disadvantages are the security risk, the additional exposure to moisture, and fluctuations in temperature.
The security of your premises may limit your options to a bike shed. However, if you want a temporary storage solution or are confident of the safety in the garden, any of the solutions can work for you.
Related Readings
Best Single-Bike Hitch Car Racks