Best Cycling Sunglasses — Top 15 Models to Consider for Style & Comfort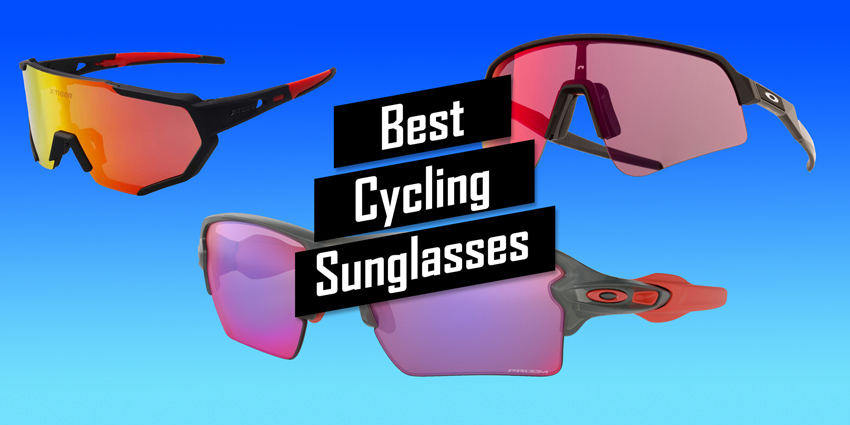 Sunglasses are an essential cycling accessory that makes riding safer and more enjoyable because, let's face it, nobody likes squinting for their whole ride.
The best cycling sunglasses protect your eyes from the sun and debris, provide good visibility across varied light and weather conditions, and make you look great at the same time.
Like most cycling products, there is a massive variety of products that use slightly different technologies, materials, and designs.
To help you navigate this seemingly endless selection of products, we've put together this list of the 15 best sunglasses for cycling, followed by a short guide on what to look for when you're choosing.
---
Best Cycling Sunglasses
---
Tifosi Rail Sunglasses
$79.95
Excellent price and stylish design suitable for different sports.
PROS
Great design
Excellent coverage
Affordable price
Multiple lens colors
CONS
Not polarized
Frameless design isn't as durable
The Rail Tifosi cycling sunglasses are among the best value pairs on the market. At just $79.95, these glasses are half the price of others with similar technology.
The frame uses lightweight and flexible Grilamid TR-90 nylon. This material is quite durable, but the frameless design gives the glasses a less robust feel.
The standout feature of the Rail sunglasses is the polycarbonate scratch-resistant and shatterproof lenses. In addition, two of the three Rail options come with three pairs of interchangeable lenses for different conditions.
These glasses also utilize Tifosi's Clarion technology and glare guard coatings to reduce eye strain and repel water and sweat. Finally, the Rails come with adjustable hinges and non-slip rubber for the perfect, stable fit.
---
100% Speedcraft XS Sunglasses
$185
Durable cycling sunglasses with excellent ventilation and performance in wet or humid conditions
PROS
Ventilation
Wide and clear field of view
Grippy nose piece
Scratch-resistant lenses
CONS
Pricey
Limited adjustability
Not polarized
100%'s Speedcraft XS men's cycling sunglasses are one of the brand's two most popular models, along with the S2.
The wide, high-definition HiPER lenses are made to be scratch-resistant and are treated with hydrophobic and oleophobic finishes, keeping them clear when riding in wet weather.
In addition, these glasses are available in a contrast-enhancing HiPER lens design. Another feature of the Speedcraft XS Sunglasses is the ventilation which significantly reduces fogging thanks to the improved airflow. Finally, the super-grippy nose piece means they stay firmly in place, making them one of the best cycling sunglasses you can get.
---
Oakley Sutro Lite Sweep Prizm Sunglasses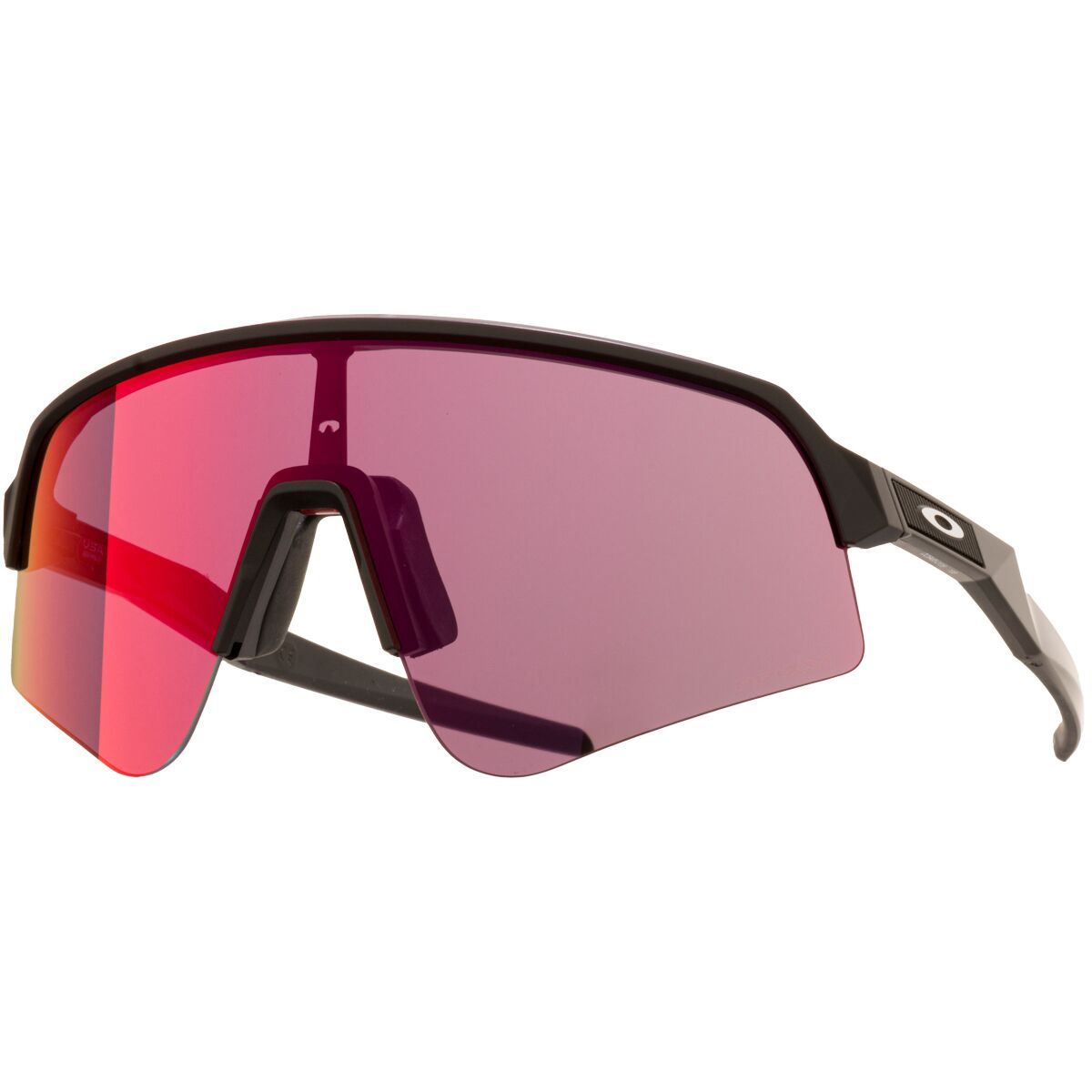 $189
A stylish choice with high-end lenses from cycling's top sunglasses brand.
PROS
Sleek design
Excellent color and contrast
One of Oakley's more affordable options
Wide field of view
Comfortable
CONS
No lense replacements
Not stable enough
Fixed fit
Oakley's Sutro line of cycling-specific sunglasses is one of the most coveted on the market. Style, performance, and comfort combine to make the Sutro Lite Sweep.
The Sutro Light utilizes a semi-frameless, high-wrap design that adds to the style and increases the field of view. In addition, the frame uses proprietary O-Matter durable nylon.
The Prizm lenses are the highlight of these Oakley cycling sunglasses. They offer an exceptionally crisp level of detail and perform well in various light conditions. Additionally, you can choose from five designs.
The main issue with the Sutro Lite Sweep glasses is they are not very stable on your face when riding on bumpy surfaces, so they might not be the best choice if you're a fan of gravel bikes.
---
X-Tiger Polarized Sports Sunglasses
X-Tiger Polarized
Cheap and lightweight sunglasses with polarized lenses.
PROS
4.6/5 rating from over 7,000 reviews
Wide variety of lenses
Cheap
12 color combinations to pick from
CONS
Not very durable
View is slightly limited by the frame
Nose clip isn't adjustable
The X-Tiger multi-sport sunglasses are one of the best low-price options. There are 12 unique designs, each with five interchangeable lenses to suit different conditions.
The lens options include a UV400 Revo, polarized, night vision, mirror, and transparent lens. Despite the low price, these glasses weigh an impressive 19.2 grams, one of the lightest on the market.
The frame is made with stress-resistant TR90 plastic and features changeable feet to fit a wide range of riders. Unfortunately, however, they don't have an adjustable nose clip, but they are still one of the best cycling sunglasses considering the price.
---
Oakley Radar EV Path Sunglasses
$205-$242
Premium sunglasses with picture-perfect lenses and a full view
PROS
Top-end design
Flawless coverage and view
Versatile lenses
Comfortable and stable fit
The Radar EV Paths are arguably the best sunglasses for cycling on this list, although the price is a little eye-watering.
Thanks to the Prizm lenses, these sunglasses offer an unbeatably clear and detailed picture, with an extended view (EV) to ensure you see everything on the road or trail. Additionally, this single set of lenses is versatile enough to work in almost all conditions throughout the year, including for winter riding.
Like most Oakley cycling sunglasses, they use the durable O-Matter frame material and a non-slip nose pad. This nose pad and the grippy temple arms ensure the Radar glasses are comfortable and snug. The one issue with these glasses is that the distinct style won't be for everyone.
---
100% Hudson Cycling Sunglasses
$110
Excellent sunglass choice for on and off the bike.
PROS
Solid design
Affordable price
Useful for sports and day-to-day
Comfortable
CONS
Coverage and view not ideal
Lenses aren't versatile enough for low light
The Hudson sunglasses by 100% are one of the best dual-purpose sets you will find.
These glasses work perfectly for cycling and day-to-day use, thanks to their stylish design. The only downside is the coverage and view aren't ideal as they aren't cycling-specific.
The Hudson glasses use an oil and water-repellent lens to ensure high-quality vision and the Ultra-grip rubber nose pads to ensure they stay in place during exercise
The frame uses a six-base design, curvature, temple tips, and nose pads for a personalized fit. Finally, these glasses are available in Peakpolar or HiPER Lenses.
---
Suncloud Polarized Optics
Milestone Polarized Sunglasses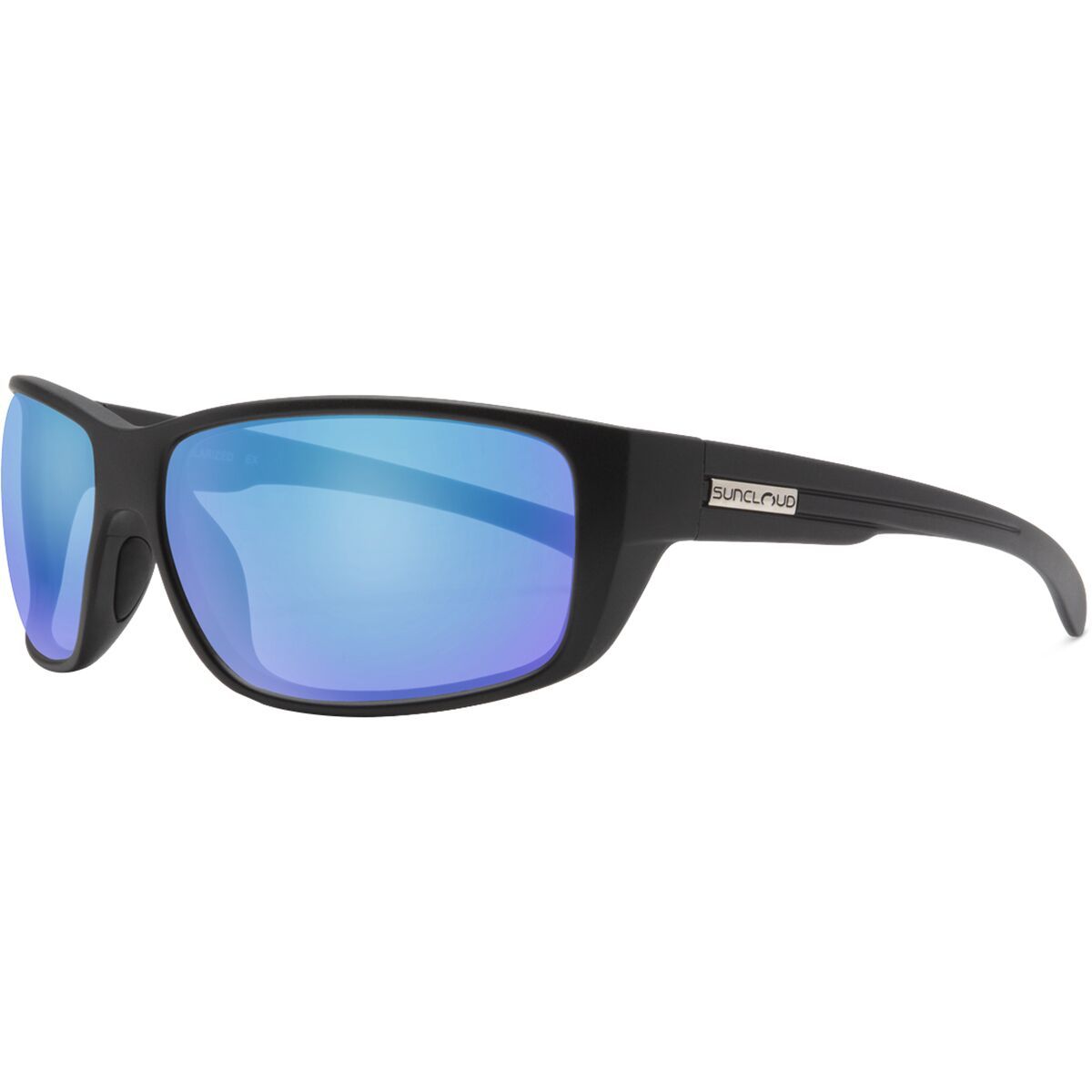 $54.95
Affordable and versatile glasses for cycling and regular use.
PROS
Good price
Comfortable
Scratch and impact resistant
CONS
Not designed for cycling specifically
Slightly limited coverage and view
The Suncloud Milestone sunglasses are another excellent dual-purpose option. They function well for sports like cycling and provide a stylish look off the bike.
The frames are built with Suncloud's proprietary bio-based Evolve material to reduce the amount of petroleum used in sunglass manufacturing. In addition, they use a hydrophilic Megol rubber nose pad to repel moisture and keep them firmly in place.
The lenses are polarized to reduce glare and eye strain. In addition, they are scratch and impact-resistant. Finally, the wide lens curvature provides excellent side coverage and view to keep you and your eyes safe while riding. They're the best cycling sunglasses for anyone who wants a more casual look.
---
RIVBOS Sunglasses for Men & Women
Rivbos
Cheap sport sunglasses with scratch-resistance and UV protection.
PROS
Six lense options
Low price
Durable
CONS
Not very comfortable
Poor coverage and view for cycling
The RIVBOS sunglasses are an affordable yet functional option with various features typical of higher-end pairs.
The frame uses durable, lightweight, and flexible TR90 plastic. For lenses, you can choose between six different shades adapted for a specific type of use, such as the polarized lenses that reduce glare. Each set of lenses is scratch-resistant and UV-resistant,
RIVBOS includes a lifetime breakage warranty, a 30-day money-back guarantee, and a hard case with each set. Unfortunately, the coverage of these glasses might not appeal to all cyclists, but it's a good option for those who engage in multisport activities.
---
Tifosi Crit Fototec Photochromic Sunglasses
$79.95
High-end sunglasses with an affordable price-tag.
PROS
Affordable price
Good coverage and view for cycling
Durable
Fully-adjustable
CONS
Small fitting
Poor performance in low light
The Crit Fototec Tifosi cycling sunglasses are another superb sub-$100 product. They are multisport-ready but function well in cycling thanks to the aerodynamic design and the comprehensive coverage and view.
The TR90 nylon frame is light, impact-resistant, and flexible. In addition, the arms and the nose piece on the Crit sunglasses are fully adjustable so that you can find a personalized fit.
These glasses have hydrophilic rubber and lots of ventilation to maximize performance and reduce fogging during intense exercise.
The lenses are made with shatterproof polycarbonate with a photochromic finish, meaning they adjust automatically based on the level of light outside. That said, some users have been disappointed with the performance of the lenses in low light, so they might not be the best choice for nighttime riding.
---
---
ROCKBROS Polarized Sunglasses for Men & Women
RockBros
The cheapest cycling sunglasses you'll find with useful features.
PROS
Excellent coverage
Super cheap
Hydrophobic
Removeable myopic lenses
Polarized
CONS
Poor in low light
Not very comfortable
Small fitting
Rockbros' polarized men's and women's cycling sunglasses are the cheapest on this list. Still, they are an excellent cycling-specific offering if you're on a tight budget and the best cycling sunglasses for women under $20.
Notable features of these glasses include the 100% UV400 protection, polarized lenses to reduce glare, and the removable myopia frames so those with impaired vision can ride safely. However, some user reviews mention that the sunglasses are poor in low light.
The Rockbros polarized cycling sunglasses also have an anti-slip rubber nose pad and temple legs to ensure they stay secure during vigorous exercise. Finally, the lenses are treated with a hydrophobic finish and oil resistance to help them stay clear through all conditions.
---
Oakley Gibston Sunglasses
$124-$174
Solid all-day sunglasses with premium Oakley lenses.
PROS
Versatile design
Good price for Oakley
Polarized lens option
Comfortable
CONS
Not adjustable
No unobtainium nose piece or temples
Oakley's Gibston sunglasses are a versatile choice, perfect for sports or everyday use. They benefit from some of this high-end brand's best technology to deliver excellent performance.
The polycarbonate Prizm lenses are the standout feature of the Gibston glasses, with enhanced color and contrast optics.
Like most Oakley products, the frame is lightweight, flexible, and durable O-Matter nylon material. Unfortunately, these sunglasses don't have an adjustable fit and may become slippy during vigorous exercise.
Native Eyewear's El Jefe sunglasses are a unique product designed for use in sports and day-to-day activities.
These glasses feature a unique N3 polarized lens that filters four times more infrared (40%) than regular polarized lenses, ensuring excellent vision on even the brightest days and providing 100% UV protection.
The frames are super comfortable thanks to the soft Cushinol touchpoints. These touchpoints include the adjustable nose and temples that are also non-slip to ensure they stay in place when you're active.