The 9 Burley Bike Trailers Overview
Burley is a successful bike trailer brand that has managed to win the trust and a considerable amount of the market for bicycle trailers.
In their range, you'll find a selection of single and double kids' bike trailers, cargo, and also pets bike trailers. Compared to most other trailers on the market, Burley trailers seem to be in the mid-range category primarily, while you'll find above-average price tags on most other models as well. Their whole range is well-known in many parts of the world.
Burley's kid bike trailer is the keyword you must've heard among those active families who are keen to get out and about with their whole family. After going through that article you'll be sure to notice way more people using Burley kid trailers on the streets, trails, and also being sold on the Facebook marketplace at a great value.
---
Contents
Burley Bee
Burley Minnow
Burley Honey Bee
Burley Encore X
Burley D'Lite
Burley Tail Wagon
Burley Coho CX
Burley Nomad Cargo
Burley Cub X
---
Burley Bee
MSRP: $300
The Burley Bee bike trailer is most likely the best kids' bike trailer in the US. At just the three-hundred dollar mark, the trailer comes with everything you need for a safe and convenient way of commuting. There is a 5-point harness system and a full aluminum roll cage for added security. 20-inch pneumatic tires, SPF 30 fabric, and tinted windows add another layer of security. Other safety features include yellow color and reflectors on wheels.
The outer layer is made of water-resistant materials, and besides the screen mesh, there's also a waterproof cover to protect from the elements. What's also great is obviously the idea that the trailer can be folded down to a very small size when transporting, and everything disassembles quickly, too. This Burley double bike trailer is indeed one of the best buys you can imagine, and the trailers hold their value rather well over time.
Double
REI Score: 4.8 / 5 out of 235+ ratings
Weight capacity: 100 pounds
Trailer weight: 21lbs
20″ wheels
Dimensions – 36.5 x 33.5 x 31.25 inches
Folded Dimensions – 36 x 27.5 x 11.75 inches
---
Burley Minnow
MSRP: $280
The Burley Minnow bike trailer is designed as a single child trailer and for parents who like the sports aspect of riding as well.
The trailer is more compact compared to the Burley Bee which allows tackling tighter tracks with ease. As a standard, the Burley Minnow bike trailer has plenty of safety features such as the standard 5-point harness, 6061-T6 aluminum frame, and a roll-cage.
The Minnow also has wheel guards that are quite useful when cycling in both urban areas (Signposts) and in the forest (Trees). The water-resistant 600-denier polyester cover and seat fabric with a fly mesh with a rain cover complete the trailer as what you'd want to expect from an all-inclusive kids' bike trailer. The safety doesn't stop there, the outer fabric is slightly reflective, and is made of bright color, too. There are reflectors 360-degrees around the trailer. Also, as of standard these days, the trailer hitch has also a safety leash if that super rare occasion should anything break off.
If you are looking for a solo bike trailer made by Burley, the Minnows is indeed a great single bike trailer!
Single
REI Score: 4.8 / 5 out of 92+ ratings
Weight capacity: 75lbs
Wheels: 20″
Weight: 21lbs
Dimensions – 36 x 32.25 x 26 inches
Folded Dimensions – 32.25 x 26 x 11.25 inches
---
Burley Honey Bee
MSRP: $400
Burley Honey Bee bike trailer is a mid-range double stroller and a kids bike trailer.
Mainly designed as a tow behind a bike trailer can be easily converted into a light stroller as well. Compared to the previous two trailers, the Burley Honey Bee trailer also comes with a handle on the upper back of the trailer for easy navigation. The stroller wheel can be quickly placed upwards when towing the trailer behind a bicycle.
The Honey Bee is essentially an upgraded version of the Bee while having the same safety features such as the roll-cage style frame made of durable aluminum, reflectors 360-degrees, and also a safety strap on the trailer hitch. There are also wheel guards on each side of the trailer. The canvas is 'weather-proof' to a fine degree, and the mesh cover with a rainfly is also quite an essential feature.
Burley Bee series trailers have one of the greatest price-to-quality value on the market!
Double
REI Score: 4.8 / 5 out of 159+ ratings
Weight Capacity: 100 lbs
Dimensions – 33.25 x 29.5 x 37 inches
Folded Dimensions – 35.5 x 29.25 x 12.5 inches
Weight: 26lbs
Wheels: 20″
---
Burley Encore X
MSRP: $600
You were looking at the second-best bike trailer by Burley – the Burley Encore.
What sets the Encore apart from other Burley trailers is the refined quality of components and attention to detail. It is basically a fully-equipped bike trailer and a stroller with a suspension. Again, there are reflectors 360-degrees around the trailer, weather-proof fabric with a mesh cover and a rain cover.
Burley Encore trailer is best-suited for those who wish for a solid performance trailer that's light in weight, has suspension, and can be easily used as a stroller. It is basically a high-quality 2-in-1 kids' bike trailer and a stroller with one of the greatest value and feedback on the market.
Double
REI Score: 4.9 / 5 out of 79+ ratings
Wheels (f) 20″ / (r) 8″
Dimensions – 37 x 33.3 x 31 inches
Folded Dimensions – 36 x 31 x 12 inches
Weight capacity – 100lbs
Weight – 25lbs
---
Burley D'Lite
MSRP: $850
The Burley D'Lite double bike trailer is the flagship of their brand.
There are premium seat pads, headrests and independently reclining seats for each preference. The suspension of the trailer can be adjusted. The headrests and seat pads can be removed for cleaning. The trailer comes with an extra stroller wheel to use for other purposes as well.
If you are looking for a high-end transportation solution to enjoy the outdoors while cycling with kids – look no further than the Burley D'Lite bike trailer! It's got all the quirks and features that stay way above the price & value category. This child trailer has more than enough that can be used for years, and sell at a great price tag later when not in use. The technology of Burley's trailers these days is quite priceless.
Double
REI Score: 4.8 / 5 out of 65+ ratings
Dimensions – 38.25 x 33.25 x 31.25 inches
Folded Dimensions – 37 x 31.25 x 14.25 inches
Wheels: 20″ (r) / 8″ (f)
Trailer weight: 30lbs
---
Burley Tail Wagon Pet Trailer
MSRP: $400
This Burley pet trailer is one of the most advanced trailers to get for your pets.
As of Burley's standard, there are 360-degree reflectors around the trailer, a removable mesh cover, and windows on all 4 sides to keep the airflow going. The weatherproof cover rolls down to protect against rain and snow which is a great feature. There are also stroller wheels and a handlebar when not in use while cycling.
The bright colors enhance visibility, and the durable drum-tight fabric prevents animals from leaning into rotating wheels. Compared to most trailers, the Tail Wagon's rear axle is positioned on the very rear for best-optimized ergonomics when towing.
Pets
REI Score: 4.5 / 5 out of 99+ ratings
Dimensions – 36 x 32 x 31 inches
Can carry up to 75lbs
Folded Dimensions – 38 x 28 x 10 inches
Wheel diameter: 16″
Weight: 24 lbs
---
Burley Coho XC
MSRP: $450
The Burley Coho CX trailer is a great choice among bicycle tourers or for anyone who's after a single-wheel bike trailer. The single-wheeled Coho CX trailer offers so much to increase the amount of gear one could take on to a bike ride. This trailer also comes with a center-stand and a rear suspension.
Many owners found the Coho CX useful due to its rear suspension and obviously the endless amount of gear that can be stored on the trailer. It is slightly heavier than the Nomad trailer, but the single wheel compensates and adds way larger portability to the use.
Cargo
REI Score: 4.7 / 5 out of 37+ ratings
Size 66.5 x 21.25 x 17 inches
Weight: 22lbs
Wheel: 16″
Weight Capacity: 70 lbs
---
Burley Nomad Cargo
MSRP: $350
The Nomad is Burley's another great cargo trailer with plenty of essentials that make up a great travel companion for bike tourers. Although the trailer comes with a 105liter capacity, there is also a choice to add a cargo rack on the top of the trailer to increase its use.
8x interior and 4x exterior D rings help to tie down gear, the Nomad is another ageless trailer that holds its quality and value well over time!
Cargo
REI Score: 4.6 / 5 out of 74+ ratings
Size: 105L
Weight Capacity: 100lbs
Trailer weight: 15lbs
---
Burley Cub X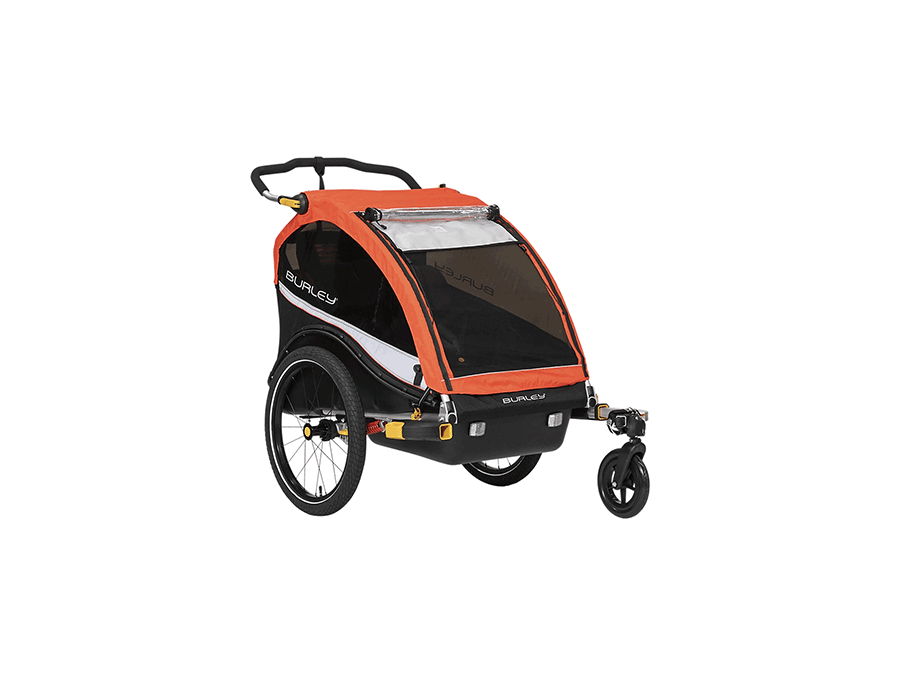 To be updated once we'll find the Cub X sale online!
MSRP: $800 (Available in-store only)
---
People Also Ask
How old baby can sit safely in Burley's bike trailer?
All bicycle trailers are recommended for kids who are independently holding their heads up, while you can get a 'sling-type' accessory where you can bring a 3-month old baby with you for a slow stroll.
Can you cycle with baby in a sling?
Only when proper safety precautions have to be taken in consideration in order to safely ride with a baby younger than 9 months old, or anyone who isn't independently holding their head. Make sure to use an infant sling on flat surfaces where the baby would be safe to be carried around.
Where to buy Burley bike trailers & parts?